Search engine optimization (SEO) is the framework upon which your website is built. When used appropriately, it can help your website soar to success in organic search. When neglected or used incorrectly, it can render your website invisible to searchers across the web, cutting into your bottom line.
Keeping your SEO up-to-date and in line with current best practices is key, but it isn't easy thanks to frequently changing search algorithms and the pressure to constantly produce new content. However, like so many other things, the basics of SEO never go out of style. Return to the basics by performing these five tasks throughout the year, and keep your website healthy.
1. Pull your Sitemap and Perform On-Page Edits
Using a tool like Screaming Frog, pull the sitemap for your website. Download the crawl report: this will list all the webpages on your site and will include metadata, page titles, status codes, and much more.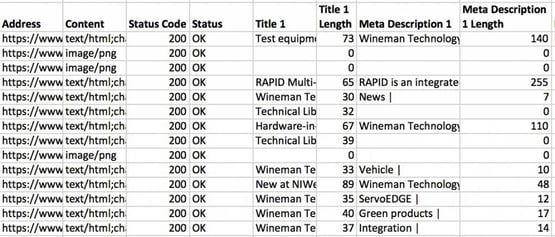 Pay attention to these areas of the report and make changes as needed:
Check status codes for 404 errors. These pages are no longer active on your site; maybe they've been deleted, unpublished, or didn't make it during your last site design. Set up redirects for these pages, pointing to live pages that fill the same need as the missing page. This has the double benefit of boosting your SEO and providing a better user experience to anyone trying to visit those pages.
Make sure all page titles are 60 characters or less. Google cuts off titles between 50-60 characters, and you want as much of your title to show as possible. This element is also known as a title tag.
Ensure all pages have meta descriptions that are 300 characters or less. This is the preview text search engines show beneath the title. Google and other engines will clip this content if it exceeds 300 characters. This content should be descriptive of what a user will see if he/she clicks through to the page.

Page titles and meta descriptions can be easily changed inside your content management system, but you may need to pull in your site developer to set up redirects.
2. Review Current Keywords and Adjust
Start by pulling your current keyword list and reviewing how each term is performing. If you use HubSpot, you can do this in the Keywords reporting section, but many other companies have keyword tracking tools as well.

Then, get to prioritizing and adding in new terms:
Do you have content for all your existing keywords? Identify the terms you need content on, and add these topics to your content calendar.
Identify which terms are not ranking or are not performing as expected. Are they fully optimized? Is the keyword included in the title, headers, meta description and throughout the content? If not, optimize these pages and track how they perform with the edits.
If you haven't done a full keyword analysis in a while, you've likely added products/services or shifted business focus in the interim. Add in terms related to new products/services, or adjust focus to terms with greater business value.
Drop irrelevant or ineffective terms. Sometimes, competition is too high or you rank for a term only to see a high bounce rate (signaling a poor fit with searcher intent). Your time and energy will likely be better spent optimizing for more targeted or obtainable terms, so don't feel bad dropping those that just aren't working for you.
Not sure where to start with keywords? We can help! Learn more about our content marketing services.
3. Use Keywords to Plan Content
Use your newly updated keyword list to plan out content through a content calendar. Identify gaps on your site, and plan out whitepapers, webinars, case studies, blog posts and supporting web pages using this list. Assign one keyword to each new piece of content, and optimize each around this keyword.
4. Review and Refresh Top-Performing Content
Check your analytics to see which webpages and blog posts are driving the most traffic to your site. Then, check the publish date. If it's more than a year old, it likely could use a critical once-over. Some pages will be fine as-is, but others may need content edits, additions, updated supporting facts or metrics, and links to other, newer pages that expound upon the topic.

Whatever you do, do not archive the page or change the URL, no matter how outdated it is! You do not want to lose the SEO value and traffic from those older pages. Update the content, add in a note with the date it was updated, and republish it to your site.
5. Fix Broken Links
There are two branches to broken links; the first is fixing any broken links on your site, whether they point to internal pages or external. The second is running a report to see which outside websites have broken links that should be pointing to your website.
While this admittedly moves away from basic SEO into intermediate, links are the biggest factor in Google's super-secret ranking algorithm, and thus fixing broken links can be a worthwhile use of your time.
There are a lot of tools for running broken link reports from Screaming Frog, Ahrefs, Majestic SEO…the list goes on and on. Find a tool you like and enter in your website URL. The broken links report will generate a list of all the broken links on your website. Go through and update these to boost SEO and improve user experience.
For smaller sites or spot-checking, you can download web browser extensions that check on a page-by-page basis for broken links. It can also be helpful to use the two in conjunction; run the report, identify which of your pages have broken links, then use the extension to identify the links on that page.

The same tools can be used to find sites pointing to your site using a broken link. Depending on the volume of broken links and the authority of the referring sites, you may want to spend some time manually reaching out to the webmasters with the correct, updated link and asking them to change it. This method can have varying degrees of success, but can also restore highly valuable backlinks and referral traffic to your site.
---
And that's it! Your website is healthy and optimized again.
SEO can be technical, challenging and time-consuming, but it also is vital to your website. We can help get you up and running. To learn more, visit our SEO guide.