3 min read
6 Reasons Outsourcing Your Marketing is A Great Idea
Why should you consider outsourcing your marketing? There are many good reasons but most of them come down to dollars and expertise. Unlike sales, marketing is an expense -- not a money-maker. The sales team is usually the last department to be cut. Having too many marketers can potentially drain your profits, but too few can lead to an overworked team.
At times you may need outside opinions because you are too close to the situation, which can lead to tunnel vision. If you feel adding more staff will make your company unbalanced or you just need some clarity from an expert, it is probably time to consider outsourcing your marketing.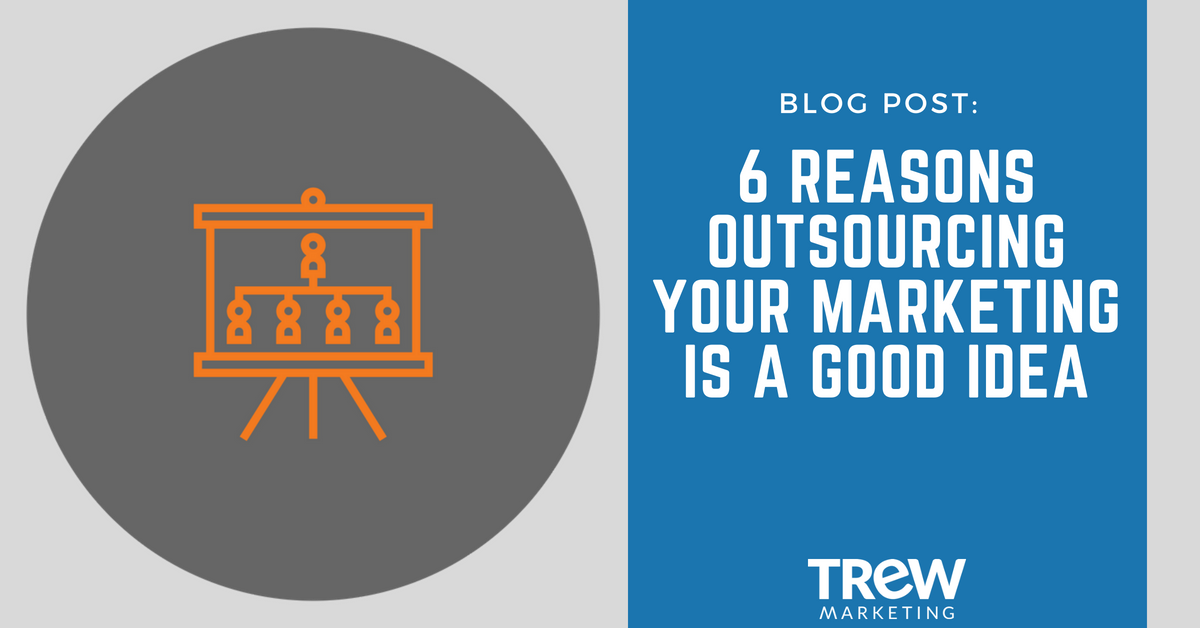 1. Alleviate Bandwidth Issues
Every marketing executive I have ever worked with has multiple job responsibilities, above and beyond keeping their focus on the marketing plan. It doesn't matter if it's a start up or a large corporation; marketing roles have many layers. I have multiple clients who handle marketing as well as other responsibilities within their organization. How can one be expected to execute an optimal marketing plan with so many moving parts?
2. Reduce Overhead
It's expensive to have an in-house marketing team. From HR and recruitment, to training and benefits, it is a long, tedious process to find good people. Your needs will also vary depending on your company's situation.
For example, if you have a trade show coming up, you'll need all hands on deck. All other work is at a standstill as the entire company pitches in. This is a good time to outsource your marketing efforts, so your full-time employees can focus on running the show.
Another potential need variant is a product launch. A product launch requires a unique marketing plan all to itself. They can be very time intensive and draining. Employees may have to ignore important parts of the business to devote their time to launching the product.
When you outsource marketing to an agency you have the benefit of a complete and experienced marketing team to successfully execute your plan.
3. Leverage Industry Expertise
Marketing agencies live and breathe marketing. They are on top of the most up-to-date tactics and trends. The key to any successful content marketing plan is to keep it fresh, and once you have great content, you will start to see some reflective data. An outsourced agency can provide quarterly result dashboards to track the success of the marketing efforts and provide recommendations on how to maximize those results.
Also, many agencies can assist with content creation as well as specialize in a specific business area. At TREW, we work exclusively with engineering and scientific companies, so we are laser-focused on the best practices within our clients' industries. With TREW you get marketing and technical experts all under one roof.
4. Augment Your Team
All team members have different strengths and depending on where your business is headed your needs will vary year to year. Some years require foundational work which will need to come from a strong strategy before laying down the key marketing elements. Not all people are strategists, while some are great at strategy but terrible at execution. We at TREW pride ourselves on being able to fit in where we are needed the most. We become a key member of your team with your best interests in mind.
5. Ensure Consistency
Many engineering organizations offer their employees the opportunity for corporate growth. Their career path growth may include sales, R&D, product development, operations and marketing. At one engineering company I have worked with, employees change jobs every two years, which can be disruptive.
When it comes to marketing, if you find the right agency, they can remain the consistent voice in your marketing plan. This is a role that TREW holds for many of our clients, that of the consistent voice of their marketing activities. TREW can keep the marketing machine moving forward even when you have staff churn.
6. Get Clarity on the Big Picture
Many times you know your company so well you can't see the bigger picture – the forest – for all the work you're doing in the weeds. It can be eye opening to have an outside agency take a look at your marketing plans to find new and innovative ideas you haven't thought of.
You may feel like you know your audience but you can't put yourself in their shoes. You may be too intimately involved with your product to separate your emotions in order to see it the way a customer will. Fresh eyes can truly bring clarity. Experienced TREW experts can understand your business and provide you with a fresh perspective to help move your marketing planning to the next level.
Need help planning your marketing strategy? Download our free Ebook: