5 min read
3 Partner Co-Marketing Tips for your B2B Growth Strategy
If your company sells products through distribution or partner networks, then consider working with your channel partners to build a co-marketing plan that compliments your multi-channel integrated marketing plan. Done well, partner co-marketing enhances your brand awareness and credibility while extending your access to potential brand influencers and buyers.

HubSpot defines co-marketing as "the process of growing two or more businesses at the same time by working together to share expertise with, and offer value for, their audiences." In short, that means there is a co-marketing opportunity available for most marketing campaigns. In your plan, consider how you can optimize your partner site pages, build co-op marketing and advertising strategies, and enhance channel partner sales enablement.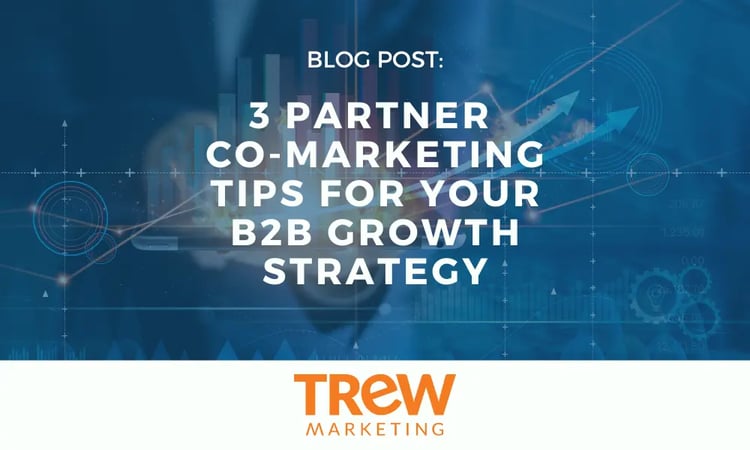 Tip #1: Partner Content Optimization
When available, supplier pages are like your homepage on a channel partner's website. Make sure your branding is up to date and consistent across your available pages on channel partners' sites.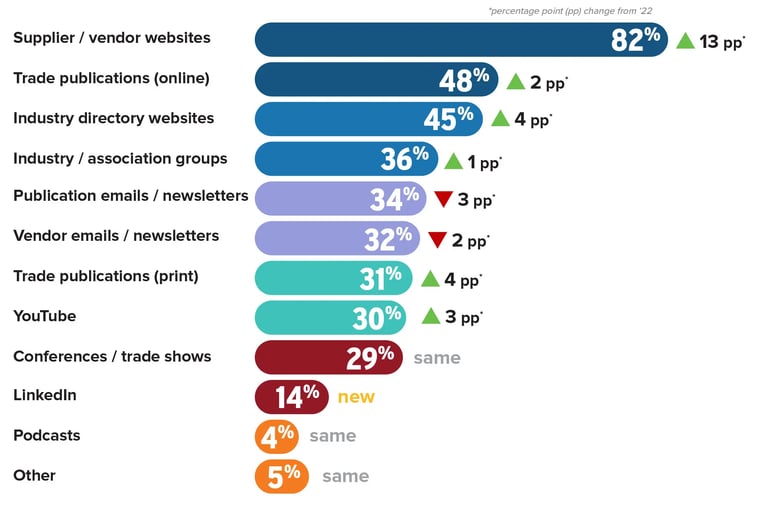 According to our research, technical buyers most often consult supplier and vendor websites to learn about products or services.
As much as possible, try to find ways in which you can incorporate links to your website onto your supplier pages to drive traffic back to your own brand and resources, and work with your channel contacts to keep these up to date. Make sure to differentiate content contributed to channel partner sites from your website content to avoid direct SEO competition with your website while still staying within your company's product messaging plans and branding guidelines.
Tip #2: Co-op Marketing and Advertising
Cooperative marketing (co-op) campaigns are ideal for driving cost-effective thought leadership, product launch, or co-branding initiatives.
Begin by outlining your co-marketing campaign plans with each partner. Align products and services that support each other, and work with your channel partners to strategize shared goals, audience targeting, and messaging. Then build activity plans that create mutual value by sharing a common message to your collective audience.
Your promotional plans may include activities such as joint webinars, co-sponsored technical content in trade publications, social media advertising or SEM campaigns, and targeted e-newsletter blasts. Collaborate with your co-marketing partner to create messaging that clearly communicates how your respective products provide joint value to the customer, providing proof points such as case studies and supporting data.
As you plan these co-op marketing tactics, make sure that you understand the cost/benefit tradeoffs between pursuing a tactic through co-marketing versus pursuing the tactic on your own. For example, co-marketing may offer cost breaks on advertising activities, but you may not receive the full ROI analytics that you seek unless you define your anticipated key performance indicators (KPIs) in advance. Evaluate every decision and final agreement against your respective business and marketing goals. Set up a campaign tracker to keep track of the co-marketing campaigns you've run and the impact they've had.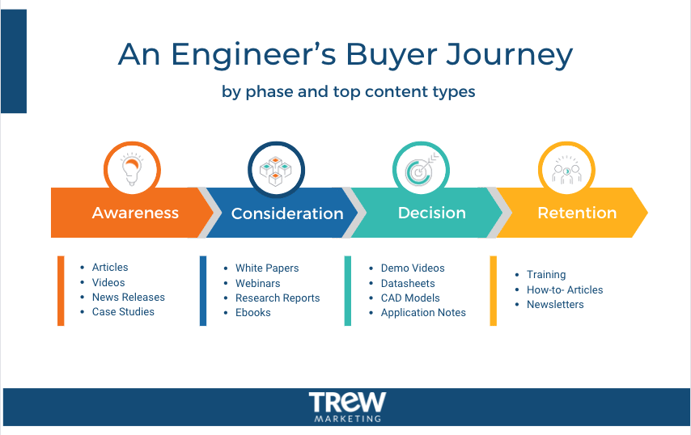 Your company should have content designed to attract, convert, close and delight customers for each target topic cluster and keyword. Identify the gaps you have and how these could be met by co-marketing with a partner.
Tip #3: Enhanced Sales Enablement
As you plan out your internal sales enablement program, consider how you can expand those efforts to include reaching your sales representatives and channel partner sales teams.
These groups are an extension of your own sales team, but they have far more brands on their line cards that they need to keep in mind. Build out account-based marketing (ABM) email campaigns or nurture programs to stay top of mind and help inform your channel partner representatives. Create a training program that targets key buying centers. For example, provide on-demand product training videos that target specific sales roles. Provide collateral that aligns your product marketing with your channel partners' initiatives. Diagrams, white papers, and case studies in the hands of your sales reps and channel partners allow them to tell the story of your brand and the benefits of your products or services clearly and specifically.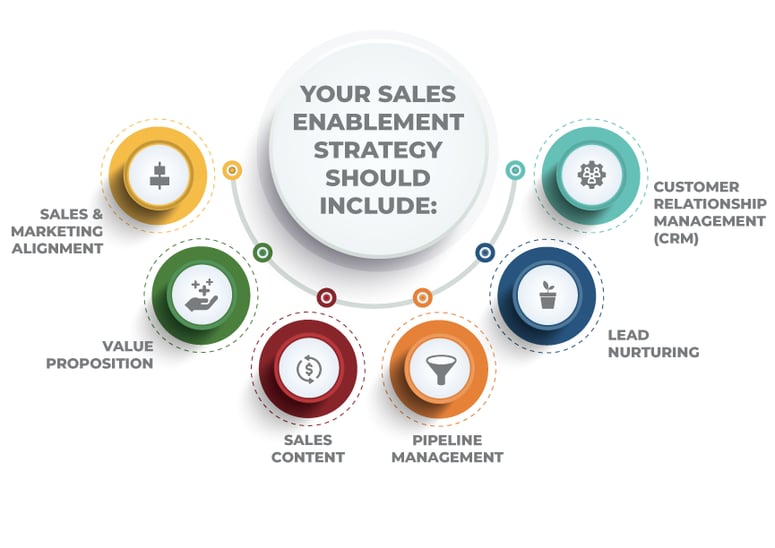 The above illustration shows key components to include in your sales enablement strategy.
Next Steps
Read our B2B Marketing Growth Guide for an in-depth guide to growing your business with additional marketing tactics.
TREW is a marketing agency dedicated to reaching engineering and technical audiences through a range of marketing initiatives. Contact us today to learn more about the services we offer.
SUBSCRIBE TO OUR BLOG FOR THE LATEST UPDATES

Morgan believes that the process of brand positioning and messaging powers companies by aligning corporate leadership, building a story that fuels staff and engages customers, and creating a foundation for consistent content – and she's seen these results come true for TREW clients time and again over the last decade. She holds degrees in Public Relations and Spanish, with a minor in Business from The University of Texas at Austin. Morgan, her husband, and three kids recently moved from Austin to downtown DC, where they enjoy walking the city, visiting the local museums, and playing a guess-who-is-in-that-motorcade game.
TREW Marketing is a strategy-first content marketing agency serving B2B companies that target highly technical buyers. With deep experience in the design, embedded, measurement and automation, and software industries, TREW Marketing provides branding, marketing strategy, content development, and digital marketing services to help customers efficiently and effectively achieve business goals.