11 min read
5 Actionable Ways to Position Yourself as a Thought Leader
Thought leadership is a hot topic. Being a thought leader seems like a ticket to speaking opportunities, partnerships, authority, prestige, and recognition. In reality, thought leadership takes time, effort, and actual expertise.
A thought leader is a person or an organization that becomes an authority on a subject by sharing educational content with their audiences that helps them make informed decisions, without strictly promoting their own products and services.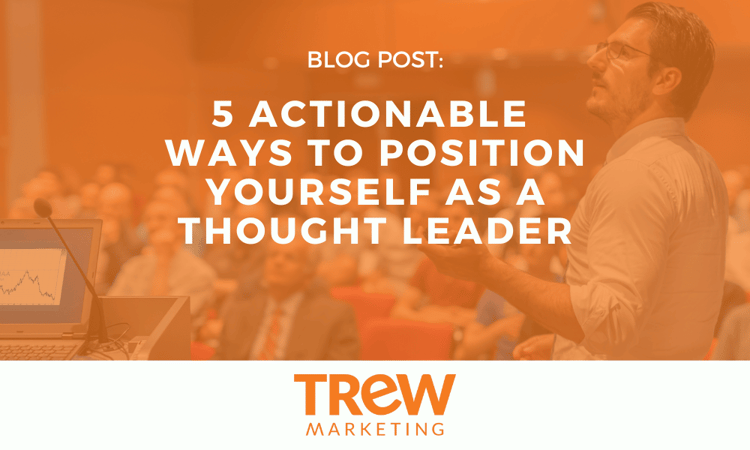 Thought leaders provide this worthwhile content to audiences for free or at a low cost (such as an exchange of contact information). By providing this content to your audience with no strings attached, audiences begin to view your company or a particular member of your leadership as a partner who is genuinely interested in the success of their customers and clients.
Build Your Thought Leadership Platform
First and foremost, it's important to develop your executive thought leadership platform - the foundation that defines why you want to be a thought leader and who you are trying to reach.
The following steps are laid out for the purpose of promoting your company, but the same advice applies for leadership at all levels.
DEFINE YOUR GOAL
Why do you want to be a thought leader? What do you hope to gain with recognition as a thought leader?
Here are a few reasons you may want to gain thought leadership:
Recruit new talent who want to work for and learn from you
Shorten the sales cycle by winning business from prospects more quickly
Gain new business from larger prospects or new industries
Expand what your company offers to existing clients
Improve your company's public image
All of these reasons are valid and each has a common thread -- you want to build trust with stakeholders.
That said, before you answer that you'd like to achieve all of the goals above, choose one to prioritize or write a precise goal. If you aim for too many goals at once, you'll risk being too general and won't accomplish anything.
IDENTIFY YOUR AUDIENCE
Now that you know your goals, identifying your audience should be straightforward.
If your goal is to recruit new talent who want to work for and learn from you, your audience is those recruits -- graduating students if you're looking for new hires or seasoned engineers if you're looking for experienced talent.
If your goal is to shorten the sales cycle, your audience is the decision makers at your target prospects. You want your company name to be top of mind for them. They may not be the person that your team works with post-sale, but they're the ones who approve new expenses and sign the contract.
If your goal is to gain new business from larger prospects or new industries, your audience is the influencers at those organizations -- they likely have niche care-abouts that are different from those of your current clients.
If your goal is to expand what your company offers to existing clients, your audience is your current client base, who may be facing new or evolving challenges.
If your goal is to improve your company's public image, your audience is more likely to be members of the general public and media.
DEFINE YOUR AUDIENCE'S PAIN POINTS
If you're going to be a thought leader that appeals to your target audience and accomplishes your initial goals, you'll need to understand the pain points of your audience. Knowing what your audience cares about will help you decide where to focus and what to talk about. Here are some possible pain points for each of the goals/audiences we've outlined.
New talent: May not know what career moves to make, may not know how a company should support their career development, may want leadership with a history of success in the industry or a trajectory of growth.
Existing prospects: Need a partner who can deliver on speed and reliability, need proof of a reliable solution.
New prospects: May not realize the scope of the problem they have, need to see industry leaders who understand trends, regulations, or upcoming technologies.
Existing clients: Want to know how to grow their business, want to know what technologies can they use or trends they can leverage to operate better or achieve more.
General public/media: Looking for reasons to have opinions about businesses. May not know how and why corporate culture is important. Want to know how and why businesses succeed.
MESSAGE YOUR SPECIFIC EXPERTISE
Your qualifications are just that -- the areas where you have deep expertise. It's easy to hear a trendy word or term and try to jump on the bandwagon. However, we need to define exactly how you're qualified to meet your audience's pain points with your wisdom.
A great way to pinpoint these qualifications is to look at your biggest accomplishments over your career. Ask yourself: What expertise have you gained through your experience? There are people and companies five years behind where you are now who are looking for a guide.
What experience do you have:
With your specific career development?
With specific technical disciplines?
With specific hardware or software platforms?
With specific regulations, certifications, or standards bodies?
With shifts or changes in your industry?
With future or coming technologies?
With business development or growth?
With solving massively complex or difficult challenges?
How does this expertise map to your audience's pain points?
Here's an example: You may be targeting existing prospects and trying to shorten your sales cycle. You also may have distinct insight and expertise on past customers or companies you've seen use the specific solutions you offer to get ahead in business.
You've got your platform! Start outlining 3-5 stories you can share about your experience with companies who have used your solutions or solutions like yours to get reliable results quickly. Show how these technology decisions accelerated their business and set them apart from others.
Here's another example: You may be targeting existing customers who are looking to expand. You may also have specific expertise implementing an emerging technology or new process that improves throughput dramatically. Here's your platform! Share your expertise on this technology or process -- how to use it, when to use it, and what results it brings.
Write a simple outline of your expertise and include stories and examples so that the heavy lifting is done when you go to speak or create content.
Position Yourself as a Thought Leader
Now that you know what you're trying to accomplish, who you're talking to, and what your platform is, look for opportunities to promote your message. You'll likely be able to use this message for a few years (this will give your audience time to know and trust you), so don't put all your thoughts into a single piece. You want to share your message in different ways across different outlets.
Here are a few outlets you can use:
LinkedIn profile: Overhaul your own LinkedIn profile to reflect your leadership platform.
Contributed content: Pitch and submit articles to outlets that your audience reads.
Speaking opportunities: Look for opportunities through leadership organizations, standards bodies, and conferences. Pitch your ability to speak on your specific topics of expertise.


Share News, Make Announcements, and Celebrate
Making announcements about changes within your company is a great way to show transparency and build trust with your audience. You can share news on changes to company leadership, the opening of new locations, or the acquisition of a new brand through press releases or on your own blog. By sharing and celebrating this news with your audience, you can make your company more accessible and human.
To take this transparency to the next level, use your blog as a platform to take a deeper dive into the reasons behind big decisions. You can also share and celebrate in the success of your customers and partners, which can go a long way in helping your customers to view you as more than just a vendor.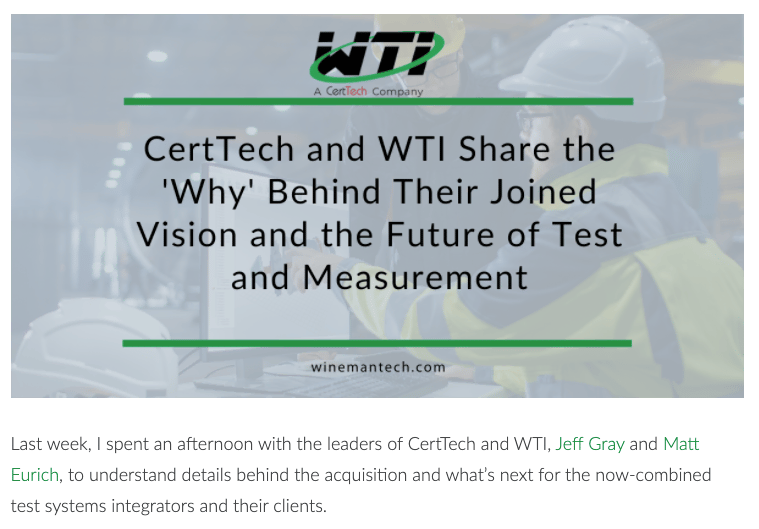 After WTI, a designer and manufacturer of custom test systems and test cells, joined CertTech, an expert in mission-critical and safety applications, they featured an interview with the leadership of both CertTech and WTI to explain the reasoning behind the decision and how the joining of the two brands benefits their customers.


Engage with Industry Audiences via Social Media
Another way that you can position yourself as a thought leader is to participate in industry conversations. Social media outlets like LinkedIn, Twitter, and Reddit provide an open platform for both companies and individuals to engage in discussions about industry current events, challenges, and possible solutions.
In addition to routinely posting your own content, you can actively participate in these social media conversations by reacting to, commenting on, and sharing posts from other people and brands with your network.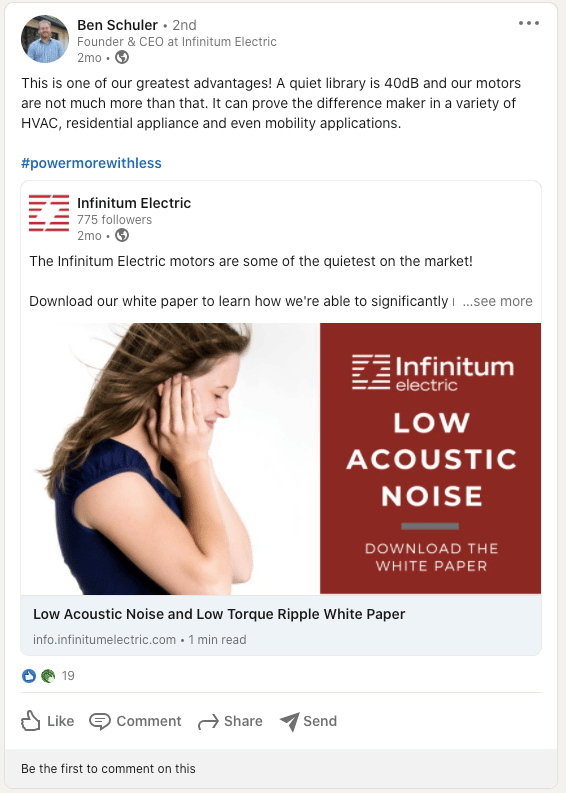 Ben Schuler, Founder and CEO of Infinitum, is an active participant in conversations on LinkedIn about electric motors and various methods of reducing energy consumption. Glancing through his activity on LinkedIn, you can see him frequently reacting to posts by other thought leaders and brands within the industry and adding to the conversation by sharing thoughtful comments on these posts and re-sharing the posts of others. When he shares content from his own company, he provides additional commentary and insights to help contextualize it for his followers.
Create Content That's About More than What You Do
Thought leaders don't just talk about themselves. True thought leaders generate content that is relevant to their target audiences and their biggest pain points, even if it's not directly relevant to your product or service. Positioning yourself as a thought leader is a way to help you build trust with your audience. By sharing the perspectives of others and sharing your perspective on other events in the industry, you can help your audience see you as more than just a company trying to sell their own products and services. Examples of this include blogging about trends and upcoming challenges within your industry, writing a white paper about how your product or service fits within the industry, and writing a case study with a customer perspective on your product or service.
Answer Your Audience's Questions
This might sound crazy, but one of the easiest ways to position your brand as a thought leader is to give your audience what they want! Pay attention to the questions your customers and clients are frequently asking and answer them publicly. You can do this by creating a Frequently Asked Questions (FAQ) page on your website and by writing blog posts that provide in-depth answers to specific questions. You can also use your blog and other pieces of content to address your audience's pain points – and how you can help alleviate them.
Create an Innovation Hub
Finally, you can position yourself as a thought leader by nurturing the ideas of others. Being a thought leader is not always about being the smartest and having the best ideas – you can also be seen as a thought leader by recognizing the thought leadership of others. Encourage other individuals and brands (both within and outside your industry) to share their ideas with the world and do what you can to amplify those ideas.

The Content Marketing, Engineered podcast features marketing advice and interviews with engineering leadership so that listeners can learn about growing technical companies with content marketing.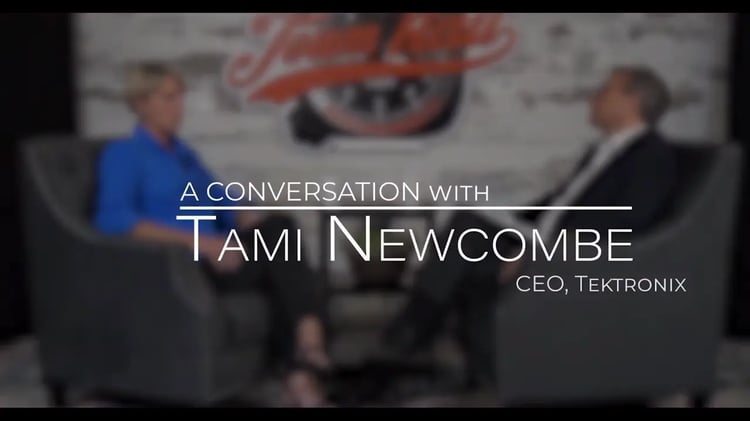 Hiller Measurements, a company that designs and manufactures mission-critical test systems, assemblies, and instrumentation, hosts a video interview series called ae2, short for Artists, Engineers, and Entrepreneurs. In the series, filmed in front of a live studio audience, Hiller Measurements President Jeff Olsen interviews (you guessed it) artists, engineers, and entrepreneurs from a variety of industries, who share stories of both perseverance and failure.
Wondering when to start creating thought leadership content?
The time to position your company or your leaders as thought leaders isn't at the moment you realize you need outsiders to see your experience. It is years before. So if you're wondering "Is now is the right time for thought leadership content?", it probably is.
Thought leadership content isn't arrogant or puffy, rather, it's experts talking about what exactly they're experts at. A startup shouldn't write about how to be a winning startup before they've won, but they can write about what they're learning through pitching their business and rounds of funding. A test system integrator doesn't need to talk about trends in aerospace test if they've only worked in automotive, but they can talk about key care-abouts in automotive test and where the industry is heading. There will always be someone at the point where you were last year or five years ago, so be a leader to them.
Remember, as your company grows, you can have other internal experts take on leadership topics. Thought leadership doesn't need to rest on the CEO alone.
Interested in becoming a thought leader? Learn more about our brand marketing services and how they can help you better position your company and yourself.
Smart brands build trust. Learn how in our Smart Brand Positioning and Messaging for Engineers guide.
TREW is a marketing agency dedicated to reaching engineering and technical audiences through a range of marketing initiatives. Contact us today to learn more about the services we offer.
SUBSCRIBE TO OUR BLOG FOR THE LATEST UPDATES

Julia joined the TREW Crew with a unique client perspective. As a former client, she worked with TREW to guide her employer through a brand evolution combining two 50-year-old brands. She has a passion for both brand marketing and content marketing, with extensive experience collaborating with engineers and subject matter experts in creating and translating technical material into content easily understood by technical audiences.
TREW Marketing is a strategy-first content marketing agency serving B2B companies that target highly technical buyers. With deep experience in the design, embedded, measurement and automation, and software industries, TREW Marketing provides branding, marketing strategy, content development, and digital marketing services to help customers efficiently and effectively achieve business goals.