6 min read
3 Ways to Improve B2B Content Writing Skills
When it comes to writing technical content, marketers often feel stuck – unsure how to know if their content will actually compel and convert prospects.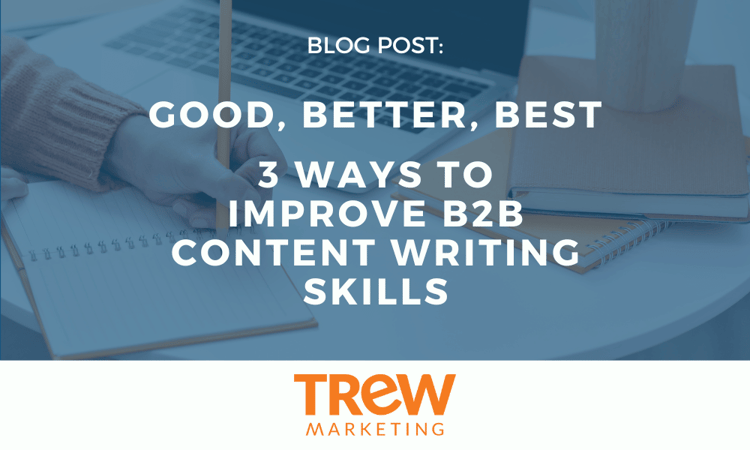 You may not know how to improve your content writing skills, where to get feedback, or what it looks like to grow. Unless your background is specifically in technical content writing with a combined focus in marketing (a rare bunch!), you've likely hit challenges in writing technical marketing content.
A note to hiring managers:
If you're a Sales, Marketing, or HR VP/Director hiring or screening marketing professionals who can write technical content, here's a quick shortcut so you know what to expect with candidates and how to get your marketers up to speed:
Journalism and PR professionals excel at structuring content but need technical expertise.
Technical Writers excel at explaining technical detail but need to learn storytelling.
MarCom/Marketing Generalists excel at understanding CTAs and purposes for content but need to hone in and focus on a niche topic.
Keep reading for more information on resources you can provide so that writers can supplement their B2B content writing training.
Before You Write: Explore and Expand Your Ideas
Before you even begin writing, you'll need a topic and an angle. If you're looking for ideas, a quick search of recent, relevant news should help.
Observe What's Published in Your Industry
Publications abound with articles written by experts in your field. Take a look at the questions these publications are answering through their articles. Check out which articles are getting the most comments, front page (homepage) space, and special features. This content is elevated because both the topic and the writing style engage the technical audience.
Take note of the writing styles and structure of multiple articles in different publications (by different authors) to get a well-rounded repertoire of examples.
On specific topics: How much background do they give the audience? How much does the author assume their reader knows? What products or concepts feel traditional and which are pushing into new territory? What regulations or certifications are important?
As for style: Are they using short sentences? Longer ones? Bulleted lists? Are specs and measurements important?
While there's no need to mimic content or style, a general sense of what's expected in the industry will help get you in the right headspace.
Here are six general engineering publications to start with:
Looking for more information on choosing a topic or content type and how to structure your draft? Take our free class: B2B Content Writing 101 for Technology Companies.
After You Write: Get Feedback. Refine. Grow.
Once you've drafted content, look at the good/better/best approaches to improving that content and growing in your skills so that each piece of content is more valuable to your business than the last.
Good Approach: Ask for a Peer Review
Grab a peer. Maybe you're lucky enough to have a writer on your team, but if not, there are still opportunities for review. Have a former college classmate? A co-worker from a past job? What about someone at your current company who doesn't work in marketing communications but does create tangential content – look for bridges you can build in Sales, HR, or Events/Ops departments.
Recently, we started an internal Slack channel for peer reviews. The stipulations? Post a link to a draft and what type of feedback you're looking for (i.e. is this an outline and you're stuck on section three of five? A first draft and you want to make sure the story flows? Or a final draft where you need edits?) This is something you could start with colleagues or even with a group of industry peers that you've met through jobs, studies, or conferences.
Looking for an editing review? Here's an editing checklist you can hand over with your content to help your reviewer know what to look for.
Cost: Free. Just expect to repay the favor.
Better Approach: Attend a Workshop or Conference
While a peer edit can help you on one specific piece, conferences allow you to gain access to ideas, thought patterns, and new tools that will inform multiple pieces of content. At conferences, you'll hear keynotes that encourage and inspire, and then often have access to more focused tracks that allow you to deep-dive into specific topics like content planning, promotion, and SEO.
Cost: $2-3k, for 2-3 days of conference passes, flights, lodging, and meals.
A few conferences we recommend are HubSpot's INBOUND Marketing Conference and Content Marketing World.
Best Approach: Invest in B2B Content Writing Training and Coaching
Training provides a great opportunity to grow your knowledge as you write. There are hundreds of resources and on-demand classes to use for training – but without an individual component, these will be similar to static conference opportunities. How do you know if you're correctly implementing what you're learning?
Training combined with individual coaching allows you to learn, evolve, and refine your writing process and final deliverables.
Coaching fills the gap when managers are busy training newer employees, working on other business goals, or have been tasked with content marketing success but don't have the specialized expertise to grow a marketer's skills in writing.
Content Writing, Engineered, our 6-week writing course takes you through the repeatable, end-to-end content development process that we use at TREW Marketing to create successful content for hundreds of clients.
During the course, you'll work on an actual piece of content for your business -- so you not only learn how to plan, research, write, and promote content, but you put the knowledge into practice in real time and get expert feedback along the way.
By the end of the course, your content is written, refined, edited, ready to publish, and you've got a process to write dozens more pieces of content.
Cost: $499, for six weeks of training and individual coaching, and a year of resources.
Check out Content Writing, Engineered now.
In conclusion, if you're looking to grow your writing skills or help your team grow to create content that compels and converts prospects, there are a wealth of resources available depending on the time and budget you can allocate.
TREW is a marketing agency dedicated to reaching engineering and technical audiences through a range of marketing initiatives. Contact us today to learn more about the services we offer.
SUBSCRIBE TO OUR BLOG FOR THE LATEST UPDATES

Morgan believes that the process of brand positioning and messaging powers companies by aligning corporate leadership, building a story that fuels staff and engages customers, and creating a foundation for consistent content – and she's seen these results come true for TREW clients time and again over the last decade. She holds degrees in Public Relations and Spanish, with a minor in Business from The University of Texas at Austin. Morgan, her husband, and three kids recently moved from Austin to downtown DC, where they enjoy walking the city, visiting the local museums, and playing a guess-who-is-in-that-motorcade game.
TREW Marketing is a strategy-first content marketing agency serving B2B companies that target highly technical buyers. With deep experience in the design, embedded, measurement and automation, and software industries, TREW Marketing provides branding, marketing strategy, content development, and digital marketing services to help customers efficiently and effectively achieve business goals.