4 min read
The Power of Voice of Customer (VOC) Insights for Engineering Companies
Whether you're creating a headline for your homepage, a topic for your new white paper, or overhauling your corporate brand position and message, you must connect with your customers' pains and help them see how your products or services can solve them.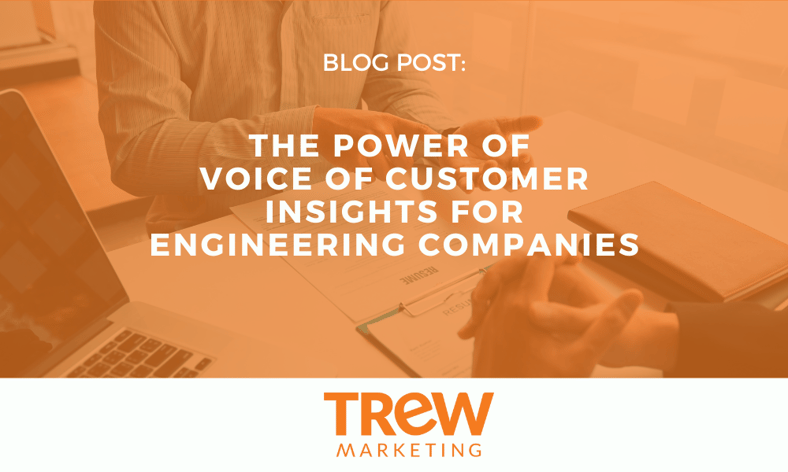 Understanding what your customers truly need and want is critical for any company's success. This is especially true in the engineering industry, where building innovative products and solutions requires deep insights into your customers' pain points, challenges, and desires. Conducting Voice of Customer (VOC) interviews should be a priority for engineering leaders looking to drive growth.
In a famous recent study on McDonalds, showed that understanding why a customer is searching for a solution can allow you to drastically change your approach to marketing in a way that benefits your customer – and your bottom line.
In short, McDonald's wanted to increase milkshake sales. They initially thought customers wanted exciting new flavors, but after leading by messaging their variety, they saw little increases in sales. Through an in-depth customer study and a series of customer interviews, Clayton Christensen, a researcher hired by McDonalds found that "half the fast-food chain's milkshake buyers turn out to be early morning commuters with a long, boring drive, who need some way to stay engaged with life. The other half are dads in the afternoon, buying a treat for their children." As a result, leading with messaging the ease of packaging and quick pickup options are what actually connected with customers pain points and helped to boost sales.
By understanding your customer's pains through their eyes, you're able to focus on the right details to connect with customers – from email newsletter subject lines to whitepaper topics.
VOC interviews involve having in-depth conversations with current, former, and prospective customers to gather feedback on their experiences, impressions, and suggestions.
Key Benefits Engineering Companies Gain By Embracing a VOC Interview Program
Identify Unmet Needs
VOC interviews allow you to discover needs that customers have which are not currently being addressed by your products or competitors. This helps uncover new opportunities and generate ideas for future offerings. Customers will share details on frustrations they face and where they see room for improvement.
Pinpoint Requirements
Through VOC conversations, you gain clarity on exact specifications and capabilities your customers expect in solutions for their particular use cases. For engineering teams, this concrete feedback on technical requirements and feature priorities is invaluable for product development.
Build Customer Empathy
The insights gleaned from VOC interviews allow engineering leaders and cross-functional teams to develop greater empathy for what customers experience. This customer-centric mindset pushes the organization to enhance customer satisfaction at each touchpoint.
Inform Positioning and Messaging
Customers will describe in their own words the key challenges your brand promises to solve for them. VOC provides the raw material to craft differentiated positioning and messaging that resonates.
Uncover Competitive Intelligence
Customers will share candid comparisons of your brand against competitors. VOC sheds light on where your company has an advantage versus gaps to address. You also learn what competitor strengths to be aware of.
The most successful engineering companies make Voice of Customer a continual process, not just a one-off project. Building holistic personas and journey maps based on VOC provides an actionable target as you develop experiences that your customers will value. The insights uncovered will strengthen your product roadmap, marketing strategy, and executive leadership.
Ultimately, connecting directly with your customers leads to building trusted relationships that extend beyond individual purchases. VOC interviews allow you to earn loyalty by demonstrating your commitment to understanding and serving your customers' needs.
Voice of Customer (VOC) Interview Checklist
Here are some quick steps to conducting VOC interviews:
Select interviewers. Choose team members removed from day-to-day customer interactions to get candid feedback. Avoid salespeople or account managers if possible.
Identify participants. Aim to speak with 5-8 customers. Include a mix of satisfied long-term clients and those who may have challenges or defects. Try contacting a prospect who went with a competitor.
Craft questions. Ask about initial challenges, critical success factors, and decision criteria. Inquire about competitor choices. Capture customer pains in their own words.
Conduct interviews. Schedule 15-30 minute calls. Assure confidentiality. Listen more than speak. Probe on insights and specifics. Record interviews for reference.
Analyze responses. Review recordings to identify common themes, priorities, and pain points. Note areas of satisfaction and frustration. Segment key customer types.
Define an action plan. Map insights to specific product improvements, positioning refinement, and improved messaging. Share findings across the organization.
Repeat the process. Conduct annual or bi-annual VOC interviews to keep insights fresh and reflect evolving needs. Use net promoter scores to track progress.
Including customer interviews in your brand positioning and messaging process is time consuming, but can be the difference in whether you accurately articulate your solutions and connect with your customers.
Learn more about brand positioning and messaging development by downloading our guide, Smart Brand Positioning and Messaging for Engineers.
TREW is a marketing agency dedicated to reaching engineering and technical audiences through a range of marketing initiatives. Contact us today to learn more about the services we offer.
SUBSCRIBE TO OUR BLOG FOR THE LATEST UPDATES

Morgan believes that the process of brand positioning and messaging powers companies by aligning corporate leadership, building a story that fuels staff and engages customers, and creating a foundation for consistent content – and she's seen these results come true for TREW clients time and again over the last decade. She holds degrees in Public Relations and Spanish, with a minor in Business from The University of Texas at Austin. Morgan, her husband, and three kids recently moved from Austin to downtown DC, where they enjoy walking the city, visiting the local museums, and playing a guess-who-is-in-that-motorcade game.
TREW Marketing is a strategy-first content marketing agency serving B2B companies that target highly technical buyers. With deep experience in the design, embedded, measurement and automation, and software industries, TREW Marketing provides branding, marketing strategy, content development, and digital marketing services to help customers efficiently and effectively achieve business goals.