13 min read
10 Activities to Include in Your B2B Content Marketing Strategy
Marketing without a plan leads to mediocre results and higher costs – in time, money, stress, and frustration. Creating a B2B marketing plan that drives results involves these essential steps.
Understanding your business goals.

Ultimately, your marketing activities need to support your business objectives. Start with your 1–3-year business goals, before diving in to better understand your products/services, key differentiators, target audience groups, target markets, and competitive landscape.

Developing a marketing strategy.

Next, define marketing goals, such penetrating a new market, growing leadership position in an existing market, generating brand awareness among a specific audience, or establishing an inbound marketing foundation. Then, create campaigns to support your marketing goals.

Prioritizing your marketing activities.

Within each marketing campaign, identify key content needs to support the campaign objectives, as well as content themes targeted to your buyer personas.

Implementing your marketing plan.

Finally, map out your marketing activities with an activity plan. Outline specific activities month-by-month, and use the plan as a living document that should be revisited quarterly to ensure that activities continue to align with your marketing and business goals.
When it comes to implementing your B2B content marketing plan, inbound marketing strategies are a cost-effective approach to reach your target audiences, generate awareness, establish or gain credibility in new markets, and grow high-quality leads.
Deciding which inbound activities to implement can be overwhelming, so we've created a list of our top 10 recommendations that you should consider including in your B2B marketing plan:
Why are inbound marketing strategies so successful? Because the traditional ways of marketing like trade shows, ads, word of mouth, and cold calling don't work like they used to.
From TREW's annual research study, we know that 41% of engineers spend between a quarter and half of the buying process online, and 33% spend over half of the buying process online.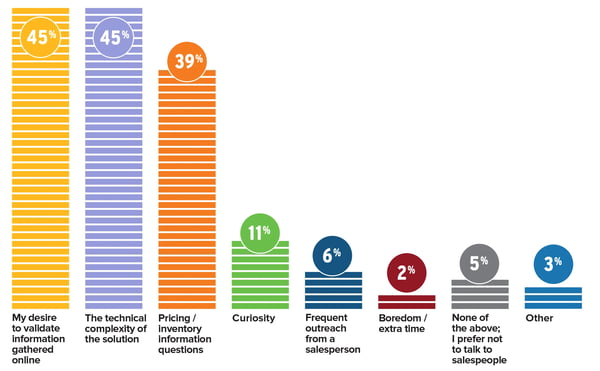 Think about your most recent work-related vendor purchases and fill in the blank. ______________ motivated me to interact with a salesperson for the first time.
Ensuring you have a mix of inbound activities implemented through an integrated approach is key to reaching your prospects where they're at -- online -- and providing a variety of content to help them evaluate your offerings and value proposition throughout their buyer's journey.
Write Weekly Blog Posts
Blog posts are critical for driving new and repeat traffic to your website. New content allows you to target new keywords, increases your site's page count, and can position you as a thought-leader and expert in your industry. Blog posts should be 600-1,000 words in length with at least one image. If weekly posts are too much for your team's current bandwidth, consider asking partners, customers, and industry thought-leaders to submit guest blog posts that you can publish on your site. Guest blog posts are a great way to supplement your own posts and build credibility.
Monitor Your Website and Make Monthly Enhancements
Your website is your 24/7/365 sales machine. Keeping it updated monthly with new, relevant content is key to ensuring that it's delivering visits, leads, and new contacts to help grow your database and help your sales team convert leads into opportunities.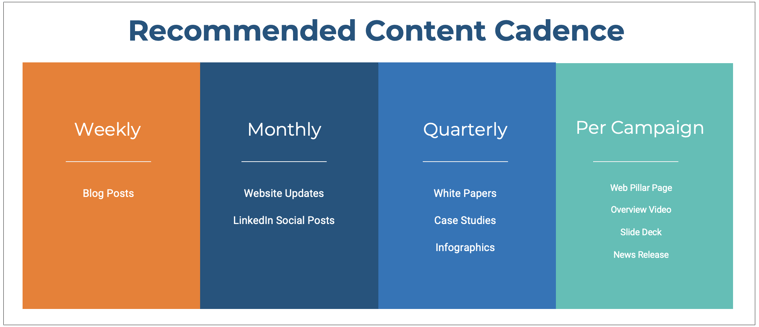 TREW's recommended cadence for inbound content marketing for optimal results.
Get Noticed with Quarterly Graphics and Images
Visual content including images and infographics is powerful for SEO and social media. Using keywords in the photo alt tags on your blog and web pages helps you get found on image search result pages and can increase your click-through rate for social media backlinks.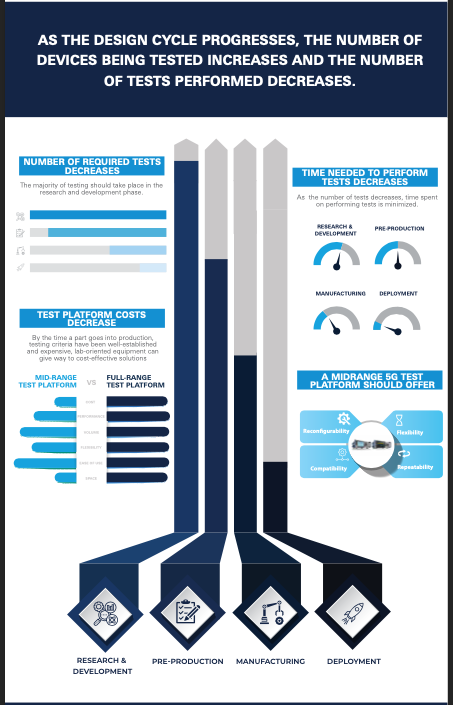 An example of an eye-catching infographic that can be shared easily across channels.
Capture Attention with Technical Videos
Video works effectively across multiple channels. You can embed video within your website, or share them across various platforms including YouTube and LinkedIn. They are also great to use on display monitors at trade shows and events. While B2B videos are increasing in popularity because they are entertaining, engaging, and easy to consume, engineering audiences find highly technical video formats most valuable when researching to make a significant work-related purchase. According to TREW's annual research study, 37% of engineers find product demo videos valuable and 29% find case studies (which can have many formats) valuable.
An example of a demo video that helps audiences better understand how your product works.
An example of a case study video that demonstrates your company's solutions in action.
Ensure you have at least one video in your annual plan and in each of your campaigns. Then, optimize them for search by posting them to YouTube with an appropriate keyword-rich title and description tags to get found on search and optimize content off your domain.
Share Your Message with Corporate and Sales Presentation Decks
Your corporate and sales presentations must grow with your business. Have you revised your brand positioning and messaging recently? Do you have new products or services? Are you partnering with new companies? If you answered yes to any of these questions it's time to update your corporate slide deck and sales pitch decks. Leverage past presentations to repurpose content and create new slides and visuals that convey your new messaging or products/services and position you as an expert in your industry.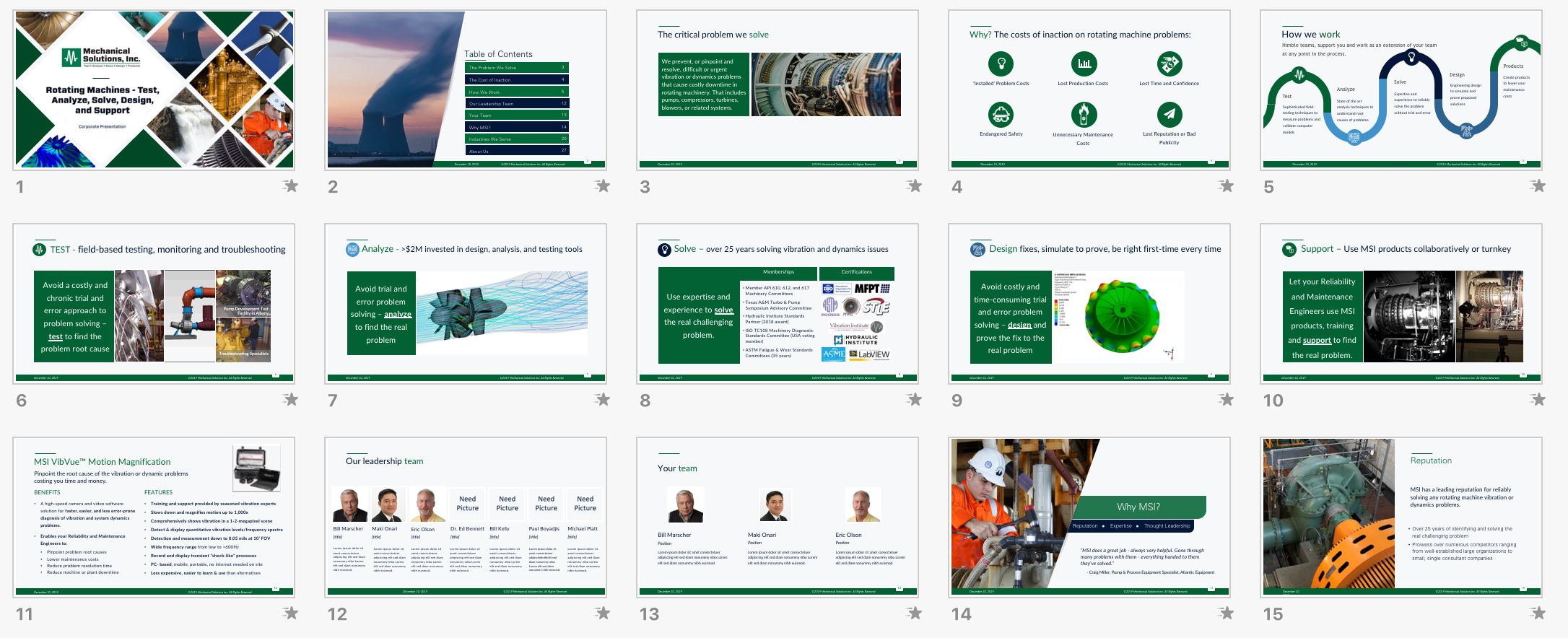 An example of a corporate slide deck that helps you share and deliver the story of your company to audiences.
Optimize Your Content for SEO with Topic Clusters
This SEO best practice brings sense to the world of search. Instead of building web pages optimized around one keyword, you build your website around key topics that are central to your business and services. Start with your target buyer persona and map their central pain point or problem statement with long-tail, keyword-rich blog posts, case studies, white papers, and other inbound content to illustrate how your company is uniquely positioned to solve their primary pain point and deliver results.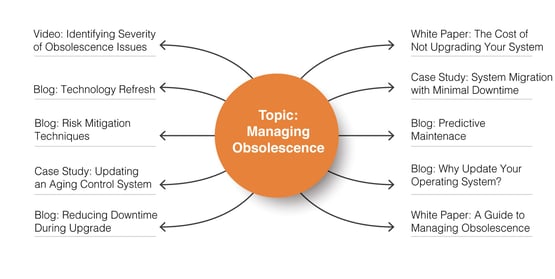 A great way to visualize topic clusters.
Promote Your Content on Social Media
There are a number of ways and channels to promote your content online. The most successful promotional plans integrate a variety of marketing activities around the content to amplify it and ensure it attracts your target audience. Below are just a few activities to consider when promoting your content.
Content should be promoted on social media channels. Leveraging social media to share your content can attract new prospects and boost SEO by building backlinks to your site. For B2B technical companies, LinkedIn and YouTube are the most effective social media channels. We recommend promoting your technical content on LinkedIn up to 3 times a week, and uploading new videos to YouTube as you create them. While the quantity of visits to your site from social media may be small to start, the quality of these visits is high, generating on average, five minutes of time-on-site. Higher than any other promotional activity.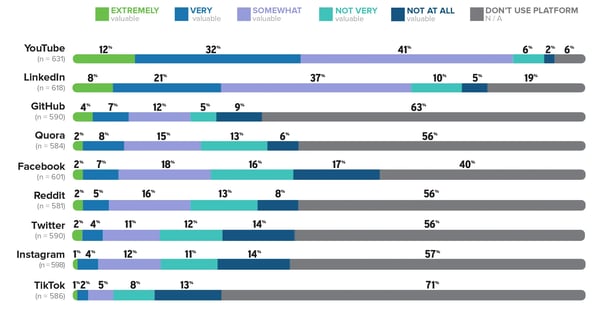 How valuable are each of the following social media platforms when seeking information on the latest engineering technologies, industry trends, and products?
Nurture Existing Leads with Email Campaigns
Emailing contacts in your database to share new content that's relevant to their interests can keep you top of mind and engage them to take action. A quarterly email newsletter to your database is a great way to nurture your contacts and promote new content, news, or events and generate an increase of traffic to your site and marketing qualified leads to your sales team. Just be sure to segment your email send list so your contacts receive the content most valuable to their business and pain points.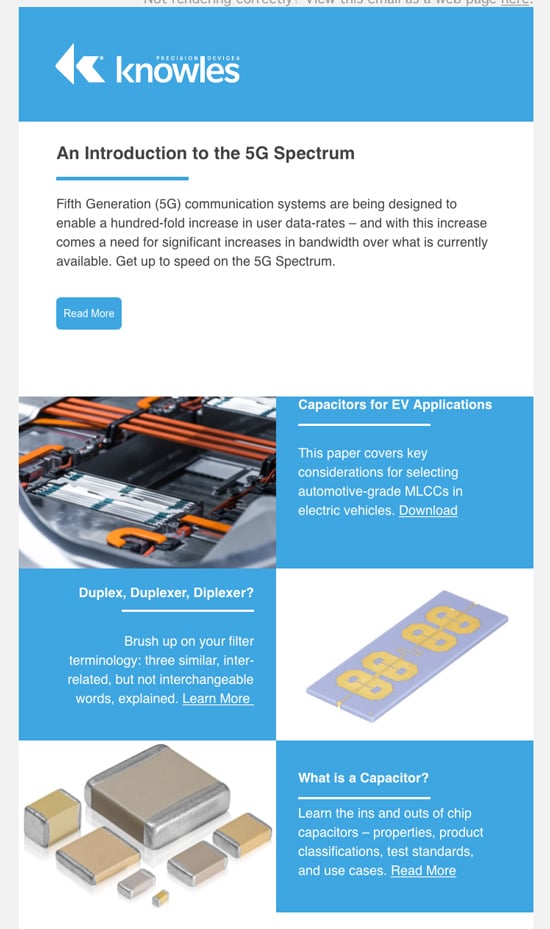 An example of an email newsletter, sharing new content to an interested audience.
Attract New Contacts with Paid Social Campaigns
Running a paid LinkedIn campaign with a call-to-action to download your lead-generating content offer can be an effective way to bring in new traffic and contacts to your database. Entice scrollers to click on your ad with eye-catching creative and copy, and keep them on your site with a compelling content offering.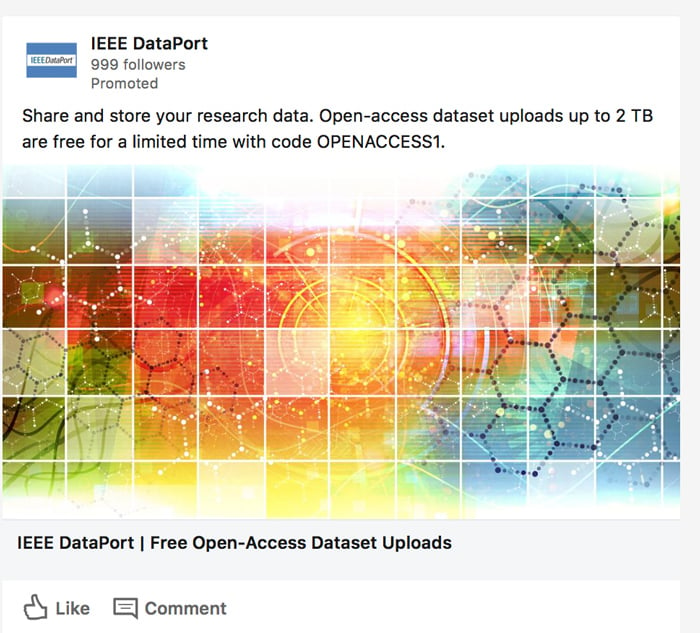 An example of a LinkedIn Sponsored Content paid advertising campaign.
Generate Leads by Gating High-Value Content with Landing Pages
Creating a landing page for gated content like white papers and on-demand webinars helps convert web visitors to leads and is an important step in the conversion process. A well-written landing page showcases how a reader will benefit from accessing the content, enticing them to give their contact information in exchange for access.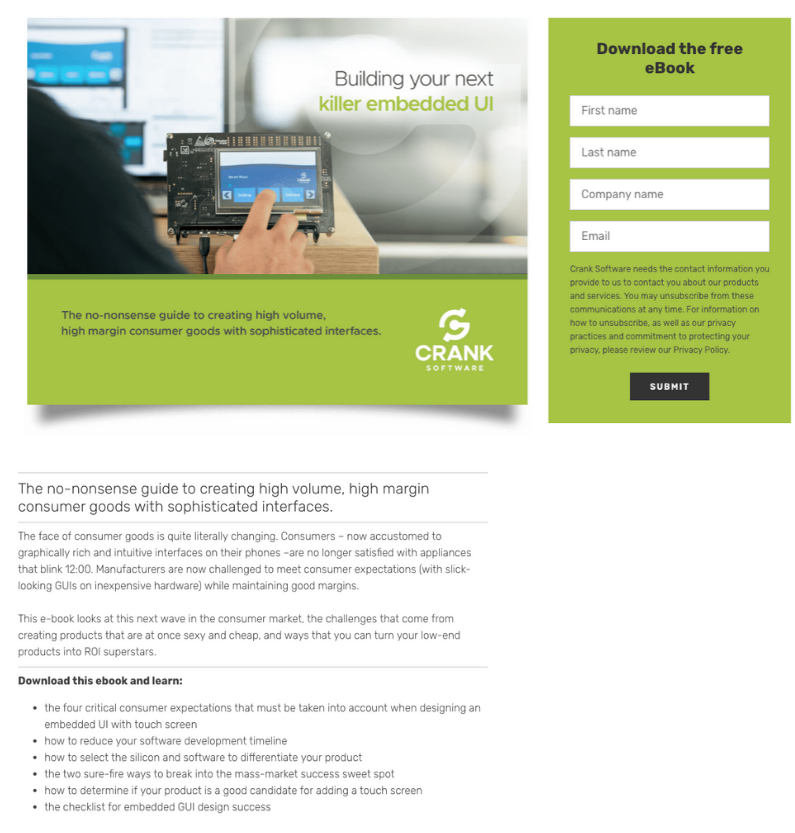 An example of a landing page that includes a form gating valuable content, with an overview of what audiences will get from downloading your content.
Create a Variety of B2B Inbound Marketing Content to Drive Success
Ultimately, inbound marketing with content at that heart of your marketing plan, is the currency of marketing today. If you take a methodical and integrated approach to inbound marketing, you can successfully reach your marketing goals and generate the new leads and revenue you seek.
TREW client Knowles Precision Devices, has put these inbound tactics into practice with a full marketing plan, establishing buyer personas, marketing goals, specific campaigns, and overall marketing strategy. Read more about their results in this case study.
Looking for more marketing planning advice? Access our free Marketing Planning Guidebook.
TREW is a marketing agency dedicated to reaching engineering and technical audiences through a range of marketing initiatives. Contact us today to learn more about the services we offer.
SUBSCRIBE TO OUR BLOG FOR THE LATEST UPDATES

Lee guides agency strategy and performance, and she champions the ongoing pursuit of building a great marketing team. She has extensive B2B technical marketing experience across a spectrum of industries and application areas including test and measurement, control and automation, and industrial manufacturing. Her focus has always been on building lasting partnerships that connect marketing strategy to bottom line-business results. Lee lives in Austin, Texas where she is passionate about supporting organizations working to end homelessness and provide affordable housing in Central Texas.
TREW Marketing is a strategy-first content marketing agency serving B2B companies that target highly technical buyers. With deep experience in the design, embedded, measurement and automation, and software industries, TREW Marketing provides branding, marketing strategy, content development, and digital marketing services to help customers efficiently and effectively achieve business goals.