11 min read
10 Marketing Videos That Engage B2B Buyers
In 2022, your marketing strategy must go beyond putting words on paper. As the world become more digitized, buyers expect and look for brands that create multimedia content. But here's the good news: Videos can be a more effective way to present data and reach buyers compared to blogs and white papers.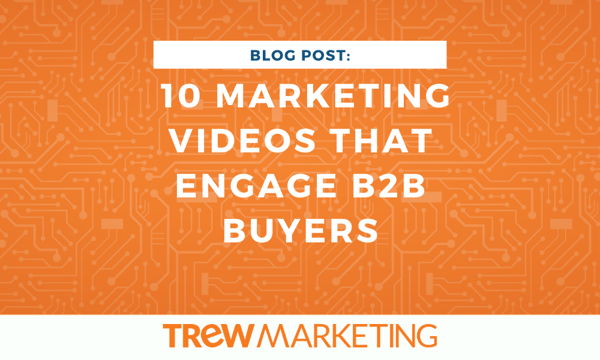 For traditional content marketers, making the shift to video marketing is intimidating and easy to veto while in marketing planning. By avoiding video though, inbound marketers are missing a big opportunity for their company.
In 2022, buyers are watching video for work more than ever before. According to our
, ninety-six percent of engineers watch videos for work (up from ninety-three percent in 2019). Forty-three percent watch less than one hour, while another fifty-three percent watch for one hour or more per week.

In addition to being a preferred content source for engineers, marketing videos also help marketers. Here's some examples of how videos help marketers:
Video increases searchability. Search algorithms are increasingly prioritizing web pages with video, and videos now appear in 55 percent of Google keyword searches. By adding videos to high traffic web pages, you can boost web page SEO.
Video increases click-through rates. Including video on your page drives a 157 percent increase in organic traffic from SERPs.
Video lowers bounce rates. People spend more than twice as long on a page with video than they do a page without video. Increasing time users spend on site is also a good way to move up in search rankings.
Engineers use videos to solve problems. Engineers are using YouTube and video content to solve problems while at work. Help solve pain points felt by your audience by creating short, informative videos.
Engineers and technical buyers use different types of marketing videos to accomplish different goals. Different kinds of marketing videos hep push prospects further into the buyer's journey. Before you can start filming your marketing video, you'll need to figure out what type of video will best reach your target personas. To help, we've put together 10 marketing videos proven to reach B2B technical buyers.
10 Marketing Videos to Engage B2B Buyers
1. BRand/Corporate Video
A corporate or brand video captures what your brand does and why that matters to your customers. Great corporate videos speak right to customer pain points while showing how your products/services eliminate customer challenges. Here's an example of TREW's corporate video:
2. Educational Videos/How To Videos
Educating prospects on complex aspects of your product or service helps move them along in their buyer's journeys. Fusion Coolant does a great job of creating videos that educate views on key features of their products and the technology they utilize.
3. VIDEO SERIES
For technical brands, it can be hard to cover technical aspects in a short educational video. That's why it often makes sense for brands to create video series around a complex subject or keyword. Check out this video series on Fiber Optics from Promet Optics:
4. Demo Videos
Demo videos of software and other platforms helps engineers and technical buyers learn to trust you. Vertech does a great job of publishing software demo videos. Here's an example of a demo video by Vertech:
5. INTERVIEW/Testimonial Video
Interview videos help personalize a brand, while covering topics relevant to their core audiences. They can be a good way to build brand trust and even grow a following in a brand's content. Here's an example of an interview-style video, where Jeff Olsen interview artists, engineers and entrepreneurs (like Wendy Covey) on his video series, ae2.
6. Case Study Videos
Instead of filming a customer interview, you could also create a case study video where you review a project execution and overall success. Below is an example of a case study video that Rockwell Automation created.
7. Product/Explainer Videos
For product launches, you should consider filming a product video that steps through the key benefits your product brings and how it solves pain points. Below is an example of National Instrument's LabVIEW product video.
8. ANIMATED VIDEOS
Animated videos can help depict complex data in a simplified way. With animated videos, you also do not need to use actors in your video, but you will need a graphic designer with animation experience. Here's an example of an animated video by Fusion Coolant that shows how their product can be installed using existing infrastructure.
9. Whiteboard Videos
Like animated videos, white board videos are another great way to explain complex technical topics. Here is an example of a technical white board video from Silicon Audio.
10. Product Review Video
To establish your brand as a thought leader, you could create videos that review products, software and version updates for your customers. Hiller Measurements started a new video series called Hiller Product Reviews, where engineers share real-world experience using and programming technical products.
With so many options, you might find it difficult to decide and/or prioritize your next marketing videos. To help, start by setting an overarching goal for your marketing video. Here are examples of marketing video goals:
Drive awareness of product/service
Position your brand as a thought leader
Introduce prospects to your brand

Explain a key feature/differentiator
Once you have a marketing video goal, revisit your buyer personas to help decide which video type is best for your persona. To help, we've put together a table below that details which types of marketing videos best fit within each stage of the buyer's journey.
Buyer's Journey Stage for Marketing Video Types
ATTRACT

CONVERT

CLOSE

DELIGHT

Prospects are experiencing and expressing symptoms of a problem or opportunity.

Prospects have now clearly defined and given a name to their problem or opportunity.

Prospect has now decided on their solution strategy, method, or approach.

Prospect is now a customer who engages with your brand and can potentially become a brand promoter.

Video Types:

Corporate/Brand

Testimonials/Interview

Educational

Video Series




Video Types:

Product/Explainer

Case Study
Product Review
Animated/Whiteboard

Video Types:

Demo

Testimonial/Interview
Explainer
Video Series
Case Study

Video Types:

Demo

Brand Culture

Tutorial



Once you've selected the type of marketing video you want to create, you'll need to work on scripting and storyboarding your video. Learn more by reading our blog post, A Great Video Starts with a Great Script.
---
Want to learn more about video marketing? Download our Video Marketing Getting-Started Guide for tips and tricks for adding video to your marketing strategy.
This post has been updated since its original publication.

Marketing Manager
TREW Marketing is a strategy-first content marketing agency serving B2B companies that target highly technical buyers. With deep experience in the design, embedded, measurement and automation, and software industries, TREW Marketing provides branding, marketing strategy, content development, and digital marketing services to help customers efficiently and effectively achieve business goals.