7 min read
6 Essential Components to Developing an Engineering Marketing Plan
Marketing can seem daunting these days, especially with the explosion of media channels, generative AI tools, and ever-changing Google algorithms. By using the right audience-centric framework, you can develop a comprehensive and right-sized marketing strategy that will help you reach new customers, build brand loyalty with existing customers, and increase revenue. In this article, we'll explore the six essential components to include in your marketing plan.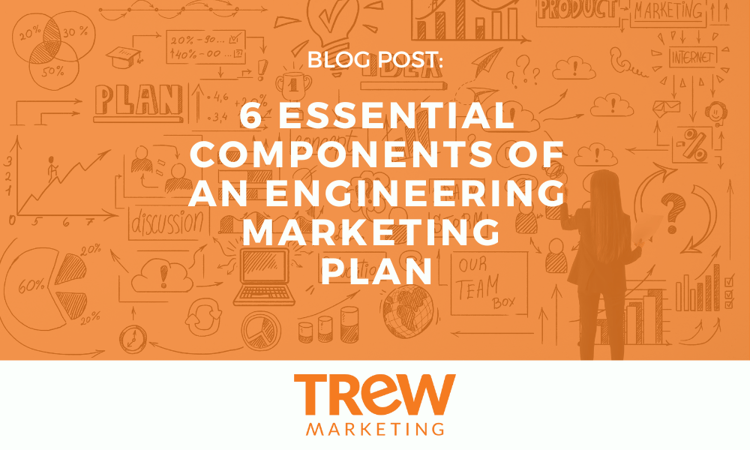 1: Develop Audience personas
When it comes to creating a successful marketing strategy, understanding your audience is key. By creating detailed profiles of your potential customers, you can gain insight into their behavior, needs, and preferences. You can then carry this information into your marketing plan, from messaging and channel selection, to content along the buyer's journey.
While there are multiple job functions on a buying team, you may decide to dedicate most of your marketing efforts towards the technical specifier (who first finds you) and the technical leader (often the final decision-maker). Once you've prioritized them, assess their pain points and identify what is driving them to seek a solution. This will be the basis of your tailored content strategy and activity plan, which will greatly increase the likelihood of success.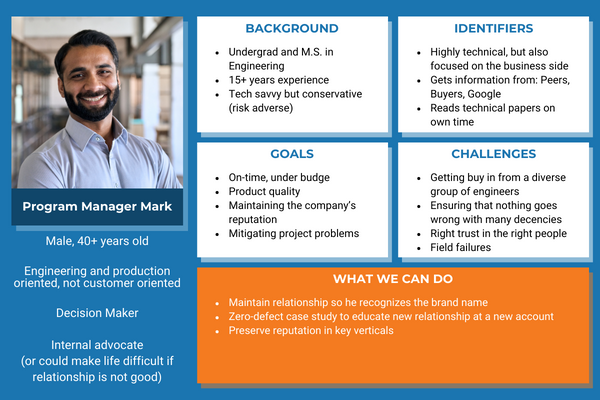 Audience personas help you to better understand your audience's needs and identify ways you can help them achieve their goals.
2. Set SMART Goals
Whether you are looking to grow your customer base, increase sales, or simply improve your overall marketing efforts, setting SMART goals is the first step toward achieving those goals.Documented goals also help you align your organization's focus and clearly define what marketing success look like. By making goals measurable, achievable, and realistic, you can keep your team on track and ensure that everyone works together toward the same objectives. SMART goals aren't just a conceptual framework – they provide the foundation for long-term success, allowing you to track progress and adjust course as needed.
Here are a few examples of SMART goals:
Grow our brand authority score from 15 to 20 by Q2 2024
Increase the number of sales qualified automotive leads by 15% by Q4 2023
Grow organic web traffic by 30% in 2024
Each marketing goal should support a business goal, so it's important to conduct marketing planning after business planning is complete. Initiatives may surface that drastically impact where you decided to focus marketing, such as new markets or perspective technology partnerships.
3. Identify Your Unique Value Proposition
Your unique value proposition helps you build a cohesive brand, attract more customers, and sets you apart from your competition. It is what makes your brand, product, or service stand out in the minds of potential customers. It could be your expertise in a specific niche, your exceptional customer service, or perhaps a unique selling point that nobody else offers.
To get started, assemble a small team of stakeholders in your organization and take some time to reflect on what differentiates you from your competitors. Ask your customers (current and past) to gain external perspective. Then test your messaging in the market for at least six months, and refine as necessary.
Your value proposition must be clear and consistent in all of your online and sales enablement so that prospects know exactly what sets you apart and why they should choose you.
4. Develop an activity plan
Now that you've identified and prioritized your target personas and crafted your unique value proposition, it's time to choose marketing channels and activities to reach them.
There are many tactics to choose from. Some involve leveraging industry communities, such as technical publications, trade shows and associations, or search engines. Other tactics include engaging the community you've built, including your website, CRM, and LinkedIN or YouTube presence.
When you select channels, ensure they are channels your personas use during their buyer's journey. Based on your persona work and past marketing successes (and failures), you should have a pretty good idea of where to start. Industry research, such as the State of Marketing to Engineers report and Mind of the Engineer study can also provide insight. Keep in mind that information needs and sources change throughout the buyer's journey, and you want to be in the right places, at the right time with the right message.
Here are a few channels which are particularly effective targeting engineers:
Supplier/vendor websites housing helpful content written with the persona's pain points and needs in mind
LinkedIn engagement including sharing and engaging with educational posts
Webinars where persona pain points are addressed by a technical subject-matter expert
Targeted advertising with a compelling call-to-action (think e-book, white paper, webinar)
Industry conference presentations and booths
Contributed articles in technical publications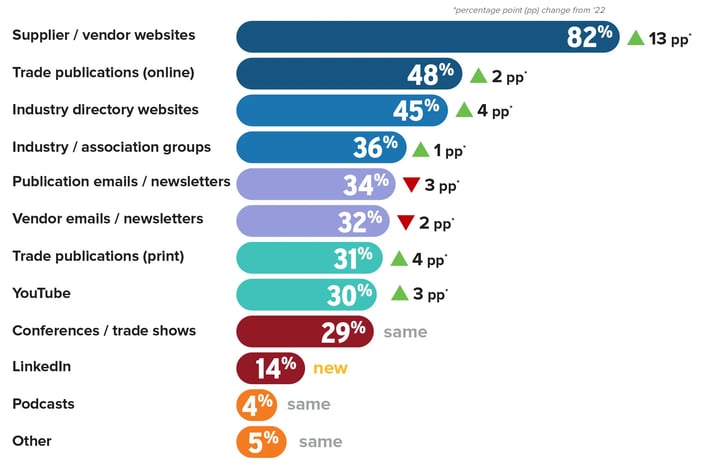 When asked where they routinely seek information when researching a product or service for a work-related purchase, most technical buyers look to online resources according to the 2023 State of Marketing to Engineers report.
With limited time and budget, a campaign approach can help you stay focused and maximize your impact. A campaign is an integrated set of activities tied by a common goal and/or theme. Companies often run 2-4 campaigns concurrently for six months up to one year.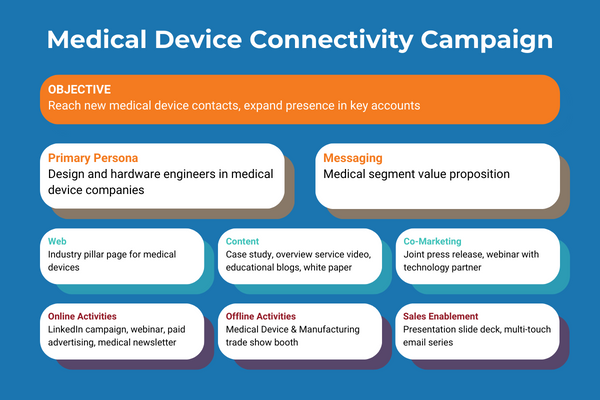 Example marketing campaign
5. Develop a Budget and Set Deadlines
Creating a successful plan starts with establishing a realistic budget and setting achievable deadlines. Without clear financial boundaries, projects may exceed their intended scope, causing delays and impacting end results. Experts recommend a B2B marketing budget of around 10% of annual gross revenue. Evaluate your tactics and channels and prioritize your marketing spend where it can have the greatest impact on reaching your target audience and maximizing ROI.
B2B Marketing Budgets based on Company Type.
With your budget established, you'll need to attach time and/or dollars to each marketing tactic and channel, along with deadlines and next steps across your execution. Keep yourself and your team accountable with ongoing task management to ensure that each task is completed on time, on message, and on budget.
6. Track Results and Adjust
Do not set it and forget it. When it comes to executing a successful marketing program, tracking your results is key. Through regular monitoring, you can gain valuable insights into what's working and what's not. Whether it's tweaking your messaging, changing your targeting, or adjusting your budget, monitoring results and adjusting your plan as needed is essential for staying on track and achieving your goals. With the ability to adapt to changes, you can better position your company for success in an ever-evolving market.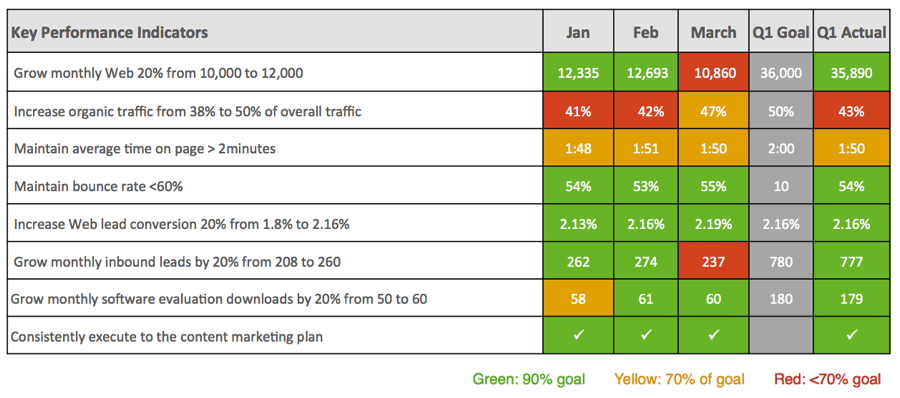 Create a MArketing Scorecard to Track Your Results.
A Strategic Marketing Plan is Key to Success
Crafting a marketing plan to align your business and manage your goals is essential. Creating and following a thoughtful marketing plan is the best way to maximize the dollars you invest, not only in marketing activities, but your investment in your sales team as well. If marketing can attract prospects, build trust, and generate qualified leads, your sales team can spend more time on high-impact activities such as closing and nurturing key accounts.
Technology Marketing Plan in Practice: A Case Study for Knowles Precision Devices
Back in 2018, Knowles Precision Devices was under new marketing leadership and faced the opportunity to grab market share in a few key markets as they evolved. To meet these business goals, Knowles decided to implement an inbound marketing approach. Content was the heart of their approach, and they looked to TREW to plan, develop and execute their content marketing strategy from the ground up.
We started with a full marketing plan, establishing buyer personas, marketing goals, specific campaigns, and overall marketing strategy that the content plan would roll up and support. We then developed a detailed content plan that focused on four primary content themes targeted to the established personas at various stages of their buyer's journey.
Looking for additional marketing planning insights for your engineering company?
For more information on Marketing Planning for Engineering, download our B2B Marketing Planning Guidebook to dive deeper into the marketing planning process.
TREW is a marketing agency dedicated to reaching engineering and technical audiences through a range of marketing initiatives. Contact us today to learn more about the services we offer.
Subscribe to Our Blog for the Latest Updates

Lee guides agency strategy and performance, and she champions the ongoing pursuit of building a great marketing team. She has extensive B2B technical marketing experience across a spectrum of industries and application areas including test and measurement, control and automation, and industrial manufacturing. Her focus has always been on building lasting partnerships that connect marketing strategy to bottom line-business results. Lee lives in Austin, Texas where she is passionate about supporting organizations working to end homelessness and provide affordable housing in Central Texas.
TREW Marketing is a strategy-first content marketing agency serving B2B companies that target highly technical buyers. With deep experience in the design, embedded, measurement and automation, and software industries, TREW Marketing provides branding, marketing strategy, content development, and digital marketing services to help customers efficiently and effectively achieve business goals.