Topic clusters are now king when it comes to search engine optimization. Building out topic clusters is a new SEO strategy that focuses on fully covering a topic and building relationships between keywords.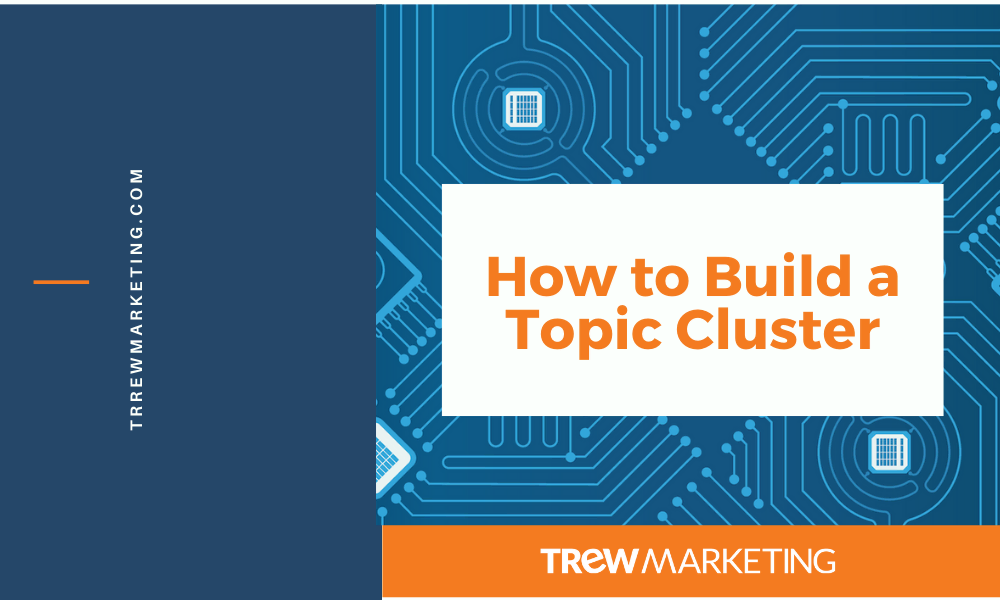 In 2015, Google launched RankBrain -- a machine learning algorithm that associates past searches with similar topics and phrases to find the best search results for you. In order to rank well on a search engine results page (SERP), we must show how keywords relate to one another.
To show Google that you are a trusted and reliable source on a topic or subject, you need to build topic clusters out on your site. For those of you who are new to the tactic and concerned with how to create a topic cluster, here are 6 steps to take to get started:
1. Pick your topic
Start with figuring out what subject you want to be a thought leader on, then build content around this topic to help prospects grow to trust you and your brand. This should be a topic that is a cornerstone of your business and a service where you are more differeniated than your competition.
Since this is a core topic to your business, you should already have a web page and supporting content on this subject. Conduct a content audit to see how much content and how many web pages you have in place already.
2. Brainstorm your subtopics
To build out a topic cluster, you need to brainstorm subtopics. Subtopics help to fully cover a topic in detail. Think about relevant content that your buyer personas would look for when researching a new solution or product.
For instance, if you pick the topic "industrial network security", you would want to brainstorm relevant subtopics and content that an engineer would want to see when searching online for the term. Your brainstorming session might come up with a blog post/subtopic page with the title "How to Secure Your SCADA System from Cyber Attacks".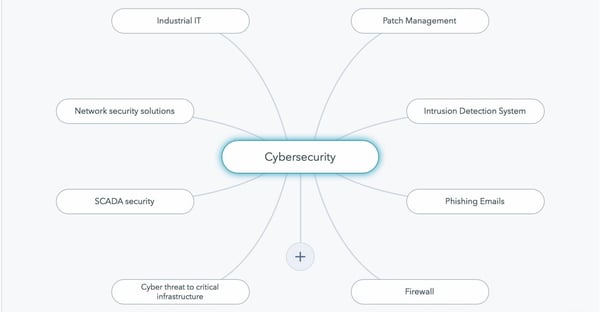 Here's an example of a topic cluster on cybersecurity.
A helpful idea to foster brainstorming is to think through pain points for your buyer personas. Come up with questions that prospects have, then develop content to answer these questions.
For instance, a buyer looking to secure his/her control system from a cyber threat might ask "What are steps I can take to secure my control system from hacking?"
Ideally, you should brainstorm your topic clusters and content ideas at the same time. Be sure to include your technical experts and sales team in your brainstorming session to help provide relevant subtopics mapped to your personas pain points or key careabouts.
3. Don't forget about your keywords!
Although topic clusters are the latest SEO strategy, this doesn't mean that focused keywords are irrelevant when it comes to ranking in SERPs. You still need to optimize your content and web pages around your keywords.
With topic clusters, keyword research is still important, but because you are building relationships between your keywords, there is less focus on it.
HubSpot is the primary automation software we use at TREW. The example I'll use references this tool, which makes doing keyword research on your topic clusters very easy. When you go into HubSpot's Strategy Tool, you can begin setting up your topic clusters. As you enter your topics and subtopics, HubSpot automatically pulls up keyword research on each term so you know the amount of searches per month your topics and subtopics receive.

Here's an example of a topic cluster built out in HubSpot. You can see the keyword search data on the top left.
HubSpot also gives you a domain authority score for each topic. This is a predictive score that indicates how well your website will rank on search engines. Another score HubSpot provides is a relevancy score that analyzes how much existing content you have on a topic. A low relevancy score means you need to create more content on that topic.
With your topic clusters developed and keyword research finalized, your next step is to optimize your pages around your new topics and subtopics. Be sure to audit your existing content to optimize around any new keywords you have added.
4. Develop Your Pillar Pages
With all the brainstorming, research and strategy behind you, your next step is to develop your pillar pages. A pillar page will extensively cover your chosen topic.
For B2B technical companies, your pillar pages may be your core service pages. You want your pillar pages to have relevant pictures, high-quality and interesting content, compelling headers and any additional, related resources, such as a custom graphic visually demonstrating your expertise on a topic.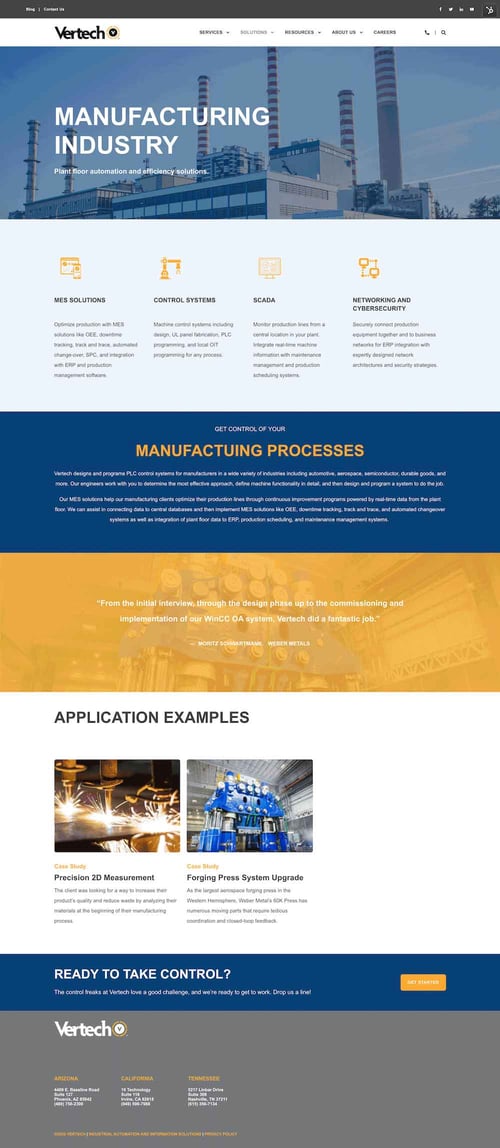 Here is an example of a pillar page the TREW team created for Vertech.
Take the time to design and develop your pillar pages around your topic. Keep your buyer personas in mind as you create your pillar page.
5. Link, link, link
To show search engines how your topics and subtopics relate, you must link all your related pages. Your pillar page should include links to all subtopic content, such as relevant blog posts, case studies, white papers, etc. Additionally, your subtopic pages need to link back to the related pillar page.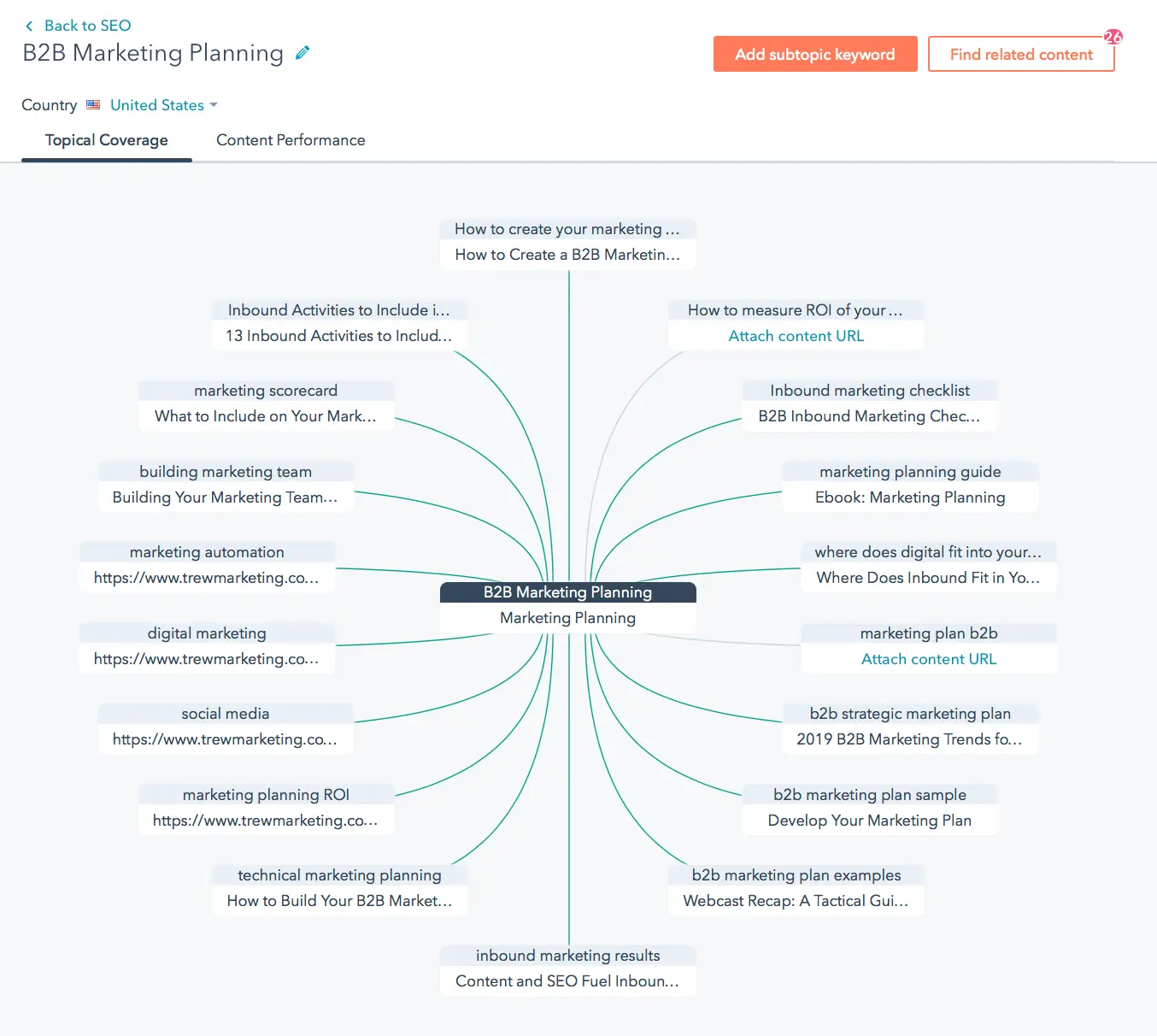 Here's an example of a topic cluster built out in HubSpot with green links showing which pieces of content are crossed link to/from the pillar page.
This is the most important step when it comes to creating topic clusters. The internal linking between your topic and subtopic pages demonstrates to search engines that the content has a semantic relationship. In other words, Google understands your keywords are connected and related to one another.
As search engines continue to evolve and become smarter, search algorithms are expanding to include synonyms and related keywords in search results. To stay relevant and at the top of SERPs, marketers must extensively cover a topic and demonstrate how content relates to other content on your site.
6. Measure results and adjust
It's critical to measure the impact of your efforts to optimize your website for the latest SEO strategy. If you ended up making a lot of big changes to your website, know that you will need to wait a month or two before seeing changes in your web analytics.
After monitoring the performance of your topic clusters over a few months, dig into your analytics data. HubSpot will give you topic cluster performance analytics to make this easy for you. You will have the ability to see which pages in a topic cluster perform the best and which pages might need to be optimized to rank better.

Here's a glimpse at HubSpot's topic cluster performance analytics.
When one page in your topic cluster performs well on search, all other pages in your topic cluster are rewarded and boosted thanks to the links you have built around your topic.
This post has been updated since it's original publication on September 2017.

Marketing Manager
TREW Marketing is a strategy-first content marketing agency serving B2B companies that target highly technical buyers. With deep experience in the design, embedded, measurement and automation, and software industries, TREW Marketing provides branding, marketing strategy, content development, and digital marketing services to help customers efficiently and effectively achieve business goals.