5 min read
Nurture your Leads: Harness the Power of E-Newsletters, Part I
Staying top-of-mind with prospects and customers is a challenge all companies face. E-newsletters are a great way to maintain a conversation with your target audience, promote valuable content, and help nurture your lead base to increase customer loyalty and move prospects closer to the sale. A corporate e-newsletter, done right, can be one of the most effective and strategic marketing activities a company undertakes.
However, e-newsletters that aren't executed according to proven best practices often turn out to be a liability, causing valuable leads to dry up, or worse yet, anger potential customers. Some of the biggest e-newsletter mistakes a business should avoid include:
- Sporadic, inconsistent e-newsletter timing
- Mailing to a purchased list or unsolicited e-mail recipients
- Poorly-programmed e-newsletter design and layout that displays incorrectly in various email programs
- Too much content in the email
- Unappealing subject line
- Lack of subscriber management/opt out capabilities
- Lack of analysis of open rates, click-through rates
This 2-part blog post will help you avoid the e-newsletter missteps that result in unhappy customers and prospects, and use the power of e-mail for your lead nurturing efforts. In this first issue we will cover best practices for:
1. Design
2. Content
3. Mailing list
1. Lay a solid foundation
Your first step in starting an e-newsletter is design. After all, this is prime real estate for your company and brand and serves as a key tool to communicate who your company is and how your products and services can help readers. Here are several design best practices:
- The design should be consistent from issue to issue and have staying power for many issues to come
- Key to design is usability - making it is easy for readers to open, quickly skim and find articles and links that are compelling to them. The design example below, from TREW client Wineman Technology, includes large, easy-to-read headlines, a sidebar with compelling content, and a prominent feature story.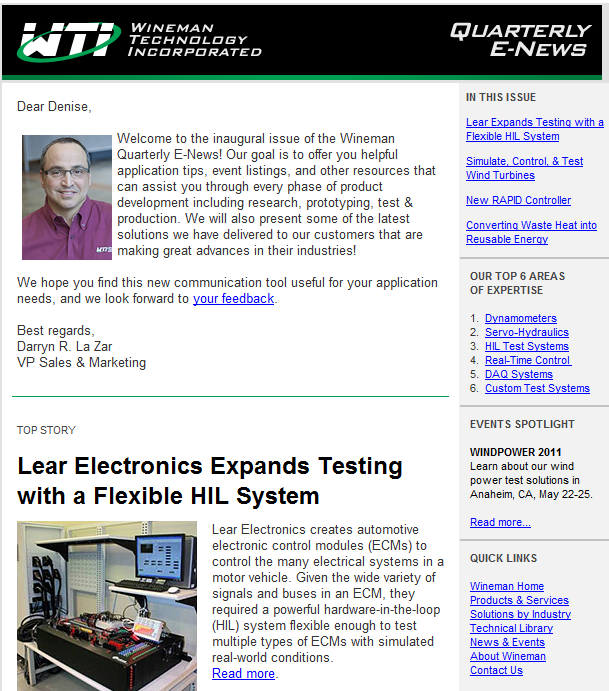 Ensuring the design is correctly programmed in email engine software is equally critical for display in numerous different email clients. Unfortunately, each popular email client in the market today – Outlook, Gmail, Yahoo, etc. – displays images, columns, and other design elements a little differently. Outlook, which has almost half of the email client market, is especially picky and requires specific programming techniques for your e-newsletter to display correctly to your recipients.

With poor design and/or programming, you may find that what was once a beautiful e-newsletter in the conceptual planning stage has turned into a mess of misaligned columns, images and text once your readers open it up. Here is what Outlook can do to an email that is not programmed properly:
Test your design at emailonacid.com – a web service that, for a small fee, will run the design code through a tool that mimics all popular email clients, ensuring that you discover any issues with your layout up front, so you can fix them before mailing out to your audience.
2. Develop compelling content
It's tempting to focus your e-newsletter content on sales-driven topics such as new promotions. You will better attract and retain readers if you minimize the sales pitch, and focus instead on creating and offering content that helps readers do their job better.
Here are 5 types of content we have found to be the most valuable for a technical audience, driving click-throughs and keeping readers coming back for more:
1. Industry trends
2. Tutorials or "tips and tricks" that help readers use your products more effectively
3. Case studies from customers doing something unique and compelling with your products
4. A "Top 5" list – such as questions new customers ask, with answers, or new applications for your flagship product. It may sound gimmicky, but a Top 5 list blends valuable content packaged in an appealing format– people love lists!
5. Event news or snippets from presentations you've recently given at industry conferences
Two more content best practices:
- People have short attention spans, so consider how much content you put in and remember, the shorter the better.
- Provide a compelling headline, a brief summary of an article, an image, and a prominent link to read more.
These tips on content types and design will help your readers skim quickly and select what they want to read, and it helps you push visitors to your website, where you can offer even more valuable content to your audience.
The below e-newsletter is a great example of keeping content brief and compelling, while pushing readers to their website to learn more.
3. Build your readership
Once you've designed your e-newsletter and have a clear vision for succinct, compelling content, it's time to build your readership. While it's tempting to mail every contact in your database and more, there is a smarter approach that will gain you more loyalty and better results.
Focus on only your most relevant leads – those who have contacted you in the last 12 – 24 months. Older leads are less likely to remember you or be interested in and open your e-newsletter. In addition, older leads commonly include invalid or outdated email addresses, and your e-newsletter will bounce back when sent to them.
Also, to follow e-newsletter best practices and privacy laws, there are several key points you should adhere to when building your contact list:
a. Never use a purchased list. This is considered unsolicited email, and an e-newsletter should only be sent to contacts who know your company and have engaged with you in the past.
b. Only send to individuals, not a group inbox used my multiple people. For example, an email address such as info@msn.com or sales@ibm.com should be removed from your list of contacts.
c. Always offer an unsubscribe link at the bottom of your e-newsletter, and be sure that if someone clicks on it, they will be taken off your recipient list.
d. Don't forget to offer a prominent "subscribe to our e-news" link on your website. People who have willingly subscribed are some of your most valuable readers, and they are highly motivated to receive your e-newsletter.
Following these rules isn't just best practice; it also improves the chance that your e-newsletter is not flagged as spam. In addition, sending your e-newsletter to only your most relevant and valuable leads improves your ROI with higher open rates and click-through rates, and in the end these are the metrics that will provide visibility into its impact on your business and the goals of improving loyalty and nurturing an ongoing dialogue with your target audience.
In Part 2 of this blog post, we'll share insight into e-newsletter analysis and discuss tips for improving your e-mail open rates and click-throughs. Also, look for details on recent successes from TREW clients who have recently embarked on their e-newsletter efforts.