4 min read
5 Steps to Building an Outrageously Successful Paid Search Campaign
It looked easy. I chose a few keywords, gave Google my credit card number, and BAM! My website should be crawling with qualified prospects, right? But instead my website bounce rate skyrocketed and I quickly spent my monthly marketing budget with nothing to show for it.
Sound familiar? If so, it is time to better understand the 5 steps of building an outrageously successful paid search, or pay-per-click (PPC) campaign. But first, why should you invest in PPC instead of improving your natural search results?
Search engine optimization is a journey, and the destination can sometimes be far in the distance, especially for small start-ups. While working to improve natural relevancy, PPC can be a good bridge marketing activity.
PPC is a highly targeted marketing activity with excellent accountability. For example, you can purchase "long tail" terms, very specific to exactly who you would like to target. You can measure exactly how many prospects saw and clicked through on your ad. Then measure their behavior on your website.
Let's Get Started!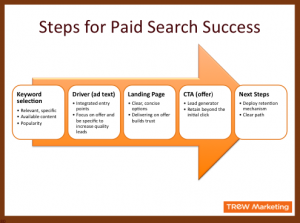 1. Keyword selection
You'll likely invest a good deal of time determining which keywords to purchase. I recommend selecting fairly specific keywords. They may not be quite as well-trafficked as more general terms, but those seeking these keywords will be a more qualified audience, and your return-on-investment will be higher.
Give some thought to how your target audience seeks information. Will they search by typing in their challenge/problem, or will they seek a solution? Test keywords both ways and see which is more fruitful.
As you pull your preliminary list together, give thought to your budget. You can quickly run up the tab by selecting very popular words, or by trying to be in the #1 spot. We do not recommend these tactics. Choose less crowded search terms, and embrace the bargain #2 or #3 position, knowing that you will be every bit as successful at #1, but pay much less for your results.
2. Driver (Ad Text)
Now that you've chosen your keywords, each will need a catchy title and ad text that drives the reader to visit your site. Focus on what you offer, and be specific. Try to capture qualified leads, and steer away everyone else. Otherwise you'll pay for undesirable visitors to click and bounce away -- not a good use of your marketing dollars.
Take some time to study other companies' adwords. You will quickly obtain ideas of the good, bad and ugly. Here is a recent ad run by TREW Marketing:
On one hand, this ad is specific. If you were reading and not a test and measurement company, or not interested in marketing, you would probably not click. The ad could be improved by utilizing a more compelling offer, such as a white paper.
3. Landing Page
I've clicked on your ad...where do you send me? To your home page? Or is there a more specific area of your site that provides targeted information? The most important thing is to deliver on whatever offer you've promised. If you have a general ad, sending someone to your home page is fine. If your ad offers a white paper on the latest changes in industry test standards, make sure the visitor can easily find the white paper after they click .
Often our TREW clients will run ads specific to an industry or application, and then drive traffic to that specific landing page on their site. This is very effective to retain visitors and compel them to learn more.
4. Call to action (offer)
Use your landing page to continue a relationship with this new visitor. What action would you like the visitor to take? Subscribe to your newsletter? Call your sales team? Craft one or several calls to action, placed prominently on the landing page. Set goals for conversion to next activity, and measure how well you are doing. If this is an area of weakness, consider creating new offers, such webcasts or white papers.
5. Next steps
After all the work that you've done, be sure you follow through. If you've promised a sales person will call, be sure that information is passed to the sales team. If you've offered a newsletter, be sure they are added to the list and you actually send something out. And so on. This is your opportunity to close the sale.
PPC campaigns do not run on autopilot. We recommend measuring often, experimenting and tweaking your keywords, ad titles, ad copy, landing pages, and offers. Other areas to test include frequency, languages, and 3rd party Google ad feeds. It is a busy job managing Google adwords, but the payoff can be quite outstanding.
TREW Marketing has deep expertise in PPC, and offers monthly retainers to manage paid search campaigns. Interested in learning more? Contact us today at info@trewmarketing.com.