5 min read
Preparing for GA4: The Next Generation of Analytics
Big changes are on the horizon. Google's powerful Universal Analytics (UA) platform, the number one tool used to track website performance, is set to be retired later this year.
If you've been tracking your engineering company's website traffic through Google's Universal Analytics, it's time to familiarize yourself with Google's latest release, Google Analytics 4 (GA4). Later this year, GA4 will be the only option for Google Analytics users as UA will stop processing data on July 1, 2023.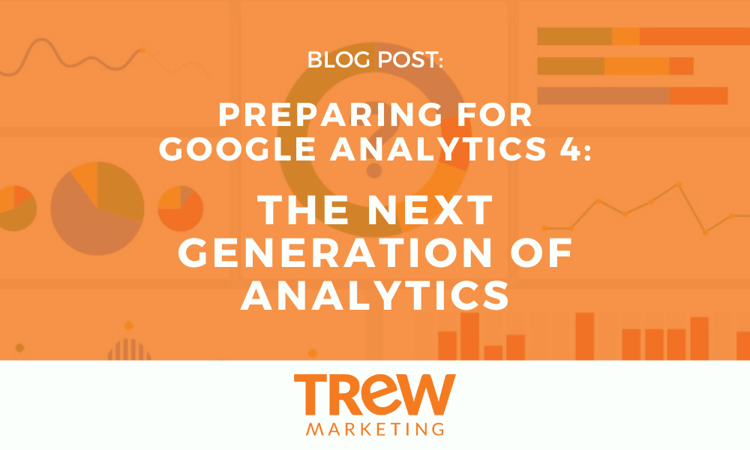 While early adopters have been familiarizing themselves with the platform since it's release in October 2020, many have been slow to make the switch. This is the first upgrade to the Google Analytics platform since the move from Classic Analytics to Universal Analytics in 2012, and it's leaving many feeling overwhelmed.
Let's review the major differences between Universal Analytics and GA4, as well as what to expect in the coming months as you prepare to make the switch.
What is GA4?
Google Analytics 4, dubbed the next generation of analytics, is a service that enables you to measure traffic and engagement across your websites and apps.
Do not to consider GA4 an "upgrade" or "new" version of Universal Analytics. This version of Google Analytics utilizes a different data model to track users and their behavior on your website.
GA4 is not an update. It's a new data model that collects event-based data from both websites and apps.
Google states that the GA4 property:
Collects both website and app data to provide a deeper understanding of the customer journey
Uses event-based data instead of session-based
Includes privacy controls such as cookieless measurement, and behavioral and conversion modeling
Predictive capabilities offer guidance without complex models
Direct integrations to media platforms help drive actions on your website or app
How Does GA4 Measure Data Compared to Universal Analytics?
Since Google is choosing to measure visitor behavior differently in GA4, it's nearly impossible to compare data from the two platforms. While each platform measures users and sessions, if you compare data from the same timeframe, you will come up with completely different values.
Measuring Sessions vs. Events
Previously in Universal Analytics, sessions set the foundation of all reporting, and it's the metric many marketer's cared about most when measuring website traffic. However, in GA4, the basis of reporting changes to events.
Google's UA Session-Based Data Model
In UA properties, Analytics groups data into sessions, and these sessions are the foundation of all reporting. A session is a group of user interactions with your website that take place within a given time frame.

During a session, Analytics collects and stores user interactions, such as pageviews, events, and eCommerce transactions, as hits. A single session can contain multiple hits, depending on how a user interacts with your website.
Google's GA4 Events-Based Data Model
In GA4 properties, you can still see session data, but Analytics collects and stores user interactions with your website or app as events. Events provide insight on what's happening in your website or app, such as pageviews, button clicks, user actions, or system events.

Events can collect and send pieces of information that more fully specify the action the user took or add further context to the event or user. This information could include things like the value of purchase, the title of the page a user visited, or the geographic location of the user.
In short, the change between the two platforms went from hit-based to action-based.
Ultimately, this data model is more valuable when tracking the user journey. Events such as session starts, clicks, scrolls, downloads etc. are all front and center in GA4.
Measuring Bounce Rate vs. Engagement Rate
Another key measurement from Universal Analytics that will become less important during the roll out of GA4 is bounce rate. As a reminder, bounce rate is the percentage of sessions that end without any interaction on a page.
While this metric is important, if you're only measuring bounce rate, you're ignoring the valuable information of how users are interacting with your website.
Instead, GA4 emphasizes engagement rate, the percentage of sessions lasting longer than 10 seconds, has 2 page views, or has a conversion event.
In short, bounce rate is the inverse of engagement rate.
This data is so much more useful for marketers who want to optimize website pages for SEO using data.
GA4 migration Timeline
While GA4 has been available since October 2020, many marketers have yet to make the switch. It's time to take action.
Add the GA4 property to your website alongside Universal Analytics as soon as possible. This will allow you to collect data in both platforms until July 1, 2023 when UA stops processing data. This is especially valuable for marketers who are familiar with Universal Analytics and will need time to adjust to the new platform. This also gives your company several months of data history in GA4.
After the July deadline, the next date to remember is January 1, 2024. This is when all Universal Analytics data will be deleted. All data can be exported before this deadline.
The good news is Google makes setting up GA4 simple. There's no need to add any new code to your website if you're already using Universal Analytics. Google released this simple GA4 set-up guide to make the transition as smooth as possible. Once GA4 is set up, there is an additional Set Up Assistant in the admin tab that will help you make sure your account is enabling all the new GA4 features.
If you're setting up analytics for a CMS-hosted website like HubSpot or Wordpress for the first time, use this guide.
Next Steps with TREW Marketing
Take your analytics journey a step further by registering for our upcoming webinar Measuring Marketing Success with GA4. You'll learn:
The differences between Universal Analytics and GA4

The benefits of GA4

How to navigate GA4

How to create custom reports and visual dashboards




TREW is a marketing agency dedicated to reaching engineering and technical audiences through a range of marketing initiatives. Contact us today to learn more about the services we offer.
SUBSCRIBE TO OUR BLOG FOR THE LATEST UPDATES

Kasey is a passionate inbound strategist focused on optimizing content and web strategy to attract valuable and ready-to-convert traffic to our clients' websites. Kasey's expertise is in content writing and strategy. Everything from blog articles, email sequences and social media copy is carefully and strategically crafted for audiences to get their most-asked questions answered and take action. Kasey enjoys thinking outside the box for product launches, and new go-to-markets to gain the greatest impact.
TREW Marketing is a strategy-first content marketing agency serving B2B companies that target highly technical buyers. With deep experience in the design, embedded, measurement and automation, and software industries, TREW Marketing provides branding, marketing strategy, content development, and digital marketing services to help customers efficiently and effectively achieve business goals.