6 min read
Q&A from 2023 Decoding European Engineer Preferences Webinar
Recently, Elektor and TREW Marketing released the 2023 Decoding Engineer Preferences research report based on a survey of over 1,200 engineers and technical professionals across Europe covering a broad range of topics, including search behavior, the use of AI tools, content preferences, and most valued marketing channels.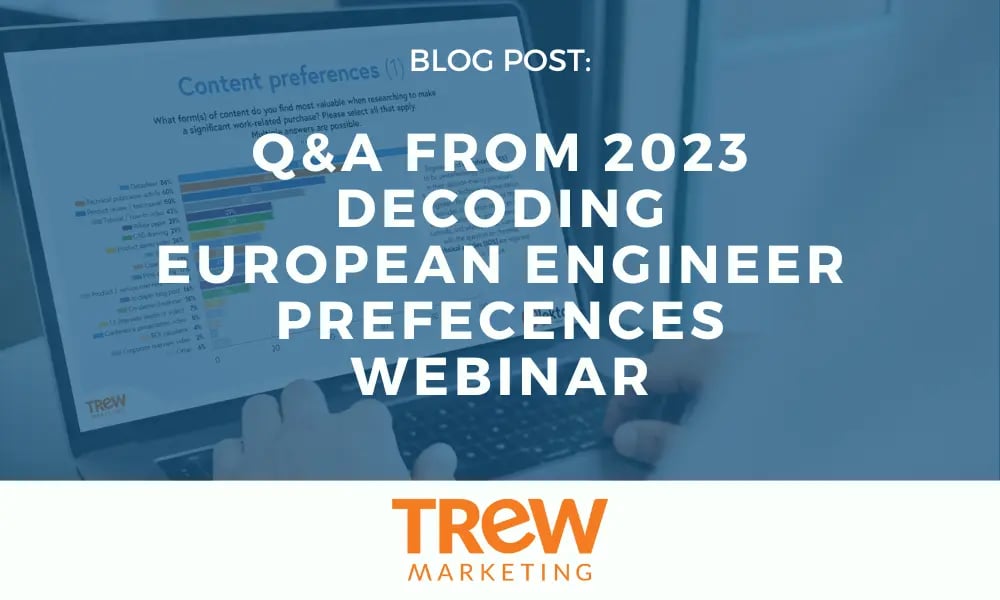 In addition to the release of the research, we hosted a live webinar to share insights on our recent findings. Approximately 150 marketing, sales and engineering professionals registered to attend globally.
While we weren't able to answer all of the thoughtful questions we received during the webinar, we've combined the answers into one resource broken down by category.
Artificial Intelligence
How are you using AI?
At TREW, very early on we said we need to be testing AI tools to know what to recommend to our clients, as well as find what's useful for our own operations.
A very simple application is using Zoom. As a remote company, we do a lot of Zoom meetings and they have an assistant that gives us a meeting summary that's quite good. It saves time since we're not taking notes anymore, and we're able to engage in having a more meaningful conversation.
On the marketing side, we use AI tools to research brand perceptions. What does the market think of my brand? Whether that be our company's brand or a personal brand. We also use it for ideation during content development. We have not seen any value in using AI tools to write content, but what does work is derivative content - creating a LinkedIn post or a quick snippet out of already written material that's in your brand's voice.
Do you trust AI or search machines to treat your questions as confidential? A search history tells something about what an engineer (company) is doing.
Yes and no. You have to be extremely careful. ChatGPT now has paid plans to keep data confidential, but the free plans are not confidential. One tool that we've found is ChatPDF, which you can use to create derivative content from your own long-form pieces such as white papers, and it is private. GlossAI does the same by creating video snippets from your longer video footage.
Information Sources
Are you surprised by popularity of GitHub, YouTube and Stack Overflow, or did you expect those plaforms to be popular?
At Elektor, engineers are actively using these platforms, so we're not entirely surprised. We do fear a bit for Q&A based platforms like Stack Overflow and Quora as AI continues to develop. This will likely look different next year.
Did you find that online events grew in popularity?
Difficult to say, but probably not. Many events have experimented with the digital format and have struggled, especially many of the events in Munich. Nothing beats being in person, and we're seeing many return to that format.
Webinars were fairly popular, 25% of European engineers listed them as valuable. We're still seeing good attendance; however, nothing like we're seeing with the attendance from the return of in-person events.
Is email dead?
Absolutely not! 71% of European engineers subscribe to three or more newsletters, and most prefer receiving them on a weekly basis. We're seeing more companies invest in technology to help personalize these newsletters as well. This is something to keep on your radar heading into 2024.
Content Preferences
You mentioned that engineers prefer ungated content and content that tells a strong story. Can you provide examples of content that meet these criteria?
The silver lining is that the majority of European engineers do not mind gated content. Depending on the use case of the content you're creating, go gated. In some cases, it makes it more difficult to share, but it makes it easier for us, as marketers, to follow-up with leads. White papers and even data sheets could live behind a form.
In the past, we've asked in the State of Marketing to Engineers global report, are you willing to fill out a form in exchange for content? And if so, what types of content are you most likely to fill out a form for? In 2022, the last time we asked this question, 83% of engineers said they were willing to fill out a form. And the most popular items were CAD drawings and white papers. In order to entice someone, think of the arc of your story -- state the problem and how you solve that problem. Who is the hero and what is the conflict? Your content needs to be in depth, credible, and speak to those pain points.
I wonder why data sheets and product catalogs rank so differently, as many product catalogs include data sheets. Any additional explanation or insight on that?
All we can think here is that data sheets are found online and we specified printed catalog for that selection. This points back to the popularity of digital over printed sources.
Do you expect a turn back of Google and Facebook now that legislation on privacy is growing in favor of trade journals ?
Facebook is now focusing on different products in response to Europe's new legislation, such as a paid version where you're not being served ads. We feel the platforms will evolve to find ways around the legislation.
Google is experimenting with (and likely moving to) a different interface called Google SGE that serves up a long-form answer with the goal of only click or no clicks at all. Google's AI learning model is now focused on intent, using the context of where you live, what you've searched for in the past, and anything else Google knows about you in order to customize your search results. This means that search results might look quite different from one person to the next. Quite a challenge for marketers!
What types of video were studied in this section of the research?
We did not specify the type of video when we asked that set of questions. However, if you go back to the research on the most valued content types, we do list out different flavors of videos including how-to videos, product introductions or corporate overviews. You can see the difference in popularity between those in this data set.
The overarching theme for videos is to go in-depth and be credible.
---
Missed the live 2023 Decoding European Engineer Preferences webinar? Watch the webinar on demand.
To follow along as Wendy Covey and Erik Jansen dive into this year's research findings, download the full report.
---
TREW is a marketing agency dedicated to reaching engineering and technical audiences through a range of marketing initiatives. Contact us today to learn more about the services we offer.
SUBSCRIBE TO OUR BLOG FOR THE LATEST UPDATES

Wendy Covey is a CEO, a technical marketing leader, author of Content Marketing, Engineered, one of The Wall Street Journal's 10 Most Innovative Entrepreneurs in America, and she holds a Texas fishing record. She resides in a small Hill Country town southwest of Austin, Texas, where she enjoys outdoor adventures with her family.
TREW Marketing is a strategy-first content marketing agency serving B2B companies that target highly technical buyers. With deep experience in the design, embedded, measurement and automation, and software industries, TREW Marketing provides branding, marketing strategy, content development, and digital marketing services to help customers efficiently and effectively achieve business goals.