7 min read
4 Questions to Ask to Define Your Brand Differentiators
Brand positioning and messaging is a critical component to your business because it tells your buyers who you are and why you're different.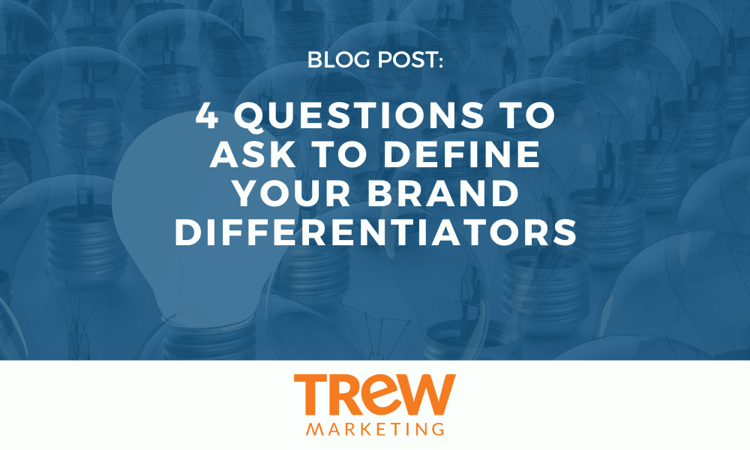 When defining that last piece - differentiation, engineering and technical clients often want to run to pragmatic, inconsequential brand differentiators that feel safe and all encompassing, and stop there.
Here are a few that come to mind:
"We deploy hundreds of systems every year"
"We are experts in aerospace"
"We have worked with embedded technology for two decades"
And for your more progressive start-up companies:
"We're fun to work with"
"We work smarter, not harder"
These differentiators have something in common: they're not different at all. In fact, they could probably be claimed by dozens of your competitors, if not hundreds of other companies.
In our brand positioning and messaging process, we dive deep into who your customers are, where they're located, why they're suffering, what you do to meet their needs, how you deliver your solution, and how you're different than everything else out there.
Customer touches, such as a visit to your web site, trade show booth, or a conversation with your sales team, must communicate why doing business with you is going to net a more valuable experience than your competition. Researching companies online has become so simple and buyers are now well informed and self-vetting. If your messaging is not on point, you will automatically be ruled out before you ever have a chance to follow up on that lead.
Many companies have a hard time putting their unique value proposition into words. Ask your team the following questions to develop more differentiated messaging.
How to Define Your Brand Differentiators
What do you do that is unique to your product or service?
There are many companies who would answer, "We have the best software." But what does that really mean? Could your competition say the same? If you and your competitor do fundamentally the exact same thing, HOW do you do it better?
For example, maybe your software has the quickest response times. Great, but you need to back this up. Show them some real data that will entice them to find out more.
Could your mission statement and core values belong to any company?
If a customer is looking at two companies offering similar or sometimes the same product, the deciding factor might be based on who you are as a company and how that aligns with their own preferences and makes them feel good about doing business with you.
Look at your "About Us" page. Do your core values and mission statement include the word "honesty"? I hope that you are an honest company. Who would want to do business with someone who isn't honest? In my research, the number of companies that had "innovative" plastered across their site was astonishing. No one REALLY knows what that means. Avoid buzzwords. If you are using similar verbiage, it's time to revisit the culture of your company to find out who you are and incorporate that into your messaging.
Hallam ICS is a great example of a brand that lives and breathes it's vision and values.
By pulling the same type of language throughout all of their messaging on "inspired engineering", Hallam provides a sense of vision and positive thinking that is respected by their customer. This brand messaging gives insight into the benefits of doing business with them.
What do your customers give you high praise for?
Anytime I am having a discussion about messaging or strategy, I will always resort back to the customer gut check. I am a big fan of interviewing customers for feedback on a brand. After all, they are the most reliable source when speaking about the experience of doing business with you, so ask them why they chose you.
I worked with a company that was undergoing an exercise to update their brand. We did a one question survey that asked, "What are 3 words you would describe us and why." The results garnered showed that many of the customers perceived that company in the same positive way. But it's not enough to just "know" what your customers think. From that exercise, the company took action and was able to weave the feedback into their messaging.
Do you specialize in a specific industry?
If you've found a certain level of success in a specific industry, that's a great way to set yourself apart from the crowd and become THE company to work with in that industry. Different industries will have different issues and challenges. Showing that you understand their industry and have previously demonstrated success in that area can be a great way to stand out.
After working through these questions with your team, you should start to see a clear direction for differentiating your messaging. Using the differentiators and the information your personas care about will become the table stakes in your website and content messaging as well as in your sales teams elevator pitch.
How to Message Your Brand Differentiators
So how do you message differentiators? How do you put pen to paper and identify aspects of your company that matter?
Your brand differentiators must cost you something
Your differentiators make your company stand out because they cause you to draw a line in the sand and hold firm to some value. Doing this allows you to actively call out the benefits of your named differentiators. But, because decisions are never purely win-win, there are always consequences. Companies that define their brands well are unafraid to address the consequences of their differentiators.
This is where a differentiator like "We deploy hundreds of systems every year" falls flat. It's simply a fact of your business, but it's not a differentiator – it doesn't set your company apart from the rest and show how you're uniquely positioned to help a customer.
Here's a personal example: At TREW, we focus specifically on marketing to engineers. It's our niche, and in turn, we feel this focus helps us do better work for clients and is a differentiator for us. However, this value comes at a high cost.
If you're a consumer clothing brand in need of marketing planning and marketing automation, we'll likely turn down your business. We're willing to forgo the immediate revenue to hold tightly to our differentiator – specializing in marketing to engineers and technical audiences.
Your brand differentiators must benefit your customers
You can have great company values, but for them to mean something for your customers, they must impact them in a positive way.
"We work smarter, not harder" doesn't pass this litmus test. As a customer, I likely don't care how you're working back at HQ. I want my problem solved, and I want it solved well, but you haven't shown me how you work smarter and how it benefits me as a customer.
At TREW, our focus on engineers makes our jobs easier (we know what business to decline and what to pursue), but it also allows us to deliver work at a higher level of quality than our competitors. With a focus on engineers and technical audiences, we hone in on research, partner with other companies with the same focus, and offer specific resources that greatly benefit our clients and prospects. Those prospects can see that we're 100% dedicated to their specific cause, and it sets the TREW brand apart.
Your brand differentiators must be communicated clearly
"We are experts in aerospace" may be a differentiator for you, but you'll need some messaging to show how and why a prospect should trust you as an expert. If I need an aerospace expert and the messages I'm hearing from you are that you're an aerospace expert, you're an agriculture expert, you're an automotive expert, and you're an oil & gas expert – I'm not sure that you're really dedicated to my problem. However, if you're an aerospace expert and you support that with specific applications you've completed, content for me about current trends in aerospace, and relevant partners in the industry, I can quickly and easily see you're entrenched and invested in my problem.
At TREW, we frame differentiators as pillars: clear, overarching statements, and then support them with detail. For example, a specific focus on marketing to engineers and technical audiences could be a differentiation pillar, supported by the following bullets:
We conduct extensive yearly research to further understand the engineers' buying process
We publish content dedicated to helping companies specifically market to engineers and technical audiences
This well-developed differentiation pillar and its supporting bullets help us to clearly communicate a differentiator that is so valuable it costs us something, and so impactful to our customers that it can influence a purchase decision.
Want to learn how to create differentiated brand messaging? Download our guide to Smart Brand Positioning and Messaging for Engineers.
TREW is a marketing agency dedicated to reaching engineering and technical audiences through a range of marketing initiatives. Contact us today to learn more about the services we offer.
SUBSCRIBE TO OUR BLOG FOR THE LATEST UPDATES

Morgan believes that the process of brand positioning and messaging powers companies by aligning corporate leadership, building a story that fuels staff and engages customers, and creating a foundation for consistent content – and she's seen these results come true for TREW clients time and again over the last decade. She holds degrees in Public Relations and Spanish, with a minor in Business from The University of Texas at Austin. Morgan, her husband, and three kids recently moved from Austin to downtown DC, where they enjoy walking the city, visiting the local museums, and playing a guess-who-is-in-that-motorcade game.
TREW Marketing is a strategy-first content marketing agency serving B2B companies that target highly technical buyers. With deep experience in the design, embedded, measurement and automation, and software industries, TREW Marketing provides branding, marketing strategy, content development, and digital marketing services to help customers efficiently and effectively achieve business goals.