5 min read
Stop, Collaborate, and Listen: Harness Voices of Customers
One of the most interesting phenomena we encounter with our clients is the realization that what their customers value most about their products or solutions doesn't always align with what they think their value proposition is. The truth is that without market validation, these assumptions could be distracting you from focusing your marketing activities on the features and benefits that are actually driving results.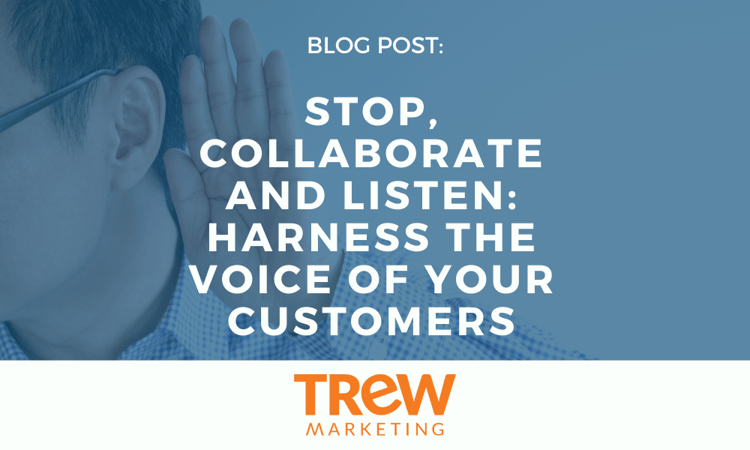 Content that attracts and resonates with your audience places the focus on their needs. Once you understand your customer's motivators and challenges, you can craft tailored messages that speak directly to these needs — from company messaging and campaign themes to ad headlines and sales presentations.
A quick and fruitful way to uncover your customers' needs, down to the actual words used to describe their specific challenges, is simple — just talk to them.
We've found that interviewing customers is one of the most economical marketing exercises available to us. Just a few minutes on the phone can translate into years of marketing intelligence by providing the firsthand perspective you need.

Customer interviews often produce marketing gold, which you can use to profile your audience personas, validate or refute differentiators, craft company messaging and turn valuable insights into tangible customer experiences with your company.
five steps for conducting productive customer interviews
1. Plan With Purpose
What is the primary outcome you are seeking by conducting customer interviews? Is it to understand your corporate differentiators? Understand customer pain points related to a product or solution? Gauge perception of your customer service? By focusing your interview on the primary outcome, you will keep from going down too many rabbit trails and help the interviewer stay on track. Tertiary insights will no doubt surface, but keep the primary objective top of mind.

2. Engage A Third-Party Interviewer
It's important to choose an interviewer that fosters a comfortable environment for your customer to share candid feedback. We've found that customers have a tendency to shy away from giving critical feedback to someone they've worked closely with, such as an account manager or project team member. Consider choosing an experienced third-party brand strategist or research analyst as your interviewer.

3. Choose The Right Customers
It's easy to talk to customers who've had an amazing experience with your company, but don't be shy about talking to those whose engagements didn't go so well, including prospects who may have chosen a competitor's solution over yours. By including these negative experiences, you'll gain a more holistic view of your solution, from missing product features to gaps in your value proposition.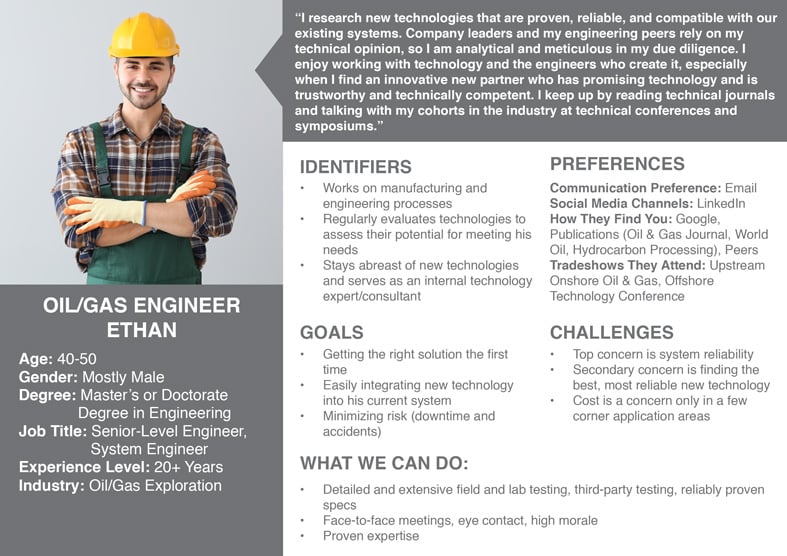 Having detailed buyer personas can help you target the right customers.
Depending on your objectives, other stakeholders such as board members and field salespeople can be great resources for providing robust feedback that complements customer input.

4. Conduct A Short, Meaningful Interview
In the space of a 20-30 minute recorded phone interview, ask questions centered on your customer's motivations and challenges. Pay close attention to the exact wording of their feedback — this can be used to later craft messaging using their terminology.
Here are some example questions we use at my agency when interviewing technical buyers:
What were your project goals when you found our solution?
What challenges did you face when researching vendors?
How did our solution support or not support your project goals?
What sets our company apart from others?
Did you consider a competitive solution, and if so, why did you choose our solution?
Will you look to us as a solution provider again in the future?
Your interview script should be a living document. Once the interviewer begins to uncover themes or interesting surprises, build upon these by seeking more validation in future interviews.

In addition to open-ended questions, you may want to ask the standard NPS question.
5. Turn Customer Interview Data Into Marketing Gold
Once you've finished your interviews, pick out key themes and words used by customers, and select some quotes that capture the overall customer sentiment to share with your executive team. Use your findings to map your current messaging, identify gaps and make a go-forward plan to craft or update messaging and downstream content.
Don't be alarmed if your customer interviews reveal that what you've long thought of as your core reason for existing is different from what your customers are actually experiencing. It's common to sometimes take a myopic view of your value proposition, particularly in marketing, where focusing on a few core differentiators is a best practice. If and when this happens, take a measured approach to any corrective messaging and remember to keep everything in perspective.
While conducting customer interviews can be a time-consuming step, the information gleaned truly can make all the difference in connecting with your customers and producing a greater return on your marketing and sales investments.
---
It is a noisy technical world out there, with many vendors vying for search terms, visits, downloads and sales engagements. By providing quality educational content that addresses your prospect's challenges, you can build trust and fill your sales pipeline faster and more efficiently over time.
This article was originally published by Forbes, which you can find through this link.
TREW is a marketing agency dedicated to reaching engineering and technical audiences through a range of marketing initiatives. Contact us today to learn more about the services we offer.
SUBSCRIBE TO OUR BLOG FOR THE LATEST UPDATES

Wendy Covey is a CEO, a technical marketing leader, author of Content Marketing, Engineered, one of The Wall Street Journal's 10 Most Innovative Entrepreneurs in America, and she holds a Texas fishing record. She resides in a small Hill Country town southwest of Austin, Texas, where she enjoys outdoor adventures with her family.
TREW Marketing is a strategy-first content marketing agency serving B2B companies that target highly technical buyers. With deep experience in the design, embedded, measurement and automation, and software industries, TREW Marketing provides branding, marketing strategy, content development, and digital marketing services to help customers efficiently and effectively achieve business goals.