Through the years, I've always looked forward to Christmas card letters. The ones that allow you to connect with the lives and stories from distant family members as they reflected on their year.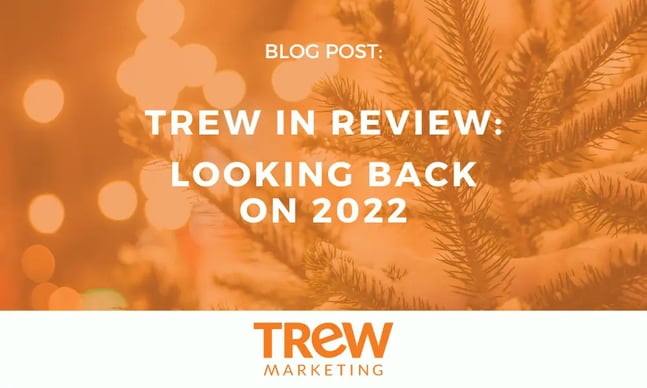 I asked our team if they too remember receiving these letters, and a few knew exactly what I was referencing. Maybe these are a thing of the past now that social media plays such an active role in our lives. These days, you're more likely to receive a photo card with a brief salutation like "Happy Holidays from the Insert Family Name Here!" But I think there's something to be said about taking the time to reminisce, reflect, and share in the challenges and successes of the year.
So with that, I'm bringing back a sense of nostalgia and presenting you with our TREW 2022 Year in Review.
Celebrating CLient Success
The past several years have reminded us as marketers that it's important to be adaptable in our fast-paced and ever-changing world. 2022 was no exception.
Through it all, we've remained steadfast in our work to elevate brand awareness and generate new opportunities for engineering and technical companies through strategic content marketing.
And we began to notice new trends develop. Short-term persona-based campaigns that focus on a key theme or application area are performing well in SEO. Content that demonstrates expertise, authoritativeness, and trustworthiness is having a major impact in Google's search results. Many companies took on rebranding projects to update dated visual elements and refresh their corporate brands. "Big splash" product launches made a comeback, and there's a renewed focus on helping sales teams overcome objections through strong value propositions.
We've seen these trends play out in our client's organizations, and we're proud to celebrate the successes they've seen this year.

Ansys: Focusing on Strategy to Optimize Content Creation
The Ansys corporate and product marketing teams hosted an internal content marketing workshop by forming a strategic partnership with TREW Marketing to serve as an adviser on organization-wide and business unit-specific content strategy and development.
>Based on our book, Content Marketing, Engineered, the workshop resulted in 20 experienced marketers developing a common vernacular and aligning on foundational marketing principles. Read the full case study.

Quantifi Photonics: A Winning Product Launch
TREW Marketing worked alongside the sales and marketing team at Quantifi Photonics to build a product launch plan and inbound marketing campaign around the release of their industry-changing PXI-based PAM4 BERT for transceiver test and measurement. The campaign increased brand awareness and generated new contacts. Read the full case study.

Stelo: Rebranding to Improve brand awareness and SEO
StarQuest first reached out to TREW for assistance with marketing planning and brand messaging. After going through the brand messaging exercise with TREW, it became clear that a new name and a new brand identity were necessary to help reinvigorate the company and bring it into the information age.
StarQuest became Stelo, a StarQuest Company. After launching their new brand and website, they saw a 33% increase in web sessions and 60% increase in new inbound contacts. Read the full case study.
A TREW COntent Strategy
2022 State of Engineers Marketing Research Report
We kicked off the new year with our fifth annual State of Marketing to Engineers Research Report. Partnering with GlobalSpec, we surveyed more than 800 engineers and technical professionals to understand how they seek information, make purchasing decisions, and consume content.
Key findings included:
Engineers value a company's technical expertise and responsiveness

over price and company values

83% of engineers are willing to fill out a form

in exchange for technical content
73% of engineers listen to work-related podcasts

throughout their week, a 33% YOY increase
Engineers prefer

YouTube and LinkedIn

over other social platforms
Datasheets, CAD drawings, and product videos are the most useful forms of content when making significant purchase decisions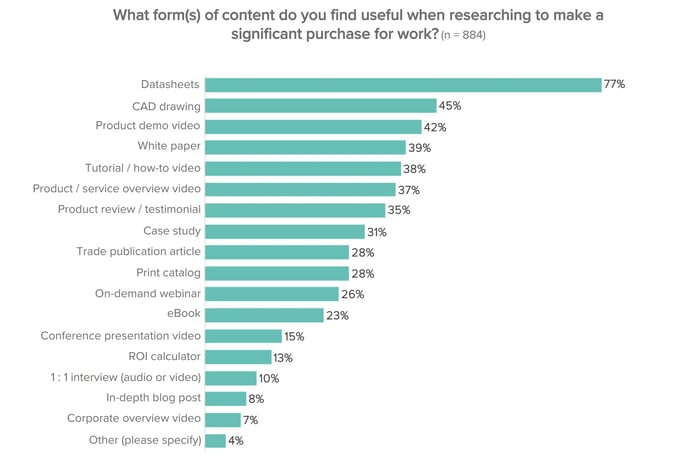 Mark your calendars! Our 2023 State of Marketing to Engineers Report will launch on January 10. Use this report to inform your 2023 marketing activities by understanding the specific platforms and modes of communication that are most effective.
On January 19, we'll be hosting a webinar with GlobalSpec to share important findings from our latest research. Watch for the link to register to learn more about the content, online search, and buying preferences of engineers and technical buyers.
Content Marketing, Engineered Podcast

If you're a marketer in a technical company, this podcast is for you! On each episode, Wendy Covey breaks down industry trends, challenges, and best practices. This year, she hosted 25 colleagues and industry friends as they shared their stories and insights into B2B content marketing strategies.
In November, Wendy celebrated her 100th episode by diving into the trends we're seeing throughout the industry, and more importantly, the tactics producing the best results.
Recently, the Content Marketing Institute published 80+ Content Marketing Trends for Success in 2023, where Wendy shared her prediction that exploring new tactics would be vital.
"2023 is setting up to be quite the dynamic year. You may find yourself needing to make an impact with the same or fewer resources. So, what's a marketer to do?

One thing you can do is to put your spokespeople in front of other people's communities. You can author articles for trade publications, and your company spokesperson can speak at industry conferences, which are expected to bounce back to 2019 pre-pandemic attendance levels.

And don't forget about podcasts. Placing your spokesperson as a guest on other people's podcasts is a much lower effort than starting up your own. If you target technical buyers, our research shows that a whopping 73% of engineers listen to podcasts every week for work. Listen, it's going to be a dynamic year. You need to be agile and ready to make adjustments. We got this, content marketers!"
Content Writing, Engineered Course

Morgan Norris led two classes of professionals through our Content Writing, Engineered course. Each student created a final piece of content for their business, receiving feedback along the way, and ultimately earning their content writing certification!
The Content Writing, Engineered course helps writers, marketers, and engineers by working through our proven technical research, writing, review, and promotion process.
Looking ahead, Morgan predicts the need to embrace advances in AI tools and new technology in the content creation process.
"Watch out for new AI technology, particularly for SEO and content development. These emerging tools will help marketers in three ways: focusing their content by using the topics and terms that prospects are actually searching for, developing content more quickly, and streamlining tone and style across large organizations."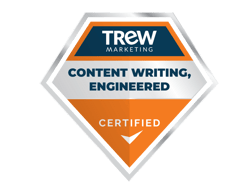 The TREW Crew
Culturally, our team thrived!
Together, we celebrated new marriages and pregnancy announcements! We shared A LOT of photos of our dogs, and we laughed during our many virtual game nights.
As a fully remote marketing agency, we took our annual in-person team retreat to Fredericksburg, Texas in February.
As Wendy has said, "Being a work-from-home business for 14 years now, we've learned that in-person retreat experiences create bonds that no virtual call can match."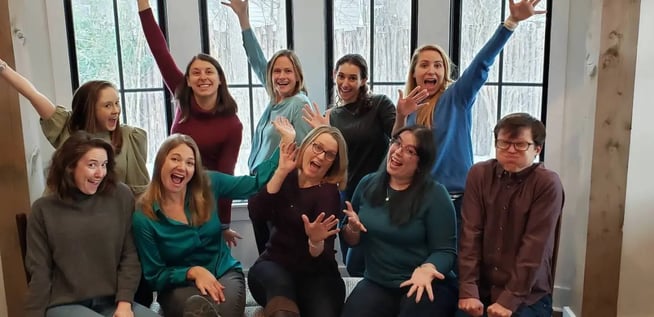 One would think that Texas would be a nice warm setting for a team retreat, but this was around the time Texas was hit with an ice storm. Icing on the cake (no pun intended) after getting snowed in during 2020's team retreat to Denver.
When our team started planning our upcoming 2023 retreat in February, they took zero chances of letting snow or ice get in the way for the third year in a row. We're going somewhere warm and have set our sights set on sunny Ft. Lauderdale!
New to the #TREWCrew
Throughout the year, we added 4 new team members to the TREW Crew, all of whom have quickly become crucial members of the team!

Kara Moon
Senior Inbound Marketing Specialist
I joined the team in May with experience in marketing automation utilizing Hubspot and Salesforce, as well as website development and sales enablement. Prior to joining the team at TREW, I worked primarily in the B2B and B2C banking and insurance industries.
Read more about Kara's experience and expertise.

Leanna Lang
Operations Coordinator
Leanna joined us in June as our fearless Operations Coordinator. She may be the quickest person on the team to respond to requests and is always willing to help where she can! Prior to joining the TREW crew, her background was in accounting, financial reporting, and project management.
Read more about Leanna's experience and expertise.

Megan Hammons
Content Writer
Megan has been a crucial part of our writing team. Her particular area of focus has been blog content for SEO, although she regularly works on web content and optimization as well. She comes to use with more than a decade of copywriting experience with National Instruments.
Read more about Megan's experience and expertise.

KaSey Tyring
Senior Inbound Marketing Specialist
Kasey is the newest member of the TREW Crew joining the team in mid-November. I told her I'm officially passing the torch as newbie! She came to us with expertise in content writing and strategy with a background in marketing B2B technology.
Read more about Kasey's experience and expertise.
Austin AMY Awards
AMA Austin honored us with two AMY Awards: Best Podcast for Content Marketing, Engineered with Wendy Covey and Best B2B Branding for our post-acquisition rebranding project with Genuen. Read our case study to see how Genuen's post-acquisition rebranding lead to double-digit web growth.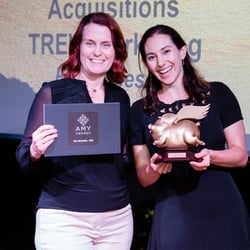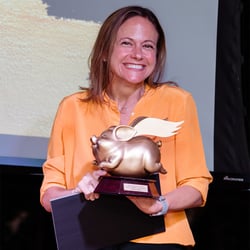 Giving Back to Our Communities
While we may be a remote team, we're dedicated to giving back to our respective communities around the country!
This past Spring, our ATX crew spent a day volunteering at Red Arena, a non-profit whose mission is to empower individuals with disabilities through horses. There was a lot of mulch raking and a lot of fun had by all!
Hannah Schulze spent time at the San Antonio Food Bank, and Jamie Tokarz continued to volunteer with her local Junior Achievement chapter in Denver. There she introduced third-graders to financial literacy, work readiness, entrepreneurship, and community involvement.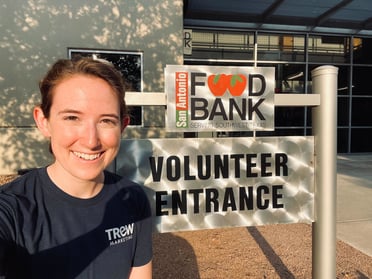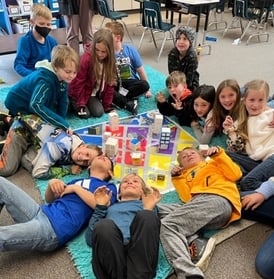 Looking Ahead to 2023
This holiday season, our thoughts turn gratefully to those who made our year possible. As we look ahead, we're excited to share that next May, TREW Marketing will be celebrating our 15th Anniversary. Thank you for joining us on this journey!
As your team looks back on 2022 and begins planning for the year ahead, we encourage you to use our B2B Marketing Growth Guide as a resource to guide your discussions. We've put together 30+ tips to ignite growth during tough times.
From our crew to yours, we wish you a very Happy Holiday season and a prosperous New Year!
Onward to 2023!
Kara Moon joined the TREW team in May 2022 with experience in marketing automation utilizing Hubspot and Salesforce, as well as website development and sales enablement. Prior to joining the team at TREW, she worked primarily in the B2B and B2C banking and insurance industries.
TREW Marketing is a strategy-first content marketing agency serving B2B companies that target highly technical buyers. With deep experience in the design, embedded, measurement and automation, and software industries, TREW Marketing provides branding, marketing strategy, content development, and digital marketing services to help customers efficiently and effectively achieve business goals.