6 min read
Guide Prospects Through Buyer's Journey with Content that Converts
Technical buyers invest significant time researching available solution options. Engineers and scientists are hungry for information they can access independently throughout the buying cycle. For most engineers, more than half of the buying process happens online before ever contacting a salesperson. Additionally, according to the data in our
, when technical buyers are researching a product or service for a business purchase, nearly 70 percent start by visiting the supplier or vendor's website.
Since such a large portion of the buyer's journey now happens online and independently, it's not enough to add content to your site ad hoc. Instead, you need to be strategic with your content development. You need to be sure the right content is available for potential buyers at every stage of their purchasing journey. Thus, content should be carefully mapped to each stage in the buyer's journey. Let's explore our tips and tricks for how to get to this point.

First, Consider all your content needs
Before you can develop the content you need to effectively guide buyers through the sales cycle, you need to invest time as an organization into content planning. To efficiently and effectively create your content plan, it is best to form a small planning committee that includes a representative from your sales team who works closely with buyers. In your initial strategy session, analyze your existing content and set objectives and KPIs for your new content. Once your objectives are in place, the content brainstorming can begin! To do this, we recommend using a structured method known as a topic cluster framework to create content themes, topics, and subtopics. An example topic cluster is shown below.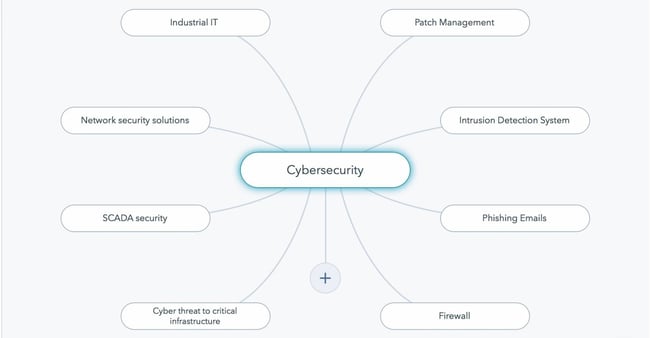 To form the subtopics in your topic cluster, you should consider questions such as the following:
What tough questions do your customers consistently ask your sales and support staff?

What are the top three to four trends relevant to your products or services?

What are the common challenges you see customers face that you could explain to help others avoid, evaluate, or work through?

What are the business risks associated with the application areas you work in and what can you share about how to mitigate these?

What real-world examples can you share to illustrate your expertise?
Once you have defined your topic clusters, you then need to consider how the content topics will fall along the buyer's journey to ensure you have content coverage for all stages. Then, you can identify the specific types of content you need to create for each topic.
Attract visitors with content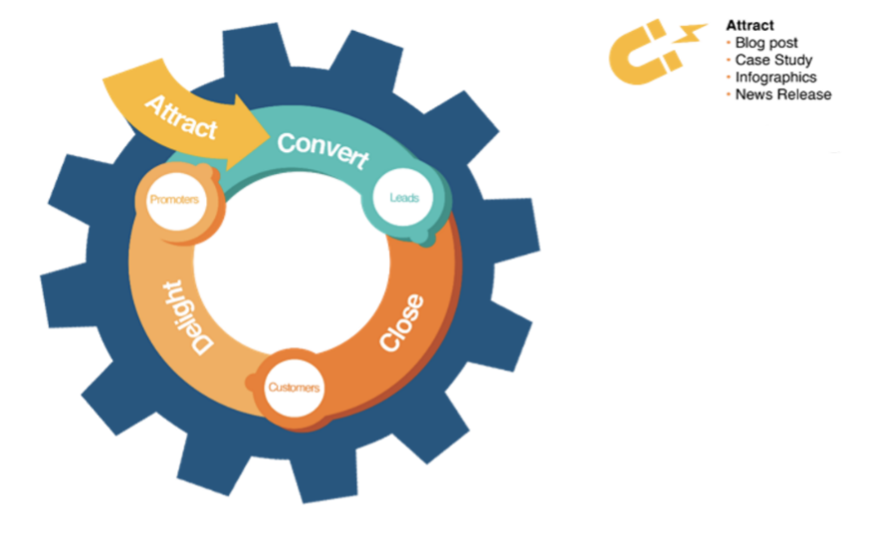 Potential buyers in the attract phase will likely find your website as they are using a search engine to research solutions to a technical issue they are experiencing or as they are trying to learn more about an industry trend. Therefore, you need relevant content that is easy to find and can quickly explain who you are, your areas of expertise, and the solutions you offer. This content should include a clear call-to-action (CTA) that leads visitors into deeper content designed to turn casual browsers into actual leads. Content types that should be optimized for potential customers in the attract phase include top- and mid-level web pages, how-to or best practice blog posts, case studies, infographics, and news releases.
Convert PROSPECTS TO leads with content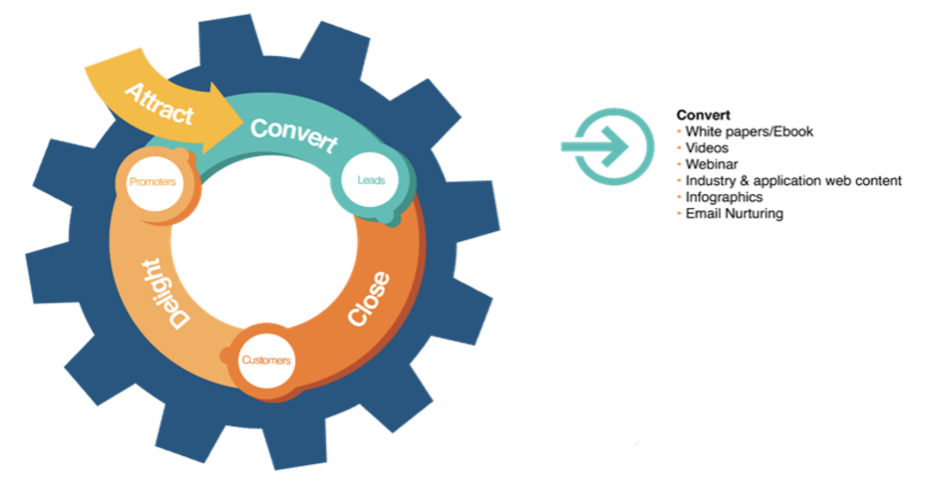 Once a potential buyer has made it through the attract stage, your company has earned their trust. Therefore, as the potential buyer continues to evaluate options, it's important to have more in-depth content that speaks to your expertise and how your products and/or services can solve the challenges they are facing. With this next level of more in-depth content available, it is much more likely you will be able to convert that prospect into a lead as these more in-depth pieces content can be gated, or available to someone only after they have completed a form with their contact information. According to the
, 83 percent engineers said they are willing to fill out a web form in exchange for some type of technical content. Below are the types of content that engineers said they are most likely to provide their information for.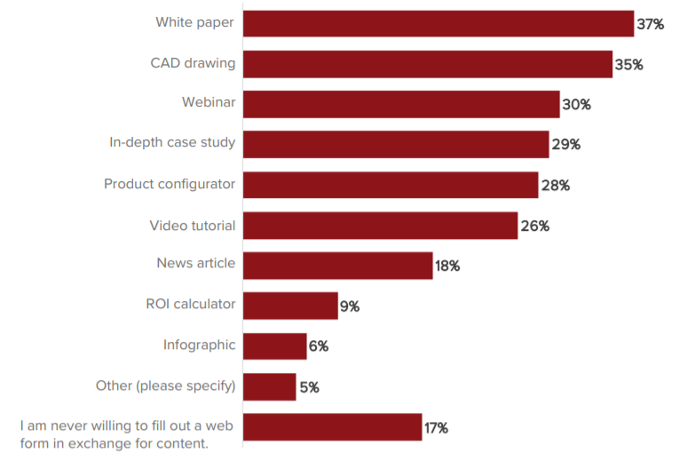 Once you have a turned a prospect into a lead and have their contact information, even if they are still not ready to interact with your sales staff, you can continue to nurture the lead through targeted email campaigns.
Close prospects with content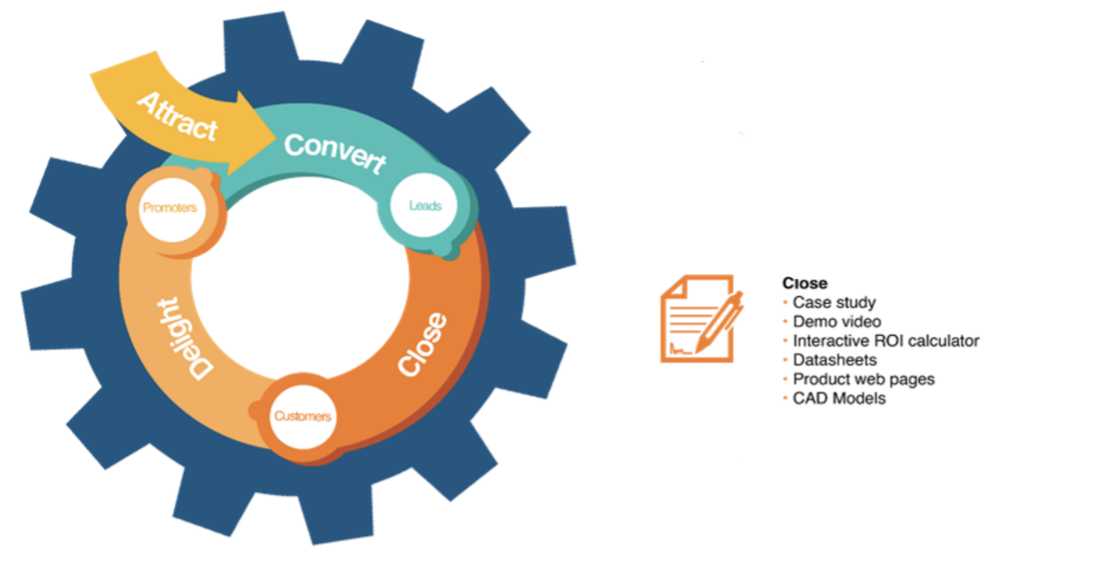 As a lead continues their purchasing journey and is in the late stages of their evaluation process, at this point they will likely move from performing web-only research to having contact with a salesperson. When a technical buyer engages with a salesperson, they are generally ready to identify a proven solution that meets their technical and budget specifications. Even as the contact regularly engages with your sales staff, content should still play a key role in helping them identify the right solution. Therefore, this content, which can include pieces such as customer testimonials, ROI studies, CAD models, or in-depth case studies, must be developed in close collaboration with your sales staff. This content also should be created so that it can be delivered using more of a one-on-one experience as opposed to a mass approach.
Retain and Delight Customers with content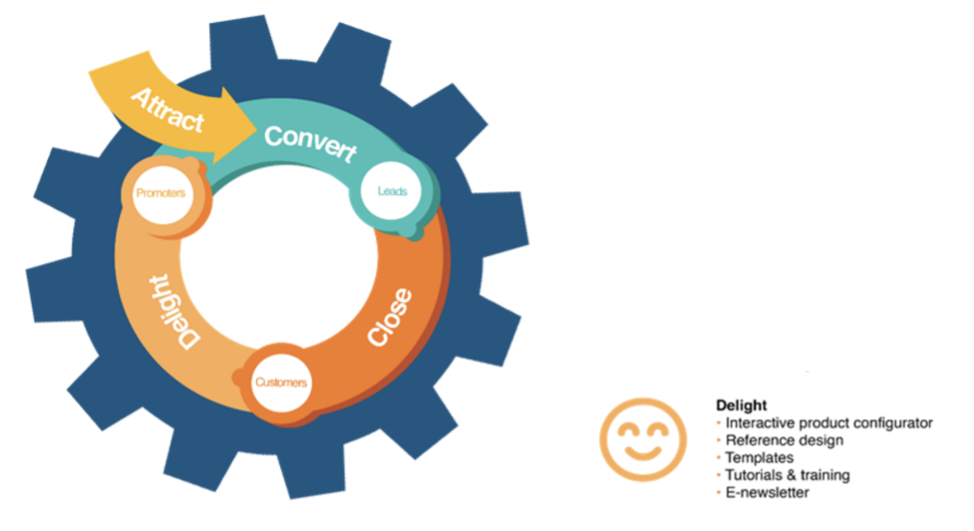 It's important to remember that your content plan should not stop after you've closed a sale. Instead, the last, often overlooked, stage of the buyer's journey you need to create specific content for is known as the "delight" stage. The content for this stage should focus on nurturing you client relationships in a way that will not only keep them interested in what your company has to say but can help turn customers into advocates for your company. Content that helps customers become more efficient at their jobs such as getting started tips and tricks, training materials, and industry trend information are some examples of content valued by customers.
With your content mapped along the buyer's journey, your target personas will be able to easily find the information they are looking for. And, with your content mapped out and connected in a path that will easily guide buyers to the resources they need, the relational manner of the connections will also help improve your search engine rankings.
---
Learn more about creating relevant, compelling, and easy-to-find content that will help your company attract new prospects, close new business, and educate existing customers.
Click the button below to download our Getting Started with Content Marketing Ebook.

Jennifer has been successfully marketing to engineers and scientists for nearly 20 years. Her marketing experience spans from defining company narratives and developing integrated marketing campaigns to building mutually beneficial partner relationships and maximizing performance in cross-functional teams. Jennifer holds a Bachelor of Journalism degree from the University of Texas at Austin. She is a native Austinite and when not at work, enjoys being on the lake or cheering on her sons' soccer teams.
TREW Marketing is a strategy-first content marketing agency serving B2B companies that target highly technical buyers. With deep experience in the design, embedded, measurement and automation, and software industries, TREW Marketing provides branding, marketing strategy, content development, and digital marketing services to help customers efficiently and effectively achieve business goals.