8 min read
Four Resources You Need to Create a Data-Driven Marketing Plan
We live in an era characterized by endless information, data, and analytics.
Marketers often have access to advertising or CRM database metrics that show how current campaigns perform. But while these platforms help marketers understand what's working through a trial-and-error process, there are also resources available to help guide marketing strategy from the start.
Should you double-down on video content? Focus only on page-one search rankings? Drop paid advertising altogether or move all your discretionary spending there?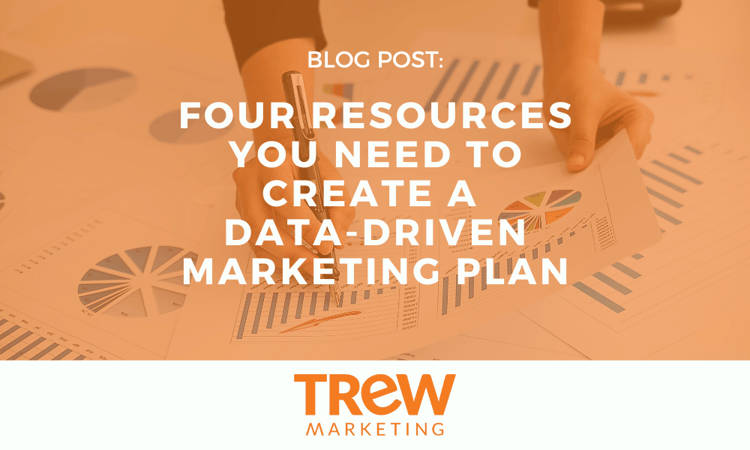 Before you take on a trial-and-error approach to answering these questions in your 2023 marketing plans, review relevant research and data that can shed light on what technical buyers look for and what's helpful to them as they make purchase decisions.
Here are the top 4 data-driven resources we recommend to inform your 2023 marketing plans.
Top Resource For Overall B2B Marketing
Leadership

: Content Marketing Institute is a global content marketing and training organization that teaches enterprise brands how to attract and retain customers through compelling, multichannel storytelling.

Published

: annually, Q4

Objective of Report

: To reveal insights related to changing practices, challenges that content marketers face, and success factors with regards to technical B2B marketing.
With over twelve years of experience in releasing thoroughly researched consumer insight reports, Content Marketing Institute is a great organization to turn to as you seek to understand in what areas B2B technical content marketers around the country succeeded in this year, and in what areas they were challenged.
In the past ten years, CMI has worked with 300+ content companies to help them develop a stronger approach to content marketing, and those efforts have not stopped with this report – check out our key takeaways below to benefit from the successes won and pain points pushed through by other marketers:
Key takeaways:
The top three content marketing challenges respondents identified were creating valuable content instead of sales-oriented content (51 percent), overcoming the traditional marketing and sales mindset (51 percent), and accessing subject matter experts to create content (50 percent).

Manufacturing marketers primarily use content marketing to create brand awareness.

Videos were the top content type produced as well as the top predicted area of content marketing investment for 2022.
Summary:
Use this report to become aware of the key challenges facing content marketers for technical audiences so that you can start to strategize on how to combat these challenges in your own company. Click here to access the report.
Top Resource For Engineering Pain Points
Leadership: GlobalSpec provides data-driven industrial marketing solutions like industry research and customized marketing programs to promote products and grow businesses.

Published

: annually, Q4

Objective

: To gain an understanding of how engineers view the "pace" of engineering, current resources that are available to them, certain knowledge management practices, methods of measuring performance, and the ways that industry trends impact their day-to-day work environments.
Millions of engineers from dozens of industries rely on GlobalSpec for resources such as news and analyses, white papers and webinars, reference sources and standards, and product and supplier directories. However, what keeps users consistently returning is the company's overall focus on content, community, and engagement; these core values are demonstrated through their annual research report on the pulse of engineering. Whether you are looking to start your 2023 marketing strategy from scratch or whether you are just putting the finishing touches on your content calendar, this survey report gives you a window into the technical buyer's mind and reveals their candid opinions on what they love, hate, use, and don't use when it comes to a variety of tools and advertisement planning.
Key takeaways:
43 percent of engineers say they are required to do more with less and 38 percent agree that the pace of engineering is constantly increasing.
Engineers said their leading tools for completing projects are technical documentation, software and development tools, product specification data, and datasheets.
To increase their knowledge and skills, engineers most often turn to online training courses, webinars, colleagues/peers, books and professional development courses.
Summary:
Use this report to identify key pain points that engineers experience when researching products to purchase so that you can better serve their needs in a medium that best serves them. Click here to access the report.
Top Resource For Overall Marketing Activity Insights
Leadership: TREW Marketing is a full-service content marketing agency that works specifically with B2B technical organizations. TREW helps prospects easily find and learn from its clients, ultimately building trust in their brand and growing leads to impact the bottom line.
Published: annually, Q1
Objective

: To help content marketers with technical clients better understand the needs and preferences of their target audience, as well as to offer critical insights to help guide marketing plans for the coming year.
Fourteen years, dozens of long-standing clients, and two published books later, it is safe to say TREW Marketing knows engineers. Here at TREW, we are deeply passionate about getting to the core of the pain points that engineers experience and solving them, and as a result we have learned a lot about what works and doesn't work when it comes to content marketing for technical buyers. Our sixth annual State of Marketing to Engineers Research Report showcases trends in engagement with social media, vendor websites, podcasts, and more when it comes to the technical buyer.
Key takeaways:
Supplier / vendor websites are the dominant "go-to" for engineers researching a product or service for a business purchase, but engineers still turn to online trade publications and industry resources.

Engineers consider YouTube, LinkedIn, and GitHub the most valuable social media platforms when seeking information on the latest engineering technologies and industry trends.
Engineers are still looking for assistance from sales to validate their independent online research and better grasp concepts in the face of technical complexity.
Only 5 percent of respondents said they'd prefer not to interact with a salesperson at all.
Summary:
Use this report to inform your 2023 marketing activity choices by understanding the specific platforms and modes of communication that are most effective and that engineers prefer. Click here to access the research.
Top Resource to understand the content Technical Buyers Need
Leadership: CADENAS PARTsolutions provides manufacturers with product data as well as marketing content, while at the same time innovating constantly to streamline engineering processes by connecting the right buyers with the right parts at the right pace.

Published

: annually, Q1

Objective

:

To provide marketers with insights from over 128,000 engineers and architects about "their preferences when searching for and specifying manufacturer products online" so that marketers know how to position their content in a way that will make it appealing and easy for the engineers to find.
This yearly Industrial Marketing Survey offers the most specific and targeted insights of all the resources recommended so far – the report is composed of data from over 100,000 engineers and architects specifically regarding how they search for and find manufacturing products online. If this report speaks to you and the target audience you serve, it will certainly prove useful in identifying ways to position your content favorably to maximize its appeal and ease of locating for engineers and architects.
Key takeaways:
Engineers want to work with companies that are easy to do business with – 80 percent of engineers will bounce off a site before contacting a supplier with limited CAD or BIM data
The manufacturing companies that make it easy for engineers to access and download information about their products are rewarded with increased sales – 65 percent of engineers and architects see native CAD/BIM models as the #1 criteria for product selection, and 82 percent of CAD/BIM downloads convert into physical product sales
Summary:
Use this report to learn how to deliver the specific product information (such as CAD/BIM data) that technical buyers need, which can lead to increased sales and a competitive edge. Click here to access the report.
Looking for additional marketing planning insights for your engineering company?
We hope that these resources provide concrete insights you can use in your content marketing plans going forward, and we wish you the best of luck as you start strategizing for 2023!
However, you might still be wondering where to start when it comes to creating a comprehensive content marketing strategy. If this is the case, check out our book, Content Marketing, Engineered, for a step-by-step guide on how to build trust and convert leads through technical content.
By the time you finish this book, you will have a strong understanding of how to create content that applies to customers at each stage of the buyer's journey, as well as a solid foundation for best practices in general when it comes to content marketing strategy.
TREW is a marketing agency dedicated to reaching engineering and technical audiences through a range of marketing initiatives. Contact us today to learn more about the services we offer.
Subscribe to Our Blog for the Latest Updates

Wendy Covey is a CEO, a technical marketing leader, author of Content Marketing, Engineered, one of The Wall Street Journal's 10 Most Innovative Entrepreneurs in America, and she holds a Texas fishing record. She resides in a small Hill Country town southwest of Austin, Texas, where she enjoys outdoor adventures with her family.
TREW Marketing is a strategy-first content marketing agency serving B2B companies that target highly technical buyers. With deep experience in the design, embedded, measurement and automation, and software industries, TREW Marketing provides branding, marketing strategy, content development, and digital marketing services to help customers efficiently and effectively achieve business goals.