4 min read
Creating a Culture of Connection within Remote Working Teams
While most companies were suddenly forced to experiment with remote work in recent years, we were fortunate to continue business as usual, having been a virtual business since our founding in 2008. Over this time, we have built up our remote working toolset and standard operating procedures to ensure we can work collaboratively and connectively both internally and with our clients throughout North America. However, a key component to keeping this connectivity is having multiple, small group in-person touch points throughout the year and a semi-annual 3-day all-team retreat.
Our CEO and Co-founder, Wendy Covey put it best in a LinkedIn post, "As a work-from-home business for 14 years now, we've learned that in-person retreat experiences create bonds that no virtual call can match."
While we are fresh off the heels of our most recent retreat, we wanted to share our approach and ideas of how to intentionally build a strong, connected culture through in-person team events.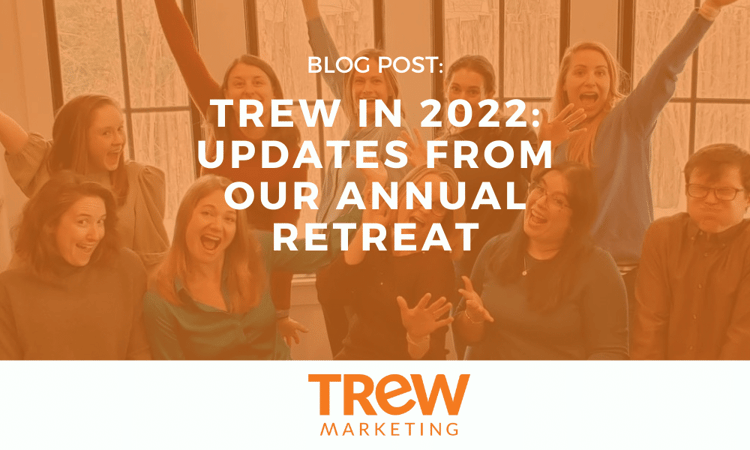 To plan any team event, start with your core values. Those values will subtly affect which activities you plan, the tightness of the schedule, and dozens of other tiny decisions.
At TREW, we try to embody an ethos of "Laid-Back Excellence." We like to have fun while striving for the highest quality in our work and communication. Within this framework, our core values are Excellence, Strategic Thinking, Collaboration, Drive, and Balance. Our event committee kept these values in mind to craft a 3-day retreat that included a period of concentrated collaboration and plenty of time for unscripted fun. Since we weren't able to meet in person last year, they pulled out all the stops for the 2022 retreat.
The retreat began with a flurry of activity. Oncoming snowstorms in Colorado and Michigan resulted in some employees flying in a day earlier than expected. Thankfully, with an easygoing team, we were able to roll with the changes.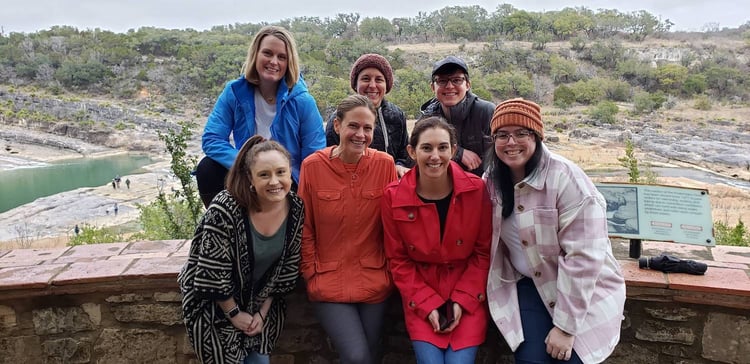 Thanks to a generous tree, we were able to balance a phone and snap this group photo!
On day 1, several of us hiked Pedernales Falls State Park, and everyone met in Fredericksburg, a small city nestled in the heart of the Texas hill country, known for its unique wineries, peaches, and German heritage. While it would have been easier to meet in Austin (where most of the team is based), experiencing a new environment together can enhance team building. The TREW Crew enjoyed a local wine tasting and then homemade meals from our very own Morgan Norris.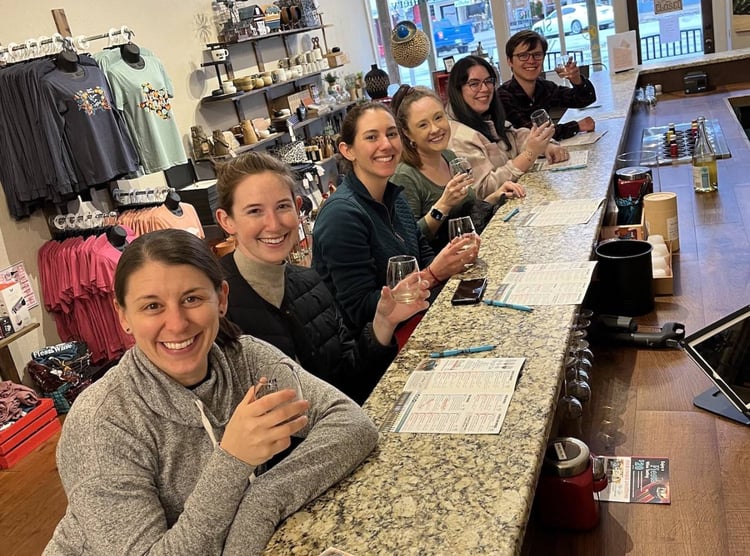 Thanks to Fiesta Winery for a great afternoon!
We put our business hats on for day 2. With coffee in hand, we gathered in a room and reviewed our internal marketing motto for the year: Refresh, Renew, Reinvigorate, Repurpose. With over a decade of content marketing experience, we have a lot of inbound content on our website, contacts in our database, and procedures in our toolbox. This year, we commit to refreshing our database, reducing the frequency of producing new blog posts, optimizing white papers, and purging contacts that no longer active while selecting some content to repurpose into relevant new material.
After discussing internal marketing, we reviewed our updated buyer personas, persona playbooks, team members on each account, and prospective clients in our pipeline. We spent the afternoon discussing changes to our primary services and updates in the realms of digital advertising and account-based marketing (ABM).
We spent our free time playing board games, tackling puzzles, enjoying the many amenities of our venue, and having the types of conversations that are enriched with wine or beer in hand. One highlight of the trip was definitely the TREW Awards, where each team member was presented with a personalized superlative. Our newest member Alicia Keene started with the TREW on the first day of the retreat and received the appropriately-named "Most Likely to Share a House with Co-Workers on Day 1" award.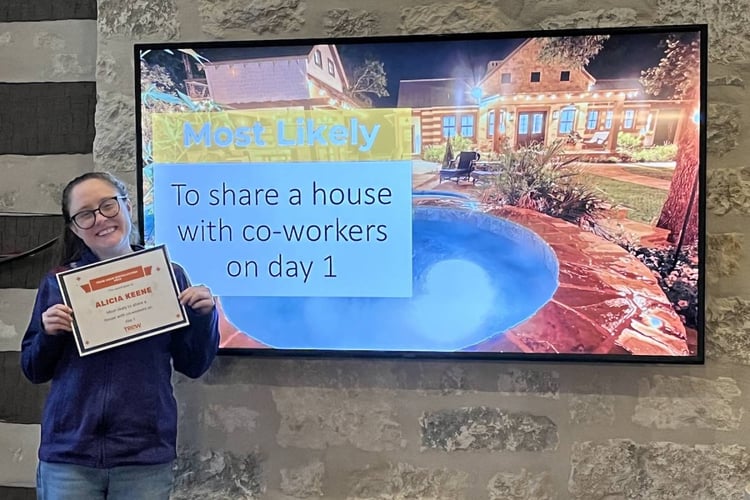 Welcome Alicia! You were such a good sport!
Day 3 was clean up day -- for ourselves and the house. We ate breakfast, put on spiffy clothes and smiles, and snapped some new pictures for our website (check out our About pages!). Finally, we de-iced the cars, hugged our goodbyes, and headed back to Austin.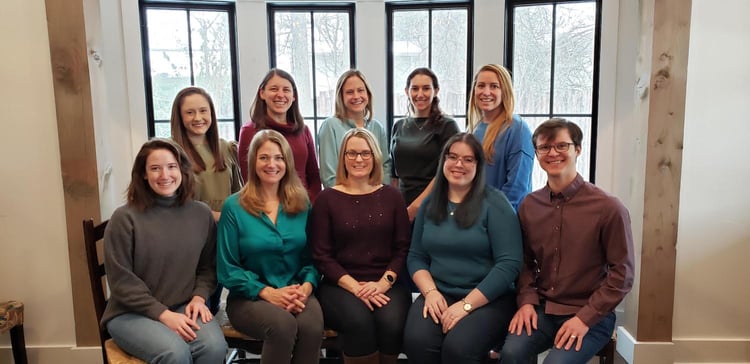 The TREW Crew
After any event, it is crucial to get solicit feedback from the team. In our case, we learned a few things to improve for next year and mostly received encouraging messages like "Connection with the team was amazing," "Food and venue were awesome" and "Loved the games."
To continue our connection-building momentum, we have follow-on events planned including quarterly virtual game nights, monthly happy hours, and a half-year virtual retreat in July to focus on training. Building and maintaining an intentional company culture takes work, but it pays dividends in terms of attracting and retaining top talent and is more than worth the time, money, and effort to implement.

Lee guides agency strategy and performance, and she champions the ongoing pursuit of building a great marketing team. She has extensive B2B technical marketing experience across a spectrum of industries and application areas including test and measurement, control and automation, and industrial manufacturing. Her focus has always been on building lasting partnerships that connect marketing strategy to bottom line-business results. Lee lives in Austin, Texas where she is passionate about supporting organizations working to end homelessness and provide affordable housing in Central Texas.
TREW Marketing is a strategy-first content marketing agency serving B2B companies that target highly technical buyers. With deep experience in the design, embedded, measurement and automation, and software industries, TREW Marketing provides branding, marketing strategy, content development, and digital marketing services to help customers efficiently and effectively achieve business goals.