5 min read
7 Steps for Effective Web Content Development
Web writing is unique compared to writing other types of technical marketing content such as white papers, case studies, or even blog posts.
Instead of going in-depth on a certain product, technology, or application on a webpage, you need to show that your company is knowledgeable, but you want website viewers to get just enough information that they are compelled to take the next step (such as downloading that technical white paper or case study).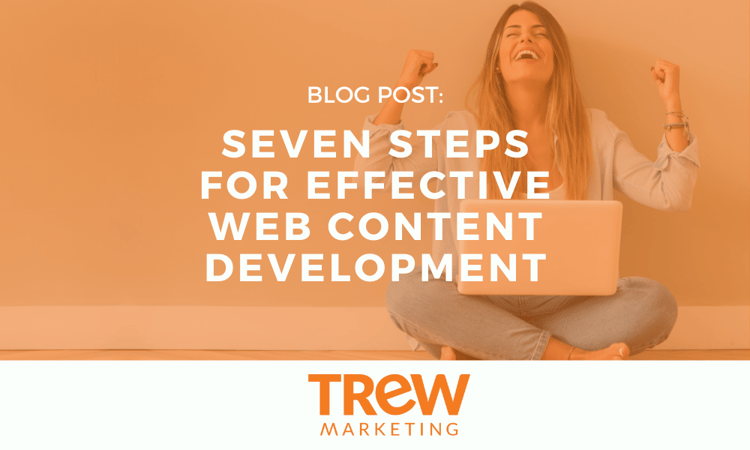 Additionally, as a technical marketing writer for an engineering company, it's likely that web content is the type of content you write least frequently. Therefore, when the time comes to work on a website revamp, developing the content may seem like an intimidating task. But we're here to help, even if you're taking on the content development alone.
This post details our seven-step content development approach that will help you create concise web content that speaks to your personas' pain points, conveys your company messaging, and accurately reflects your technical expertise.
Let's review each of these steps in more detail as well as some of the best practices our web writing experts have developed by working on dozens of websites over the last few years.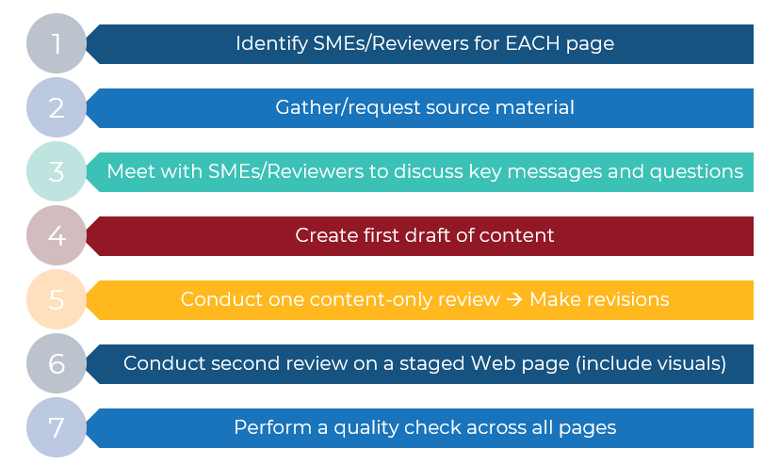 7 Steps for Effective Web Content Development
1. Identify SMEs/Reviewers for EACH page
Before jumping into any actual writing there are three steps we recommend taking to set yourself up for success and reduce review times. This starts with identifying your subject matter experts (SMEs) for EACH page. This includes your corporate pages too since the SMEs for these pages will likely be different people than your SMEs for your product or service pages. For example, a human resources representative is probably the best source for your careers page rather than one of the engineers you're working with on service or product page content.

At this point, you also want to be sure to identify if there will be additional reviewers beyond your SMEs for each page. This is important to do now because you need your reviewers to be on board with your Web strategy and goals for each page. When reviewers are brought in last minute and are not involved in strategy development, we often see a lot of changes requested that may not align with the goals you identified for the page up front with your SMEs. Another key person that needs to be identified up front, especially if you have many people involved in your web content development, is your "web champion." This person should act as the point person for the entire web project and be responsible for ensuring messaging consistency across pages as your content comes together.
2. Gather/request source material
Next, you need to gather source material from existing web and non-web sources. This should include any information you uncovered during your pre-web project content audit, materials provided by your SMEs, and anything you located independently from internal and external sources.
3. Meet with SMEs/Reviewers to discuss key messages and questions
It's unlikely that the source material will provide everything you need to draft every page. For many pages, you will likely need to schedule meetings with the SMEs (and page reviewers) to discuss any questions as well as the key messages for the page. Depending on how many unanswered questions you have at this point, and how difficult gaining alignment on key messages may be, you might able to skip an in person (or Zoom) meeting and have your discussions via email. Either way, be sure that by the end of this step your questions are answered and everyone is aligned on the key messages for each page – especially your core product, service, and corporate pages.
4. Create first draft of content
Now that you have your SMEs, source content, and key messages identified, it's time to get started with writing your content (trust me, all the upfront work you put in already will pay off here). But, before you start, you have a key decision to make on how you will draft your content – writing in content docs (top image) or writing directly on a draft state of the page (bottom image).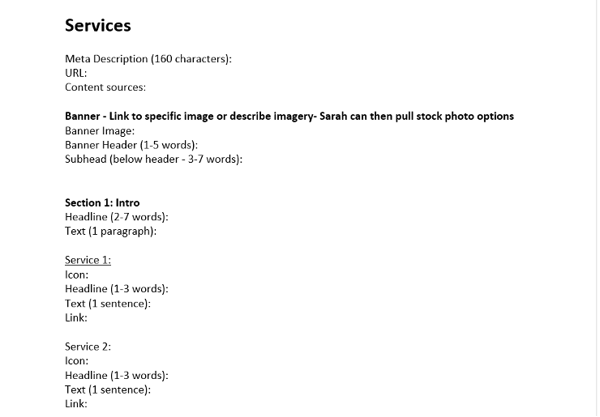 Many writers find it helpful to draft content beforehand in a text document.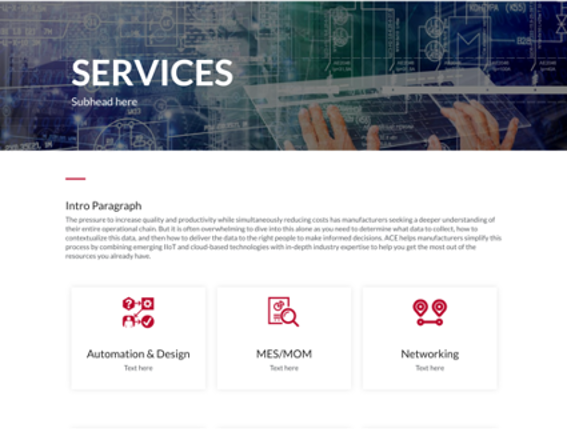 You can also draft content directly within your website builder.
At TREW, we generally prefer to write the content in a content doc so that edits can be tracked during step 5, but we also like to drop the content into a draft page so that reviewers can visualize what the page will look like. If you choose to use the draft pages at this point, note that you should use placeholder images as the imagery will evolve as content is finalized. While this process can take slightly longer, we believe it saves an immense amount of time as it reduces rewrites and cuts/additions once reviewers actually see the content in the layout.
5. Conduct one content-only review → Make revisions
Once you have your first draft, you're now ready for your content-only review! Depending on the type of page and number of reviewers, you may want to send out the Word docs for a review (and request consolidated feedback) or it might be easier to have a group feedback session if there are a lot of stakeholders in the page. This is also the point where you can start discussions on imagery.
6. Conduct second review on a staged Web page (include visuals)
Once you incorporate the revisions from the first review, you are of course ready for a second review. This review should definitely be done on a draft page as minimal text tweaks should be required. This is also the point where you can refine your text for search and incorporate imagery and video selections to match the written content. The next steps for every page should also be discussed at this point as you should never leave your website viewers with a dead end – EVERY page should have a call to action, even if it's simply a contact link.
7. Perform a quality check across all pages
As mentioned, you may have a lot of people involved in writing different pages, and that's OK. But you need that one person, your "web champion," in charge of aggregating and reviewing all the content to ensure your messaging is consistent across pages.

If you would like to learn more about executing a web redesign based on strategy-driven content development, watch our webinar, Build a Better Technical Website.
TREW is a marketing agency dedicated to reaching engineering and technical audiences through a range of marketing initiatives. Contact us today to learn more about the services we offer.
SUBSCRIBE TO OUR BLOG FOR THE LATEST UPDATES

Jamie has more than 15 years' experience writing technical marketing content designed to engage client's target audiences. She enjoys the challenge of taking a highly technical topic and communicating it in a manner that makes it relatable to non-domain experts. Jamie holds a bachelor's degree in public relations and journalism from Utica College of Syracuse University and master's degree in Advertising from the University of Texas at Austin. Originally from upstate NY, Jamie now lives in the mountains outside of Denver, CO.
TREW Marketing is a strategy-first content marketing agency serving B2B companies that target highly technical buyers. With deep experience in the design, embedded, measurement and automation, and software industries, TREW Marketing provides branding, marketing strategy, content development, and digital marketing services to help customers efficiently and effectively achieve business goals.