4 min read
Content IS King - 5 Steps to Writing Effective White Papers
Compelling content is vital to your marketing efforts – engineers need and expect technical content such as white papers, data sheets, and detailed customer testimonials. These materials do much more than inform; through engaging content, you increase trust, strengthen perceived value and brand loyalty, gain a higher click-through rate for content placed on your website, and ultimately generate new leads and sales.
For maximum impact, content must be:
Current
Engaging
Educational
Actionable
You have a variety of content avenues to choose from, so it's important to begin with the most critical and prioritize quality vs. quantity, particularly when starting out. Assuming your website content is already developed, the next types of marketing content you should tackle include:
Technical white papers
Customer case studies
Application-specific pillar pages
Videos and interactive content
According to our 2022 State of Marketing to Engineers report, 83% of engineers are willing to fill out a form in exchange for technical content. The most useful types of content cited by engineers included a long list!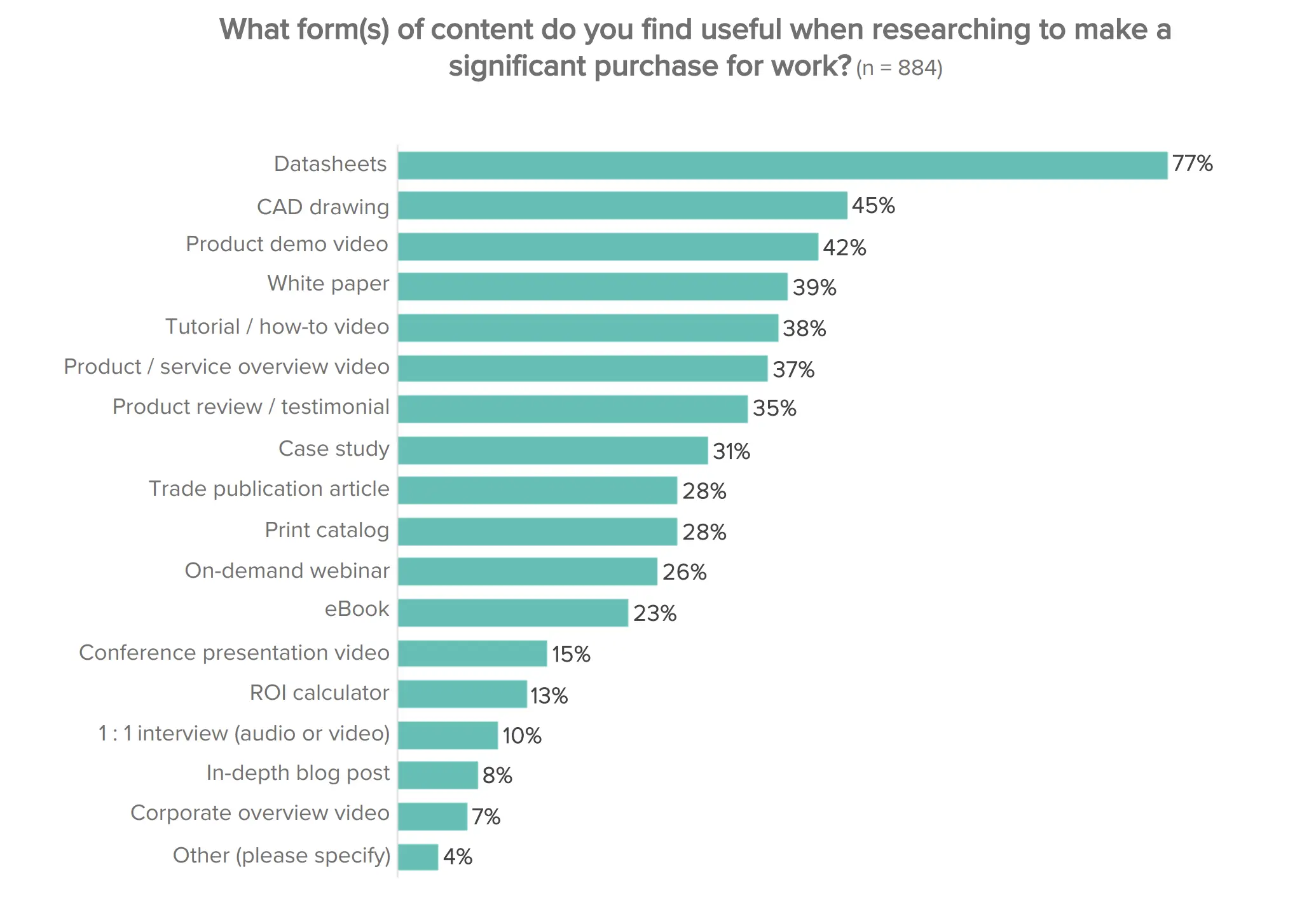 White papers are a source of valuable technical content for your audience that can position you as an expert in a specific field. These documents differ from general marketing content in their high level of technical detail. White papers may also include how-to guides, visual diagrams, and even mathematical formulas about a relevant industry issue, product feature, or technical subject.
The following five steps can help you write and effectively use white papers:
1. Outline your content
To make sure you provide adequate detail for your white paper, outline your content first, including the following recommended sections:
Introduction – briefly define the topic of the white paper
Challenge – describe the reader's pain points
Overview – tell what you will discuss in the paper and define key terms you will use
Body – discuss the industry issue, technology, or product feature, including your solution or resolution to the challenge and related benefits; include quantifiable results that are expected, if applicable
Call-to-action – what you want your reader to do next; examples include watching a video, visiting specific areas of your website, or requesting a product demo
2. Include images
Using graphics in your white paper helps a reader visualize what you are explaining. For a white paper on an industry topic, you may want to use graphs or charts; for a white paper on a product or technology, use models, diagrams, or screen shots to illustrate your points.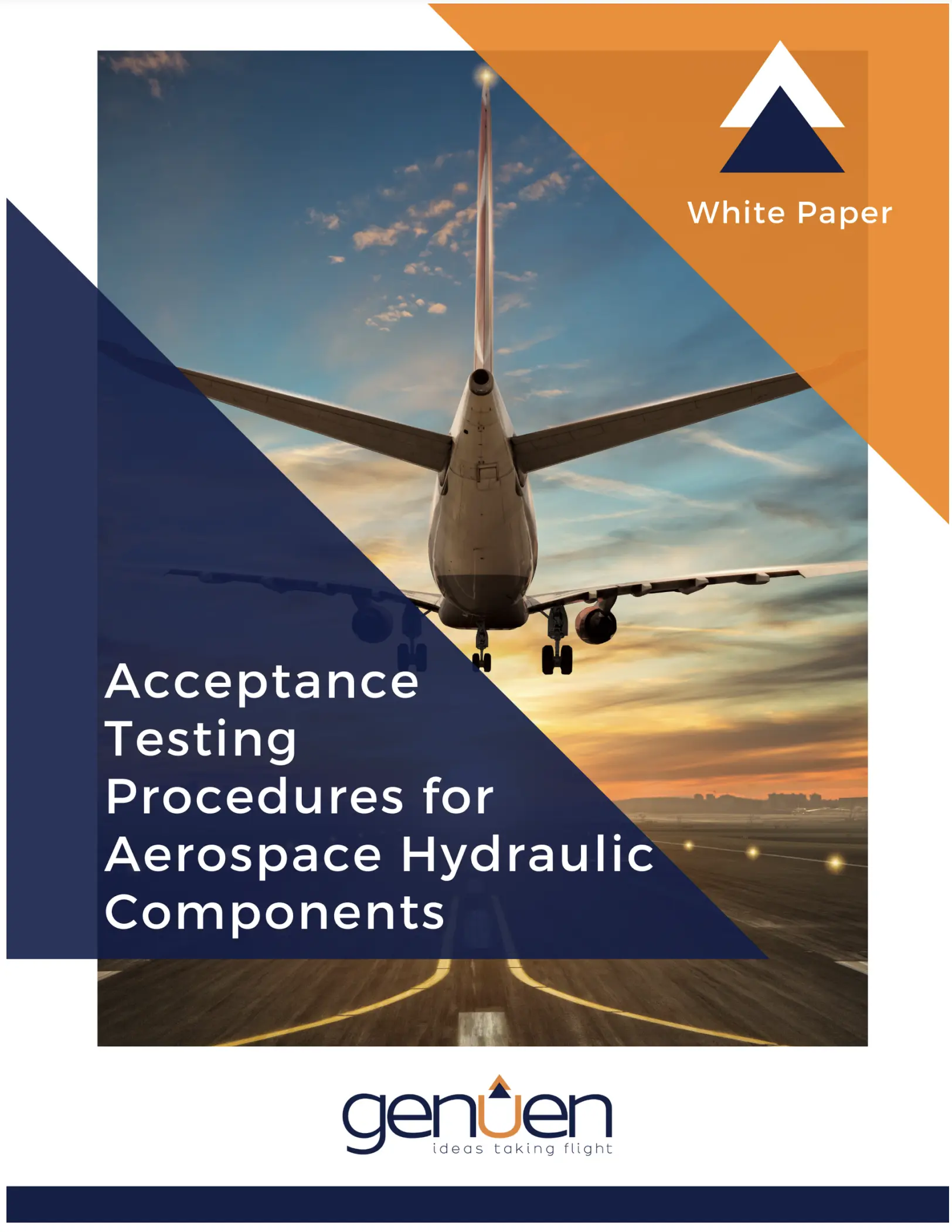 Genuen, an end-to-end test solutions provider, uses interesting graphics to capture readers attention in their white papers.
3. Wait for your pitch
If you are writing a white paper about an industry trend or a technical subject, it can be tempting to quickly dive in and explain how your company or product can address the topic. Resist this urge and wait until the end of your white paper to mention your products or services, and do it in general terms vs. a direct sales approach. This way, you will have successfully established your expertise on the subject of the white paper, and have developed the need for your product or service before you introduce it.
4. Review your work
Take a break from your draft and read it over when you return. Think about your audience and how they are approaching your content. If they aren't familiar with the technology you're referencing, make sure you address it thoroughly at the beginning of the paper. If your audience will likely know a lot about the subject, don't labor over unnecessary details. To edit your content, read it backwards. First, read the last sentence, then the second-to-last sentence, and so on. This is a tedious process but it can help you catch missing or superfluous commas and spelling errors because you are able to read for grammar and punctuation without your mind jumping through the ideas and flow of the paper.
5. Use your content
Now that your content is written, use the white paper as a call-to-action for other marketing activities. For example, you can link a white paper that explains how to use a specific product feature on that product's web page. This shows customers you can provide more expertise in specific technical areas such as a product feature, industry trend, or technical process.
---
Email yourself a PDF version of this guide
Take this guide to-go! We created a summarized, printable PDF version of this blog for your convenience. Enter your email below for instant access.
---
For more helpful tips on how to create compelling content targeted to engineers and technical audiences, download our free content marketing guidebook by clicking the image below.