6 min read
The Engineer's Guide to Writing and Promoting a Case Study
Case studies are the holy grail of content.
You can tell prospects all day how great your company is, but the real trust is built when you have a customer validate the value of your products and services.
Not only is a case study the strongest piece of content in your arsenal, it is also the most versatile. Case studies come into play at every stage of the buyer's journey – from awareness and interest all the way to a purchase decision.
If you are investing in content marketing, case studies must be a priority. Here's our 6-step process for writing and promoting full-length technical case studies.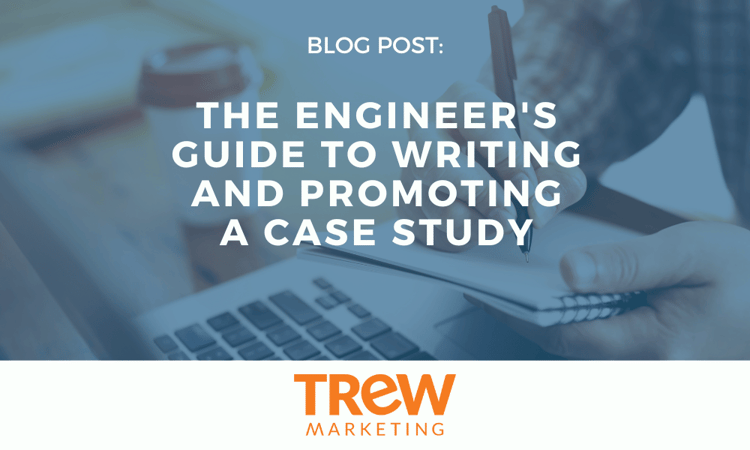 How to Write a Case Study
Select the Right Customer
Look through your list of customers and/or ask your project managers if any customers have one of the following characteristics:
Surprise results– Non-traditional customers that have seen overly positive results can help absolve any doubts potential customers may have.

Recognizable name– While small companies can have powerful stories, bigger or more notable brands can help increase credibility.

Competitive win– If you are consistently going up against another competitor, having a case study where you won over them is a great piece that can be leveraged by your sales team.

In an industry or vertical where you're aiming to expand business – If you are looking to expand into a new industry I will always suggest the first piece of content you create is a case study to show that you understand the challenges and can meet customer needs in that specific industry.

Willingness to participate – Many customers will volunteer to offer some information for a case study and ultimately approve it, while others are required by their companies to be tight-lipped about applications or run all information through corporate communications processes. Having a willing participant will prove to be a much easier and fruitful process than one where you have to pull teeth to get the information or approval you need. Also make sure that you communicate the mutual benefit of a case study for you and for your customer. Oftentimes, the case study will highlight the benefits of your products or services, but it will also help the customer showcase their success. By later putting the completed case study on your web site, you help improve the customer's web presence and further their company name.
Create Interview Questions and Outline
The most compelling and complete case study follows the flow below. Use the format to inform your research first and then prepare open-ended questions to use when interviewing your customers.
Customer's business overview– This serves to build an understanding of the company's current challenges and goals, and how they fit into the landscape of their industry.

Challenges – This helps match the customer's need with your products and services.

Decision-making process – Showing the process demonstrates how the customer arrived at their decision to work with you and helps guide the decision-making process of potential customers.

Solution – Help a potential customer understand how your product or service is currently being used.

Results – Reveal impressive, measurable outcomes to give insight into what your potential customer can achieve when working with you.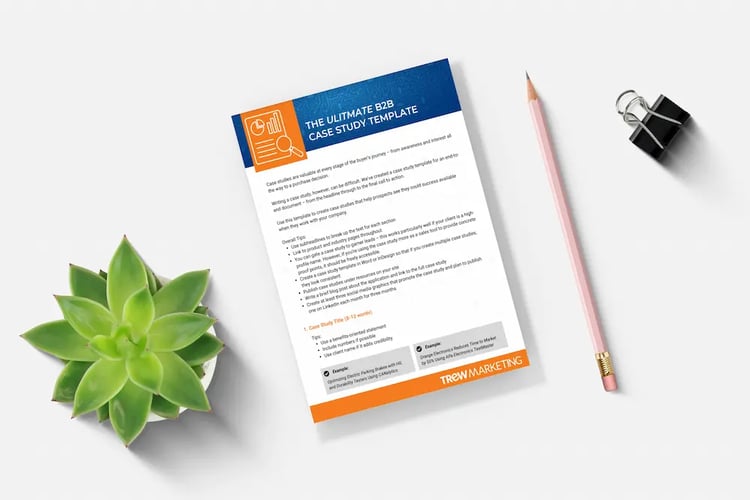 Download our B2B Case Study Template to get started.
Obtain Customer Approval
Once the case study has been drafted and reviewed internally, share it with the customer so they can fact-check the document and make any needed changes. Some customers will require that their legal department review the case study to ensure there is no sensitive information shared. Once their changes have been incorporated, we also recommend having the customer sign a release form, permitting you to promote and publish the case study.
Design
This is often the most overlooked part of developing a case study and I would argue likely the most important. Most people judge whether they read a case study based on scan-ability, which can be achieved through good design.
When laying out your case study, focus on conveying the information you've gathered in the most clear and concise way possible. Make it easy to scan and comprehend, and most importantly, be sure to provide an attractive call-to-action at the end to provide readers with an opportunity to learn more about your product or service.
Include the following:
Title - provide compelling first-glance content

Section headers - draw readers in with quantifiable, results-focused headlines

Relevant images

Bulleted lists

Bolded and italicized text

Call out quotes and stats

Up to 800 words
Need some design inspiration? View TREW's case studies.
How to Promote Your Case Study
There are two primary places to publish your full-length case study: on a web page and in a printable PDF that are optimized for search. but don't stop there.
The case study should be incorporated into your marketing and sales efforts in order for people to actually read it. You can continue to promote your case study by:
Making it easy to find on your site – include the case study in your site navigation and link to it as a call to action from relevant industry and product pages. Gating content behind a lead form can help generate new leads.

Creating a direct email to promote the case study to a segmented list in your database or adding the case study to existing lead nurturing programs.

Making sure sales has it and knows when to use it

Publishing a news release around the customer success story

Distributing at trade shows

Writing a blog post on the topic and having the case study serve as a call to action
How to Repurpose Your Case Study
While a case study is very useful in full-length form, you can also benefit from using pieces of the case study in different marketing materials. For example, use a customer quote from the case in email marketing, or create summary slides for a sales presentation or corporate presentation, video etc.
Think of the different ways your personas prefer to engage with content and expand on the original case study. The case study will have authority and authenticity when you combine it with a testimonial, preferably video!
Most case studies have a shelf life of about one year before they need to be reviewed and revised. As your products and services evolve, or the customer application achieves greater results, make sure the case study includes the latest information.
Next Steps with TREW Marketing
Looking for additional support to help you get started? We've got your covered.
A good first step would be to download our B2B Case Study Template. This template will take you from blank page to final draft with step-by-step instructions.
Next, consider enrolling in the next session of Content Writing, Engineered, our six week training course with live coaching. This course helps writers, marketers, and engineers work through our proven technical research, writing, review and promotion process. Students will create a final piece content by the end of the course, receiving feedback every step of the way.
TREW is a marketing agency dedicated to reaching engineering and technical audiences through a range of marketing initiatives. Contact us today to learn more about the services we offer.
SUBSCRIBE TO OUR BLOG FOR THE LATEST UPDATES

Morgan believes that the process of brand positioning and messaging powers companies by aligning corporate leadership, building a story that fuels staff and engages customers, and creating a foundation for consistent content – and she's seen these results come true for TREW clients time and again over the last decade. She holds degrees in Public Relations and Spanish, with a minor in Business from The University of Texas at Austin. Morgan, her husband, and three kids recently moved from Austin to downtown DC, where they enjoy walking the city, visiting the local museums, and playing a guess-who-is-in-that-motorcade game.
TREW Marketing is a strategy-first content marketing agency serving B2B companies that target highly technical buyers. With deep experience in the design, embedded, measurement and automation, and software industries, TREW Marketing provides branding, marketing strategy, content development, and digital marketing services to help customers efficiently and effectively achieve business goals.