5 min read
How to Create a Product Positioning Statement
You've put in the countless hours to perfect your product, and worked hard to develop an effective product launch plan. You're almost ready to execute and go-to-market, but you still have one big step to complete before you write the news release headline, pick your keywords for SEO, or design your new webpage. You need to define your product's brand.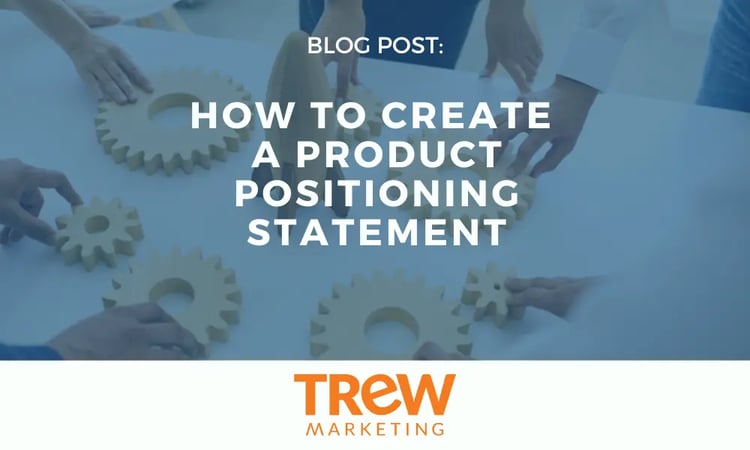 Determining how to position your product is vital to setting it apart from competing products, describing what the product uniquely brings to the marketplace, and clearly communicating its benefits. We recommend a four-step process for crafting your product's brand that includes:
Product Positioning Statement
Product Description and Pitch
Supporting pillars with descriptive proof points
Visual Identity
This blog covers step one of the process: How to create a product positioning statement. For more on steps 2 and 3, download the free ebook, Smart Marketing for Engineers: Product Launches.
What is a positioning statement?

A statement or set of statements specifically used to create an image in the mind of your customers. It is how you want them to visualize your product in relation to the market and competition.
To get started, use the following approach to define your product positioning statement (note: if you've completed a persona exercise, this step will be much easier).
Who is your ideal customer (job title, company size, etc.)?
Where are your target customers (geographic region, industry, etc.)?
Why do they need a solution (pain points that lead them to seek your product)?
What does your product do to help them solve this challenge (your specific product, key features, applications it solves)?
How does your product uniquely meet their challenge (what are your top differentiators and how do they directly benefit the customer)?
How do your competitors' products fall short?
Why, in the end, should customers choose your product and your company?
When and where can they buy it?
To thoroughly answer these questions, you may need to do some market and customer research. This could be done informally through customer interviews, social media, and Google searches, or more formally by doing a formal research project. Don't assume you know it all — validate your ideas and thoughts. Through this process you may find yourself learning even more about your customers' care-abouts and gaining insight that might even effect future features of your product itself.
Getting agreement on the answers to these questions is tough work. There will be debate, compromise, and in the end – let's hope – consensus on the best words and phrases that answer each of these questions above. This positioning exercise, while potentially arduous, is worth the effort as it makes the rest of the branding process much easier and ensures consistency of message throughout the launch.
Once you have these key questions answered, take this research and brainstorming, use the following structure to pieces all the components together into a cohesive positioning statement:
"For (Target Customer) that (Needs/Care-Abouts), our product or company is a (Category/Solution) that (Benefit). Unlike our competitor, our product/company is (Unique Differentiator)."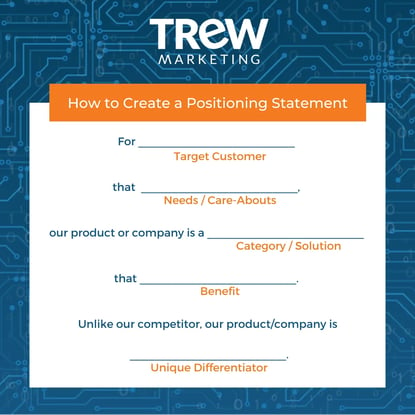 To illustrate this process, we have included a product positioning example that we developed for Silex Technology.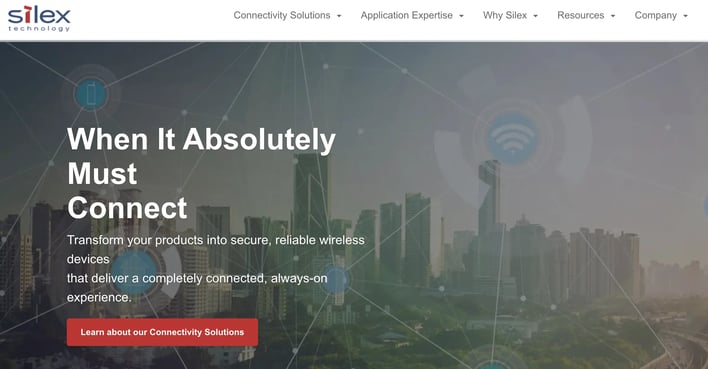 These statements, once completed, formed the foundation of external marketing messaging, including the product website and collateral.
Product Positioning Statement Examples
Who: Technical decision makers who seek a Wi-Fi solution for their product, device, or machine…
Where:…in companies that know reliable wireless connectivity is of paramount concern for product success and customer satisfaction…
Why: …and that need a trusted partner with proven design experience and wireless technology knowledge to develop and deliver a connectivity solution they can trust.
What: You make it—from a medical device to a document imaging product to a video or digital display—and Silex Technology will connect it to the network.
How: Building on more than 40 years of hardware and software connectivity know-how and IP, custom design experience, and manufacturing capabilities, Silex Technology delivers value to customers with our foundation of technical expertise....
Unlike:…unlike companies providing standardized solutions that don't reach the technical precision required by your devices, or companies with technology that outsource manufacturing or development processes.
Differentiation: With relentless attention to quality, exclusive access to Qualcomm Atheros expertise, in-house manufacturing, and strategic partnerships with leading real-time operating system (RTOS) and semiconductor providers, we are the global leader in reliable connectivity solutions...
Elevator Pitch: You design and develop it, and Silex Technology will connect it to the network. We transform your products into secure, reliable wireless devices and machines that deliver a completely connected, always-on experience for your customers.
Once finalized, you will (and should) leverage your product positioning statement regularly. Your sales force will become masters at delivering it. It will become incorporated into your marketing efforts. Get it right at the beginning and save yourself what could be a very costly mid-stream change down the road. And with that in place, You are now ready to turn your attention to your product marketing plan, beginning with audience personas, a content plan along the funnel and channel prioritization.
To learn more about successfully launching a product, read our ebook, Smart Product Launch.
TREW is a marketing agency dedicated to reaching engineering and technical audiences through a range of marketing initiatives. Contact us today to learn more about the services we offer.
SUBSCRIBE TO OUR BLOG FOR THE LATEST UPDATES

Wendy Covey is a CEO, a technical marketing leader, author of Content Marketing, Engineered, one of The Wall Street Journal's 10 Most Innovative Entrepreneurs in America, and she holds a Texas fishing record. She resides in a small Hill Country town southwest of Austin, Texas, where she enjoys outdoor adventures with her family.
TREW Marketing is a strategy-first content marketing agency serving B2B companies that target highly technical buyers. With deep experience in the design, embedded, measurement and automation, and software industries, TREW Marketing provides branding, marketing strategy, content development, and digital marketing services to help customers efficiently and effectively achieve business goals.