8 min read
5 Ways To Effectively Reach Engineers And Technical Audiences
If you've ever had the responsibility of marketing to an engineer or other highly technical buyer, then you've probably heard some variant of "My audience doesn't like being marketed and sold to."
These buyers are often saying this on their iPhones or while driving their Teslas, so while they may not like marketing, they're certainly not impervious to it.
What they are really trying to tell you is that they want you to be smart, brief and — above all — useful.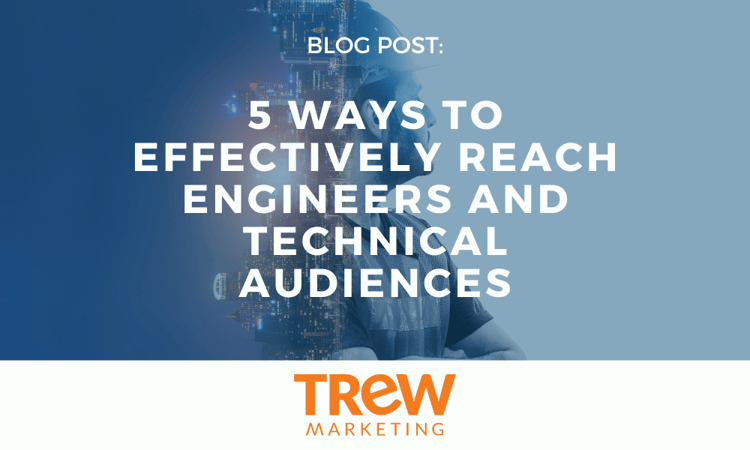 In my experience with marketing to engineers and scientists, I've found that they are often looking for any morsel of information that may help them solve a problem or provide another needed proof point. This makes them voracious consumers of content — and this is where they can be reached.
Our State of Marketing to Engineers Research found that often more than half of the technical buying process happens online, before a prospect ever speaks to someone on your sales team. MarTech Today reported that buyers consume an average of 13 pieces of content in their search for a product or solution. How you create, package and publish that content can make all the difference between earning their trust and making their short list, or harming your brand and being dismissed as an option.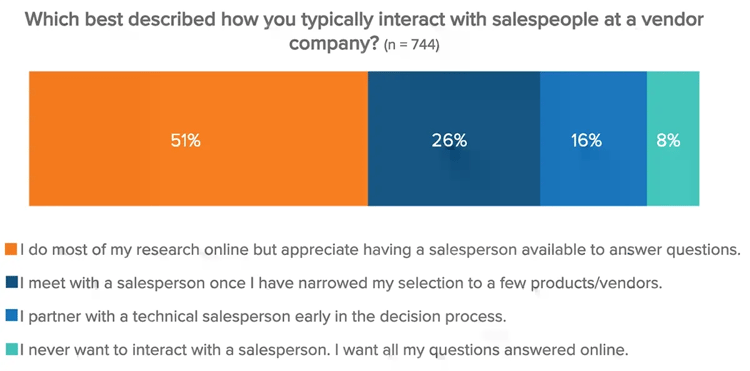 According to our research, over half of the buying process happens online before a prospect reaches out to speak with a salesperson.
Before you create that next marketing campaign or write that next white paper, consider these five recommendations for improving your conversion rate with technical buyers.
5 Ways to Effectively Reach Engineers and Technical Audiences
1. Relate To Your Buyers
Technical professionals, particularly those in complex industries, have significant challenges to solve. By taking the time to understand your customers and creating content that directly addresses their challenges, you are more likely to be found in search results and engage potential qualified buyers.
Start by interviewing customers who fit the profile of your target b2b buyer persona. Pay particular attention to the words used to describe their challenges and why they chose your solution. Use this information to tie together content themes and related educational topics — all designed to show that you understand the buyer's challenges but also that you have a differentiated solution. This is your jumping-off point for company messaging, points of differentiation and downstream content planning.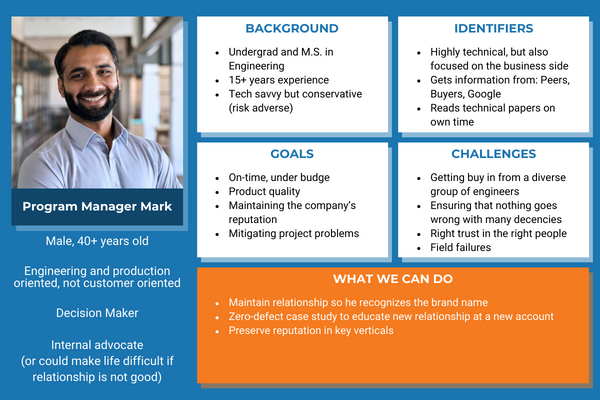 Here's an example of a technical buyer persona.
It's important to know the different personalities that make up your target audience, what they care about, and what they need so you can communicate with them in the most relevant way possible.
2. Commit to Creating helpful content - consistently
Plan content by theme, and look for ways to educate prospects with their specific challenges in mind. Brainstorm topics that are most important to buyers during each stage of their journey. For instance, early searches may be problem- or trend-focused, whereas later visits to your site may focus on detailed product information, demos or a services approach.
Publish content in a consistent cadence for two reasons: You'll achieve greater coverage of key topics without feeling overwhelmed, and you'll perform better on search engines.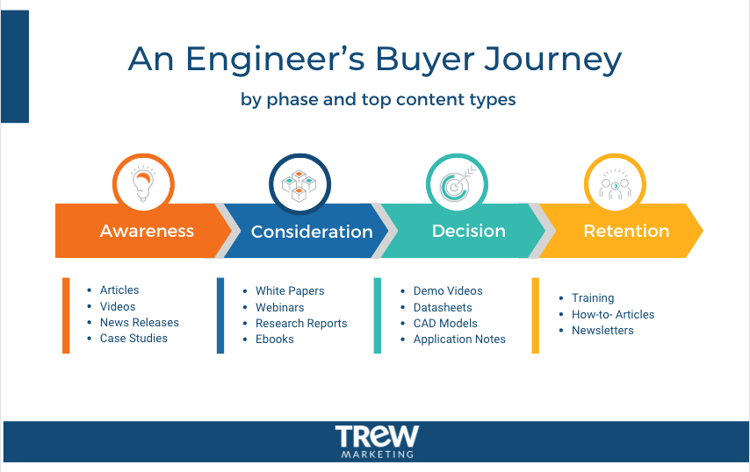 Your content should nurture leads through each phase of the buyers journey.
Learn how to develop and implement a content marketing program by reading our Guide to B2B Content Marketing.
3. Turn Engineers into SubJect Matter Experts
Technical professionals want to hear from other technical professionals — more so than industry analysts, publication editors and, of course, marketing or sales. This can be challenging for companies without technical marketing staff because staff engineers are unlikely to eagerly jump into content development. By pairing a writer with a technical subject matter expert, you can gain better technical depth while producing a well-written, balanced piece.
Content should be 90% educational and 10% promotional. Help solve the buyer's challenges and prove out their solution, and offer data to support your statements. Visuals such as diagrams and infographics are helpful too, particularly for complex topics. Be authentic. Whether this means publishing the content as a video with the engineer in the hot seat or simply matching the writing tone with the subject matter expert, remember that technical buyers do not suffer fools — or young marketing interns writing fluff pieces.

Here's an example of a highly technical white paper written by engineering subject matter experts.
4. Create a solid website strategy
It is staggering how many technical companies complacently serve up a poor online experience for their prospects. This creates a negative brand association with prospects, which your salespeople must struggle to overcome — or more likely, it may cause visitors to exit your site within a few seconds.
With the importance of a company's online presence paired with today's advancements in templated websites, there is no excuse to have a poor online experience. If you have not redesigned your website in three years or more, chances are you are suffering from a dated user experience and hurting your search engine results. Table stakes for a user-friendly, modern website include:
A clean, organized design.
Searchability and navigation aided by imagery.
Fast load time (less than three seconds on computers and one second on mobile).
Security through SSL.
Responsiveness and adaptability regardless of device type.


5. Continue the Conversation
Isn't it annoying when you visit a doctor's office and are asked to fill out forms with information you've already provided to them? Or worse yet, when you answer detailed questions about your illness for the nurse, only to have to start over from scratch when the doctor arrives?
It is no different with technical buyers. Once you have started a conversation with your prospects online, asked for information on forms in exchange for content and monitored their behavior across marketing channels. Don't make the mistake of starting over when it is time for a sales engagement.
Sales should study past interactions stored in your customer relationship management platform. By viewing the pages prospects have visited, emails they've clicked on and information they've provided on forms, sales should have a strong idea of where the buyer's interest lies. When it is time to meet, sales has the opportunity to continue educating in a role of technical advisor first and salesperson second.
Marketing can help by providing sales content assets — such as business case studies, proof points, demo videos, presentations and proposal templates — for these later-stage conversations.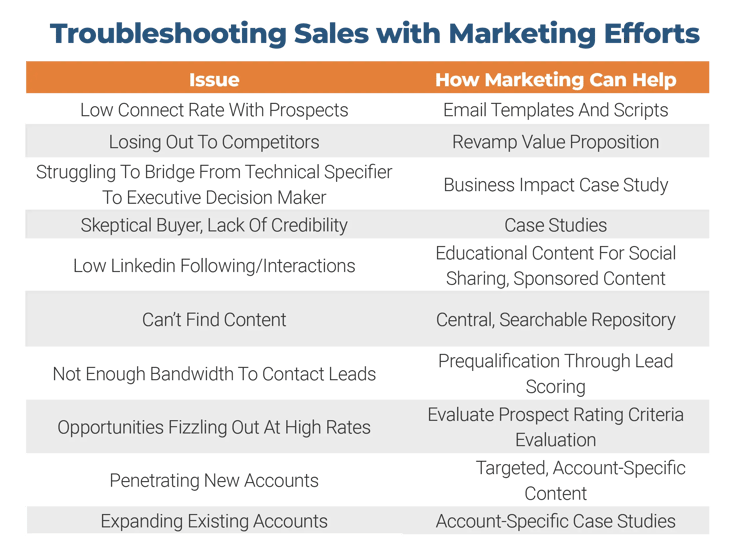 Here's some examples of common sales issues that content marketing can help address.
Your sales and marketing team are valuable resources, and studies have shown that when working together, your company is 50 percent more likely to achieve or exceed sales quota. Help bring your sales and marketing department together with consistent sales and marketing alignment sessions.
It is a noisy technical world out there, with many vendors vying for search terms, visits, downloads and sales engagements. By providing quality educational content that addresses your prospect's challenges, you can build trust and fill your sales pipeline faster and more efficiently over time.
This article was originally published by Forbes, which you can find through this link.
TREW is a marketing agency dedicated to reaching engineering and technical audiences through a range of marketing initiatives. Contact us today to learn more about the services we offer.
SUBSCRIBE TO OUR BLOG FOR THE LATEST UPDATES

Wendy Covey is a CEO, a technical marketing leader, author of Content Marketing, Engineered, one of The Wall Street Journal's 10 Most Innovative Entrepreneurs in America, and she holds a Texas fishing record. She resides in a small Hill Country town southwest of Austin, Texas, where she enjoys outdoor adventures with her family.
TREW Marketing is a strategy-first content marketing agency serving B2B companies that target highly technical buyers. With deep experience in the design, embedded, measurement and automation, and software industries, TREW Marketing provides branding, marketing strategy, content development, and digital marketing services to help customers efficiently and effectively achieve business goals.