There's a lot of pressure on corporate leaders to also be thought leaders — to be a knowledgeable resource for the industry they serve, a catalyst for change and to generally change the world through their very ideas. We've grown accustomed to seeing "thought leaders" as those who get invited to industry panels or serve on editorial boards, but the truth is every leader is a thought leader.
If the last two years have taught us anything, it's that no two people experience the same circumstances the same way. Perspective matters, and if you're responsible for leading a company, team or project, it benefits everyone involved for you to find your voice.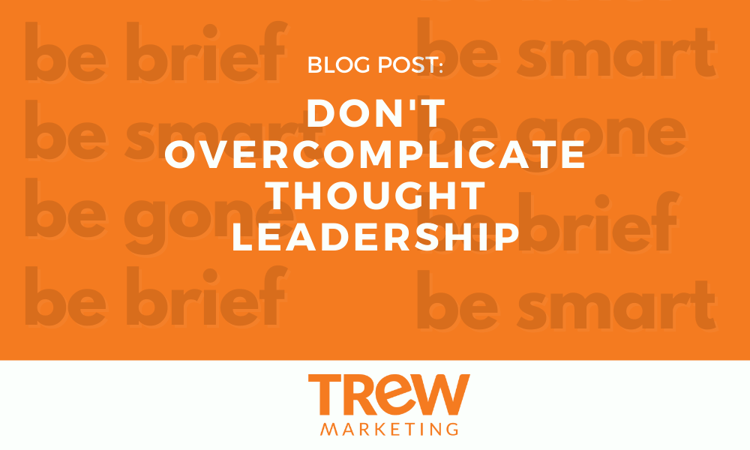 I've spent my career working with engineers, who have a tendency to simultaneously be both the smartest and quietest people in any room. This is a tough combination when it comes to building an identity as a thought leader, but over the years I've learned that these characteristics are exactly what technical audiences are looking for. In highly specialized fields, hard-and-fast research takes priority over vision in the buying process. But it's still important to get the right message to the right people at the right time — and the messenger is important. Fortunately, there are some tried-and-true principles that we can look to when considering what makes an effective thought leader.
"Be brief, be smart, be gone" is a phrase you've probably heard before, and whoever said it might as well have been speaking to highly discerning consumers of digital content.

Be Brief
One of the most important things you can do when planning an executive visibility strategy — and make no mistake, thought leadership is executive promotion — is to get to the point. For this reason, social media is an indispensable tool for leaders. Being able to jump into people's digital experiences with short, snackable bits of insight or information means there's no risk of being intrusive.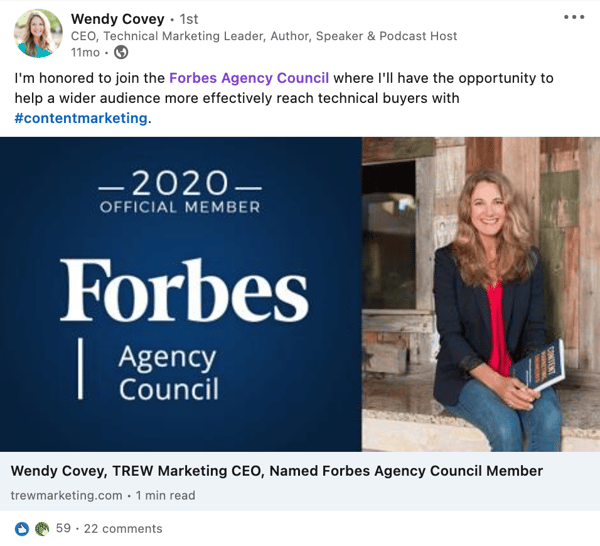 LinkedIn is the most important social platform for B2B audiences.
Social media has taught us the value of brevity, but this is an attitude we should carry with us into any conversation we have. There was a time not long ago when every piece of brand-level content produced was poured over to make sure every key message made its way in, and that it was arranged just so. The digital age has made it so that nothing really has to ever be final and anything encountered online is viewed more like the opening statement of a conversation rather than a company's entire philosophy on any given topic. Nobody begrudges the thought leader that leaves them wanting more or compels them to ask a follow-up question or seek additional information.

Be Smart
This sounds harder than it is. Like I mentioned above, everyone has something valuable to say. We're not all going to get a 700-page Walter Isaacson biography when we're gone, but we all have something to offer. And if you're in a position of leadership, you should view it as your responsibility to share openly and often. Your customers, clients, colleagues — and, yes, your prospects — want to hear from you. But they need you to be smart.
Every interaction these audiences have with you is an interaction with your brand, and this means thought leaders need to be on-message and on-topic. There are a few ways to stay current on the trends the industry is following so that when you have something to say, it's relevant. Trade publications serving your industry is a good start. Look through their ad kits or editorial calendars that inform which topics the editors will be covering to meet the interests and challenges of their readers — and your audience.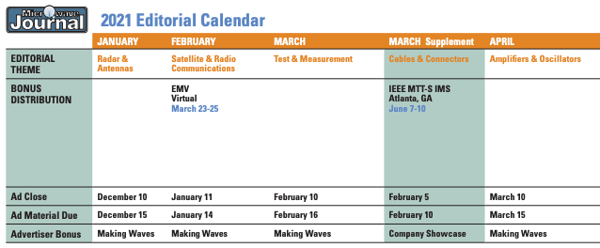 Visit publications' websites to find editorial calendars like this one from Microwave Journal.
Road-test your messages using colleagues as a sounding board. If you have an internal communications team or work with a marketing agency, don't be shy about mining them for trends. They're working with subject matter experts and monitoring coverage, so they can be an invaluable resource for uncovering new topics to comment on and knowing which ones to steer away from.

BE Gone
Decide how frequently you need to be heard from. This can be a little tricky depending on your industry and how quickly it's moving in any particular direction. But the channels you choose to share your message can help determine the right frequency.
Earned PR coverage and high-profile speaking engagements are great for establishing credibility and building an expectation that you have something smart to offer. And depending on your goals, the occasional keynote or press coverage may be the right approach. But owned channels like your company's blog or social media shouldn't be overlooked. These give you the opportunity to plan what you say and when you say it.
Remember the old tagline, "When EF Hutton talks, people listen"? Having something worthwhile to say and being able to say it succinctly makes your audience want to hear from you more, but too much can also be a turnoff. A little planning can go a long way in keeping you or your clients from overreaching in their thought leadership efforts.
One technique we use when working with clients on content strategy is topic clustering, where we brainstorm relevant topics that we should be talking about and that our customers and prospects care about. Thought leaders can benefit from the same planning. Take a few minutes to jot down some of the topics or areas where your expertise could provide a new or insightful perspective. This could be a tiered list, with topics that you absolutely want to be associated with taking the top spot. This way you can avoid feeling the need to weigh in on everything and instead pick the areas where you, your company and your brand can provide the most value.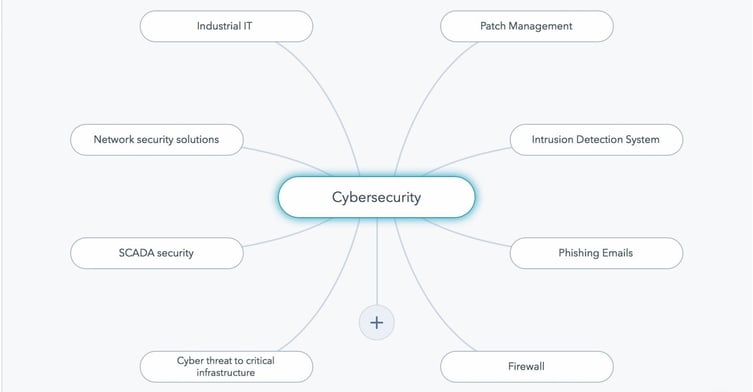 Experiment with creating a topic cluster for thought leadership subjects.
The effectiveness of your thought leadership approach will be directly tied to how useful you can be when your audience needs you to be. Being mindful of the limited time you'll be afforded their attention and bringing value to them while you have it will help keep your messaging authentic and relevant.
---
Growing your thought leadership should be just one aspect of your company's larger B2B marketing strategy. For our best advice on developing your marketing plan, explore our B2B Marketing Planning Guide.
This article was originally published by Forbes, which you can find through this link.
TREW is a marketing agency dedicated to reaching engineering and technical audiences through a range of marketing initiatives. Contact us today to learn more about the services we offer.
SUBSCRIBE TO OUR BLOG FOR THE LATEST UPDATES

Wendy Covey is a CEO, a technical marketing leader, author of Content Marketing, Engineered, one of The Wall Street Journal's 10 Most Innovative Entrepreneurs in America, and she holds a Texas fishing record. She resides in a small Hill Country town southwest of Austin, Texas, where she enjoys outdoor adventures with her family.
TREW Marketing is a strategy-first content marketing agency serving B2B companies that target highly technical buyers. With deep experience in the design, embedded, measurement and automation, and software industries, TREW Marketing provides branding, marketing strategy, content development, and digital marketing services to help customers efficiently and effectively achieve business goals.