3 min read
2023 State of Marketing to Engineers: Influencing the Technical Sale
Today along with GlobalSpec, we announced the release of the 2023 State of Marketing to Engineers Research Report.
We designed this report to help marketers better understand the information needs of technical buyers to guide marketing plans and align marketing, sales, and c-level leadership with data-driven insight.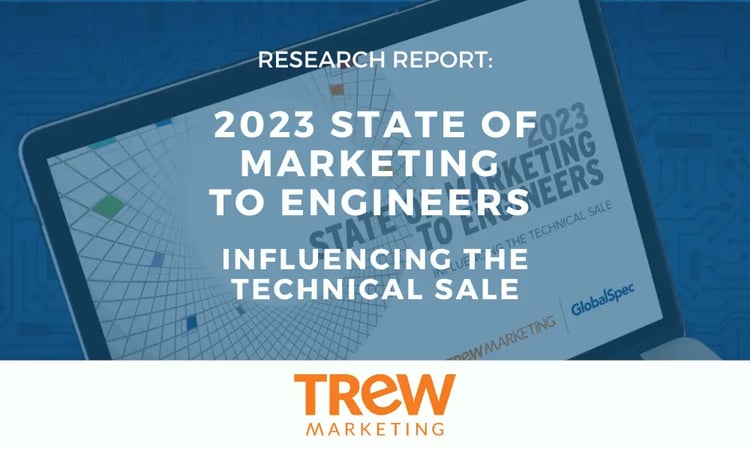 This year's State of Marketing to Engineers Research Report summarizes the survey results of more than 850 engineers and technical professionals from a variety of industries, including aerospace/defense, automotive, process technology, utilities, energy and natural resources, electronics, medical devices, and more.
The survey contained a mix of questions around popular topics to monitor trends, along with fresh questions that took a deeper dive into buying behaviors.
Expected in-person event attendance is up, search engine research runs deep, and independent industry experts gain traction.
A few key findings in the research report on in-person events, search, and industry experts include:
55% of engineers plan to attend in-person events this year at the same rate or more than they did pre-pandemic (see pages 27-28 for more about reasons for this change and how technical audiences prioritize events).

While searching online, 43% of engineers filter through at least 5 pages of search results to find the information they're looking for (see pages 8-9 for more about search and ad preferences).

84% of engineers turn to some sort of expert or pundit in the industry to stay up to date on trends, hear trusted opinions, or evaluate vendors or products (see page 21-24 for more detail and respondents' favorite influencers).
For more insight into an engineer's preferences for media channels, content, social media, podcasts, and interactions with sales, read the full report.
Watch the Webinar
Join CEO and Co-Founder of TREW Marketing, Wendy Covey, along with GlobalSpec Content Marketing Manager, CJ Haight, as they discuss how technical audiences view the industry shift toward online and content marketing, and how to adapt marketing efforts.
Watch the webinar to gain insight on how to use the data from the research to create better B2B technical marketing programs.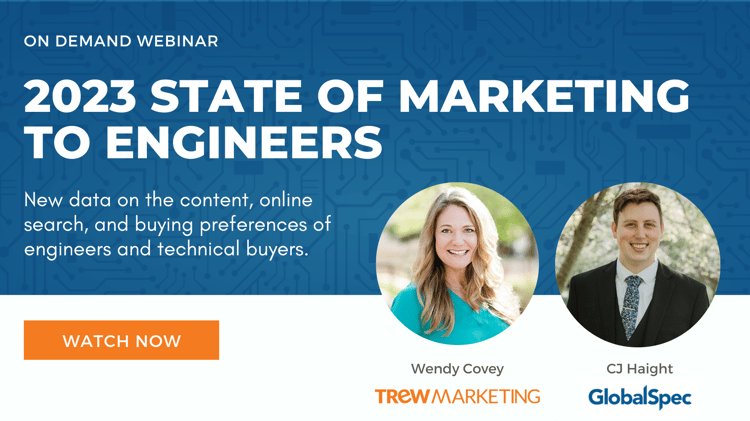 TREW Marketing is an agency dedicated to reaching engineering and technical audiences through a range of marketing initiatives. Contact us today to learn more about the services we offer.
Subscribe to Our Blog for the Latest Updates

Morgan believes that the process of brand positioning and messaging powers companies by aligning corporate leadership, building a story that fuels staff and engages customers, and creating a foundation for consistent content – and she's seen these results come true for TREW clients time and again over the last decade. She holds degrees in Public Relations and Spanish, with a minor in Business from The University of Texas at Austin. Morgan, her husband, and three kids recently moved from Austin to downtown DC, where they enjoy walking the city, visiting the local museums, and playing a guess-who-is-in-that-motorcade game.
TREW Marketing is a strategy-first content marketing agency serving B2B companies that target highly technical buyers. With deep experience in the design, embedded, measurement and automation, and software industries, TREW Marketing provides branding, marketing strategy, content development, and digital marketing services to help customers efficiently and effectively achieve business goals.