We're excited share our partnership with fellow industrial marketing leaders Gorilla 76 and CADENAS PARTsolutions to host the 2024 Industrial Marketing Summit.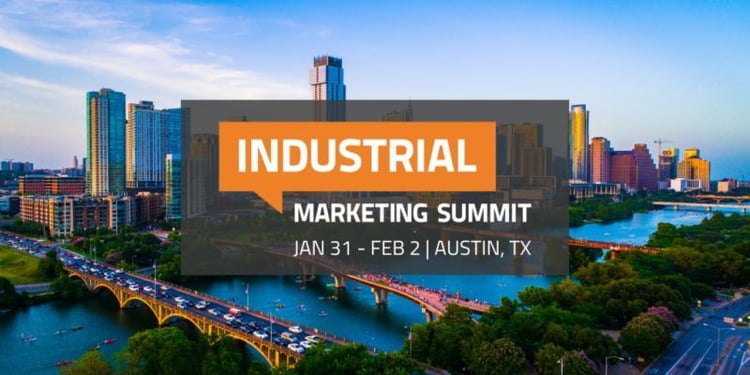 Taking place in Austin, Texas on January 31 - February 2, 2024, the event will provide a practical opportunity for industrial marketers to refine their skills, gain new insights, network, and grow their careers.
Given our shared focus of helping marketers reach buyers in engineering and manufacturing, it was an easy decision for TREW Marketing to partner with Gorilla 76 and CADENAS PARTsolutions to host the Industrial Marketing Summit," says Wendy Covey. "Together we are committed to delivering a dynamic, informative, and fun event that strengthens the industrial marketing community."
"There has been a groundswell of interest from within the manufacturing marketing community," says Joe Sullivan, Thinker and Founder at Gorilla 76. "They want a live, in-person event that's all their own."
Formerly part of Content Marketing World, the 2024 Industrial Marketing Summit will be a standalone event.
"We asked attendees from the previous summit what they wanted to see in the future," says Adam Beck, Director of Marketing at CADENAS PARTsolutions. "They asked for more sessions that take a deeper dive into the real challenges of industrial marketers. The only way to deliver that was to create a stand-alone event that's bigger and better than ever before."
Taking place at the AT&T Conference Center in Austin, the venue will provide ample room for a larger event, and the host city is known for the live music, food, and entertainment attendees are looking for.
Join the waitlist to be the first to know when tickets go on sale.
About the Industrial Marketing Summit
The Industrial Marketing Summit provides an educational and networking forum for marketers in engineering, manufacturing, and technical industries. Through the event, we help industrial marketers to connect with peers, become inspired by new ideas, stay abreast of trends, and grow their businesses.
For event details and registration visit https://industrialmarketingsummit.com/

Lee guides agency strategy and performance, and she champions the ongoing pursuit of building a great marketing team. She has extensive B2B technical marketing experience across a spectrum of industries and application areas including test and measurement, control and automation, and industrial manufacturing. Her focus has always been on building lasting partnerships that connect marketing strategy to bottom line-business results. Lee lives in Austin, Texas where she is passionate about supporting organizations working to end homelessness and provide affordable housing in Central Texas.
TREW Marketing is a strategy-first content marketing agency serving B2B companies that target highly technical buyers. With deep experience in the design, embedded, measurement and automation, and software industries, TREW Marketing provides branding, marketing strategy, content development, and digital marketing services to help customers efficiently and effectively achieve business goals.