6 min read
5 Marketing Tips for Crafting a Successful Product Launch Plan
Did you know that only 25% of product launches are successful after launch? Generating brand awareness, justifying the budget, and establishing credibility are only a fraction of the challenges you will face when creating a product launch plan. Understanding these challenges helps increase your chances for success.
To help you prepare for your product launch, we've gathered a list of 5 marketing tips that will set you up for success:
Prepare for your product launch by understanding your target audience and what they care about
Be clear with your product messaging, so audiences know exactly what they're getting
Set marketing goals to determine what a successful launch looks like
Start early and create a product launch plan detailing your marketing activities
Follow up your launch with lead nurturing content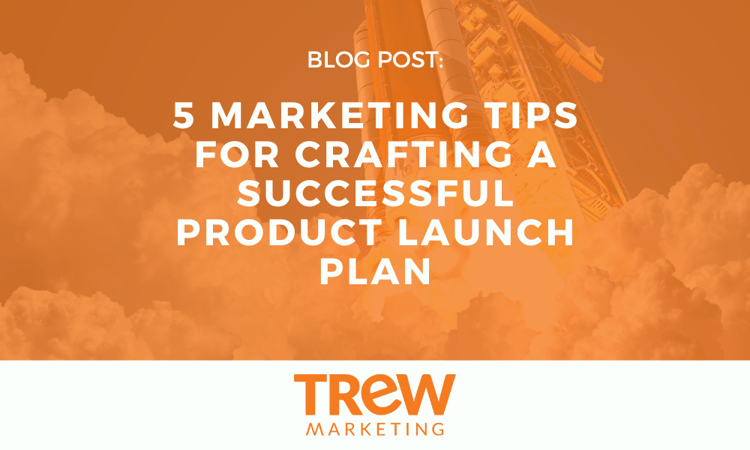 1. PREPARE for Your Product Launch
Building your world-changing product was just the beginning. Knowing your target audience and its care-abouts is extremely important. If your answer to the question, "Who are you targeting?" is, "Everyone," you're facing an uphill battle. An effective way to help narrow down your audience and plan marketing activities accordingly is by creating and using buyer personas.
Buyer personas are fictional representations of your ideal customers, based on real data pertaining to customer demographics and online behavior, as well as your educated speculation about their personal histories, motivations, and concerns.
When personas are established, you now have the ability to better customize your marketing efforts – from messaging to activity selection – and make a greater impact with your prospects.
See more tips for crafting buyer personas.
Categorize your primary customer types to best describe their goals, pain points, and purchasing process.
2. BE CLEAR With Your Product Messaging
Buyers need to know exactly what they are signing up for. A clear and simple message allows them to understand the product and, more importantly, make the decision to buy. If your product messaging is not clear and concise, forget about it. People want clarity and they want it quickly.
An excellent tool for crafting your message is a message map, a framework used to create compelling, relevant messages for various audience segments and for organizational alignment. Maps can range from simple to complicated, but they serve several key purposes:
Identifying key audience segments (or personas)
Discussing high-level goals for the audience segment
Discussing core messages and speaking points
Mapping key message to audience segments and phases of buying consideration
See an example message map exercise.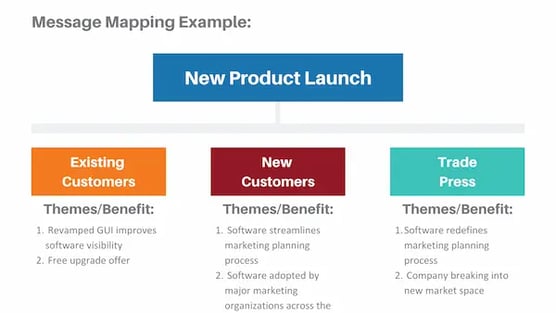 Here's an example of a message map for a product launch.
3. SET Marketing GOALS
Setting marketing goals will help you determine the success of your launch, so it's important to take this step.
Your goals will serve as your guide and help you stay on track during your planning process; checking in regularly on how each action supports a goal ensures you are using your time and resources wisely.
Example product launch goals include:
Clearly and effectively establishing new product name, brand, and position
Building awareness and credibility for the new product and the company
Creating immediate opportunities for sales, VAR, and distributor channels
Extending awareness and strengthen the product/company brand through partner co-marketing
Executing a benefits-oriented launch that addresses the learn, try, and buy purchase phases
Cross-selling new product to existing customer base
A best practice is to set goals that are "S.M.A.R.T." (specific, measurable, attainable, realistic and timely). Using the S.M.A.R.T. guidelines (especially the "measurable" element) helps ensure that in the end, you'll be able to judge whether or not you accomplished your goal, rather than just make guesses.
4. START Your Product Launch Plan EARLY
Things will go wrong. Tasks will take longer than expected. Something will come up. There is nothing more stressful than juggling too many things at once, so start your product launch marketing plan early. Build in time for the unexpected, and you'll be glad you did.
Once you have established your personas and the activities you'll use to reach them, it's helpful to create a project timeline. Product launches often require months of advance preparation, so these timelines are critical to ensuring you stay on track.
Below is an example of a "bird's eye view" of activities that are dependent on one another. Additionally, for major projects such as a PR launch or website redesign, you may have separate, detailed timelines.

Here's an example of a product launch project timeline.
5. FOLLOW UP with Lead Nurturing
Following up is a key component of a successful product launch. Sooner is better than later, but late is better than never. Know your audience, the best ways and times to contact them, and then add value.
Consider creating a content plan to help drive leads down the sales funnel once they come to your site, and offer up white papers, demos, or other valuable content (in exchange for visitor information) to help your audience better do their daily jobs. Being generous with your content pays off in the form of new leads, increased SEO relevancy, and more traffic to your site.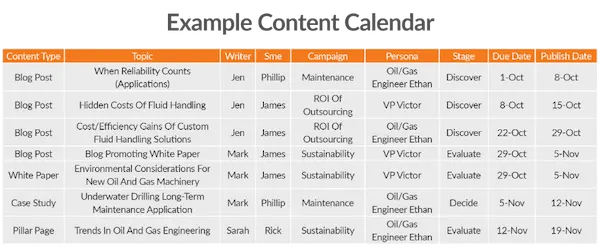 Here's an example of a content calendar.
Launching a product isn't easy. But planned properly, it should be exciting, fun, and rewarding for both you and your customers.
---
Access the PDF version of this guide
Take this guide to-go! We created a summarized, printable PDF version of this blog for your convenience. Enter your email below for instant access.
---
If you're ready to learn how to successfully launch a product to a technical audience, you can also check out our free guide, Smart Product Launches for Engineers.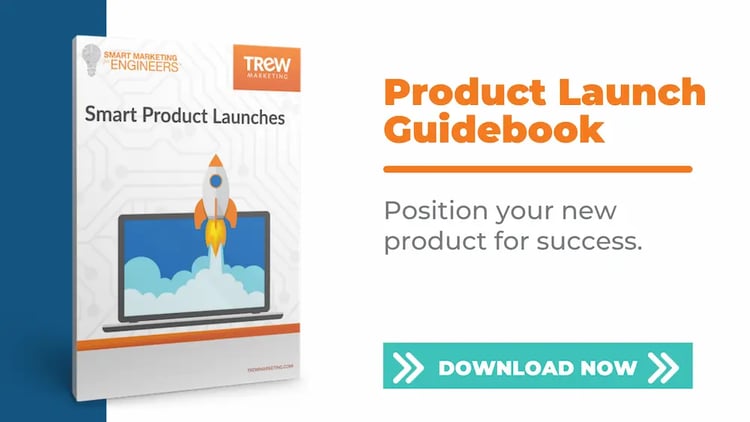 TREW is a marketing agency dedicated to reaching engineering and technical audiences through a range of marketing initiatives. Contact us today to learn more about the services we offer.
SUBSCRIBE TO OUR BLOG FOR THE LATEST UPDATES

Lee guides agency strategy and performance, and she champions the ongoing pursuit of building a great marketing team. She has extensive B2B technical marketing experience across a spectrum of industries and application areas including test and measurement, control and automation, and industrial manufacturing. Her focus has always been on building lasting partnerships that connect marketing strategy to bottom line-business results. Lee lives in Austin, Texas where she is passionate about supporting organizations working to end homelessness and provide affordable housing in Central Texas.
TREW Marketing is a strategy-first content marketing agency serving B2B companies that target highly technical buyers. With deep experience in the design, embedded, measurement and automation, and software industries, TREW Marketing provides branding, marketing strategy, content development, and digital marketing services to help customers efficiently and effectively achieve business goals.