5 min read
Trending Topics for Technical Audiences at Content Marketing World 2022
Earlier this month, Wendy and I had a chance to speak at Content Marketing World. We presented on getting inside the mind of the technical buyer – tying together our annual research that highlights what content engineers are looking for and where they're looking for it with a process for identifying what content to write to support your sales and marketing goals. This presentation was part of the Industrial Marketing Summit, a track specifically for marketers targeting technical audiences, which was a great place to connect with and learn from other marketers specifically focused on this nuanced group of buyers.
That said, the conference was full of information about content marketing – from new technology platforms to content strategies, and a few topics prevailed. Read on to see our top takeaways about research and data, pillar pages, SEO, AI, and thought leadership.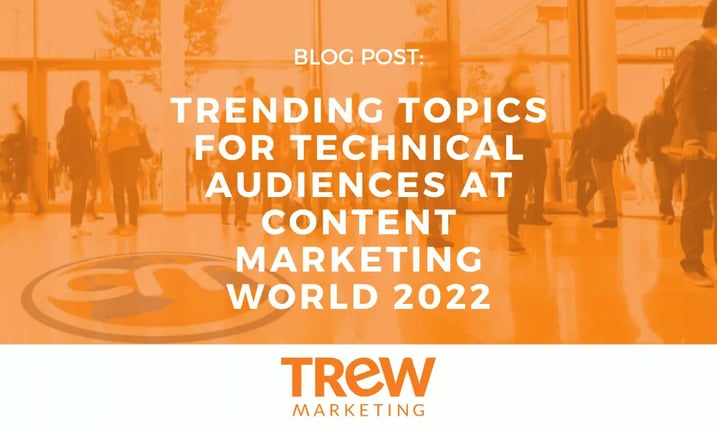 Data: What data do you hold?
We're often looking for data to inform our decisions, but one session I attended highlighted taking the data that your organization holds and use it in your content marketing.
Data gives your prospect a point of comparison – a measuring stick, and it enhances/reinforces their level of knowledge when they're looking for information. Even if you don't do formal research, there is data in every corner of your organization, some places to start include:
Finance analysts
Product managers
Data scientists
For example, if you're in the process of growing your services business, start advocating for how many customers seek out engineering services to solve their problems. While it may have only been 15% of customers two years ago, now it's 30% of customers. Marketing that 100% YOY increase shows customers that may need services that they're not the only ones, and that you have a proven, trusted track record of providing the services they need, as evidenced by your growth in this area.
Ansys uses data to show the success their customers achieve.
Pillar Pages and SEO: Are they still relevant for building authority?
Pillar pages and the content they link to are still critical to winning SEO. This is a strategy we've long supported, and we're now even seeing non-technical B2B organizations and B2C companies find success here, too. An increasing number of companies are taking this strategy to heart.
A pillar page covers a topic thoroughly and completely, and it builds authority by linking to internal content that dives deeper into segments of your topic. This supporting content that is linked to can include blog posts that answer frequently asked questions about your product or service, and or lead-generating content like white papers or ebooks. Rich, quality content on a pillar page coupled with links to more in-depth content on a subject, give pillar pages have the ability to help your website rank higher in a search engine. In addition, these pillar pages are filled with calls-to-action (CTAs) to landing pages that will help convert visitors into leads.
To decide what topic you should use for a pillar page and what content to cover, walk through the exercise of building a topic cluster.
Here is an example of a pillar page the TREW team created for Vertech.
AI: Can you replace your technical B2B content writers with robots?
Actually, the #1 thing I learned about AI for content development is that the people who make the programs don't like it when you ask about their "robot content". Jokes aside though, companies like Writer are implementing AI to help organizations standardize content with embedded style guides (think grammarly, but optimized to your company), while organizations like MarketMuse help organizations optimize their content.
Right now, these platforms are ideal for writing product descriptions (typically consumer products) or other short-form content. While I'm not convinced these tools are deep or robust enough to appeal to the mind of the technical buyer yet, they're learning and evolving and will be platforms to watch for in the future.
Thought Leadership: How do you create content that's thoughtful and leading?
Lisa Gately from Forrester covered thought leadership – what it is, what it isn't, and how to create a thought leadership campaign.
According to Lisa, "Thought leadership is a social dialogue. It is an intentional exercise of knowledge, skills, and expertise to increase awareness, elevate perception, and drive preference related to key issues that audiences care about."
Thought leadership is brand equity – but it's not easy to achieve. Most thought leadership misses the mark because of:
Sameness – doesn't provide a unique perspective
No prioritization – lack of disciplined process or resources, with unrealistic expectations
Self-serving
In order to create meaningful thought leadership content, marketers must:
Understand the market context for potential thought leadership themes by evaluating what they're hearing from target audiences and looking at market dynamics.
Take in audience insights by looking at buyer requirements, pain points, and information gaps.
Find corporate alignment by looking inward and aligning market need with their company's business and market strategy
Assess corporate readiness by candidly assessing the organization's expectations, capabilities, and resource
A huge takeaway here was that thought leadership takes time – consider setting aside a year to assess the market and work with an executive team to identify themes and prepare a spokesperson.
What's next after a conference?
One of the number one comments I heard at the conference, was "I'm encouraged and inspired – now I just need to know what content to create." This question is better answered in workshops or trainings where you get interactive coaching and feedback on topics, tone, style, and your outlines and drafts. To meet this need, we offer Content Writing, Engineered – a course designed to give marketers an efficient, repeatable process for content development with group coaching and personal feedback along the way. Or, check out our free class on B2B Content Writing for Technical Audiences 101.
TREW is a marketing agency dedicated to reaching engineering and technical audiences through a range of marketing initiatives. Contact us today to learn more about the services we offer.
SUBSCRIBE TO OUR BLOG FOR THE LATEST UPDATES

Morgan believes that the process of brand positioning and messaging powers companies by aligning corporate leadership, building a story that fuels staff and engages customers, and creating a foundation for consistent content – and she's seen these results come true for TREW clients time and again over the last decade. She holds degrees in Public Relations and Spanish, with a minor in Business from The University of Texas at Austin. Morgan, her husband, and three kids recently moved from Austin to downtown DC, where they enjoy walking the city, visiting the local museums, and playing a guess-who-is-in-that-motorcade game.
TREW Marketing is a strategy-first content marketing agency serving B2B companies that target highly technical buyers. With deep experience in the design, embedded, measurement and automation, and software industries, TREW Marketing provides branding, marketing strategy, content development, and digital marketing services to help customers efficiently and effectively achieve business goals.