Family comes in all forms. And with mother's day happening this Sunday, May 8, we wanted to shine a spotlight on families and hear from our team members about their favorite family-friendly benefit a company they worked for offered, and the impact it had on them.
Morgan Norris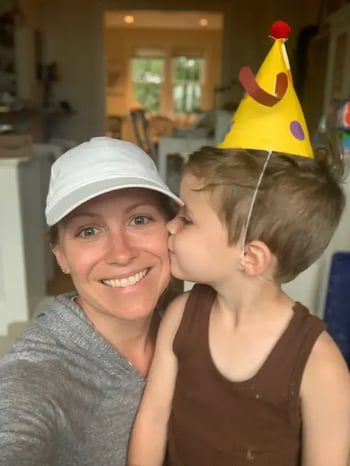 One of my favorite family-friendly things a company has done for me is the ability that TREW Marketing has given me to work virtually. While it's not a single memory, it's a benefit I get to experience every day. My three kids are 12, 8, and 5, and the last two I've had while working at TREW. Working from home allows me to cut the commute that typically rushes mornings and afternoon pickups with three kids -- instead, we make pancakes and play games in the morning. It affords me the opportunity to run over to our neighborhood school and eat lunch with them from time to time. And, the sheer presence of my office at home gives my kids an idea of what I do and what value I find in planning and producing content for our clients. Here's my son, who came to get me at 5pm on a Friday with a party hat he decorated to celebrate the start of a weekend.
Hannah Schulze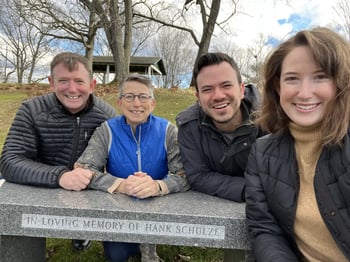 My parents have been small business owners for most of my life, so their organization was the first one I was ever really a part of. To this day, I find myself seeking companies that champion the same values they always have—teamwork and community involvement. There's something to be said for showing you care.
Jennifer Dawkins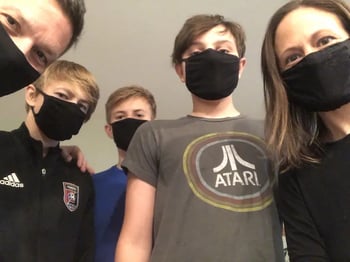 I used to work at a company that held robotics camps onsite, company picnics at Six Flags, and annual Halloween Spooktaculars for employee's kids: all amazing events that my family loved over the years. But it wasn't until the pandemic hit that I understood what a truly family-friendly work environment looked like. Like many other working parents, I had three teenagers plus my partner home with me for well over a year – all fighting for space, attention, and Internet bandwidth. I will be forever thankful for the support and collaboration from my team at TREW and our wonderful clients that made it possible to continue to do great work and stay sane despite unprecedented challenges.
Erin Moore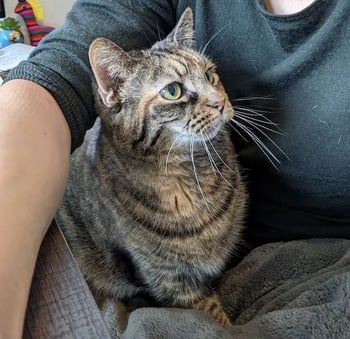 Past companies I've worked at have touted family friendly policies, but the reality usually fell through. Without consistent remote working and flex-working policies, it was challenging to be truly family friendly and accommodate a variety of schedules.
Since joining TREW and moving to a fully remote, flexible schedule, I've had the freedom to work from Florida while visiting family, and to organize my schedule around family needs. On a daily basis, I get to work from my home office, which translates into lunches with my husband, a cat office mate, and mid-afternoon walk breaks with my dog. My family quality time is so much higher than it has been in previous work environments because I have the flexibility to choose where I work and, to a degree, when I work.
Julia Fellows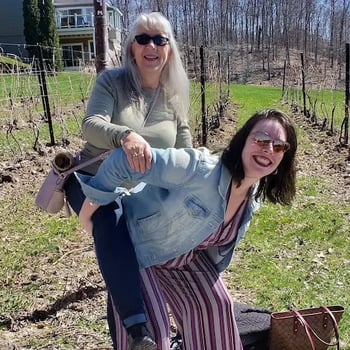 My first job out of college was working for the same company my dad had worked at for more than 30 years. It was a very family-oriented company and many of my coworkers had literally watched me grow up! Working for an engineering company, I had few female colleagues, but we quickly bonded and stuck together. They always included my mom as an honorary team member and invited her to join us for social events, which was so special for me!
Jamie Tokarz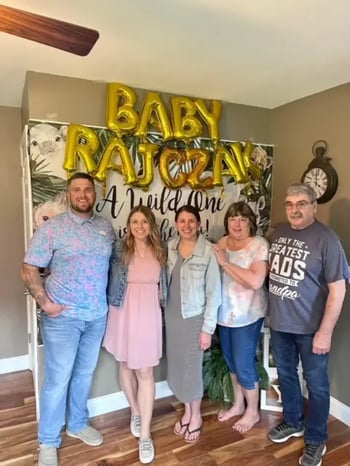 I have worked at companies in the past that host events once or twice per year for employees and their families, which I very much appreciated. However, one of the reasons I really love working at TREW Marketing is because the work environment the leadership team has created really supports having a true balance between family and work each and every day. For me, this is the most family-friendly thing a company could ever do! Our work environment allows me to do things like take my dogs on daily lunch-time walks or make more frequent trips from my home in Colorado back to New York to see my family as I can work for a few days and get to visit my family and celebrate many of life's big moments with them, which most recently was my sister announcing that she is having a baby boy in September!
Wendy Covey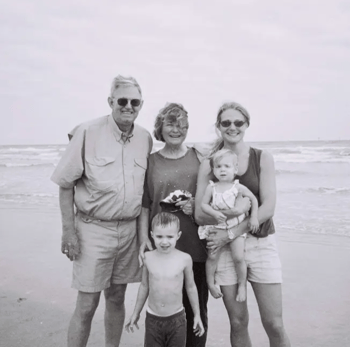 This picture tells so many stories! At the time I was a single mom with two very young children and an emerging tech marketing leader with a department to manage. I was blessed to have my parents within an hour's drive, which helped me overcome the unexpected kid fever the day of the big presentation and bridge gaps on long workdays before and after daycare hours. This period in my life was a huge inspiration when creating TREW's work/life balance policies like working from home and a flexible workday where every parent can be there when their kid gets off the school bus.
Alicia KeEne
The virtual work environment has had a game-changing impact on my work-life balance. Before Covid-19, I worked a regular office job. The work-from-home approach suddenly gave me more flexibility to set a schedule that suited both my work and personal life without having to utilize precious vacation hours to make things work. I could work from anywhere if I had my work laptop and an internet connection. For example, I made a last-minute decision to go on a mother-daughter weekend trip to the beach when the world started opening back up because I knew I didn't have to rush back home to be in the office by Monday morning. In fact, we stayed a couple of extra days, and I worked from where we were staying since I had my laptop. Working at TREW makes this even more possible: Our fully remote working style means that I don't have to make sacrifices to travel and see family. In fact, this weekend, I get to spend time celebrating both Mother's Day and my grandpa's 90th birthday with my extended family in Houston!
Lee Chapman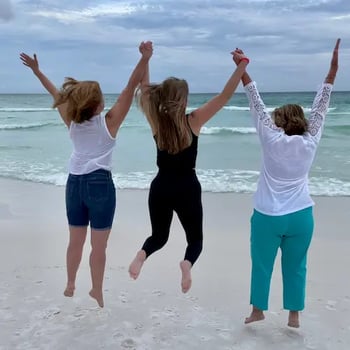 I've been lucky to work for several companies that have valued family-friendly benefits and working styles. In the late 1990's when I was pregnant with my daughter, I asked my employer if they could create lactation rooms for nursing moms, and they did. When I moved to a technology company in the early 2000's and was pregnant with my son, they also added lactation rooms for moms. Flexible working schedules gave me the opportunity to attend every school function for my kids, join field trips, and volunteer as room mom. Company picnics, happy hours, and theme-park rentals were all in the mix of pretty cool benefits I have experienced during my career. But the family-friendly benefit that I've valued most through the years, is the fully-remote working style at TREW. Zoom, Slack, and all of the remote tools we use boost daily connection with our team and clients, and we have annual retreats to meet and connect in person. I sure don't miss time wasted sitting in traffic, and can instead spend time at the beach with my daughter and mom!
---
So cheers to moms and families everywhere, and thanks to the companies that create a great environment for their teams to support them! If done well, a family-friendly atmosphere creates a work team that feels like family -- silly pictures and all.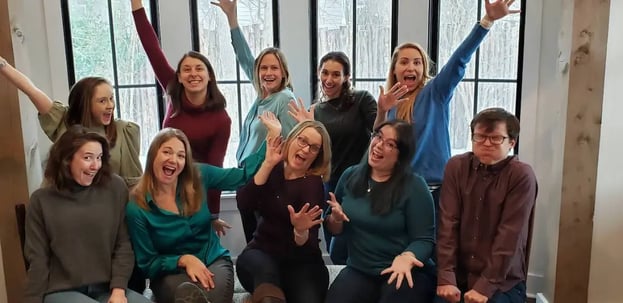 Lee guides agency strategy and performance, and she champions the ongoing pursuit of building a great marketing team. She has extensive B2B technical marketing experience across a spectrum of industries and application areas including test and measurement, control and automation, and industrial manufacturing. Her focus has always been on building lasting partnerships that connect marketing strategy to bottom line-business results. Lee lives in Austin, Texas where she is passionate about supporting organizations working to end homelessness and provide affordable housing in Central Texas.
TREW Marketing is a strategy-first content marketing agency serving B2B companies that target highly technical buyers. With deep experience in the design, embedded, measurement and automation, and software industries, TREW Marketing provides branding, marketing strategy, content development, and digital marketing services to help customers efficiently and effectively achieve business goals.