6 min read
How to Add Surveys to Your B2B Marketing Strategy
Successful businesses run on data. When deciding on products to create, territories to target, or content to produce, business leaders need high-quality information in order to succeed.
There are several indirect ways to gather information. You can seek out annual
reports or read industry publications to discover trends and benchmarks. With your own content, metrics like time on page and click rates will indicate which materials interest your audience.
For some information, however, you must directly acquire it from your best data source: your customers. Customer surveys are a great way to get the information you need to make educated decisions. In this article, we'll review the types of surveys typically used by a B2B company and the tools you can use to create those surveys and collect responses.
Types of Surveys
What is a survey exactly? We tend to think of surveys as a series of questions within a form, but HubSpot defines a survey as any "customer service tool used to collect customer feedback on products, services, and other business-related topics." This definition covers activities like live user testing or focus groups, but these methods are typically costly, slow, and therefore not viable for most small-to-medium sized businesses. For the purposes of this article, we will focus on digital form surveys that are inexpensive and rapid. There are three primary types.
Customer Feedback Surveys - Standard surveys with a mix of question types including checkboxes, dropdown fields, true/false, and text boxes.
Net Promoter Score (NPS) Surveys - Simple surveys that ask customers how likely they are to recommend your business or products. NPS is generally seen as long-term customer satisfaction metric.

Customer Satisfaction Score (CSAT) Surveys - A cousin of the NPS survey is the CSAT. These short-term sentiment surveys are sent to customers to learn about their satisfaction with a specific process such as product shipping.

Market Research Surveys - Paid surveys sent to a mix of customers and non-customers to gain industry insights.

Example NPS survey.
Survey Tools
Here is a quick business tip: do not start a digital survey company right now. The market is saturated, and competitors are continually adding features and even offering robust free packages to win users. For everyone else, this competition is great news. In this section, we will explore some of the top platforms' features and packages.
There are far too many platforms to cover in depth, so we will primarily focus on tools that integrate with HubSpot. For content marketers, HubSpot is the go-to marketing platform, so we will cover how each tool integrates with the HubSpot CRM and Marketing Hub.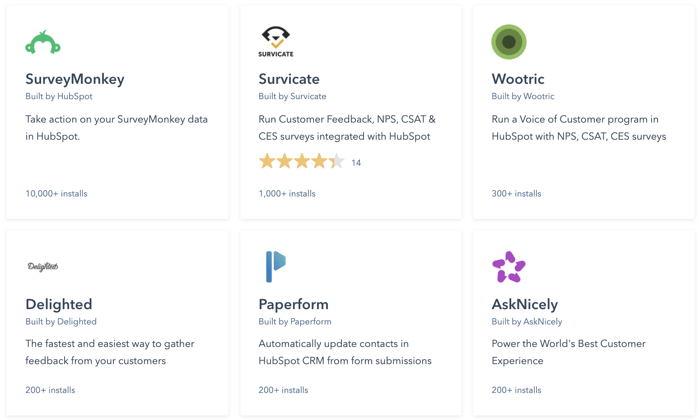 A few of the survey tools that integrate with HubSpot.
One of the most popular survey platforms today is Survicate. It integrates with HubSpot, Wordpress, and Marketo and makes it easy to create and send every type of survey. It also includes unique features for your website like pop-up surveys and a feedback button.
Pricing and Packages ($)
Survicate has a popular free package that comes with 100 survey responses per month, 15 question types including NPS, a few integrations (including HubSpot), 125 survey templates, and the feedback button.
If you're looking for more survey responses or advanced functionality, they offer three paid plans. These packages include features like the ability to export to Excel, white labeled surveys, premium integrations (Marketo, Salesforce, etc.), and automated recurring surveys.
HubSpot Integration Features
Survey responses can be used to update contact properties.
Simple surveys can be directly embedded in the body of a HubSpot email.
Surveys can trigger HubSpot workflows.


The veteran survey software SurveyMonkey is the reliable default for many companies. It features hundreds of survey templates, advanced branding options, and the SurveyMonkey Audience to obtain targeted responses from people outside your database.
Pricing and Packages ($$)
SurveyMonkey is a premium tool for companies who are serious about their surveys. They offer a free "personal" plan that includes 40 responses per survey and a maximum of 10 questions per survey. However, most companies opt for the business plans which start at $25 per user per month with a 3 user minimum. These paid plans offer features like integrations with popular apps, unlimited surveys and questions, the ability to export, and the ability to accept payments.

HubSpot Integration Features
HubSpot users can view surveys responses within HubSpot CRM timeline and can segment based on responses.

NPS and customer satisfaction surveys can alert account managers when a customer responds with positive or critical feedback.



That's right. HubSpot has built-in customer survey functionality for users of their Service Hub. While this option is too pricy for companies who only need to send surveys, it can be a great option for those who are seeking other customer service features like a support ticket system.
Pricing and Packages ($$$)
The Free and Starter packages provide robust tools, but the customer survey functionality is currently only available in Professional and up, starting at $400/month. The Professional package also includes a Knowledge Base where you can provide guides for customers, multiple ticket pipelines, live chat, ticket reporting, and much more.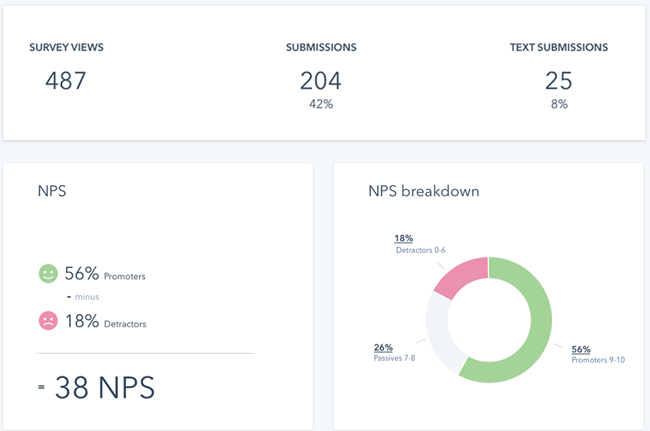 Example survey results from HubSpot Feedback Tool.
Google Forms is no enterprise powerhouse tool, but it will get the job done for smaller companies on a budget.
Pricing and Packages (Free)
Google has added a couple additional security features in the version of Forms that comes with the pay-per-month Google Workspace, but the free, personal version of Forms should work for most businesses. With Google Forms, you can easily collaborate with team members to create surveys. There is limited customization and no integration with HubSpot or other apps, but it is hard to argue with unlimited surveys for free.
Get Started with Surveys
As with most marketing activities, there is no substitute for personal experience, so get started with surveys! Do your research, develop your first survey, review and revise it with key stakeholders, and send it to your customers. Through experimentation, you will discover the ideal survey length, question types, and send times. You may also realize that you need to offer your customers incentives to complete your surveys.
After several iterations of creating surveys and obtaining responses, you will become a survey pro. Then, you might encounter a new challenge. After seeing the benefits to the company, every department will be clamoring to have their questions included in your next customer survey.
---
Read more blogs about understanding your customers:
To learn more about surveying and interviewing your customers, click the image below to listen to the Content Marketing, Engineered Podcast episode with Morgan Norris.

TREW Marketing is a strategy-first content marketing agency serving B2B companies that target highly technical buyers. With deep experience in the design, embedded, measurement and automation, and software industries, TREW Marketing provides branding, marketing strategy, content development, and digital marketing services to help customers efficiently and effectively achieve business goals.