12 min read
A Guided Framework to Develop Strong Brand Positioning
Simply put, brand positioning is the process of getting your target audience to know your brand and associate it with specific characteristics and attributes. It's more than a mission statement. It's a strategy used to set your engineering company apart from your competitors.
Our challenge as B2B marketers and business leaders is to distinctly position and message our company, products and services in a way that builds credibility and trust, differentiates, and effectively resonates with our buyer personas.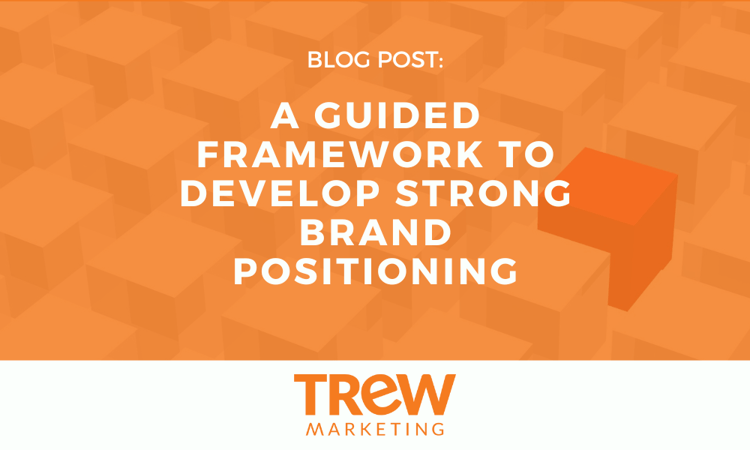 Going through the process of brand positioning and messaging can be difficult and time-consuming, and therefore, it's often skipped. However, it's critical to an effective B2B marketing program and successful business.
In this post, we'll guide you through the framework we use to develop your brand position within your target market.
Define Your Mission, Vision, and Core Values
It's important to first document your company's mission, vision and core values. These core elements serve as the foundation for your company's positioning statement. Below are brief definitions and examples to reference in writing yours.
Mission Statements
A mission statement is a brief written statement of the fundamental purpose of a company or organization that rarely changes through the decades.
Examples of Mission Statements:
Nike: To bring inspiration and innovation to every athlete in the world.
Google: To organize the world's information and make it universally accessible and useful.
TREW: We create smart marketing to promote the innovations of our world's technical leaders.
Vision Statements
A vision statement is a long-term dream that states what your company wants to be, serves as a source of inspiration, and is sometimes time-based and updated every 10-15 years.
Examples of Vision Statements:
Toyota: To sustain profitable growth by providing the best customer experience and dealer support.
Google: To create the perfect search engine.
BMW: To become the most successful premium manufacturer in the car industry.
Core Values
Your company's core values are the fundamental beliefs and expected behaviors of your company.
Examples of Core Values:
Rackspace: Fanatical support; Results first, substance over flash; Committed to greatness; Full disclosure and transparency; Passion for our work; Treat fellow Rackers like friends and family
Southwest Airlines: Warrior spirit; Servant's heart; Fun-loving attitude; Work safely; Wow our customers; Keep costs low
TREW Marketing: Excellence, Strategic Thinking, Collaboration, Drive and Balance
Develop Your Brand Positioning Statement
The Brand Positioning Framework
With your foundation clearly defined in your mission, vision, and core values, the next step to brand positioning is to create a company positioning statement that describes what you do, who you do it for, and what differentiates you from others in the market.
Often, teams skip this step and dive right into creating messaging statements and value propositions. Don't be that team – take the time to document, debate and agree on your company or product position before you get to messaging.
Developing a brand positioning statement helps you clearly define your company and your audience by articulating customer concerns and the unique solutions your company delivers. And once you've created your positioning statement, it can help align your organization on a single message, increase efficiency when creating content, and ensure consistency within that content.
Let's get started creating your brand positioning statement.
Quickly write down a couple of sentences that describe the uniqueness of your company—not one of your products or services but your company—and what sets it apart from your competition. Don't overthink it; don't take more than a minute or two to write these sentences.
Reading your description, does your company sound unique or does it sound like other companies similar to yours? Was your description easy to write? Do you like what you wrote? Do you think others inside and outside your company would agree with what you wrote? Does it match what's on your website? If you answered no to even one of these questions, your corporate positioning statement may need some attention. The following framework and brand positioning questions can help.
First, define the following elements of your positioning statement. We use this framework day in and day out at TREW and it is a very useful tool to guide you to the right words, phrases, and tone that will uniquely position our clients in the market. When you are going through these, be as specific and focused as possible.
Who—your potential engineering and scientific customers
Where—their industries or types of organizations
Why—their application pain points
What—your solutions
How—the way you create those solutions and how they help your customer
Unlike—the drawbacks of proprietary or competitor solutions
Differentiation—what uniquely sets your company apart from the rest
Define "Who" and "Where"

The first two parts of your positioning statement are "Who" and "Where". These two steps are very quick and easy if you already have your buyer personas defined.
Who: Your potential customer's job title, function, decision-making authority, etc.
Examples of "Who":
Directors/managers of R&D, technology, or products in Houston and Southeast Texas
Engineers and program managers/directors
Lab managers and their teams
Technology leaders: engineering managers, VPs and CTOs
Plant engineers, corporate engineering, & manufacturing operations
Where: The industry(ies), region(s), department(s), division(s), etc. of the types of companies where your potential customers work.
Examples of "Where":
Managing test and measurement in validation or production for government and private military and aerospace organizations
In labs managing increasing amounts of data
At manufacturing companies building new facilities that require batch process control systems
In high-growth automotive-based organizations
At Fortune 1000 companies in the chemical, pulp & paper and power industries
Define "Why" and "What"

The next two parts of your positioning statement are "Why" and "What", which focus on your customer's pain points or application challenges and what you offer to solve it.
Why: Your customer's technical challenges or pain points.
Examples of "Why":
Face product quality, production or cost issues and are seeking a new approach
Coping with increasingly complex automation systems that must share and report plant-floor information to the enterprise
Need a reliable test and measurement system from a proven supplier that can meet stringent time, cost and technical requirements
Face increasingly complex electronic embedded systems and seek solutions that scale with more demanding industry standard
Need faster test equipment that is smaller, more energy-efficient and lower in total cost
What: Your solutions, including products, services or overall solutions.
Examples of "What":
We create commercial-off-the-shelf products and customs solutions with military-ready, aerospace-quality, scalable specifications
We provide large-scale plant-floor automation, industrial IT and smart manufacturing solutions that improve OEE, increase agility and reduce time-to-market
We design and build new, custom test solutions and build high-volume automated test equipment to your exact specifications
Our ESP product is a centralized data management platform for tracking samples, processing data, reporting, and managing workflows
Define "How" and "Unlike"

The last two parts of your positioning statement are "How" and "Unlike", where you get into more detail about your unique approach or offerings and how they are superior to competitors or alternatives.
How: The way you solve your customer's problem, such as processes, tools, service, unique expertise, and best practices.
Examples of "How":
With a customer-first, consultative approach that includes a plan of action that leverages the talent and skill of 100+ industry professionals, from plant floor processes to enterprise systems
We use proven electronic design practices, expert LabVIEW programming, tailored COTS hardware to help clients design and deliver new products to market
Our expertise tackling the demanding precision of aerospace test carries through to our work in manufacturing applications, creating test equipment that is modular, high-performance, low-power and delivered quickly.
We created an end-to-end software platform with streamlined workflow, the ability to comply with any standards, and strong data provenance.
Unlike: The drawbacks of alternative approaches such as competitors, using in-house resources, or delaying resolution. While some words, phrases or even whole sentences from other parts of the positioning statement may end up being used publicly, the "Unlike" section is only meant for internal use.
Examples of "Unlike":
Offshore outsourcing where communication is difficult
Integrators that lack experience solving industry challenges and meeting demands of government contractors and aerospace/defense applications
Costly, brand-name business consultants who lack real-world experience with plant-floor automation systems and manufacturing business processes
Incumbent suppliers that offer only COTS components and over-promise on products labeled "easy to use" or under-deliver with solutions that reach obsolescence quickly
Think beyond your current customers and projects when identifying these elements of your positioning statement. Brainstorm the applications for which you want to build products or deliver services with your ideal engineering customers in mind.
Consider the following questions:
What applications does your team know best?
What do you and your team love to work on more than anything else?
What are you better at than any other competitor?
What unique market niche can you dominate?
What are your customer's biggest pain points and how do you solve them?
What are the two or three most important future opportunities for your company (e.g., market segment, customer type, region, etc.)?
This requires plenty of introspection and sometimes outside research. Query your company stakeholders, including key customers if possible, via a questionnaire or short interviews to learn what others think about your company. Answers to these questions can serve as great conversation starters for your leadership team to delve into, debate, and ultimately use to create each of your positioning statement elements.
Going step-by- step through this positioning process leads to a well thought out, carefully crafted positioning statement that you can use on your website, in your content, and as talking point for your sales team. From that statement, you can create a shorter elevator pitch that all your employees can use to clearly describe who your company is, what customer pains you are solving, and how you are uniquely differentiated from competitors to solve those challenges. This will ensure that your company will be delivering the same message in every interaction with your target audiences, and will serve as a critical first step to establishing your brand.
The 4 Be's of a Strong Brand Positioning Statement
Be different.
A large percentage of B2B websites have similar positioning to the effect of: We offer innovative, products/services/solutions to our clients.
So does everyone else. Tell me more:
Why is it innovative?
What is the problem your product/service/solution solves?
Why do I need it?
How will it save me time and money over a competitor's product/service/solution?
Who are your customers?
Be bold.
Put your stake in the ground. Don't be afraid to be bold or narrow. So many clients say they want to but then end up watering their position statement down. You must focus on your largest area of opportunity and broaden from there.
Be clear.
Don't use flashy words and jargon in your positioning. You want your customers to understand exactly what you do based off your branding. Use simple words and phrases that convey what you do while resonating with your audience.
Be consistent.
It is very hard to take a step back and look at your company from the outside. Many companies use their own internal terminology and assume that the audience understands what they are saying. The audience's knowledge could vary greatly and you need to make sure you keep that in mind when developing your positioning statement.
Some companies have a great positioning statement but only use it for their boiler plate on a news release. Your positioning statement should be the basis for all of your marketing content. It should be repurposed over and over again.
Develop Your Brand Tone
Once all of the elements of your positioning statement are complete, you can identify the tone of your brand and communicate it in a voice that reflects your corporate culture and personality.
"Tone" is the mood or feeling if your brand, while "voice" is the style of your writing. For a highly technical company like system integrator, Vertech, their tone is fun, while still speaking to technical professors.
Do you want to be like IBM – professional, experienced and serious? Or more like Apple – simple, informal, and high quality. Once you establish your tone of voice, you need to stick with it. Be true to who you are in all you do – online, in your sales presentations, in your trade show booths.
To develop your brand tone, here's a few easy and fun questions to get lots of ideas on the table:
If your company was a car, what manufacturer would it be? Why?

Examples: Honda, Ferrari, Ford Raptor, Rolls Royce, Lexus



What 2-3 brand name companies have a tone you want your company to emulate? Why?

Examples: Dyson, IBM, Apple, GE, LL Bean, Southwest Airlines



Make a list of all the words you could use to describe your company's personality

Examples: Smart, Dedicated, Transparent, Flexible, Approachable, Fun, Respected, Buttoned-up
Considering the answers to the above questions – i.e., the car your company would be and the brands your company wants to emulate – review all the words captured in the above question, and select the 3-5 that best capture the brand tone your company wants to have.
Here is a list of tone and voice examples that can help you brainstorm and explore what defines your brand:
Adventurous
Aggressive
Bold
Classic
Comfortable
Creative
Edgy
Energetic
Fresh
Honest
Intellectual
Purposeful
Precise
Sleek
Trusting
Next Steps with TREW Marketing
What to Expect During a Brand Positioning and Messaging Project
If you've evaluated your brand positioning and messaging after reading this post and realized that you need to rethink your branding, let's take a minute to set your expectations for the process.
To end with messaging that clearly pinpoints and relates to your target audience, defines what you do and how you're different, and conveys tone and voice, you can expect the following from TREW Marketing:
Time: Expect that this process will take 5-8 weeks
Team: You'll need to create a Branding Committee with a total of 3-5 people. These people should know your company's core purpose, vision, products/services, and audience. They will also become your brand ambassadors who know the brand from top to bottom when the process is over. If your high-level executives are removed from your target audience, consider including a lower-level engineering director who has specific insight into your audience and their pains, and who will be a strong brand ambassador.
Process: There will likely be homework before the process starts and then a kickoff that can last from 2-4 hours. The messaging will go through multiple drafts, each discussed as a group with TREW Marketing and your internal Branding Committee. Much information is gleaned from these discussions, and the TREW team comes armed with questions and research. Sometimes clients wish to add in additional competitor research or customer interviews to fully understand the market or audience they're working with.
Final Deliverables: Once the reviews are complete, every positioning and messaging project includes a positioning statement, corporate pitch, and final "About Us" content that's ready for your website. Optional deliverables include a tagline, pitches for specific audience, or industry segments, corporate pitch decks, and specific product or service messaging.
Learn more about brand positioning and messaging development by watching our on-demand webinar, Storytelling for Technical Brands.
TREW is a marketing agency dedicated to reaching engineering and technical audiences through a range of marketing initiatives. Contact us today to learn more about the services we offer.
SUBSCRIBE TO OUR BLOG FOR THE LATEST UPDATES

Morgan believes that the process of brand positioning and messaging powers companies by aligning corporate leadership, building a story that fuels staff and engages customers, and creating a foundation for consistent content – and she's seen these results come true for TREW clients time and again over the last decade. She holds degrees in Public Relations and Spanish, with a minor in Business from The University of Texas at Austin. Morgan, her husband, and three kids recently moved from Austin to downtown DC, where they enjoy walking the city, visiting the local museums, and playing a guess-who-is-in-that-motorcade game.
TREW Marketing is a strategy-first content marketing agency serving B2B companies that target highly technical buyers. With deep experience in the design, embedded, measurement and automation, and software industries, TREW Marketing provides branding, marketing strategy, content development, and digital marketing services to help customers efficiently and effectively achieve business goals.