Webinar
Storytelling for Technical Brands
Five Steps for Creating a Better Brand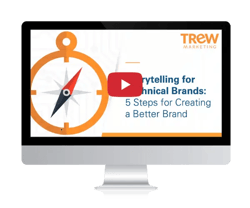 Your brand story is the narrative of your company. It should describe the problems customers face, guide them to the solutions you provide, and show the results your solutions bring.
It's easy to tell a story that's about you, but successful brands make their customer the hero, rather than their own products or services.
During this webinar Morgan Norris, Brand and Content Manager at TREW, will step through how technical firms can write a better brand story.
At TREW, Morgan's focus is communication. She combines a client's messaging, vision, and audience into clear, succinct copy to speak directly and effectively to an audience. Whether it's through web copy, brochures, corporate profiles, email marketing, or outreach to journalists, Morgan is constantly looking to understand a client's products and their prospective audience's needs to communicate clearly between the two.
During this webinar, Morgan will teach attendees:
What Brand Positioning and Messaging is
How to Develop Brand Positioning and Differentiators
Steps to Write Your Brand Messaging
Promoting Your Brand
Best-Practices and Case Studies
ABOUT THE SPEAKER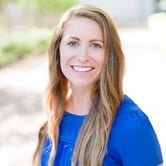 Morgan Norris
Senior Brand and Content Strategist
For the past 12 years, Morgan has helped technical companies define their corporate brand, identify their differentiators, and communicate their value to customers through brand storytelling and content. She's seen the results of creating a foundation for consistent content come true for TREW clients time and again.
Before joining TREW Marketing in 2010, Morgan worked at NI, gaining a deep foundation in test and measurement and engineering technology. At NI, she wrote corporate and product news releases, worked with international customers to create powerful case studies, managed relationships with top test and measurement, science, and engineering publication editors around the country, and developed social media campaigns for corporate brand awareness and specific product launches.
Morgan holds degrees in Public Relations and Spanish, with a minor in Business from The University of Texas at Austin.