At TREW, we recommend a complete annual keyword analysis, but what about those mid-year times when you are curious about only a term or two? For those times, I've put together some easy tips for gathering keyword ideas and finding out a bit about your chosen terms.
I'll make myself the star of the example (I'm finally a star!) and put myself in that mid-year frame of mind. I want to create an e-book but am unsure what keywords to use. Writing about marketing for engineers would be ideal, but I am curious to see if anyone is searching for those terms. To start my research, I head over to Google and type in my keyword phrase.
Google Autocomplete
Using Google Autocomplete allows you to see both the words people are searching for and the amount of content currently available on the Web that covers that topic.
In the example below, I begin to type in marketing for engineers, but stop early to see what suggestions Google will give me.

Google Related Searches
The list at the bottom of the Google search results that begins with "Searches related…" is another good place to look for keyword ideas. This list differs from the Google Autocomplete suggestions in that it shows searches that are currently trending.

Google Keyword Planner
A Google AdWords account is free and allows you to use the Keyword Planner tool. I am taking the keyword phrase suggestions from my "marketing for engineers" search and plugging them into the Keyword Planner. This will give me an idea of both search volume and bid competition for each phrase.
You can see below that I'm looking for ideas for a keyword phrase, but another very helpful option is to plug your webpage or another webpage you admire into the space marked "Your landing page" and then hit "Get Ideas."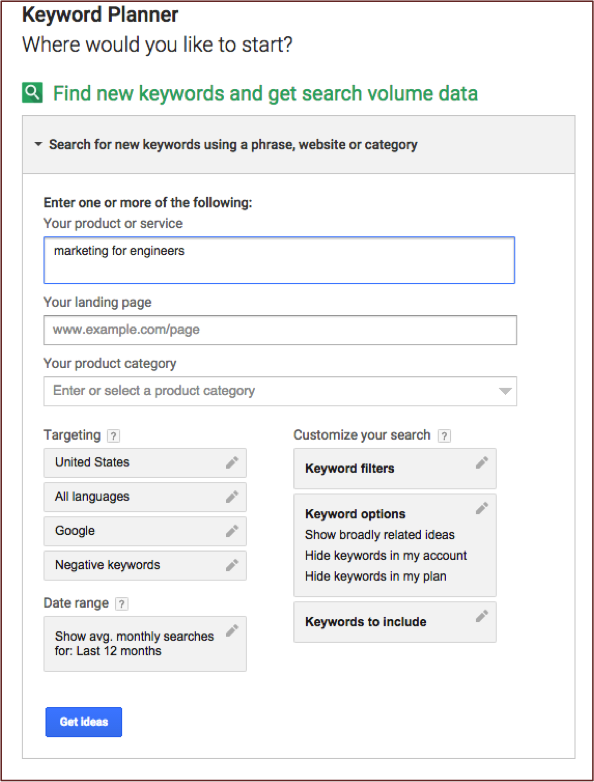 In my example below, you'll see that Google gives me information on marketing for engineers, and also suggests other keywords that might work for my e-book. To get a general idea of the popularity of a term, I'll look at the number of average monthly searches and the degree of competition.
A quick note on the Google's competition score: This high, medium or low value is calculated by looking at how businesses are bidding on a keyword using Google AdWords.
This example is simplistic and just a toe-dip in the water, but hopefully it will get you started and comfortable with keyword research. If you'd like help with a full keyword analysis, please contact us.
This post was originally published in November 2015.