4 min read
Staying Organized in Your Marketing Platform
I realize that this isn't the most exciting topic out there. Actually, it's probably one of the least exciting things you can discuss (unless you're one of those people who likes this kind of thing). But keeping house in your marketing platform is a necessary evil. Without an effective way of organizing your content and data, you risk not being able to find what you need when you need it.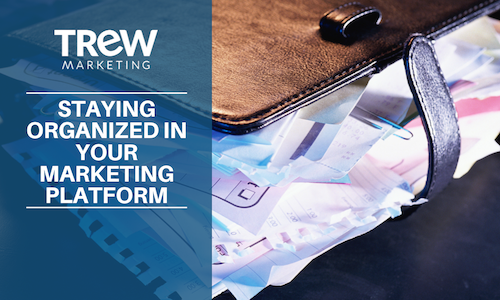 Of course, it's easiest to implement an organization system when you first move to a new marketing platform, but it's not impossible to do if you're already established – it just takes more time to retroactively organize everything. Below are five of the most important things you can do to keep your system organized.
1. Develop a Naming Convention for Each Content Type.
Tell a group of marketers that they have to implement a naming convention for their assets, and you'll likely see a group eye roll. After all, when you're in a hurry to get an email out the door, you don't want to pause to dig up the naming convention document from wherever it's buried on your server. What's the harm in just calling it whatever you want?
Well, like I said earlier, that's a great way to lose content in your system.
Naming conventions don't have to be long and complicated. Here's a good, simple system:
Year_Description_Launch(orSend)Date
So in practice, it looks like:
2016_Q1Enewsletter_March15
As you develop more content, you'll probably want to add more descriptors to your naming convention, as in this one:
Year_Campaign_ContentType_Description_Launch/Send/GoLiveDate
So in practice, it would look like:
2016_Enewsletters_BatchEmail_Q1Enews_March15
Or, for a landing page:
2016_ProductLaunches_LandingPage_NewWidgetWhitePaperDownload_March15
Obviously, abbreviate how you wish to shorten the names; just make sure everyone using your system knows the abbreviation. You'll also want to make sure to create a naming convention for images, too.
2. Run a re-engagement campaigns.
Your contact list needs to be scrubbed and cleaned. The best way to do this is by running a re-engagement campaign to weed out unengaged contacts.
TREW does this with a re-engagement workflow that is sent to contacts in our database as they become unengaged. We offer contacts a chance to engage with our content while also giving the opportunity to unsubscribe from our marketing emails. Not only does this re-engagement campaign help to clean our lists, it also has helped to get contacts to re-engage with our brand.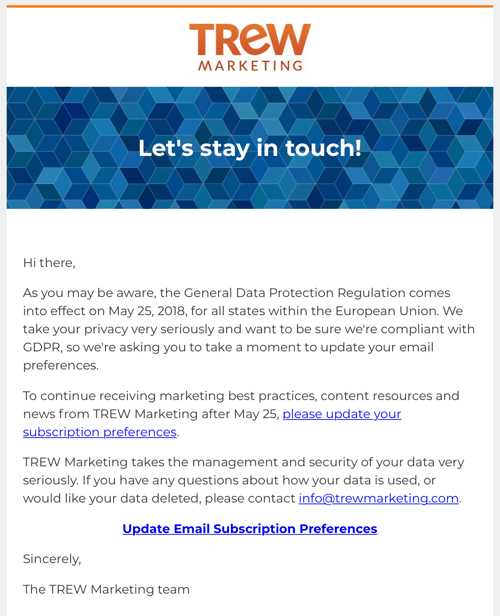 Here's an example of a re-engagement email campaign that TREW ran to clean out our contact lists.
3. Keep a Spreadsheet that Includes Their System Names and Corresponding Subject Line.
However you decide to name your emails or landing pages, keep their names in a spreadsheet. This should also include subject lines and meta descriptions. How many times have you gotten a forwarded email from someone telling you that a link is broken, and when you go to find it, you realize you can't dig it up?
Having a naming convention will help, but the fastest way to find content in your system is to have them in a document that lists their system name.
You can keep spreadsheets of landing pages, forms, and images either. If your marketing platform ever goes down, you still have a list of your assets. And if someone else at your company wants to see existing content, you can just shoot them a document rather than having to log them into your system. Also, having an easily searchable image list keeps you from doing things like uploading a copy of your logo into the system each time you want to include it in some content.
4. Conduct Content Audits at Least Quarterly.
You may need to do this more often, but it's a good practice to go through your content at least four times a year. Even if your campaigns aren't changing often, you'll catch things like emails that include signatures of people who don't work at your company anymore, or broken links. The last thing you want is a potential customer catching this before you do.
5. Conduct Contact Field Audits at Least Annually.
Most platforms place a limit on how many contact fields you can have in your system. These suckers pile up fast, so you want to make sure to go in at least annually and remove fields you don't need anymore. Often, these are things like really specific form questions for short-term campaigns, and the like.
At TREW, we've created a process for keeping our database squeaky clean. Some tasks we only need to do annually, while others we must do monthly. You can see how we've broken down this process by tasks in the chart below.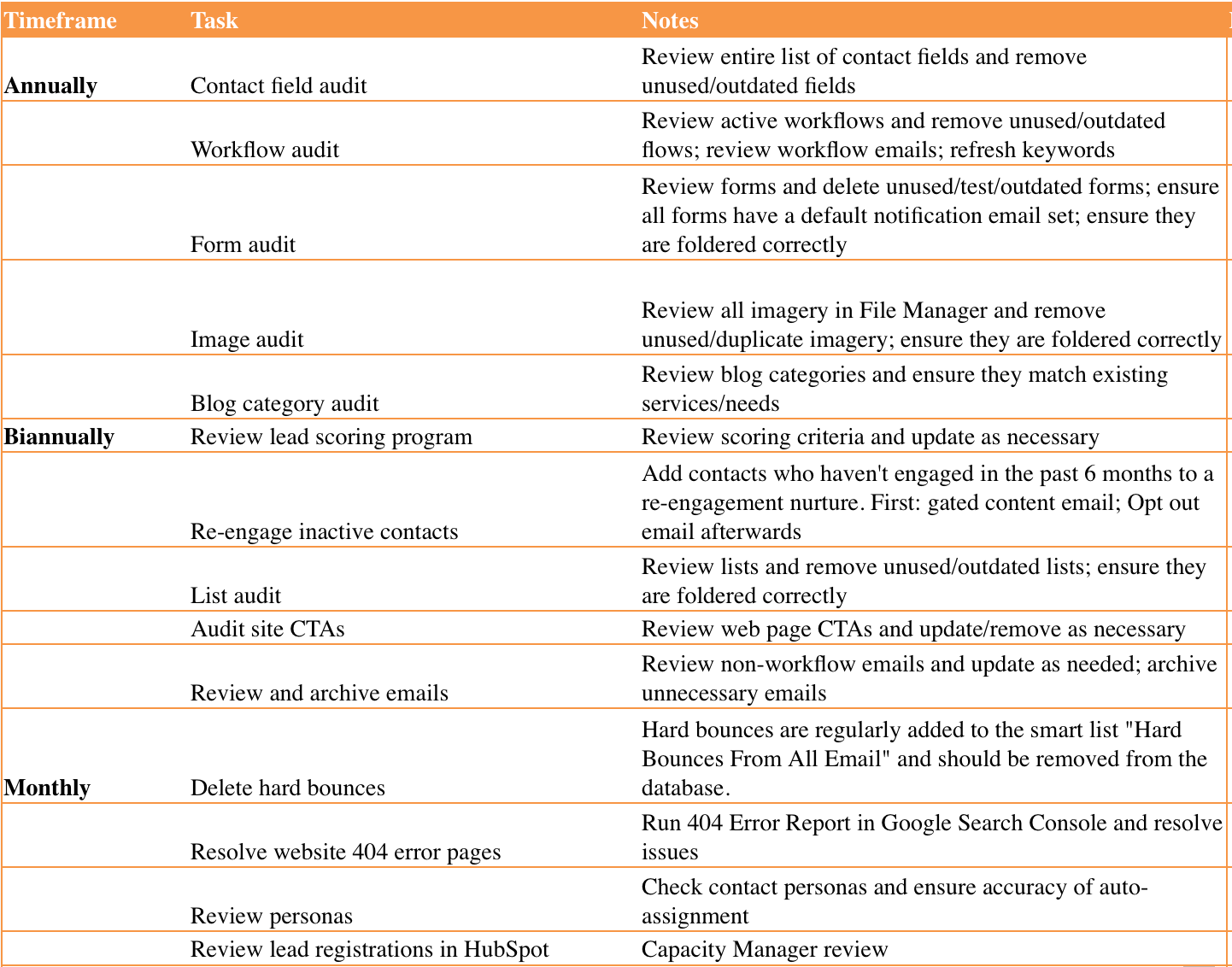 Here's a chart of how TREW keeps our database organized on an annual, bi-annual and monthly basis.
System organization is a foundational activity for any marketer. To learn more about marketing and sales software to make you life easier, visit the link below.
Organization starts with planning. Learn how to prepare your 12-month marketing plan by downloading our Marketing Planning ebook.
This post has been updated since it's original publication on August 2016.