High quality content is key to lead generation. While we know scientists and engineers seek accurate, research-based content, we know they are skeptical of trusting online content and filling out lead forms to get to it. So what fields - and how many - should we prioritize?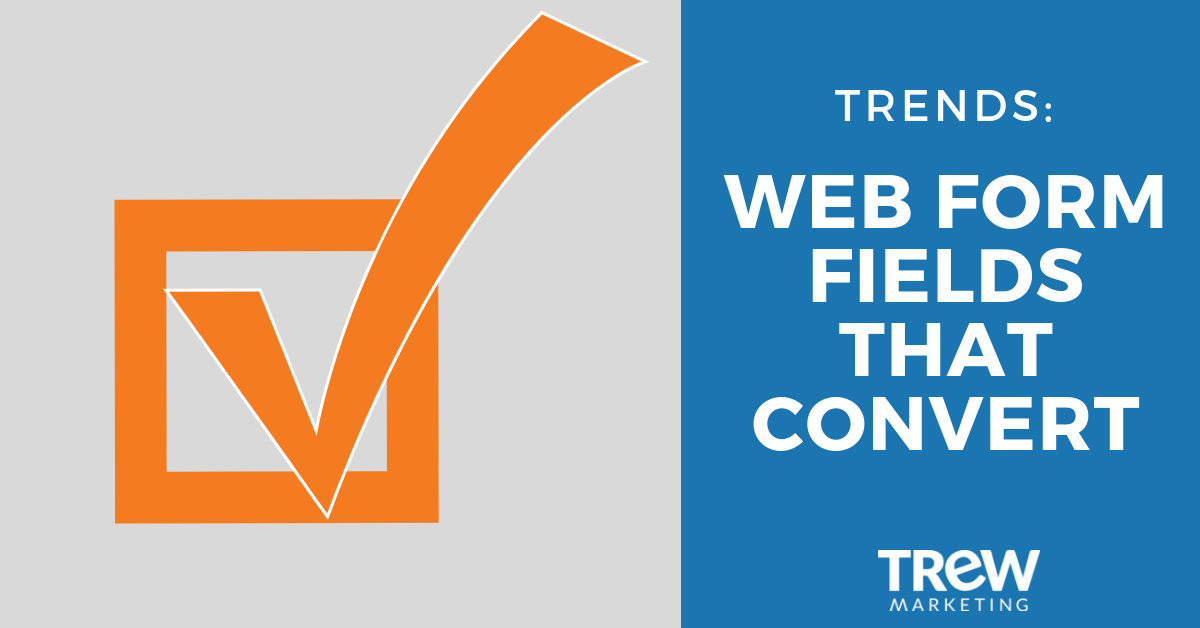 TREW Marketing partnered with IEEE GlobalSpec to conduct research on the content, online search and buying preferences of engineering, technical and industrial professionals around the world and across age groups. This research provided hard data across a wide range of topics, including lead forms. Many often assume our target audience of engineers will not fill out lead forms. However, the findings revealed what we at TREW believe and have seen for years – if content is perceived as valuable, engineers will absolutely fill out a lead form to get it.
What content do engineers find valuable?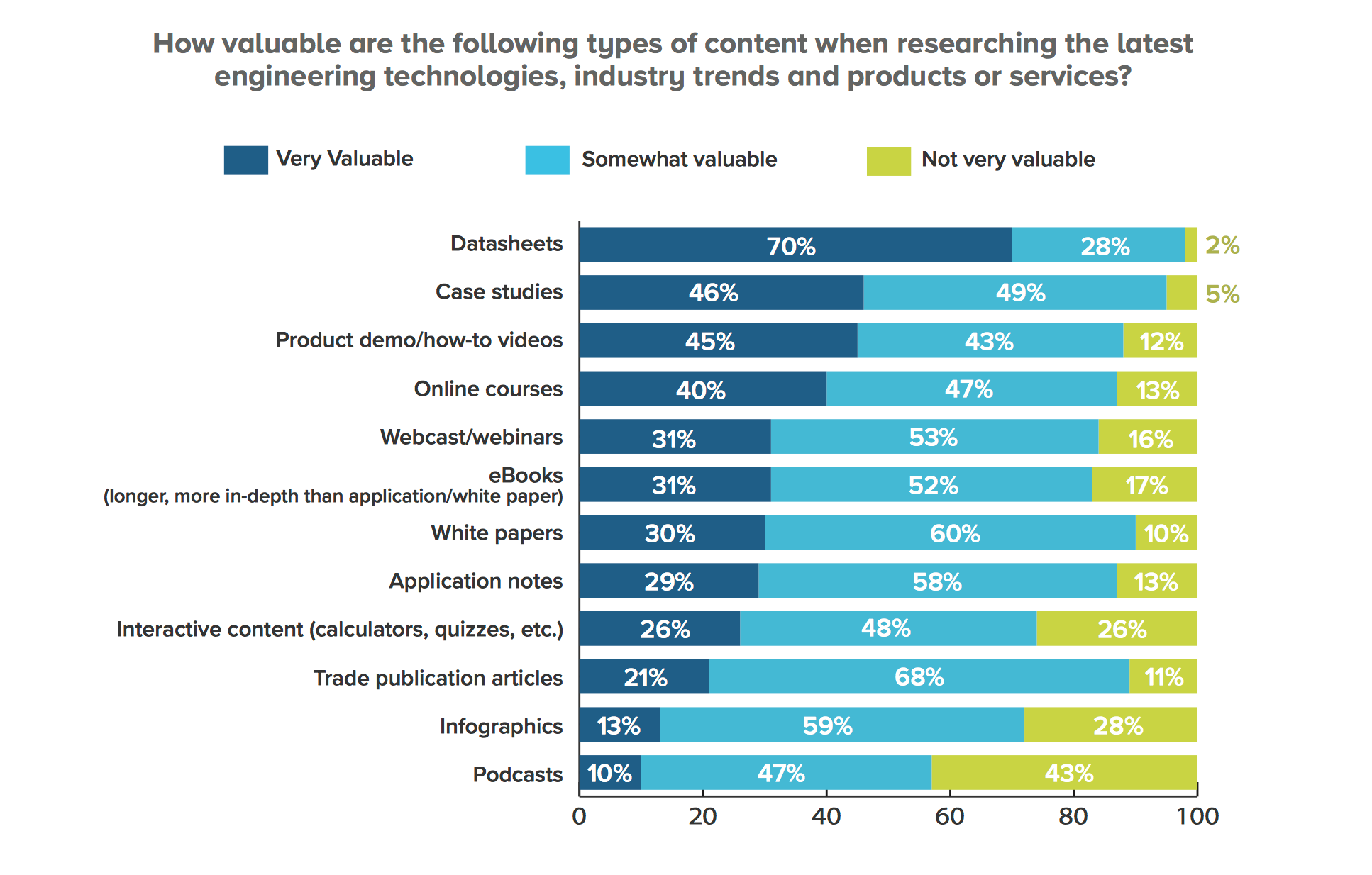 Quick stat: Engineers find data sheets, case studies, product demos/how-to video, online courses and white papers most valuable when looking for new products and services.
It is interesting to see product information so valuable to engineers. On one hand, when thinking of content such as data sheets, we at TREW usually don't recommend gating (aka, putting a lead form in front of) this type of content. You don't want to keep engineers from quickly getting to product specification type of information. However, it goes to show how valuable engineers find product information. So for you product companies out there, take note – you have a real opportunity to experiment with placing lead forms around product-related content that is highly valuable.
In deciding which content is more valuable than another, one rule of thumb is to think about the level of effort the piece took to create. Did it require involvement of your lead engineers? Is it more informative/valuable than content you have available for free? Remember, you can always try the lead form, and remove it later if you're getting high bounce rates on the landing page.
According to a survey conducted by IDG Enterprises as seen on MarketingCharts, "the quality of the content is the most important characteristic to decision-makers when they're searching for tech-related information online." 72% of respondents deemed "reliable/accurate content or information" as being important and 69% of respondents needing "straightforward, unbiased coverage" as a top characteristic for filling out a form.
The more valuable the content is perceived to be, the more personal information a web visitor is willing to give. For this reason, creating a compelling landing page is critical to generate leads.
What Lead Form Fields Are Engineers More Likely to Complete?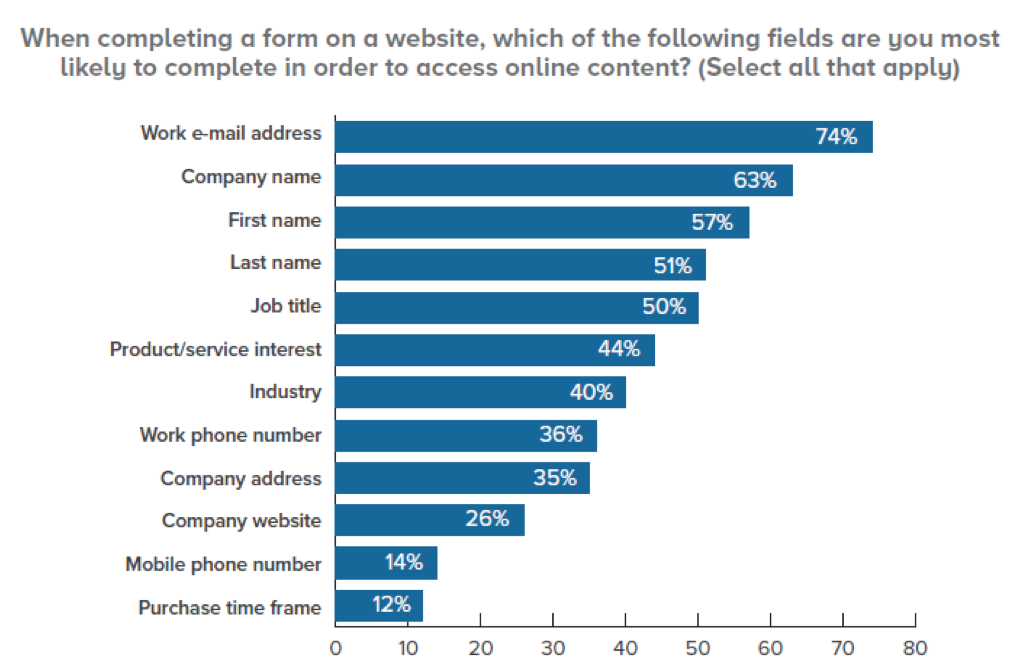 As marketers, you may often wonder, "What fields are 'must have' for online lead forms?" We asked just that in our survey, and we got our answers. Looking at the chart above, you can see three distinct groups of lead form fields that engineers are likely to complete:
1. The first five field types – name, email, company, title – have a notably higher likelihood of being completed by our respondents than the rest – all more than 70% likely to be completed.
2. The next four – industry, product interest, address, phone – have just less than a 50% chance of being completed.
3. The rest of the field options we asked about including company phone and website, purchase timeframe, cell number – have nearly less than a 25% chance of being completed.
In general, web users tend to bail on any task that appears time consuming or cognitively taxing, and long forms will scare them off. It's too big of a commitment too soon.
Pages that house web lead forms – or what many refer to as landing pages - do require highly effective page design and there are established best practices about landing page design and content.
By using shorter forms with the fields we now know are most likely to be completed, you should see a higher lead conversion rate (assuming of course your content is trustworthy and valuable). In fact, in one study, a lead form with 11 fields was replaced with a 4-field form, and the result was a 160% increase in lead form submissions with no change in lead quality.
In another post coming soon, we'll talk more about how to use marketing automation software like HubSpot to create what's called "smart web forms" that allow you to gather additional information over time as a lead returns for further information.
For information on generating qualified leads and converting them into sales click on the link below.