Looking for additional insight? Check out our guide: Smart Marketing for Engineers
Want to create professional-looking recordings of product demos or customer testimonials, but don't have a high-end budget to produce them? Start by creating a company account on YouTube – a search-friendly social media channel for sharing user-created videos. Then follow these simple do-it-yourself (DIY) guidelines to produce an effective and cost-efficient video for spreading company awareness and communicating with your audience.
Figure 1. This video of customer testimonials was shot at a tradeshow and edited with Apple iMovie.
Video Objectives and Content
Before you get started, establish the goals of the film to determine if the video is worth the time and effort of producing.
What is the point of the video? Are you selling or training?

Note: A sales pitch video should be much shorter (only 1 to 2 minutes) and have less detail than a tutorial video in order to keep the viewer's attention.

Who is the audience?
What is your goal and how will you know if the video is successful?
Using these objectives, create a rough outline of the video's content. For example, if the video is a product demo, the story may unfold as such:
Act 1: a short introduction that gives a hook of why the viewer should care
Act 2: the meat of the presentation that shows why the product is impressive via a short demo
Act 3: an explanation of the wonderful benefits of using this product and the next steps to take
To make the recording session as productive as possible, use the outline to map out a storyboard of the necessary shots, as well as a matching script for the narrator. Choose a dynamic and exciting speaker, and consider adding a little humor if appropriate.
Equipment List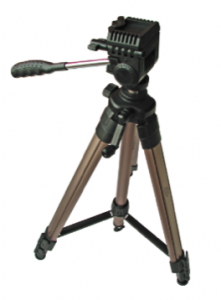 Next, you will need to have the following tools at your disposal:
Digital video-recording device, such as a Kodak minicamcorder or smartphone
Tripod
External microphone
Video-editing software, such as the free Window Movie Maker or Apple iMovie
Screen recording software for software demos (optional)
Audio recording and editing software, such as the free Audacity software (optional)
Nowadays, smartphones are a lot more accessible than handheld camcorders. However, to produce higher quality videos on a budget, it may be worthwhile to invest in a dedicated recording device with extra capabilities. Key features to look for include an external microphone jack, ability to mount on a tripod, and high definition (HD) quality video output.
Recording Setup
On the day of the recording, set aside extra time beforehand to prepare the environment.
For good sound quality, choose a conference room or other quiet setting. Using an external microphone is highly recommended. For wired microphones, snake the device up through the bottom of the speaker's shirt and pin it on the collar. If you only have an internal microphone, make sure the speaker is close enough to the video recorder and do some sound checks beforehand.
For lighting, make sure the subject is well lit and properly color balanced (so that white actually looks like white on the video). This can be accomplished by choosing a location with good natural lighting, bringing in additional lamps for artificial lighting, or adjusting digital settings on your camera or video-editing software.
Practice the rule of thirds. Position the main subject of your video on the intersecting thirds lines, instead of centered in the middle of the screen.
Figure 2. This Microsoft technology video uses the rule of thirds to create an interesting and well-balanced shot.
Best Practices for Recording
Keep in mind these tips and tricks when creating the storyboard and on the day of recording.
When using amateur recording equipment, avoid moving, panning, zooming, or even touching the camera during takes to prevent shaky camera syndrome. Instead, get static shots from varying angles, as well as a mix of wide and close shots, which can be smoothly connected during the editing process.
Get at least 5 seconds of extra video before and after each shot for editing purposes.
Record supplemental B-roll footage to cut away from the main shot, keep things interesting, and hide any problem areas. For example, you can insert close-ups of the demo while the narrator is speaking, instead of just showing the speaker the whole time.
Rather than fitting everything into one shot, record multiple takes if needed so you'll have many options to choose from during the editing process.
Post-Production
Once you have obtained the necessary footage, upload the files onto the computer with the editing software and follow these guidelines. Once completed, embed the video on your website and upload it on the company's YouTube account with the appropriate description and search tags.
Shorten the film as much as possible to maintain the audience's attention. Do not use any fancy transitions between shots; cut and fade are sufficient for most videos.
Keep the visuals interesting by using shots from different angles, inserting unexpected images or B-roll footage, and moving static pictures.
Do not use any music or graphics unless they are royalty-free or you have the explicit permission from the creator.
The audio quality must be clear enough to understand, so re-record the audio or add subtitles as necessary.
Insert a title page that can include the video title and speaker's name and title. Insert an end page that can include the company logo and next steps, such as a website address or contact information.
Looking for additional insight? Check out our guide: Smart Marketing for Engineers
Related Links:
5 Fast, Compelling Videos to Create Now