With rapid industry shifts in manufacturing paired with COVID-19 travel restrictions, not to mention internal company struggles, B2B salespeople are faced with many challenging dynamics. The standard company offerings may not be applicable, canned messaging may seem tone-deaf and off the mark, and certainly in-person visits are not an option.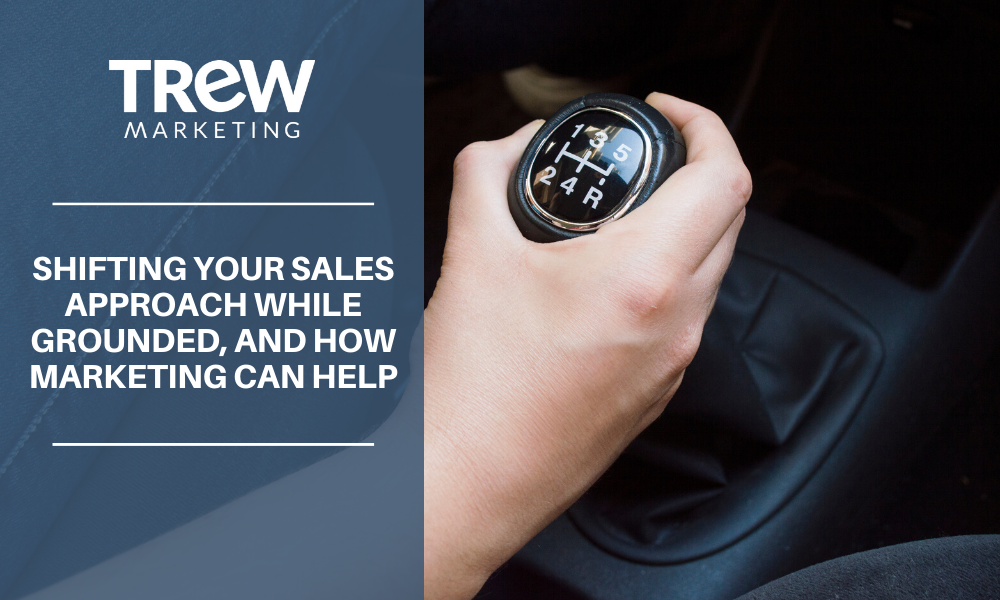 My goal for this post was to examine what field salespeople are doing to overcome these challenges, and how can marketing help. I reached out to several manufacturing field salespeople and heard mixed feedback. Some felt bullish about their quotas, and some were freaking out about imminently losing their jobs. In part this was due to how well the company's solutions match with rapidly shifting demand. For instance, one salesperson works in consumer electronics for K-12, and due to widespread distance learning implementation, the need for affordable laptops has skyrocketed. He's doing all he can to help ensure orders are processed as quickly as possible. Contrast this with the headwinds of a salesperson focused in supplying monitoring systems for offshore drilling, an industry that is all but completely frozen.
Most were in-betweeners, facing some challenges but also opportunities, and there seemed to be commonalities which separated salespeople gaining traction from those floundering.
Here is advice on where to focus as a sales and marketing team:
Study what your buyer needs NOW and adapt.
There is great value in understanding how your buyer's businesses are being impacted (or will be impacted) by the COVID-19 fallout, and examining how your company can help. First, do you have this figured out? If not, call customers, spin up a survey, and pool your collective knowledge to pinpoint and prioritize. Second, how should your standard messages be adjusted in order to speak to this need? Pull together new messaging and content that resonates with your buyer's needs and conveys your company's unique value proposition in this times…right now. For more on this topic, read Five Tips for Communicating Your Brand During a Crisis.
Launch an Account-Based Marketing (ABM) Campaign
Your priority today is taking care of your customers first, no doubt. With this concentrated focus, you may find that your next opportunity comes from expanding existing accounts. This may be in the form of new offerings to meet existing customer needs or expanding to new areas within the account. There are many tactics to consider here, but it all starts again with understanding customer need and adjusting your messaging accordingly. Then consider tactics such as customized web experiences, tailored emails, account-based webinars, video testimonials and case studies.
Become an expert at digital communication
There are many digital tools to consider adopting in place of F2F meetings. In sales situations where relationships are key, start with video meetings. This style of meeting has widespread adoption presently and is predicted to remain as a B2B sales standard post-travel restrictions.
I recently interviewed JD Sherman, HubSpot COO, who said HubSpot customers are adopting the Conversations tool (which adds chat functionality to a company's website) at a booming pace. It was his opinion that chat is making the jump from B2C over to B2B and will soon be expected by buyers as a standard offer for sales and customer support interactions. Consider whether this functionality would enhance or aid a buyer's experience with your company.
LinkedIn has long been utilized as a prospecting tool, but like anything else, it has been overly abused by aggressive salespeople. By utilizing meaty content assets and helpful observations, salespeople can adopt a thought leadership or helpful tone – sharing value first and holding the "ask" for later.
Discover the myriad of CRM features you've never tapped.
It is often tedious and distracting to learn new software, particularly when (on the surface) it appears like busywork with questionable value. The thing is, if your CRM is anything like mine, it houses a treasure-trove of information about buyers, which is incredible useful in this challenging sales environment. I can uncover former opportunities who have revisited my website, contacts with heavy content engagement, and even companies who haven't filled out any forms but have visited my site for numerous sessions. On contact records I can see specific pages visited and content downloaded, helping me to know which solutions this buyer is most potentially interested in learning more about and helping me to customize my outreach message.
Be an Advisor, not a Salesperson.
Today, successful salespeople serve as educators and advisers, and need need content to support this educationally-focused effort. This content usually includes a mixture of assets marketing can create, such as case studies and technical specification web pages, and new types of assets that support the sales process, such as email scripts, presentation slides and proposal scripts.
Here are content assets which have withstood the test of time as most helpful for sales:
PowerPoint presentations
Detailed product specs
Product demo videos
Competitive research
Comparison tables
Knowledgebase articles or FAQs
In-depth case studies
Return on investment (ROI) and total cost of ownership (TCO) calculators
Product configurators
Internal proof-of-concept documentation
Remember…
By working together, sales and marketing can create one seamless experience for the prospect, delivering value and building trust at each touchpoint in the buyer's journey. The relationships forged and deepened during these uncertain times might prove to be the most valuable in the long-term.
For more on Sales Enablement, add Content Marketing, Engineered to your reading list. Pre-order your copy here: