Thank you to all who joined IEEE GlobalSpec and TREW Marketing for our 3rd annual Smart Marketing to Engineers research findings webinar. Over 500 marketing and engineering professionals registered to learn how to better reach technical audiences, underscoring the importance of continuing to study and learn about this unique audience group.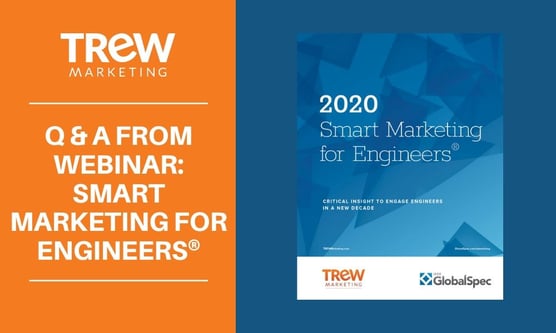 We were not able to answer all of the fantastic questions posed by webinar attendees during the event, but have since tackled them all. We thought you might be interested in reading through the full Q&A, so that you can glean information to help inform your own industrial marketing efforts.
Enjoy!
Social Media
What were social media preferences by age group?
Ages 35 and under found the most value in YouTube (46%), LinkedIn (35%) and Professional Communities (35%); they found the least value in Instagram (61%), Facebook (57%), Pinterest (54%), and Twitter (54%), and Reddit (43%)

Ages 36-54 found the most value in LinkedIn (35%), YouTube (33%), Professional Communities (28%); they found the least value in Instagram (53%), Pinterest (53%), Facebook (44%), and Twitter (47%), and Reddit (47%)

Ages 46-55 found the most value in YouTube (32%), Professional Communities (29%), and LinkedIn (26%); they found the least value in Pinterest (64%), Instagram (63%), Twitter (61%), Reddit (59%), and Facebook (50%)

Ages 56-65 found the most value in Professional Communities (24%), YouTube (20%), and LinkedIn (14%); they found the least value in Reddit (71%), Instagram (70%), Pinterest (66%), Twitter (66%), and Facebook (57%)

Ages 65+ found the most value in Professional Communities (42%), YouTube (20%), and LinkedIn (14%); they found the least value in Instagram (68%), Reddit (64%), Pinterest (66%), Twitter (66%), and Facebook (64%)
Social seems to be a good channel for building awareness, audience, etc. Consistently sharing high-quality content builds engagement over time AND sends traffic to the website (in my experience). May be very "top of funnel" but still a valid channel.
There were many questions and comments regarding social media, and our recommendations for shifting investment away from certain social channels. It is clear that some of you see value in some of the channels shown as less valuable in our study, while others do not but are wary about divesting.
Our advice is to start with your own data compared alongside the results of this research study. Is social driving traffic to your website? How about engagement? What percent of qualified leads have social as a direct or helping source? Analyze your marketing team's time/budget investment in social. What is your cost per visit or qualified lead? (This reminds me a bit of Google Plus. We felt compelled to post there, because you know, GOOGLE and all, and it did nothing for us. Now POOF! It is gone.)
You may be approaching social in a somewhat automated manner, where one post is broadcast into many channels for instance. This low-effort approach may make it easy to keep lower-performing channels active. The bigger concern is if you are investing significant time and resources into low-performing channels without a decent ROI. There is a trade-off with every hour you spend and dollar you invest. Now is a great time to evaluate whether some of these efforts would be better spent elsewhere.
Going off your recommendation to "cut out" less-used social media platforms (such as Facebook), I have recently heard that you need to make sure those channels are removed from search engines, or else your organization risks appearing "defunct" or "non-responsive". Can you speak to this point at all or do you have any related recommendations on how to drop a social media channel? Do you just stop posting? Does it look bad to have an inactive account floating out there? Should you delete the account? Delete all past posts but leave the account? What about click-thru content offer via Social Media?
An idle social account will reflect negatively on your company. If you've done your analysis and decided to shift focus away from a social channel, there are three paths to evaluate: low maintenance, unpublish or delete. In low maintenance mode, you'll publish social posts when posting to other, more productive social channels, but not spend any additional effort to build an audience or maintain a channel-specific strategy. This may feel more comfortable as a first step towards divestment. If you are ready to shift completely away, unpublish your account. This is beneficial for two reasons: you'll keep your account intact, and prevent others from taking it, and you keep an option open for the future.
Content Marketing
How often do you recommend reposting or reusing technical content through the same medium, for example a LinkedIn post, or newsletter?
When promoting a significant content piece for the first time, such as a white paper or eBook, consider crafting 3-5 social posts with a variety of angles or hooks within the first few months of the release. Some of these posts might point to derivative content pieces such as blog posts which use gated content as their call-to-action. Re-promote the piece, if relevant, for the next few years in a quarterly cadence. If your enewsletter is monthly, also consider a quarterly cadence, but again changing things up to perhaps attract someone who didn't bite on the first exposure.
What are the key ideas or possibly channels to implement an effective content distribution strategy, if not on social?
The research findings (and our own experience) tells us that engineers go to vendor and publication websites first, via Google and YouTube. They also rely on email and enewsletters from vendors and publishers. While these are certainly not the only distribution channels, they should be your top priority. In order for your content to be found on search, you'll need to invest thought and effort into your optimization strategy. By producing a steady cadence of content on a related theme, and linking that content through a topical pillar page, you will make great strides in search rankings. Onsite optimization is also key -- if you are not sure how well your site performs, consider using an SEO diagnostic tool such as Screaming Frog or Ahrefs.
How do you suggest marketing to medical device communities or other industries where info is confidential?
This is a challenge on two fronts: technical professionals crave specific information, and branded information (e.g. with the company's name) lends itself to a more credible piece of content. If you can't share the brand and specific details, the next best option is to at least be detailed without giving away the company's name or IP. Ideally you can give hints such as "a large pacemaker manufacturer" or "a leading catheter supplier" to give context and lend credibility, but protect the company. Go into as many specific details as possible within the boundaries of your agreement with the customer, and work with your technical team to understand where you can push a bit on details.
How do popular tactics like email campaigns and Google ads rate for effectiveness to connect with engineers?
Email remains a tried-and-true method for connecting with engineers and technical professionals. Our research indicated that 83% of respondents find both publication emails/enewsletters and vendor emails/enewsletters to be either very or somewhat valuable for discovering information on the latest engineering technologies, industry trends, and products.
In-house email allows you to develop deeper relationships with your customer base, as well as potential customers, and offers and method for sharing content and other information of value. Publication emails/enewsletters allow you to share your message and content with a wider audience who may not yet be engaged with you.
Our survey did not address SEM specifically, but we did ask how deep engineers are willing to go on Google to find information they are seeking. Only 5% of engineers top at the first page; the vast majority go three pages deep or more! They are willing to dig deep to uncover relevant content; using paid spend along with SEO efforts can help make the search process easier.
Can you touch on print catalogs and the best ways to connect them to you digital marketing and B2B ecommerce?
Our research shows that print catalogs remain valuable with this audience. Nearly 80% of respondents indicated that printed catalogs are either very or somewhat valuable. Yet, 94% of respondents said that supplier/vendor websites were valuable, and 86% rated industry directory websites as valuable. So while print catalogs still play a role in the engineer's discovery process, they are relying more on online resources to get the job done.
If your company does publish print catalogs, this data supports a case to continue, however it also strongly indicates that you allocate more resources to enhancing your potential customer's online experience -- offering additional product details on your website, and publishing your offerings on other industry-related directories.
How effective have you found email rentals to be?
Engineers and technical professionals still rely on email as a way to find information on the latest engineering technologies, industry trends, and products. List rental can serve as another way to engage with an audience outside of your own database, but its effectiveness depends on a number of factors: can the provider reach your target audience? Can you segment the list enough to most effectively meet your goals?
If you are interested in pursuing list rental, we encourage you to choose wisely and go with a reputable source that appropriately manages their database with an opt-in approach.
You won't typically see the engagement with a list rental that you would with your own in-house mailing list, or with a third-party enewsletter, but it can be an effective part of your marketing mix to build awareness and identify new contacts.
Is there a limit on information you should place on datasheets and technical documents to try and have the customer engage with your company to ask further questions and talk with a human vs. making a decision based on a PDF? Struggle with "giving away the farm" and losing the opportunity to talk to prospects.
This further illustrates the value in putting your more detail-rich content behind forms. You want your potential customer to find value in engaging with your content online to build credibility and gain trust. If they can rely on you for the answers they need, you have taken the first step in establishing your company as a valuable resource and partner. If you provide rich content in exchange for their contact information, you don't have to worry about losing the opportunity to talk to prospects - you can reach out to them following their content engagement. You'll also find that they will be much more likely to seek you out for a conversation.
Take TREW Marketing as an example. We found that providing detailed how-to information demonstrates our knowledge and expertise. This strategy both educates and builds the case with our "perfect fit" client that they don't have the staff, expertise and/or time to create and implement effective content marketing programs. When the TREW sales team engages with prospects, we find they are further in the buyers journey, with less education needed to make a decision.
Were there any indications or questions inquiring about whether the information they trade is valid (such as their actual phone number as opposed to 10 digits)?
We did not ask detailed questions regarding the validity of the data that respondents provide via forms. However, by asking them their likelihood to complete specific forms, our assumption is that people who would be not be inclined to provide accurate information would not have indicated that they would complete the field.
Did the respondents indicate a preference for professionally produced video vs. something we could produce on an iPhone?
We did not explore video quality in this research, but here is some advice: Not every video requires high-end equipment or a production specialist, but some do. If your video is intended to demonstrate a product or show off your staff's technical expertise, your production effort may be on the low end. Conversely, if you are looking to create a corporate branding video for investors, more time and investment will be required to create the perfect piece.
When you surveyed what types of content people are willing to leave their email address / contact info for -- did you survey "Software" as an option?
We did not include software as an option, but will consider this for future research.
How about Quora?
We did not include Quora or Wikipedia in this year's research, but it would be an interesting question to add in the future.
Buyers Journey
Can you highlight engineering buyer behavior changes (survey results) when the buyer is purchasing technical products compared to purchasing engineering services only?
Our analyst is working on a cross-tab analysis to answer this question. We will update this blog post once we have the results.
Did you do any cross-tabulation of content relative to the stage of the buyer's journey? What content do they prefer at the awareness, consideration, purchase stage of the journey?
We did not ask this question in such a manner to cross tab these two, but I am happy to share the content types that work well for TREW Marketing clients.
Please repeat the name/URL of the company's website you just showed as an example of a pillar (long-scrolling) web page?
https://www.vertech.com/manufacturing-execution-systems
General Marketing
A lot of focus on digital & website here. What about print ads/marketing in trade publications, magazines, conference sponsorships, etc? Are those still effective and how do we track effectiveness?
Trade shows and print publications still hold a place in the marketing mix. With so much of the buyers journey happening before a prospect engages with your company directly, having your brand and message in numerous locations can only serve as a benefit to gaining awareness. It is also a way to leverage a community that someone else built, particularly when you are early in building your own community (e.g. website/database).
There are some downsides -- they tend to be higher cost, and once you stop investing, the results immediately stop as well. Another challenge with offline channels as opposed to online channels is the ability to measure ROI. Printed publications are one of the most challenging to measure, which is why using them as a brand awareness tool (using circulation as a metric) in conjunction with a robust, measurement online strategy will help you generate the most impact for your marketing dollars.
Our company targets older decision makers. Where is better for me to spend my time?
Older professionals are less likely to be engaged with social media and YouTube compared to their younger counterparts, and are slightly more apt to place value on trade publications, both print and online.
When it comes to content sources such as supplier websites, emails and enewsletters, all ages hold similar viewpoints on value. We see that 60% or more of professionals ages 46+ subscribe to at least three enewsletter publications.
As for content types, older professionals find high value in datasheets, white papers, and case studies. However, you may want to consider in dabbling in sources such as YouTube that younger professionals are relying on, as a way to build awareness with these younger professionals who will be tomorrow's decision-makers.
What are the main features a Datasheet should have?
Typical goals of a datasheet are to provide an overview of a product and enough specs to help a potential buyer know if this solution would be a potential fit. Include a few calls-to-action related to the content to drive readers to your website, and consider include a short URL (such as bit.ly) to help them reach the right page quickly. Also, keep your datasheet to one page, double-sided.
If we are considering tools, such as marketing automation, how is best to proceed? The demo periods all seem too short to really evaluate them in the context of my business.
Sounds like it is time to get scrappy. Ask other marketing professionals (importantly of similar-sized companies) about their experiences. This feedback will likely give you much more information than playing around with a tool that you are not yet familiar with. Another thought is to lean heavily on the salesperson for an extended demo time-frame. They are known to be quite flexible when trying to meet an end-of-quarter quota!
Research Demographics
Number of survey respondents: 292
Geographic distribution
The majority of respondents came from North America, followed by Western Europe. We will update this blog post with more detailed geographic information.