On Monday, Aug. 1, TREW CEO Rebecca Geier gave a session called Marketing to Engineers: Trends, Tips, Challenges and Solutions to NIWeek 2016 Alliance Day participants. In both a morning session and an afternoon encore session, she walked through the "Core 4" marketing strategies for engineers, supporting each with examples as well as data gathered from research specific to engineers and technical audiences.
The Core 4 are:
Content is Still King
Web Growth-Driven Design
Don't Bother Them: Use Automation
Metrics and More Metrics...Define ROI
Rebecca presenting at Alliance Day
Click below to download the slides as well as a free content marketing workbook, filled with practical exercises to help you develop your content marketing strategy.
Following the session, representatives from three National Instruments Alliance Partners (G Systems, Wineman Technology, Inc. and PrimeTest Automation) who work with TREW came to the front to participate in a panel discussion about marketing to engineers. The morning session panelists were: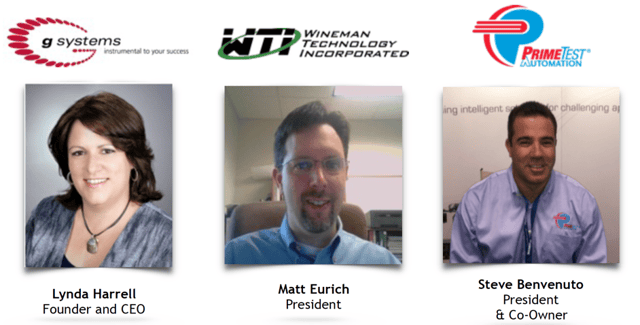 We had some lively discussion, moderated by Rebecca, where she asked the panelists questions and where attendees were able to ask questions of their peer engineers about how they market their companies. Below are many of the questions and answers that came up during this session. There are too many to cover in one post, so come back next Tuesday, Aug. 9 (or subscribe to our blog to be notified of new posts) to see the rest of the discussion.
Lynda Harrell, G Systems
What is your one biggest challenge in marketing?
We realized that we needed to step up our game a little bit and we spoke with Rebecca about how to leverage her expertise. We are one year in with our engagement with TREW. About five years ago we did a branding exercise with a company out of Chicago. Fast forward through five years and we realized that our personas had changed, our company had matured and our clients had changed as well, but we still had the same website as five years ago.
What are your experiences with outsourcing?
One of the decisions that we had was we did not have the bandwidth internally to support that marketing effort. I know how to hire engineers and sales people but I don't know how to hire marketers, and Rebecca helped us do that. The project management is a positive surprise that came with it.
We dove in to make sure there was buy-in with the company when we decided to bring TREW in and educate our team on marketing using Rebecca's book. This helped them understand their audience when they write content and helped them understand why, when they were pulled away from a revenue-producing project, why it was important that they do that.
What has been your ROI?
It's been more qualitative than quantitative, but we have experienced 130% growth in the past year. We're making sure we are keeping up our marketing effort and making fresh content regularly.]
In all of your stages of marketing implementation, what do you wish you would have know before, that you know now, 6 months in?
I wish we had known about the marketing funnel before.
Any myths in marketing that you have dispelled?
It hasn't been as hard as it we thought to get engineers to create content.
Steve Benvenuto, PrimeTest Automation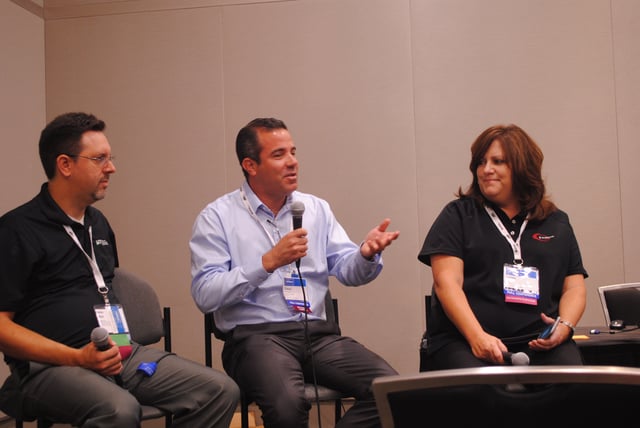 What is your one biggest challenge in marketing?
The last two years, we were using a reactionary sales strategy, where we waited for customers to call us. We recognized that we were not actively going out to reach customers, but we had a good sales team and they realized they needed to redo our website. We realized content really is king and that we needed a specialized marketing team to generate content for us. The metrics were the biggest deal for sales, and since we are still new to marketing and only six months in we're still waiting to get some of the data back.
How do you divide your time on the leadership team to make time for marketing?
We spend 1 to 3 days a week right now on marketing and we're thinking that may go down once we're more established. We divide the workload between Dan (VP of Engineering) and I and with TREW.
In all of your stages of marketing implementation, what do you wish you would have know before, that you know now?
That it's really hard to show our work [via case studies] due to client confidentiality. Content is very valuable, but it was a risk area because we needed firm agreements on what content we could show customers, which greatly reduced the amount of content we had to offer on our website; this was a big downfall but it needed to be done.
Matt Eurich, Wineman Technology, Inc.
What is your one biggest challenge in marketing?
We knew that there were certain aspects of marketing that we needed help with, and we knew that content was key. We needed someone to help create that content. We hired TREW, and they are like our marketing personal trainer. They set goals and keep us on task, and we've been growing about 20% per year. I hate marketing, though.
For someone who hates marketing, how have you stayed with it for so long?
Having our website working is like have a trade show all year long. We are now able to get a more consistent flow of the type of leads that we want and we can target certain areas where we feel that we have a competitive advantage. It is very effective lead control. The content writing is great, too. Basically, it's very effective for us, so we have to do it.
How do you divide time amongst your leadership teams to make time for marketing?
That goes into my comment about how TREW is like my personal trainer. We have biweekly meetings and we have task lists that we go over then; it encourages me to get my stuff done on time. They (TREW) come up with a lot of good ideas as to where to pass tasks off too so that we can balance everything. At the beginning of the year we have a meeting session where we decide that Wineman does this and TREW does that and what things we can work on together.
How much time do you spend on marketing per month?
It varies a lot, sometimes a couple of days, and sometimes a lot more. It just depends on the project.
How often do you look at metrics?
I glance at them monthly, but I prefer to spend more time on them quarterly. We are averaging about 2,500 website visits per month and there is definitely a correlation between website visits and leads. Our e-newsletter is a very strategic thing for us, and we do that quarterly. It's a key part of our strategy. It drives a lot of content and development. It's a huge investment for us but worth it.
In all of your stages of marketing implementation, what do you wish you would have know before?
We started off using TREW to help us write a lot of content. We had to sell the whole company on the importance of content and we spent a lot of time trying to get buy-ins from engineers to help us develop content. One year we tried to save money by hiring another company and they didn't do a good job. It was a disaster, so definitely there is a lot of work you need to do internally and have good partners to do that with.
Any myths in marketing that you have dispelled?
We are always surprised when something good turned out bad and vice versa. So don't be afraid to try something. Throw things at the wall and see what sticks.
Stay tuned for Part 2 on Tuesday, Aug. 9, where we'll cover more of the Q&A from the panels.