Inbound marketing strategies are fueling growth in conversions and leads for the savvy companies who adopt and implement them as part of their integrated marketing plan. However, there are holdouts in B2B marketing who still aren't convinced that inbound marketing tactics are worth the effort. So let's look at how two key inbound marketing activities, content and SEO, make a big impact in driving marketing results.
First let's define inbound marketing. Wikipedia defines it as the concept of earning the attention of prospects, making yourself easily found and drawing customers to your website by producing content customers value.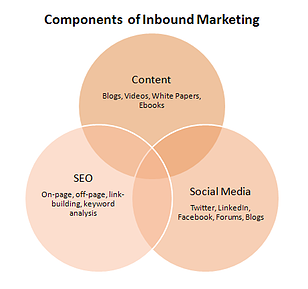 1. Content -- it's probably our favorite word at TREW marketing and with good reason. Having quality content on your website is a staple for inbound marketing. And it's not always for selling or marketing, it's also for educating and/or establishing thought leadership.
One piece of well-written, well-placed content can have multiple uses. You can blog about it, use it as a call-to-action on social media sites, and repackage it in the form of a video, webinar, or white paper. Just think about how that one piece of content used in multiple ways and channels can drive your search marketing efforts.
2. Search -- Search engine optimization (SEO) is all about tweaking your website to make it more search-engine friendly and earning inbound links through stellar content. As our culture becomes increasingly digital, search is now one of the largest channels for demand generation. Ranking in top positions on generic search terms has a large impact on your brand and gains in customer mind-share vs. your competitors. How do content and search impact each other and how can you leverage them to drive your results?
Let's consider blogging. One of the main benefits of business blogging is the rewards it delivers to SEO. Having your SEO and blogging strategy aligned is key to ensuring that you are optimizing blog content with keywords for which your business is seeking to rank high in natural search. If you are pushing to rank for a specific keyword, your blogging strategy should support that. For example, let's say you are a software developer; by creating content about best practices for software development, the best tools to use when developing software, etc. and working in using specific keywords about your software, you will optimize that blog post and earn higher SEO results.
3. Measurement. Now that you've created content, and are optimizing SEO to your advantage, how do you measure results? The most effective way to make sure you're getting the most from your inbound marketing efforts is to regularly analyze data across all of your marketing channels so you can see how your integrated campaigns perform, and make adjustments to your marketing programs on an ongoing basis. Key inbound marketing metrics include web visits, time on site, leads, and sales conversions.
---