May 19, 2016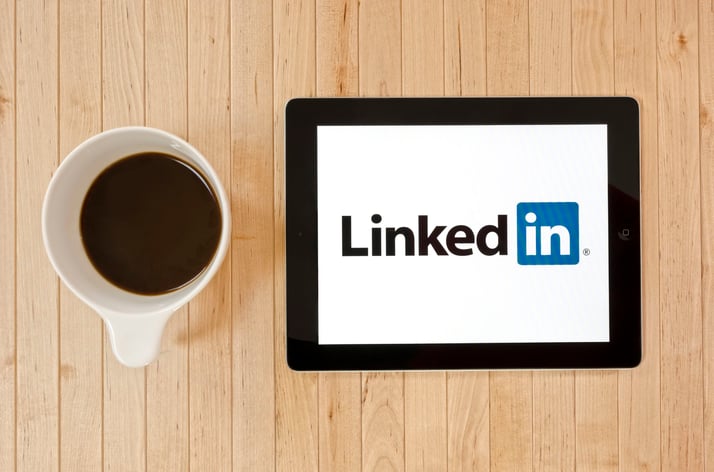 Because our CEO/cofounder's book Smart Marketing for Engineers: Build Your Foundation is written for aspiring marketers, marketing professionals and engineering leaders, we decided to promote the book through LinkedIn – the social platform for professionals - using their paid ad service and see if the ROI was worth it.
LinkedIn offers two types of ads: sponsored updates and text ads. Since we wanted to capture our target audience's attention to the book through their feeds and generate downloads, sponsored updates seemed like the best option.


LinkedIn Text Ad vs. LinkedIn Sponsored Update
We then faced another decision: CPC or CPM?
CPC: cost-per-click. You're charged every time your ad is clicked.
CPM: cost-per-thousand-impressions. You're charged every thousand time your ad appears on somebody's news feed.
On the surface, cost-per-click (CPC) should generate a higher conversion rate than cost-per-thousand-impressions (CPM) as you're only charged if somebody clicks on the ad. With CPM, you're not guaranteed clicks, only eyeballs.
However, depending on your budget, product/ services and target audience, it can be hard to decide. Let's take a look at the pros and cons for both options.
1. Cost-per-click (CPC)
Pro: You're only charged if somebody clicks on your ad.
Con: Can be costly. Depending on your selected target audience, audience size, locations, job titles, industries, etc., ad bidding can easily run from $2 - $7 per a single click. And of course, not every click will convert into a lead or download.
2. Cost-per-thousand-impressions (CPM)
Pro: You're charged for every thousand views of your ad. If you have a niche market, or are able to slice your target audience precisely, the chance that your ad will be clicked on will increase. You might get cheaper cost per lead as a result.
Con: A mass audience doesn't mean engagement.
Instead of guessing which would work best for us, we decided to conduct an A/B test and let the data decide.
We set the exact same total cost ($50/ trial), target audience, content and time variables (Monday to Wednesday) for both CPM (trial #1) and CPC (trial #2).
We created a spreadsheet to plan out content, goals and metrics. For content, we prepared two different messages (a longer one with 267 characters and a shorter one with 147 characters) and two different images (the book's cover photo and a stock photo). Both lead to the same landing page where customers can sign up to download the book. This is what our sponsored updates look like:

Longer caption with book cover photo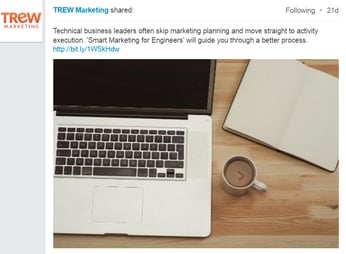 Shorter caption with stock photo
We also included an infographic with an embedded snip.ly CTA that will direct users to the download page, just to see whether offering extra content would make it more enticing to download the book.
Infographic sponsored update
We ran these three updates simultaneously during our testing period.
From the trials, we wanted to learn which option would get us more leads, impressions, social engagements, higher click-through-rate and cheaper average cost-per-click (the total cost of your clicks divided by the number of clicks, and each click might take a higher or lower cost to earn), and what we could do to achieve the best results.
Trial #1 - CPM
Day 1:
958 impressions and 4 clicks - that's 0.418% clickthrough rate and $3.23 average cost-per-click! Not bad at all, considering that LinkedIn claimed an average of 0.025% clickthrough rate for its ads.
The infographic didn't lead to any downloads, so we removed it and just linked directly to the landing page.
Day 2:
Our total impressions for each day ranged consistently within 900 - 960, with one click per day. That means our average CTR was within 0.001%, which is pretty low. Our average cost-per-click was also high, at $6.68 and $11.69.
Since we were still within our testing period and had not tried out every option, we decided to proceed with our second CPC trial. Key learning:
It's better to direct your audience straight to the landing page where you want them to take action. Don't bother with intermediary content.
2. Trial #2 – CPC
Day 1:
1,194 impressions and 4 clicks, with an average CTR of 0.335% (12.12% higher than LinkedIn's average of 0.025%) and $4.75 average cost-per-click – it's looking better! We also gained a few downloads.
Day 2-3:
Similar stats. The update with stock photo and shorter caption worked significantly better, likely because of the caption length.
Takeaway:
In order for LinkedIn to charge you, they'll have to get you clicks if you're doing CPC. That means they might have to show it to more people to get them to click on your content, which will lead to higher total impressions than what you can get with CPM. In our case, we gained double the number of impressions as we got with CPM.
In our case, the clear choice was CPC. We gained twice the amount of impressions and total clicks, higher clickthrough-rate, lower average cost-per-click and more downloads.
We were ready to move on to our official launch.
3. Official Launch
We set our official campaign budget with our average CPC bidding within the $5-$6 ballpark suggested by LinkedIn, pushing our sponsored updates to a higher ranked position on LinkedIn news feed slot.
To our surprise, we also received social interactions (shares, likes, followers) through our sponsored updates, which did not happen during our A/B test. Overall, our modifications worked well. Here are some key stats:
17,923 impressions
37 clicks
2 shares, 2 likes, 3 new followers
7 downloads, 6 of whom became marketing qualified leads
0. 226% average CTR ( 9.04 % higher than LinkedIn average rate)
Key Takeaways
1. Before your campaign
Plan out your content, including messages, images, and URLs

Choose a high-quality image, preferable 800x400 (LinkedIn recommended for full-size)
As always, have another set of eyes review the content before go-live

Set goals and metrics – know what you'll be measuring
Slice your target audience as precisely as possible – follow your target personas
2. Setting up your campaign
Be careful: Don't forget to set your start date! – once you've gone ahead and selected a target audience or set up the campaign, you can't go back and change it. LinkedIn will set your default to 'Now' - one quick fix is to manually turn each ad off, but it isn't convenient.
Select your target audience based on location, job description, seniority levels, etc.
Set a budget (at least $10/ day or $10/ campaign, with at least $2/ bid)
You content needs to be reviewed by the LinkedIn team before they can go live – that means set up your ads/ updates at least 24 hours before your intended start date

But if you run out of time, just contact LinkedIn. Their support team is wonderful :-) I did not know about the review process and really needed to get our campaign running, they reached out to me within 15 minutes upon receiving my request and completed the process 10 minutes after.

Set your end date, or choose to let your ads run until you're out of budget
3. During your campaign
Monitor your campaign's performance carefully. Make modifications if needed (increase/ decrease bidding range, remove an ad that's not running well, etc.)
Start documenting your process
Give your team members a (virtual) high-five for every lead earned :-)
One small thing: sometimes LinkedIn might go over your daily budget by 20% when somebody clicks on your ad before it's turned off. If you absolutely don't want to go over budget, turn it off manually when your ads are close to reaching that point.
4. After your campaign
Observe patterns (what times worked best for your ads? Who are clicking on your ads – check 'Demographics'? What's the best bidding range for your target audience?)
Were your goals met?
What can you do to optimize your ads better next time?
Leave a comment if you'd like to share any interesting findings from your own LinkedIn ad campaigns, and contact us if you'd like help figuring out a customized LinkedIn ad or other search marketing strategy.