Today, HubSpot released the HubSpot Service Hub, a tool designed to help companies manage customer relations and keep conversations with a contact from marketing, sales and customer support all in one place.
The launch of the service hub marks a redesign in how companies manage the customer journey. Customer support and retention become key parts of the marketing and sales funnel, as opposed to by-products of it. In HubSpot, the CRM is at the center of all interactions with a contact as he or she travels from visitor, to lead, to opportunity, to customer, and it now continues tracking interactions as that relationship with the contact continues.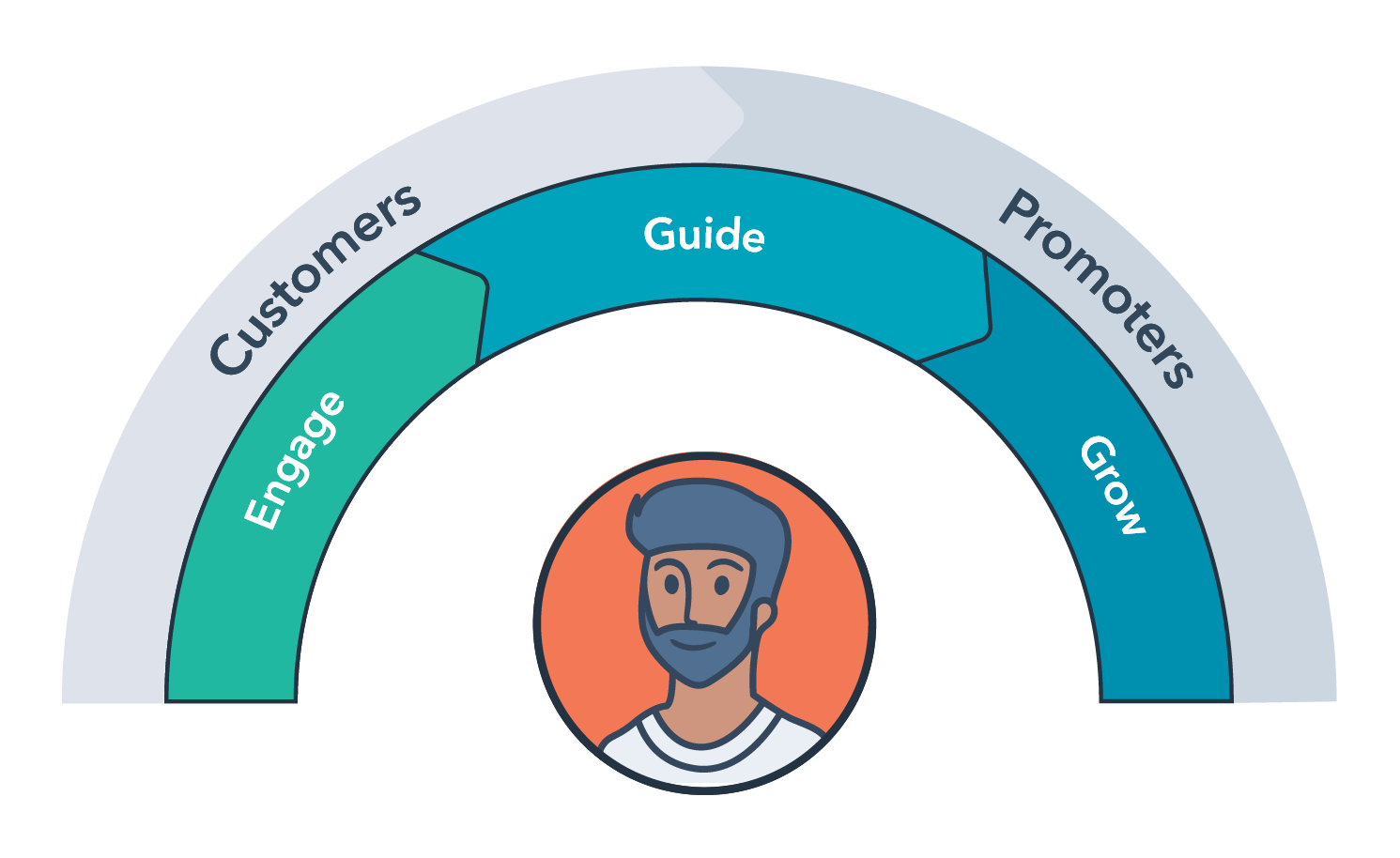 The new inbound service framework (HubSpot).
Before we dive into the Service Hub and its various features, we have to address another impactful change recently released by HubSpot- the new navigation.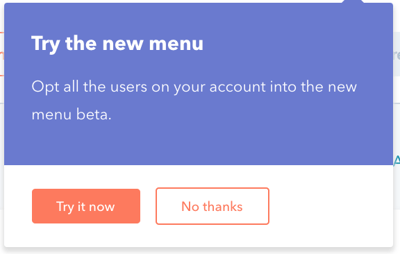 You may have noticed a prompt from HubSpot to change your portal over to the new menu. HubSpot took spring-cleaning to heart this year and re-organized the entire tool, grouping features into more intuitive sets.
Users no longer have to toggle between sales and marketing when utilizing both tools; now, they're available in one place, along with the service hub.

The old HubSpot navigation.

The new HubSpot navigation.
As with any big change, it can be a little disorienting at first trying to rediscover where your key features are located. HubSpot has a breakdown here of where all features are now located in the redesigned menu.
Switching to the updated menu is required to use the new service hub, which is why we wanted to take a moment to cover it before diving into the service hub features.
Features of the HubSpot Service Hub
1.Conversations inbox
Moving left to right in the new navigation, we start with the inbox under conversations. This shared inbox lets your team track and respond to inquiries, essentially replacing a shared "support" email address.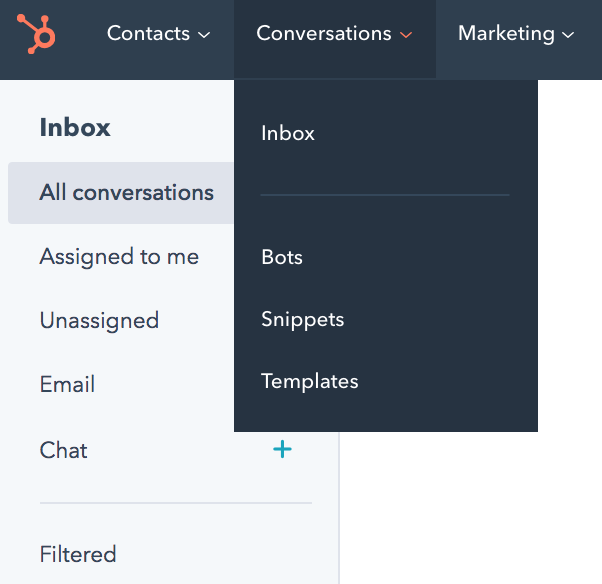 Inbox also makes it easy to track conversations happening across multiple channels, including email and live chat. All these interactions are included in the customer record, helping your team manage interactions across channels and team members to deliver seamless service.
You have the ability to create a support ticket from the inbox as well. We'll cover this feature of the service hub in just a bit.
2. Bots
One of the most exciting features of the service hub is the integrated bots tool. With bots, website visitors can interact with your website via automated chat. You can ask qualifying questions, provide resources based on visitor questions, create service tickets and even move an automated chat to live chat with an employee.
There are currently three options when setting up a bot, targeted to three common bot goals: support, lead qualification and meeting scheduling.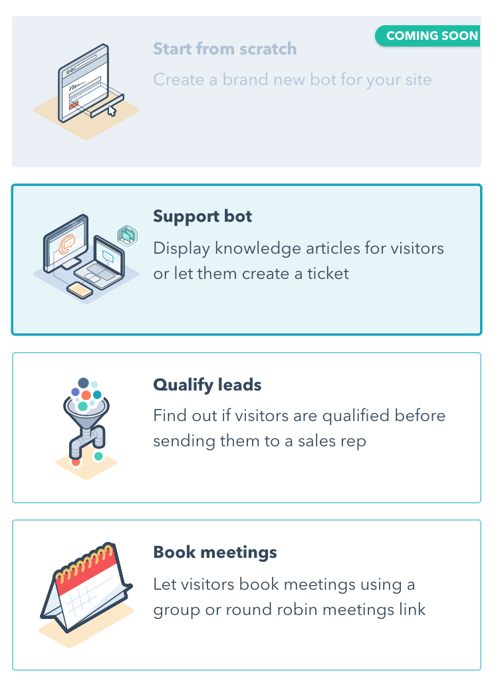 Setting up a bot is very similar to setting up a workflow. You set various actions, and the contact moves through them as he/she interacts with you. You can add branches based on responses; set responses to match and integrate with contact/company properties; offer knowledge base articles (another service hub feature); create support tickets; transfer the chat to a live employee; and more.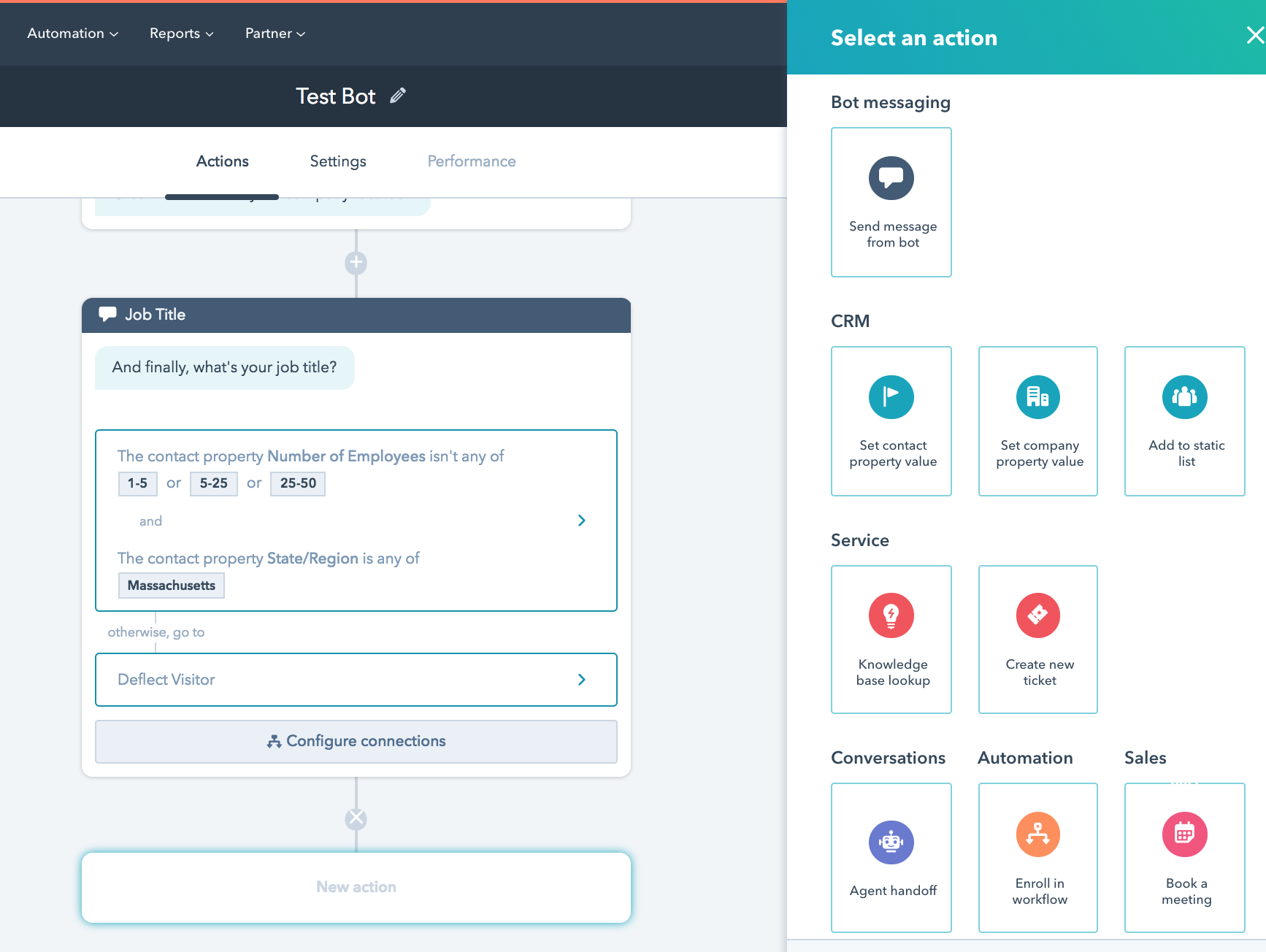 Online chat has many applications, so it's no surprise that usage has been steadily increasing in recent year (we even identified it as a key sales trend for 2018). Learn more about the power of live and online chat.
3. Customer feedback
Customer feedback is under the service drop-down in the new navigation, and it allows you to easily send surveys to your customers to gauge satisfaction with your company.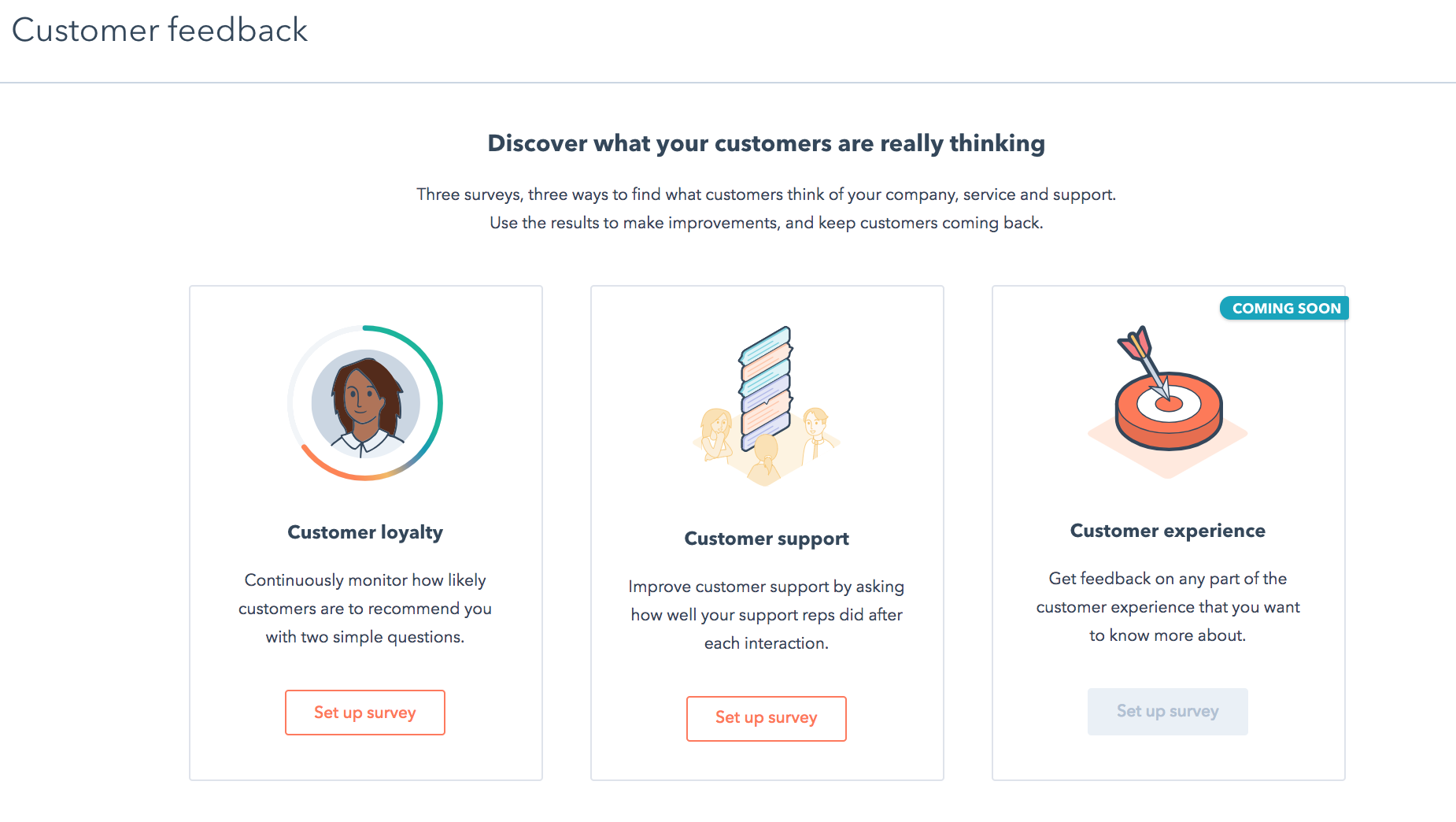 There are three survey types- loyalty, support and experience (coming soon). Surveys can be delivered via email or, for loyalty surveys, via web page. The surveys use standard-worded questions, but you can customize follow-up questions, thank-you messages and recipients.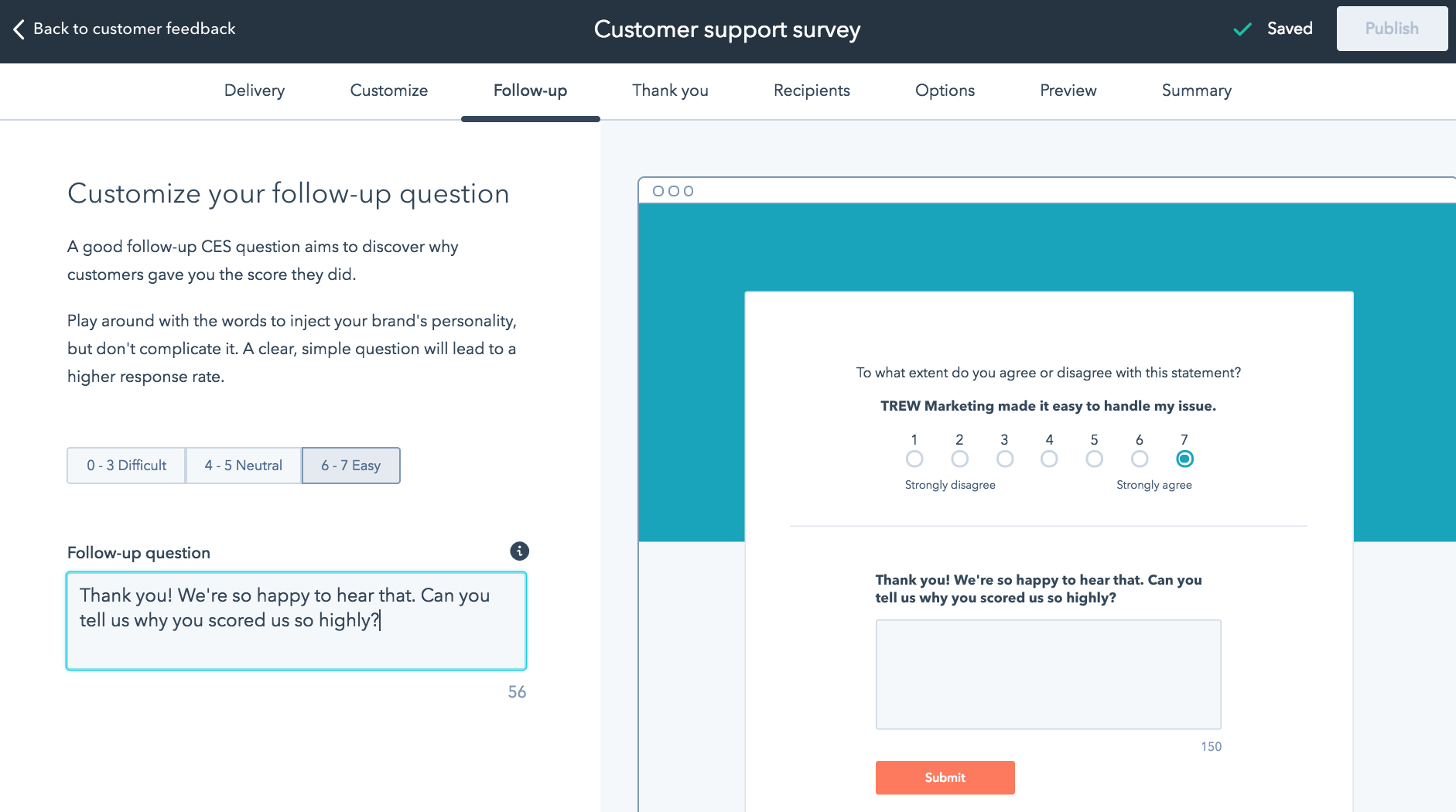 4. Knowledge base
The knowledge base is a FAQ section similar to blogs. It features articles addressing common questions, organized by category and sub-category.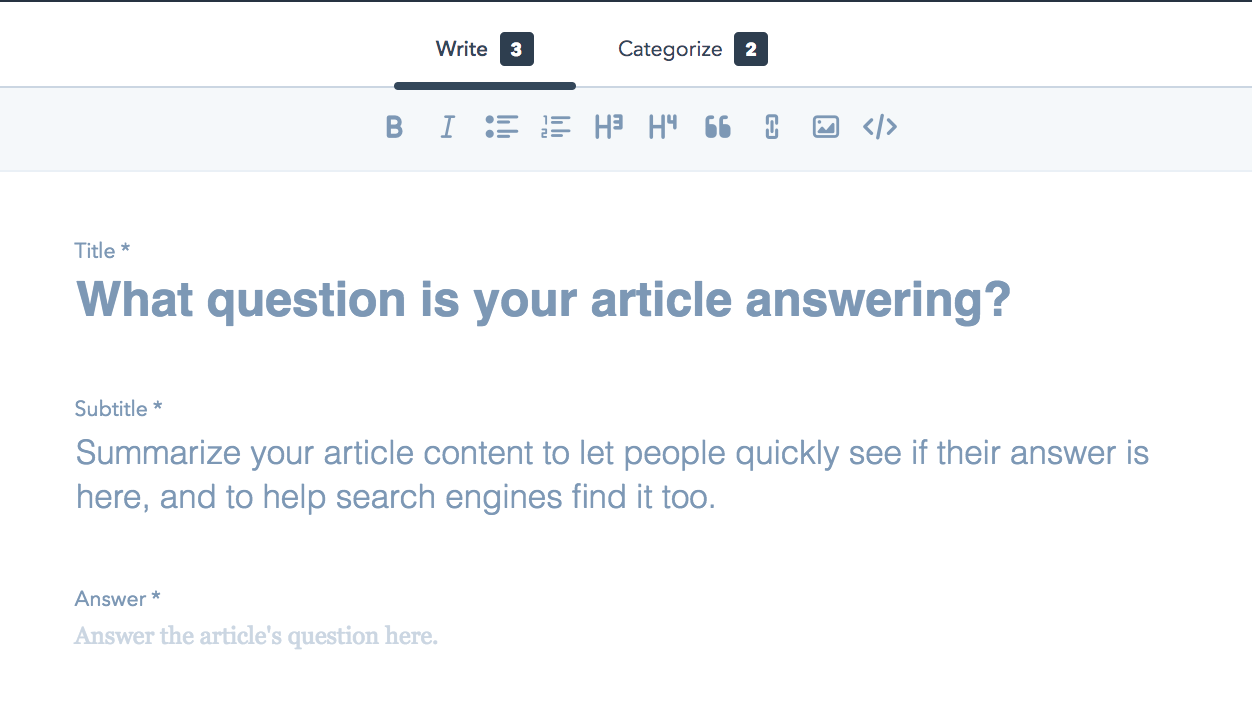 These articles can then be used across channels by support teams (or bots) to answer customer questions. Each article has its own webpage, so they can also be linked to from webpages, blogs, and emails, as well as ranking in relevant search results.
5. Tickets
Last but not least- tickets. With tickets, you can track and manage support requests; report on requests; create tasks for team members; schedule and log meetings; and send surveys after the request has been completed.
The ticket set-up is very similar to deals. Each ticket has its own record with all activities, notes and associated companies/contacts/deals.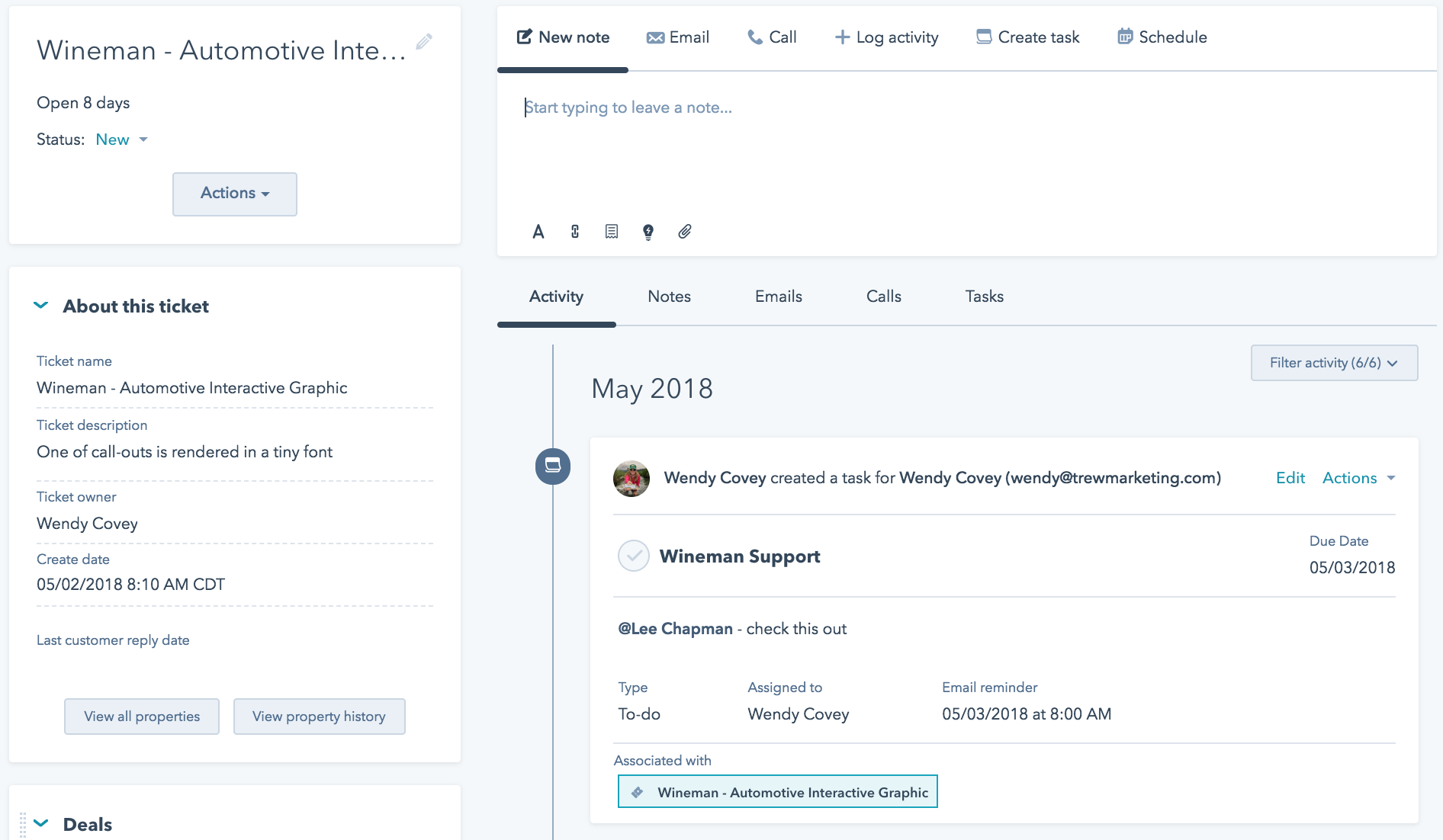 The overall tickets view is also similar to deals. You can view tickets as a list or view the whole pipeline in a board. Both views offer filtering options and search options to narrow own results, and the board view allows you to easily drag tickets from one stage to another.
---
The service hub is an exciting offering that will help make the sales-marketing-service process seamless for your contacts.
Learn more about service hub here.
---
Interested in learning more about HubSpot and how you can utilize marketing automation at your company? Contact us to discuss it with one of our marketing automation experts!