Technical audiences require technical content, and there's no denying that the types of content you produce and the sources where that content is published influence the perception of your brand.
Based on information from a recent Forrester webinar B2B content that works (for your and your customer) and research from TREW Marketing and IEEE, here are four tips on creating B2B content that actually works.
1.

Make digital content a priority this year

Digital marketing is the new normal. B2B buyers don't want sales to be their primary source of research and powerful content is a necessity for any B2B marketing strategy. Based on Forrester's research:
75 percent of buyers will search the internet before engaging in person.
53 percent of buyers find going online superior to interacting with a salesperson.*
TREW Marketing and IEEE also found that technical audiences are simply more likely to do business with companies that produce new and current content. This content, when focused on what the customer needs, is seen as a valuable asset and an influencer in the customer's purchase decision.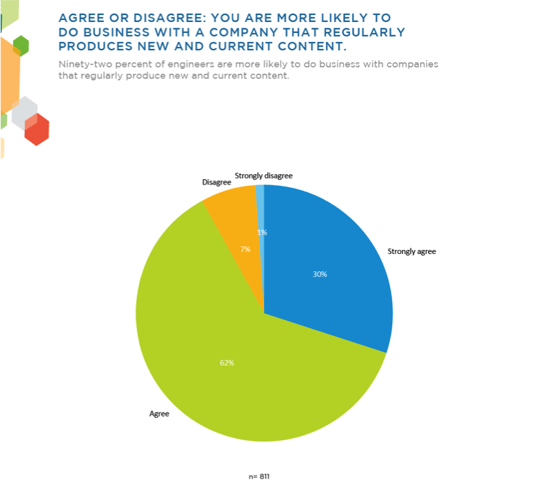 2. Focus your content on the customer
54 percent of Forrester's IT and line-of-business technology buyers and influencers say much of the material they see is useless. To create content that matters to your customer:
Avoid immediately writing about yourself
Understand that your reader is not buying your product up front, they're buying your approach to solving their problem
Let the buyer drive their content experience so they can get the information they need when they need it
Let your content make your customer the hero – they should be better at their job, or more informed to talk to their co-workers or management with the information they've gathered from you
3. Get your message in the right content format
Knowing what content sources your audience frequents and trusts is key to making your content work for you. Forrester found that case studies, white papers, and ROI data are the most valuable to inform buying decisions.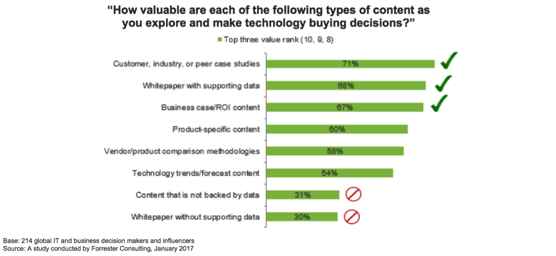 Similarly, case studies and white papers were most critical with TREW and IEEE's research: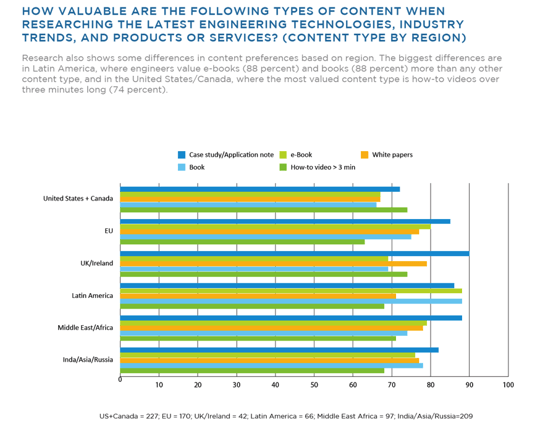 Lastly, if you have the opportunity to use PR efforts to promote content on third-party sites, or the opportunity to work with other organizations, consider Forrester's top sources for reputable content: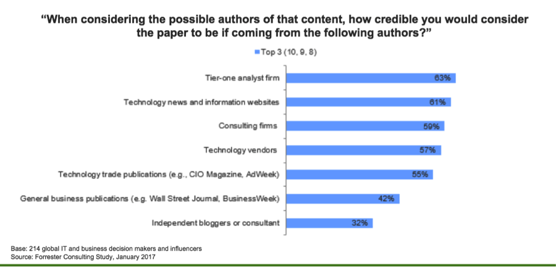 4. Customize your content across the buyer journey
Technical audiences expect to have at least four interactions with a company before communicating directly with the company.
Because your audience is already expecting these engagements, a thoughtful content program should include increasingly customized content as the buyer moves down the funnel.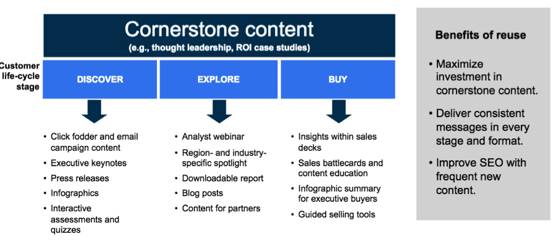 Marketing automation platforms like HubSpot can help you easily see your customers' interactions with content on your site and automatically offer targeted CTAs throughout their journey.
BONUS: Something to consider – interactive content.
As digital marketing advances, Forrester found that buyers appreciate interactive content.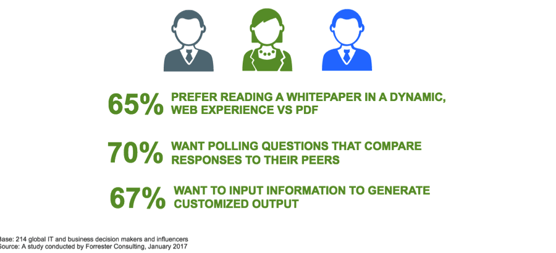 Interactive assets are advanced digital content that can help tell your core message with visual elements. One example of this is Wineman Technology's aerospace and defense interactive graphic, which allows readers to see the company's applications and solutions across the spectrum of an entire plane. From avionics test to engine simulation, readers can explore for themselves Wineman's comprehensive solutions.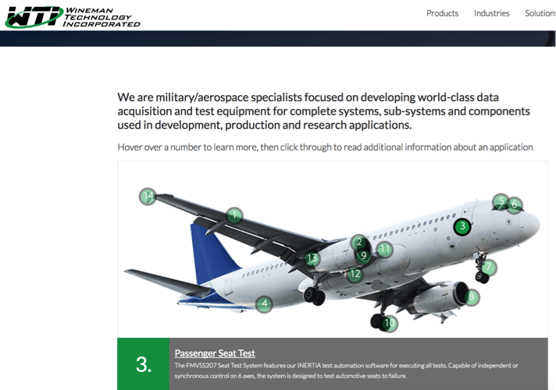 Forrester also offered recommendations for interactive assets like polls and dynamic infographics: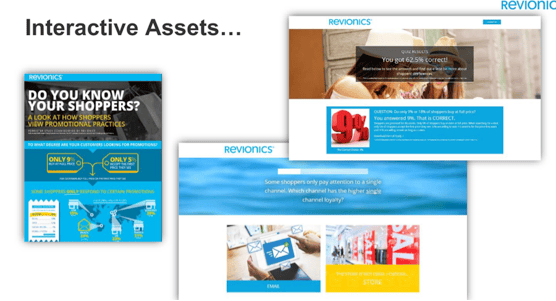 Sources: *Forrester/Internet Retailer Q1 2015 US B2B Buyer Channel Preferences Online Survey, **Global Business Technographics® Marketing Survey, 2016
Download our ebook on content marketing to learn how to:
Define Your Target Audience
Develop Your Content Plan
Create Topic Content Clusters
Measuring Results