My name is Clare Combs and I am about to begin my junior year at the University of Mississippi. I am an Integrated Marketing Communications major with a double minor in business and philosophy. Living in Oxford Mississippi is great, but it's nothing compared to Austin. When I got my internship at TREW back home for the summer, I couldn't have been more excited. I had been looking for a marketing internship where I would be a good fit, and TREW Marketing seemed like the perfect environment for me (Spoiler alert: it was better)!
At TREW Marketing, they take the word 'teamwork' to a whole new level. Everyone I got to work with was friendly, cooperative, and most importantly helpful. While interning at TREW, I didn't just feel like their summer intern. I really was part of the "TREW Crew." I feel infinitely more prepared for my fall classes since I got the incredible opportunity to have this internship for the summer. More importantly, I learned that communication really is key. I've had this stressed to me my whole life, but it wasn't until I was in a real work environment that I had to embrace this. The nice thing about this being the style of work TREW really utilizes is that you never feel alone on a project. Every piece of work I put out, I had other people working alongside me. It was a big collaboration which really makes for the best possible product in the long run.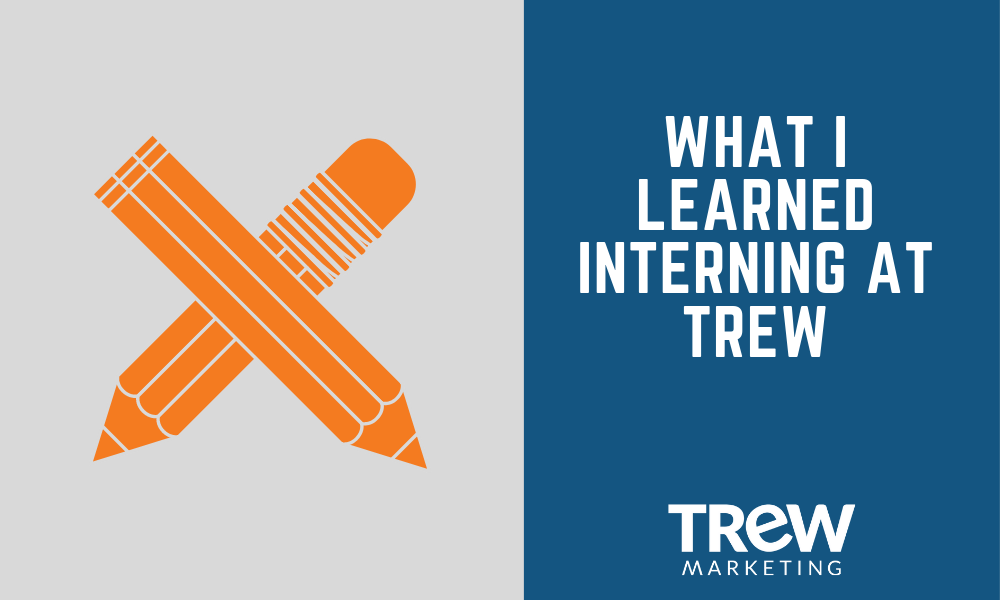 Lastly, something I learned as part of the TREW Crew is that if you don't give 100%, you're not going to be proud of what you're producing. Everyone I worked with is so creative and driven, which really inspired me to want to be the same. They were always encouraging new ideas and concepts which really helped me to grow and learn about what kinds of marketing I was interested in doing. Having this creative freedom with the company I was working for was huge for me because I got to do the projects I was assigned but with my own direction when it came to how I wanted it to look. Looking back on my summer, I can say I'm really proud of the work I did at TREW.
If you're a student reading this to see if TREW Marketing would be a good fit for you, it probably is. They accommodate all kinds of learning styles and you'll never feel unwelcome by the team. I loved my time here and am so thankful I got this opportunity to work for everyone I did this summer.