April 21, 2016
Keywords are one of the main elements of SEO. They help you get found by your target customers.
In order for search engines to connect customers to your site, you need to learn how to optimize your site so that people find you when they search for the terms you want to be found for. For example, if you're a marketing agency, your keyword list could include 'marketing plan steps', 'marketing to engineers', 'technical marketing', or 'inbound marketing'. They can be buzzwords or jargon, but they're essential to your search marketing strategy.
Your keyword research plays an integral role in connecting you to your customers digitally. You want to be seen and get found among hundreds of other websites that show up in Google results. It can be difficult, but not impossible.
After you've generated a list of keywords, you'll need to look for insights. Apart from cold numerical data that Google Keyword Planner or any keyword generator gives you (search volume, bidding range, competition score, etc.), there are a few other ways to learn about your keywords organically. It takes time, but will give you a significant edge among your competitors who only rely on the numbers offered to them.
Ask what your keyword is telling you and where it is leading to. Get your shovels ready because we're about to do some serious digging.
First, take a look at your landing pages.
Can you summarize what your entire page is about based on those keywords?
Keywords should be included in your landing page content. This helps Google crawlers have a better understanding of your site, and points site visitors to the content you want them to see.
While it makes sense to optimize your tags and copy with keywords when possible, quality will have a bigger impact on your overall score with search engine. Google's algorithm's goal is to determine the relevancy between a keyword and a page, as Google wants to give people results that most closely match their needs. In short, make sure your keywords tell the page's story.
Hop on Google Trends.
Type in a keyword that you want to understand more about. Let's go with 'rotary engine' as an example.
Google Trends will show you how your keyword is performing over time (whether people are using that keyword in their search query), as well as regional interests and related topics. Google Trends allows you to set the time frame, type of search (web search, image search, video search, etc.), regions and categories.
You can also have a look at how people are using the term in search queries and therefore cater your content to address the specific terms they're searching for.
Stalk your competitors.
What keywords are they using? What type of content are they pushing out? Who is linking to them?
One way is to look at their backlinks. SEMRush, Moz or BuzzSumo are good options to get this data. Here is some information on backlinks to our client, Wineman Technology (WTI), that I can pull from SEMRush. This gives me a number of sites or landing pages that are linking to WTI. If I am WTI's competitor, I now know where WTI gets links from so I can add them to my reach-out list. It also helps to know which sites are looking for companies within the industry to get resources from. Furthermore, if the backlink is a blog, I could use this opportunity to ask them to collaborate (guest blogs, podcasts, etc.) in the future.
WTI backlinks (SEMRush)
I can also look through what types of content are getting them the most shares on each social media platform: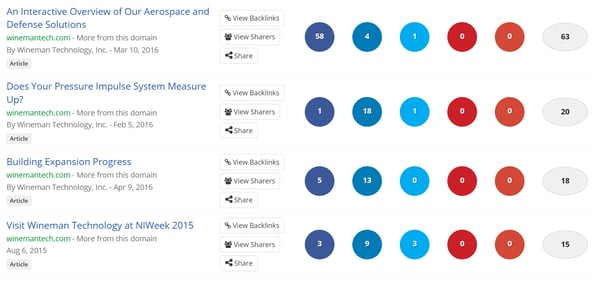 WTI Best Content (BuzzSumo)
You can also see which keywords are performing best, as well as the exact links that the keywords receive the most volume from: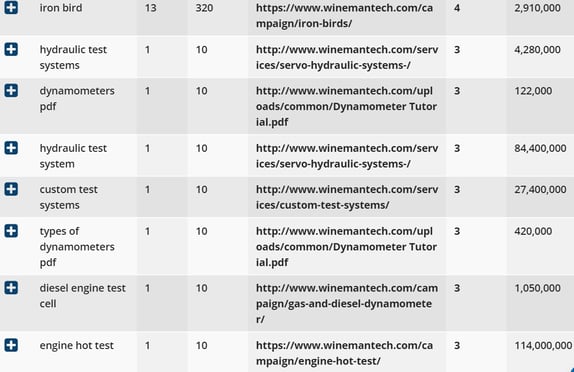 WTI Keywords (Ahrefs)
Now you know (a lot) about your competitor, what should you do with all of this new-found data?
Steal.
Identify the patterns. See what type of content or what kinds of topic are getting them the most shared or volume. Populate your keyword list with what you've learned from your competitor. Learn where your competitor is getting links from to build up your contact list. Note down everything you find applicable to your SEO strategy.
Find out what questions are people actually asking.
Look into industry forums – where people discuss related industry issues and ask questions. If you're unfamiliar with the field and not sure where to start, here's a useful search query to type into Google:
"your_industry" + "forum"
So for example, if we're looking for forums related to the automotive industry, we'll use:
"automotive" + "forum"
Check out the results:
Now you've opened up a whole new panel of resources to look into.
Let's navigate through one forum and see what they have to offer:

That's four new content ideas right there. "Safe and reliable car for family", "rotary engine", "driving in cold, downshifting and general proper driving", "convertible car" – these are what people are actually seeking answers for. This gives you a better sense of who your customers are, what they need, and how you can help in a practical manner.
Happy digging!