March 10, 2016
If you're a HubSpot user, you're probably familiar with HubSpot workflows and marketing automation processes.
Are you loving it?
If so, you'll probably like HubSpot's Content Optimization System (COS). We recently integrated our website with the COS and found ourselves wondering why we hadn't done this earlier.
What convinced us to make the move?
1. With COS, it's easy to personalize site content
Personalization Tokens and Smart Content help us deliver the right content to the right people.
First-time visitors to your site will see default (non-personalized) content. Most of the time, it's something similar to "Welcome to Our Website" or a one-size-fits-all "Call-To-Action."
But people love to hear their own names.
Wouldn't you feel happy to have somebody you've met only once before greet you by your name? Wouldn't it make you feel special? You want to treat your customers the same way.
Here's what HubSpot COS can do for you:
Default content vs. personalized content
It's still the same landing page but with a different experience for each viewer. Whenever your customers fill in a form or subscribe to your website, HubSpot COS will create a 'card' that stores their information (name, company name, email, number of visits, etc.). These pieces of information are tokens. You can insert tokens into your messaging on landing pages, forms, invitations, or almost anything within the system.
As you can see, we use "First Name" as our personalized token for an event landing page, so it's not just a "Hey you!" It's also easy to pull out the tokens as the tools within COS is integrated within our whole website. The screenshot below shows how you can pull out the tokens easily:
If you still aren't satisfied with this level of personalization from your tokens, HubSpot COS also supports Smart Content. Smart Content allows you to tailor your content within rich-text, form, and HTML modules depending on viewer characteristics based on their locations, jobs, or even lifecycle stages.
For example, once your visitor becomes a lead, you can choose to display content that better matches their requirements with what you can offer them. COS allows you to take better advantage of your existing database, helping you nurture contacts towards being sales-ready.
2. All of our marketing channels are now in one place
All marketers have a stack of sticky notes and checklists (physically and digitally). There's always something that needs to be done. There's always something that needs to be tracked. This especially rings true considering the growing number of marketing channels to utilize and monitor.
Want everything in one place? HubSpot COS can help.
Blogging, social media, SEO, email, and (pay-per-click) PPC aren't just individual silos. They need to be integrated to be effective. COS makes this process so much more convenient by integrating every marketing channel in one place for you.
The COS allows you to set up email templates, create CTA buttons, draft landing pages for your product, writing and scheduling blog posts, and managing social media channels. Even better, you can get these channels to work together to optimize your marketing efforts. The small things matter.
Let's go through TREW's regular blog promotion process as an example.
After spending hours writing and editing a blog post, we get all of our ducks in a row before pushing it live.
First, we'll go ahead and draft and format our post. HubSpot COS will make sure that we've followed all best SEO practices by checking image descriptions, meta descriptions, featured images, keywords, etc. to see whether they've met basic requirements (word count, header image, number of keywords included).
Then we'll move to our social media calendar in HubSpot to schedule a promotion for the new blog post on Facebook, Twitter, Google+, and Linkedin. The system will tell us if each of our posts is optimized. While scheduling, we'll attach a color-coded campaign to our promotion to track its performance.
After that, emails about our blog with social sharing elements will be sent out to leads automatically. You can set email notifications to go out instantly, daily, weekly, or monthly.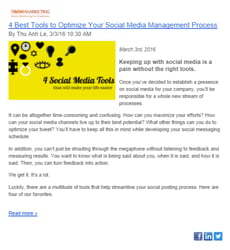 3. You don't need web development experience
For marketers who need a working design with minimal effort, this is a relief. No HTML, CSS, Javascript or PHP required. Just drag, drop and go on with your business.
For web designers, it'll save you hundreds lines of HTML. But if you want full creative reign on your site, HubSpot COS gives you access to Design Manager. The Design Manager allows you to build templates from scratch, as well as host and edit Javascript files.
HubSpot COS lets you design your website by dragging and dropping widgets
Not only can COS help you create a page, it can also help you manage it. After all, you can't treat your website like a one-time project. You'll need to ensure its maintainability over time.
HubSpot COS gives you full technical support. If anything happens, call them. Since everything is hosted within HubSpot's server, it's their job to maintain it. This will save you a ton of time and money in the long run, especially when you're not ready for a developer yet.
Do you think you'll give HubSpot COS a try? Why, or why not?
Contact TREW if you need help with your web development process.