7 min read
A Decade of Smart Technical Marketing: Q&A with Morgan Norris
This month, TREW Marketing celebrated the 10th anniversary of Morgan Norris joining our team. Morgan was one of our first employees and over the years she has been instrumental in shaping our approach to content marketing. Her experience working with technical audiences has served our clients extremely well and we couldn't miss the opportunity to have a conversation with Morgan about her work, how the industry is changing, and what she sees in its future.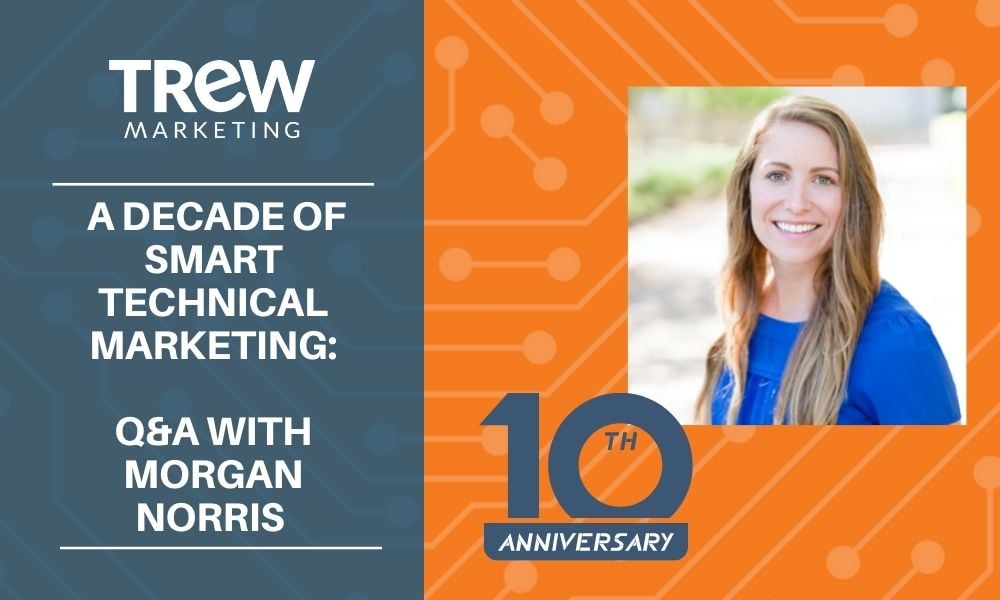 Digital consumption has changed a lot in 10 years, particularly when it comes to mobile content experiences. When you began your career, what were the gaps content marketing was trying to fill?
When I started, content marketing was in an interesting place. Trade publications had moved online and as an industry we were trying to figure out where content fit into this transition. Specifically, what was the right balance of volume versus technical depth. For TREW, a lot of our clients were launching programs for the first time, which meant going from absolutely no content to trying to create a library of digital resources that would be useful to their audiences. Creating all of this from scratch usually meant working directly with subject matter experts - not only to source the content but also to plan which topics were relevant. Then once the content was created, presenting it to the world was another challenge. Design and promotion used to involve wrestling with custom content management systems or designing for each use case, but streamlined and user-friendly tools like HubSpot and Canva have made it easier to create and publish content pretty quickly.
What role has branded content played in bringing owned media into the mix and putting it onto more or less equal footing with earned and paid media?
This has probably been one of the biggest shifts because owned media has become so trusted, especially with technical companies. Generally speaking, the person responsible for creating the product is the most knowledgeable -- and engineers are most trusting of content bylined by other engineers. If they can author a piece of content, they bring credibility to the topic. In this way, branded content outpaced earned media because it makes it possible for the author to control the message while bringing extensive knowledge to the topic that an editor will never be able to match. And even more recently, we've seen the trend of branded content being picked up by industry publications. This is the best case scenario for technical companies because you get to present the information the way you want and also get the benefit of other credible industry sources amplifying your message.
What trends have you noticed over the years in how technical audiences consume or respond to content?
I think first, engineers want to find their own answers and content has made this much easier for them. Instead of calling a help desk they can search the web for the resources that help them get past their particular hurdle. People prefer being self-reliant and finding their own solutions, and content provides a way to do that. We've also seen the buyer's journey shift online. Before a prospect calls a salesperson, they're doing a lot of research on their own -- often more than 60 percent of the technical buyer's journey is complete before they talk to sales. Longer-form content for the technical audience has also become much more commonplace. People are seeking out resources that go into greater depth. Technical audiences can get some information from a blog post, or they can get a few key points about a company through its website, but the ability to go in-depth with a nice, long ebook or white paper is where they can get a full understanding of the issue.
In addition to being able to provide more detailed information for technical audiences, something else that has evolved over the years to make this kind of content more effective is how we've learned to gate it. Knowing the right information to ask for in exchange for the value you're providing has gotten much better, and more trustworthy as a result. As an industry we've figured out how to not be annoying in how we manage these leads.
How has content promotion changed during the last decade? What are the effective avenues for reaching engineers and scientists with content these days?
We used to beg journalists to take meetings with us, in the hopes that they would write about us, and then we'd hope again that what they wrote was accurate or favorable. This was really the only way to get your message out alongside paid advertising. Now, with an effective content marketing plan you can cover the topics your customers or prospects care about yourself. But there are still things to figure out, including the nuanced science of picking the right topics and using the right keywords, and writing in a tone of voice that instills trust.
Social platforms are always an interesting topic with technical audiences because you're limited to how much you can say. Striking the right balance of engaging topics to attract the right leads requires knowing where your audience is and choosing the right platforms. For example, LinkedIn is a much better promotional vehicle than Facebook for this audience.
What characteristics do you look for in content writers, or what are the ingredients needed for a really effective content marketing team?
You have to be helpful. Our job is to make someone else's job easier, and content is how we do that. We work with highly technical audiences and you have to be able to talk to scientists and engineers in a way that encourages trust. If they don't feel comfortable talking to you, you're not going to be able to help them or their prospects. Research is important for an effective marketing team. I'm always looking up details while I'm talking to a new client. If they mention an acronym or an unfamiliar technology, I want to look it up quickly to get a cursory understanding. Then I might check with them to see if my understanding is correct before we move on, but I don't need them to explain every little thing. Engineers are busy and you're going to drive them nuts if you keep asking them to explain something to you. You also need them to be able to read your final content and feel like it's their ideas, said with clear words -- so it's important to get in their heads and understand how they think and how they approach a topic.
I would also add to this answer one of the characteristics I like to see in the clients we work with. One of the comments we hear a lot is that an executive at a technical company wants to be seen as a thought leader, but they don't have much to support that - meaning they haven't written articles or presented at conferences, or otherwise built a name for themselves. I would encourage technical professionals at any stage in their career to start building a record of contributing their ideas to the industry via contributed articles, writing blogs, or presenting topics that matter to them at industry events. If they're successful at their job, the time will come when they will need content to help tell their story, and making a name for themselves and their ideas prior will arm them with a body of work that reflects their experience.
To hear more of the smart things Morgan has to say, you can find her frequently contributing to the TREW Smart Marketing Blog and you can catch her on the Content Marketing, Engineered Podcast as well.
Bonus Feature - The TREW Marketing 10th Anniversary Lightning Round!
Featuring Morgan Norris
What was your favorite TV show in 2010?
The Office. And I'm currently in the middle of re-watching the entire series for the third time.
What was your go-to business book?
Groundswell -- we were trying to understand how to leverage social technologies. The Long Tail, and I love how this concept has morphed over the years. The original idea of selling niche, long-tail items to the right audience still exists, and so do flexible platforms and technologies that allow for niche, long-tail applications.
What was the killer marketing technology that everyone wanted to use?
Social media platforms. Facebook groups for everything. Turns out, engineers don't want a facebook group about your new hardware. Womp, womp!
What request do you get now that would have sounded like science fiction in 2010?
"I know you're in an Uber for the next hour on the way from the airport, but can you create a graphic, publish the blog, and share on LinkedIn before noon?"
Every CMS was clunky, design tools were limited to experts in photoshop, and we were tied to laptops with wi-fi. With tools like HubSpot and Canva and the ubiquitous 5G network and iPhone, we've increased access and lowered the barrier to creating and publishing content.
What tool/technology/trend do you wish you could resurrect from 2010?
Remember conference calls without everyone on video? While I do believe video-based, face-to-face interaction massively strengthens engagement and relationships, I could do with a half day where I didn't have to wonder about my lighting!
What's a gigantic success now that you were sure would fizzle in 2010?
Podcasts! Podcasts were gaining traction but still seemed like a platform for super consumer tech-y people. They didn't seem accessible to the masses for either production or consumption.