The holidays are here, and we want to thank you for your readership this year and wish you a very happy holiday season with your friends and families.
Last year, we took some time to share our favorite holiday traditions with you. This year, we'd like to share some of our favorite holiday memories!
Have a great holiday memory or funny story? Share it with us in the comments!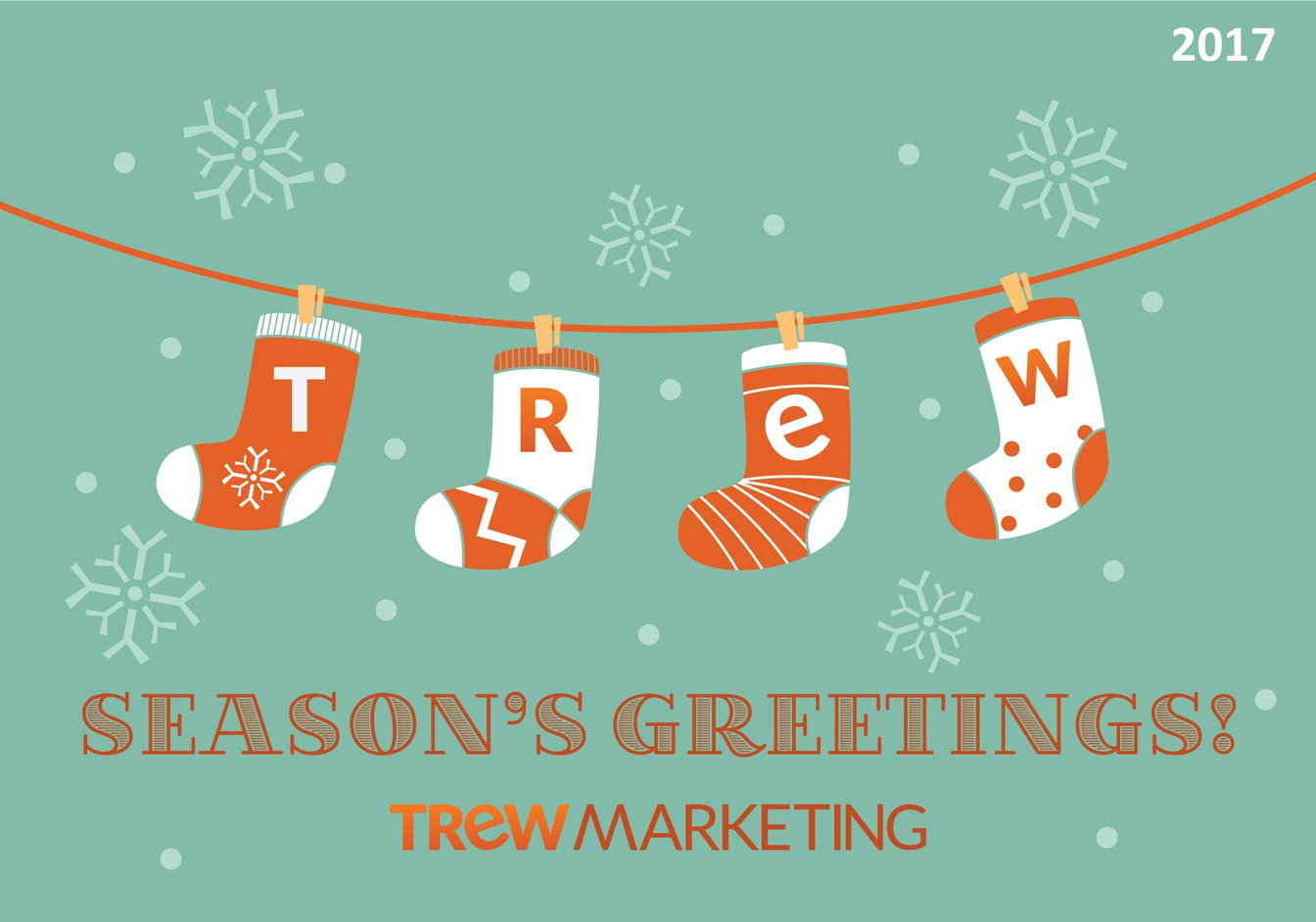 Rebecca Geier
CEO and Co-Founder
What I have found interesting about Christmas at the Geier's these days is how valuable traditions have become as our kids have grown up. When our kids were young, like most families, we started traditions around the holidays, often without even realizing it. On Christmas Eve, we'd go to early mass, then dinner at a festive "special occasion" restaurant. The kids opened one present on Christmas Eve but had to wait to open the rest on Christmas morning. We almost always made cookies and left them out by the fireplace with milk for Santa. Christmas morning started at 3 a.m. for the kids – coming downstairs to see what Santa had left for them. And as they got older, everyone together moseyed down to open presents in a surprisingly organized manner – at the kids' request, we all took turns opening one gift at a time. Then my husband would cook a big brunch, he and I would drink mimosas or bloody Mary's and before long, the kids scattered, football games started on TV, and the day blurred into evening as we packed up for the 13-hour trek up I-35 to Kansas City the next day to spend the week with the Missouri Geier's.
Now my kids – Mollie and Cooper – are nearly 23 and 18, and with their work, school, and busy lives, Christmas has become all about quality in lieu of quantity. And it became all about traditions. Whenever my husband and I suggest changing a tradition (e.g., let's just open all the gifts on Christmas Eve), there is immediate and unified protest from "the kids". Without my husband or I realizing it, these traditions have become a symbol to them of all that Christmas represents – love, family, faith and community. And yes, we do still bake cookies and put them out for "Santa". Then we all eat them – Coop gets the milk. And so a new Geier tradition has begun.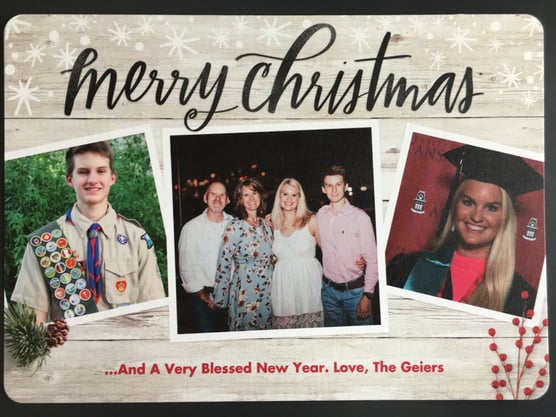 The Geiers
Wendy Covey
COO and Co-Founder
We are fortunate to have most of our family in close proximity in the Texas Hill Country, and for our Thanksgiving and Christmas gathering, we pitch in potluck-style for a huge meal. This Thanksgiving our daughter Lauren had the flu, and we had to bail last minute. This posed a major problem for the potluck (after all, who can celebrate without our contribution of turkey, dressing, and wine?). Our solution was to meet up at a truck stop along the collective family route to exchange food and long-distance hugs (so that we were not also exchanging germs). I'm happy to report that all had fantastic meals and the rest of the family was unscathed from the flu bug. We are looking forward to a Christmas celebration of closer togetherness, health and good cheer.
The truck stop holiday meeting spot
Lee Chapman
Vice President, Account Services
One year when we were spending Christmas at my parents home in Houston, my dad heated the pool over Christmas Eve night so that "Santa" could surprise my young kids with a Christmas swim. After we exchanged gifts, we took them outside and they were amazed that Santa had heated the pool while they slept! They ran back inside to put on their swimsuits and swam until dinner.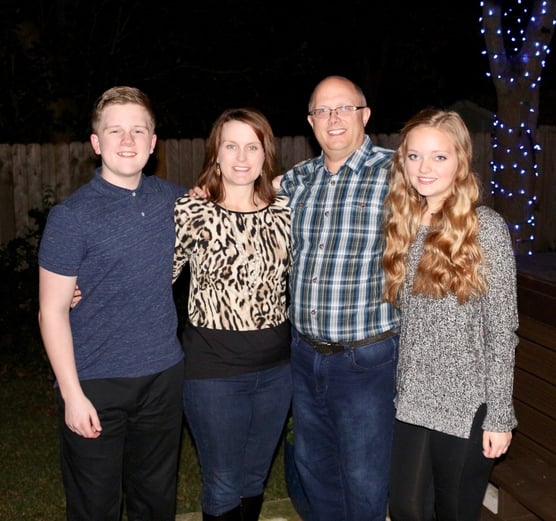 The Chapmans
Jennifer Dawkins
Senior Marketing Manager
In the past, most of my favorite holiday memories had to do with my kids believing in all things Christmas magic…. Them waking up and immediately looking for Henry (our elf on the shelf), spreading reindeer food on the front lawn on Christmas Eve, trying to stay up to get a glimpse of Santa. But in recent years, when all my boys are too old to believe and I thought the magic would end… it continues, with them in on the secret. They take turns moving Henry and making him do silly things each night. They tell me stories about when they accidentally touched the elf and were so scared that he wouldn't move anymore. They give me knowing looks at every mention of Santa, but take such care not to give away the secret to younger kids.
I thought the magic of Christmas would be over when they stopped believing. But there's something about them participating in these traditions, instead of us doing it for them, that makes Christmas even more magical these days.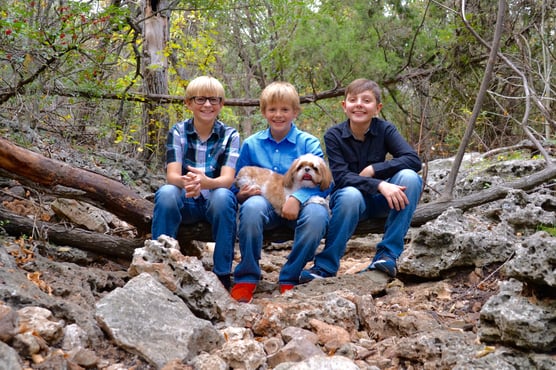 Jennifer Dawkins' three boys
Erin Gleeson
Inbound Marketing Specialist
My family has a couple recipes that have been passed down through the generations, the most notable being an apple pie recipe. Every Christmas for years, my mom would make this pie for my uncle.
About six years ago, we were celebrating Christmas at my parents' house with their newly adopted dogs and a couple relatives. After opening presents, my mom walked back into the kitchen and noticed something odd about the cooling apple pie- the entire middle was gone. While we were all celebrating the holiday, Enzo the troublemaking Italian greyhound had jumped onto the countertop and helped himself to a snack.
My uncle didn't get his pie that year, and I don't think he's ever forgiven Enzo (who has no shame and has since stolen food from many other relatives and friends).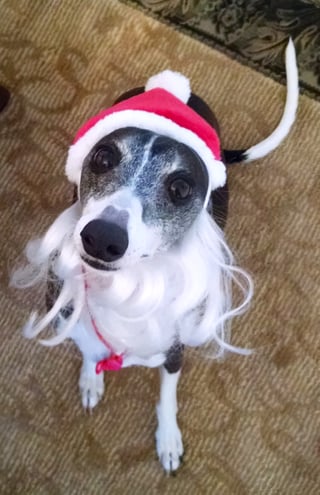 Enzo Gleeson, the troublemaker
Sarah Seward
Inbound Marketing Specialist
Even though I'm a 26 and a grown-up, my mom has keeps our childhood Christmas traditions the same every year. Every Chrismas Eve, my two brothers and I get new Christmas pajamas (this year we requested matching romper pajamas).
Christmas mornings are just like they were as a kid. We still don't let our parents sleep in, but my mom make us wait before going downstairs so she can get home video of us walking down to see what Santa brought.
When my mom broke the news to me at 8 that Santa wasn't real, she promised there would be a special present from Santa every year at Christmas. Just as she promised, I can always count on a present from Santa under the tree.
While we keep to our Christmas traditions from childhood, we did add a new tradition since the majority of the family is over 21 now. Christmas morning mimomas are the newest Christmas tradition. These quickly turn into Christmas naps before we head over to my grandparent's house to unwrap more and eat a ton of food.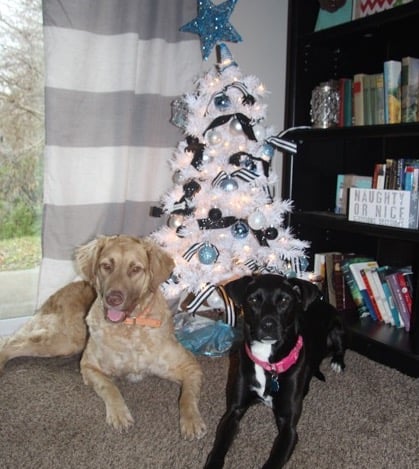 It took a lot of treats, but I actually got a good picture of my neice, Artmis, and my dog, Shotzie, this week.
Irene Bearly
Technical Marketing Specialist
My mother-in-law recently started a holiday tradition where every Christmas she asks us to draw or write a special memory for the year on a large white tablecloth. She then embroiders our creations onto the tablecloth. My husband is a talented artist and a mischievous prankster to boot, so he of course had to ruin his mom's wonderful idea. Everyone else wrote nice things like "Can't wait to see our new granddaughter" or "We moved to our new house." My husband, on the other hand, drew a picture of a giant Santa Claus alien bug with frozen drool. Surprisingly, my mother-in-law actually kept the drawing and embroidered the dreadful thing. Guess after so many years, she's no longer fazed by her grown son's antics.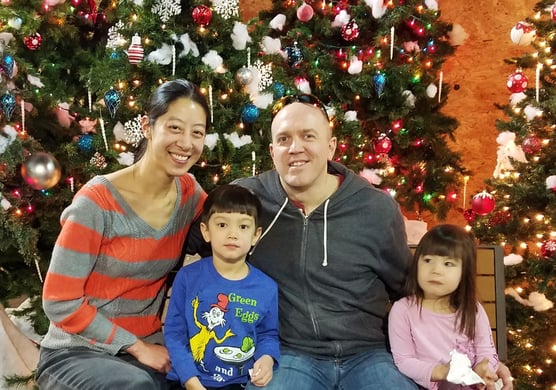 The Bearly family
Morgan Norris
Brand Communications Specialist
Our Christmas-morning-gift-opening is slow and steady. A gift is chosen from the tree. Tag read by the chooser. Gift handed to recipient. Tag deciphered/worked through aloud by recipient (see below). Gift unwrapped...Opened...
Experienced. Gift-giver thanked. And now, the gift recipient is the chooser of the next gift. (repeat process). Quite literally

25 minutes later

we are ready to open another gift.
There are at least 10 people present and my mom wrapped the socks my dad asked her to pick up at Wal-Mart back in early November. She's been holding them hostage in a tissue-filled bag deep under the tree. There are a lot of gifts and the gift-opening process takes a really, really long time.
One tradition we have that really keeps the experience lively, is that gift-givers write cryptic riddles or hints on packages that allude to what the gift is, and lead to a guessing process. This tradition:
Makes for interesting discussion/reminiscing/guessing
Makes anyone new to the family feel very much on the outside of something
Now, you might get an
easy
riddle
, "To: Morgan, Love: Father Time". This is a watch. Easy, you can get this in one guess. In the 90s it may have also been an alarm clock but we all sleep cuddling our smartphones, so who needs alarm clocks?
You might get a
tricky riddle
, like a book-shaped item with a tag that reads, "To: Morgan, Love: JK" Is this the JK Rowling Harry Potter book I wanted because my #4 in the series went missing? Or does the tag mean, "Jk (just kidding) I know you wanted Harry Potter but I bought this book I thought you should read about learning to be more organized". Only time will tell. It's probably the latter because everyone knows my organization skills aren't great.
You also might get an
experience-related riddle
, which requires you to dig deep down memory lane (these especially exclude newcomers! sorry!), like a small box that reads, "To Morgan: From: That one time we spent 6 hours scavenging the subway system". This is probably one of those key finder fob things that connects to an app on your phone. Because of that one time I lost my keys on the subway and we spent hours riding different trains trying to find them and WHOOPS! They were in my pocket. Haha.
But the
very best riddles are double riddles.
Double riddles have a "To" riddle, and a "From" riddle. Like, "To: The one who holds the power, From: The charge". What? We need more context here. Unfortunately though, whoever wrote this tag can't remember what the gift was, or who it was for. So someone is picked to open it, and it's batteries for all the kids toys! Overall, a win, but very confusing (again, sorry newcomers!).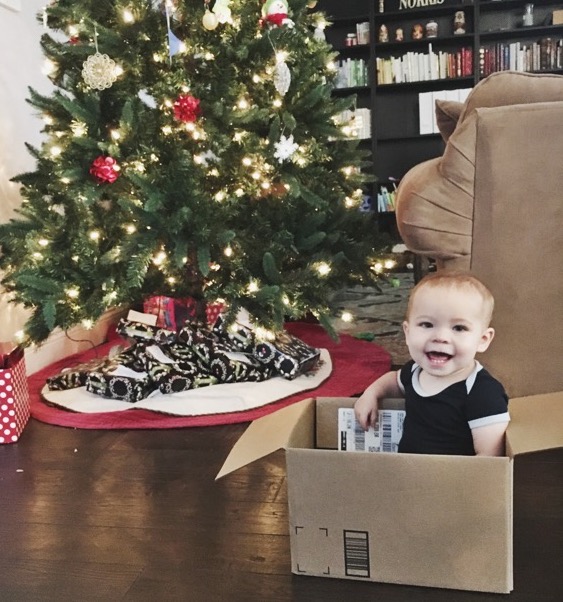 Baby Jack: just turned one and terrible at sitting through gift-opening, but great at playing with boxes and paper.
---
Want to learn more about TREW and our approach to inbound marketing? Watch our new video!